You'll be charmed by these vegan Vanillekipferl. A classic holiday shortbread dough cookie recipe from Austria and Germany!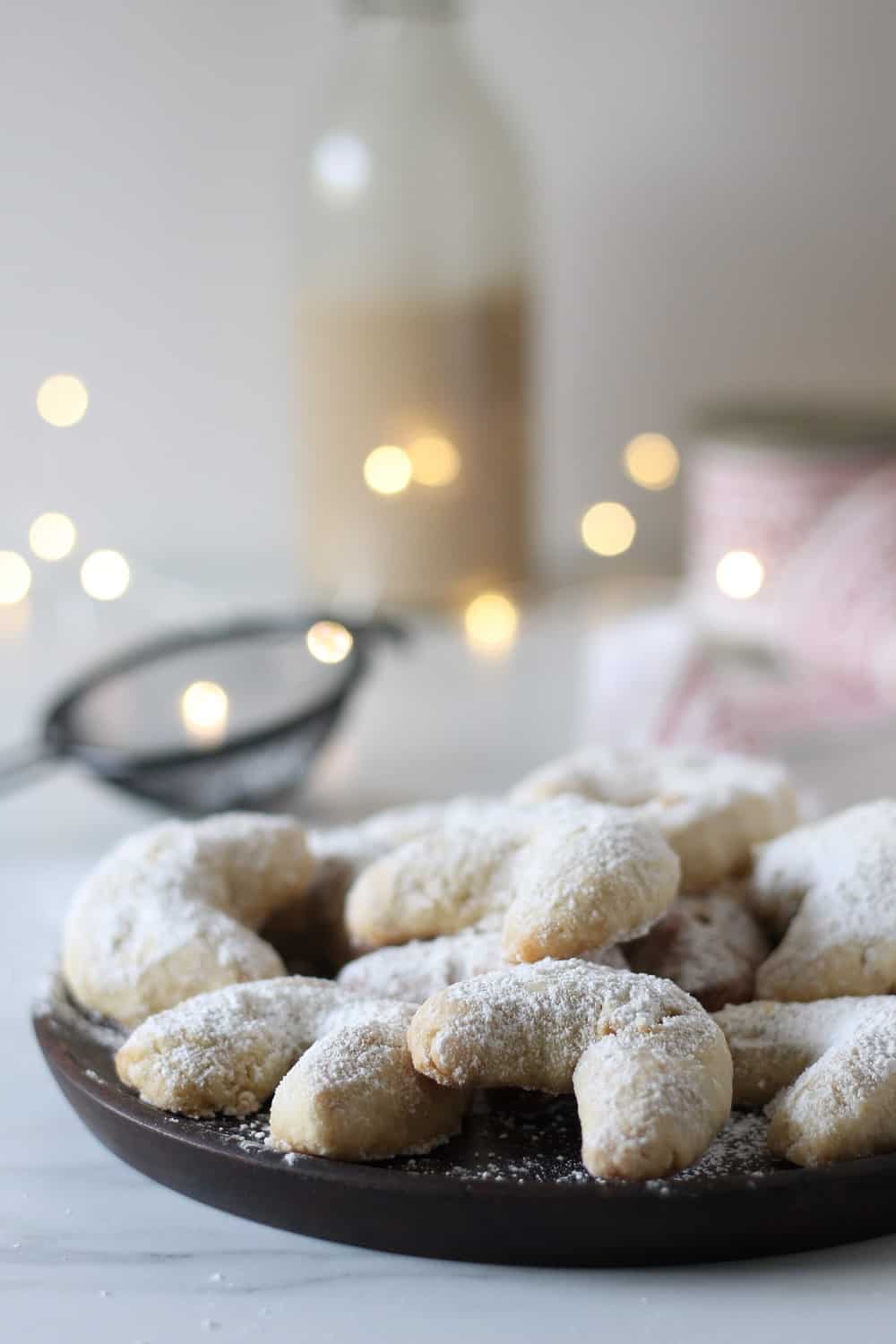 Are you excited for Christmas? To be honest, I'm not looking forward to it that much because Martin and I always end up alone on the 24th-25th. What I love from living in Germany though are the weeks leading to the holidays with the Christmas markets, decorations everywhere and festive atmosphere.
Here, people celebrate Advent on each Sunday before Christmas by lighting candles (one each Sunday) generally placed on a nicely decorated wreath. And especially, they bake Plätzchen, a pretty German words that encompasses a variety of cookies and biscuits that are typical for this time of the year.
And since I've set on a mission to post more German recipes on the blog, I'll try to share some of the German holiday magic by publishing one traditional recipe each Advent Sunday. We're starting off today with a very simple one, vegan Vanillekipferl. They're easier to make than to pronounce, I promise :)
Vanillekipferl are small shortbread vanilla crescent cookies. They actually come from Austria but they've managed to make it all the way to German Omas' recipe books (oma = granny), to the delight of all! They only require a few simple ingredients: flour, ground almonds, butter, sugar and vanilla. Which makes them very easy to veganize. Some recipes use eggs but I wonder why since they're not found in the original recipe.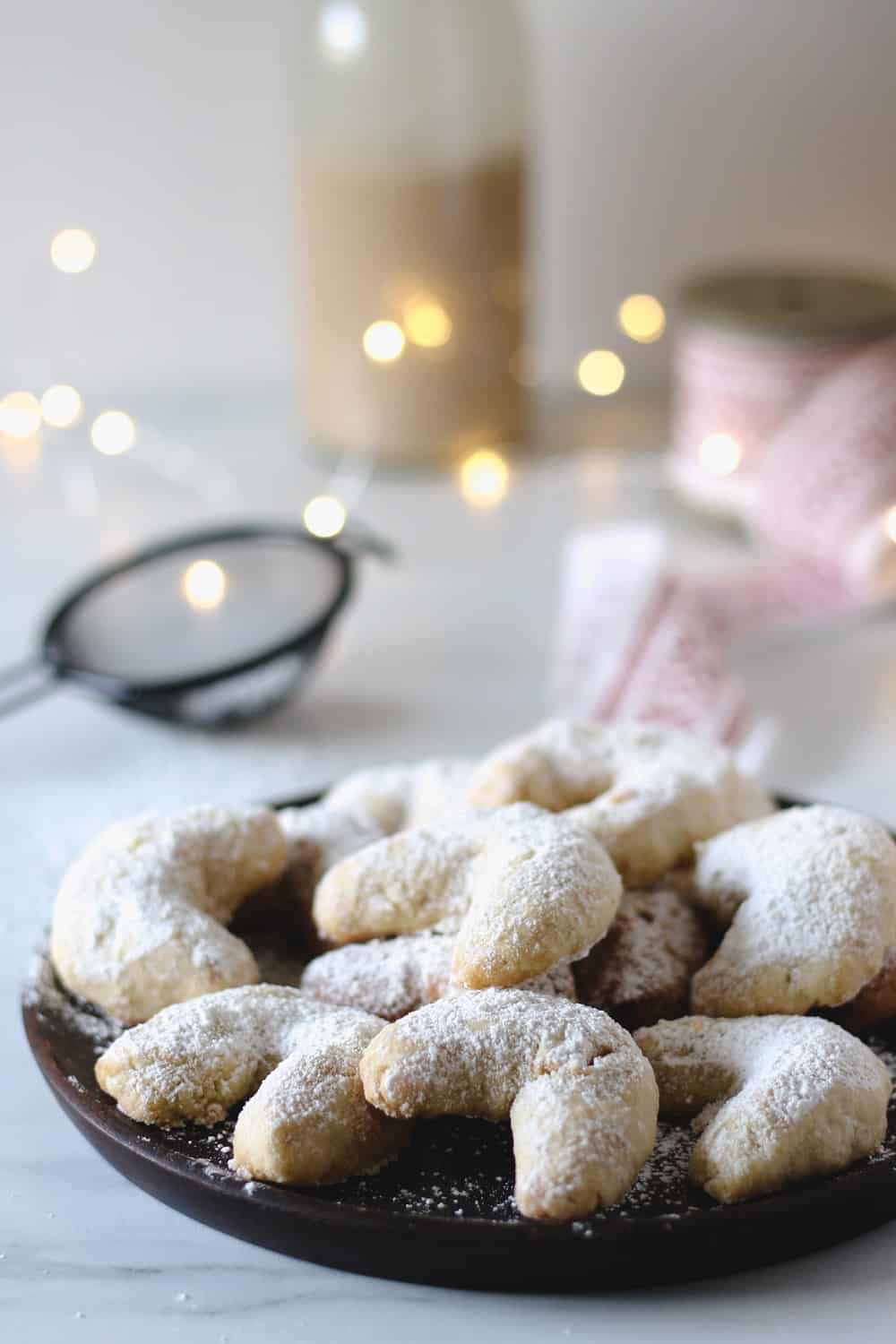 Vanilla sugar
It's very uncommon to find big bottles of pure vanilla extract in Germany. Here people use small packets of vanilla sugar instead. Since I'm used to liquid extract, I used 2 teaspoons here.
But if you prefer you could even make your own vanilla sugar by scraping a vanilla pod and adding the seeds and the pod to a jar or raw cane sugar. After a few days your sugar will smell and taste heavenly!
Gluten-free option
Surprisingly, even though I aaalways add at least some whole wheat flour to my recipes, I didn't this time and used 100% unbleached all-purpose. And quite a bit of sugar and "butter". I did reduce the sugar by a third though compared to my first attempt.
And I decreased the butter from 200g to 150g by making up the difference with a little bit of plant milk. Fat and sugar are essential to the shortbread effect, but the quantities I'm sharing with you work perfectly (at least for me and everyone who tried the final result).
According to my Instagram survey, half the people who responded wanted my healthy recipe and the other half the original version. So I've decided to share my gluten-free vegan Vanillekipferl in my Christmas eBook.
I actually think that I prefer that version, after years of eating less processed. Yup, my tastebuds have changed a lot since. I can't stop snacking on them, alternating between both version… miam!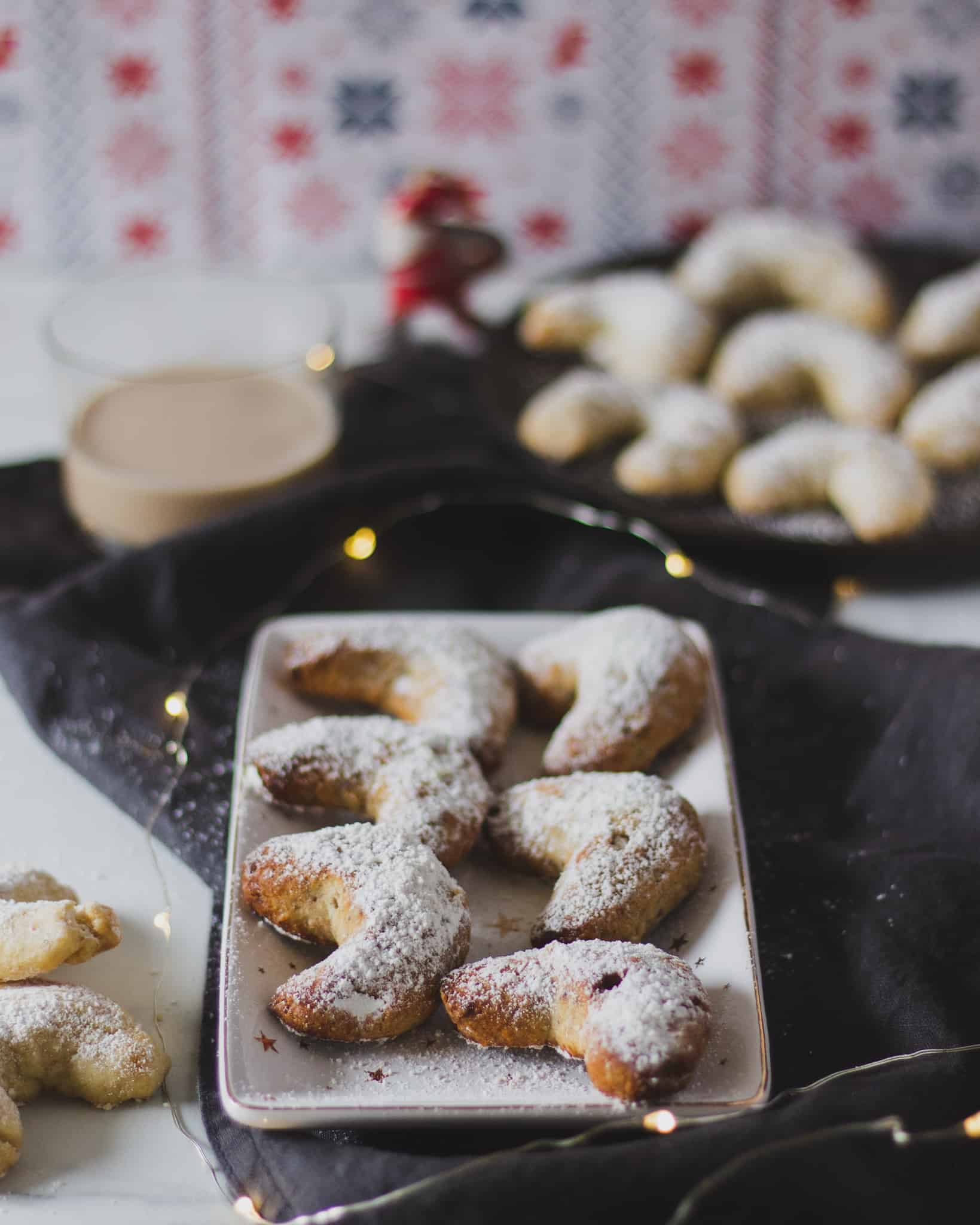 How to make the perfect shortbread dough
It couldn't be simpler, you just need to know how. The dough will be fairly dry and "sandy". After having mixed the dry ingredients, I add the vanilla and the cold butter cubes and work with my dough scraper to combine everything until the texture resembles wet sand.
Then I add some milk and go in with my hands and process it until I'm able to form a ball, which I divide into two.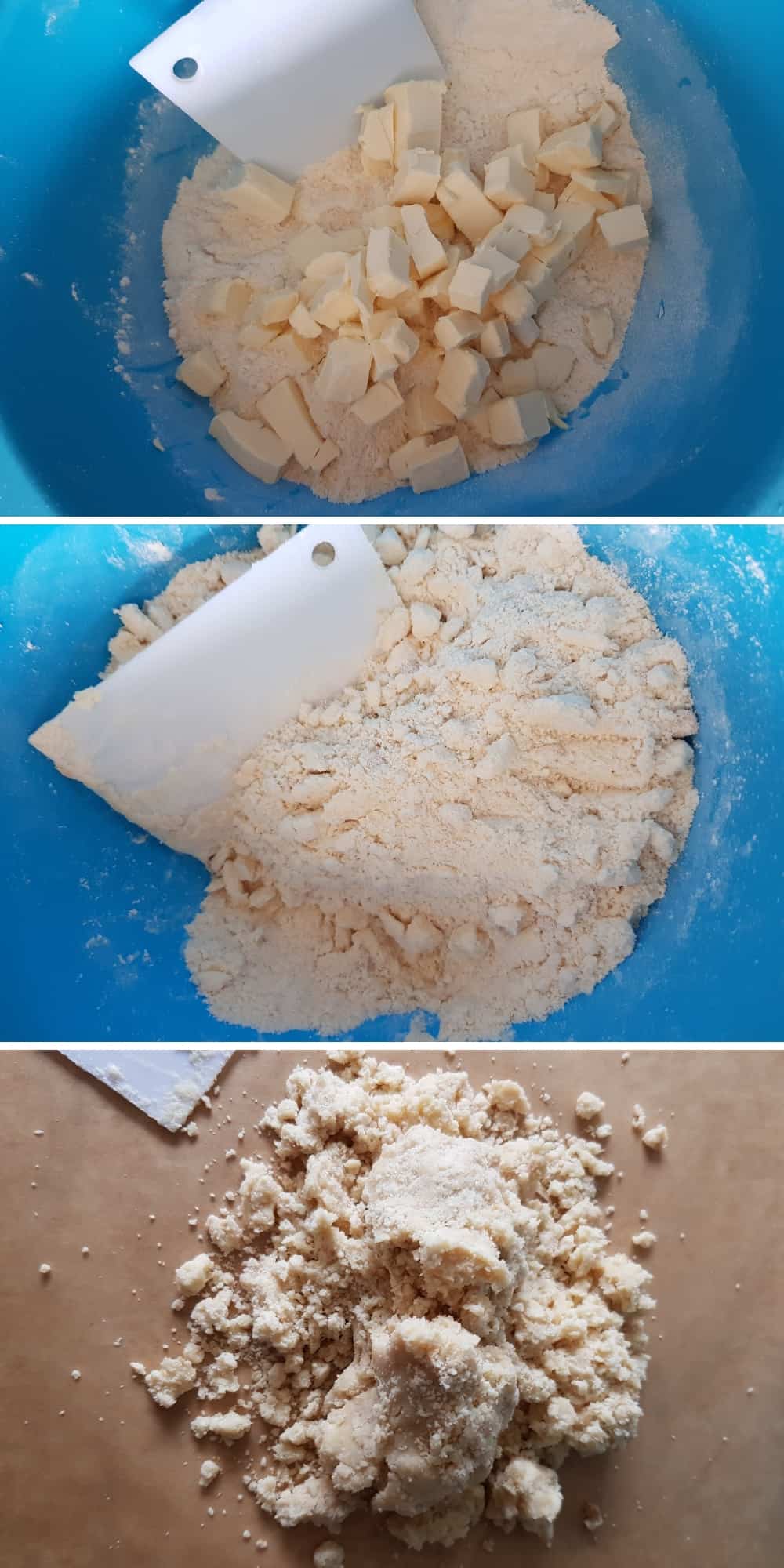 With each half I form a long roll and wrap both with parchment paper, folding them towards the middle. Afterwards the dough needs to go in the fridge for at least 30 minutes before moving on to the next step.
Once the dough nice and firm, I work one log at a time, leaving the other one in the refrigerator. I cut 12 to 15 equal pieces, roll each one between my hands to form a smaller roll with narrower ends and fold them to form the crescent. The heat from my hands help work the dough, but it's important to not melt the butter too much.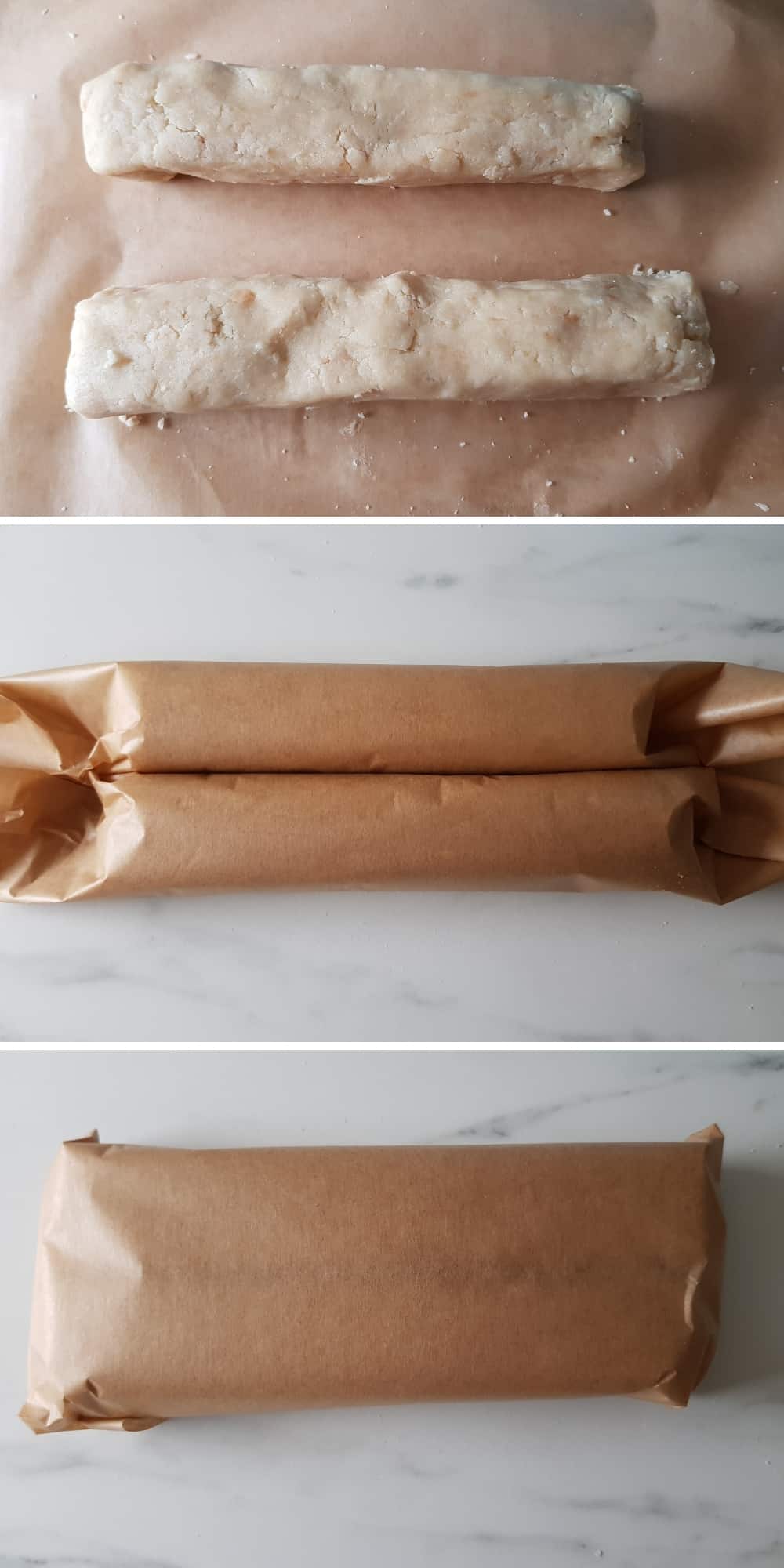 The first time I made these cookies, my oven had not preheated enough and they didn't hold their shape. They were still delicious but simply not pretty enough for the blog (they were still super popular at work and on my Facebook page!).
Therefore I recommend placing the uncooked crescents back in the fridge or on your balcony while the oven preheats for a good half hour (note that it's not -20 here in Berlin hihi).
Afterwards they're baked for 12 to 15 minutes, depending on their size, until the ends are a little bit brown. They need to cool for 1 minute before being sprinkled with a lot of powdered sugar. I make my own by processing raw cane sugar, or even better my homemade vanilla sugar, in my blender until I get a fine powder.
Storing the cookies
Apparently you can store these for several weeks in a cookie tin, if you can resist the temptation. You can also freeze the uncooked dough, well wrapped, thaw it overnight in the fridge and bake your vegan Vanillekipferl once you're ready.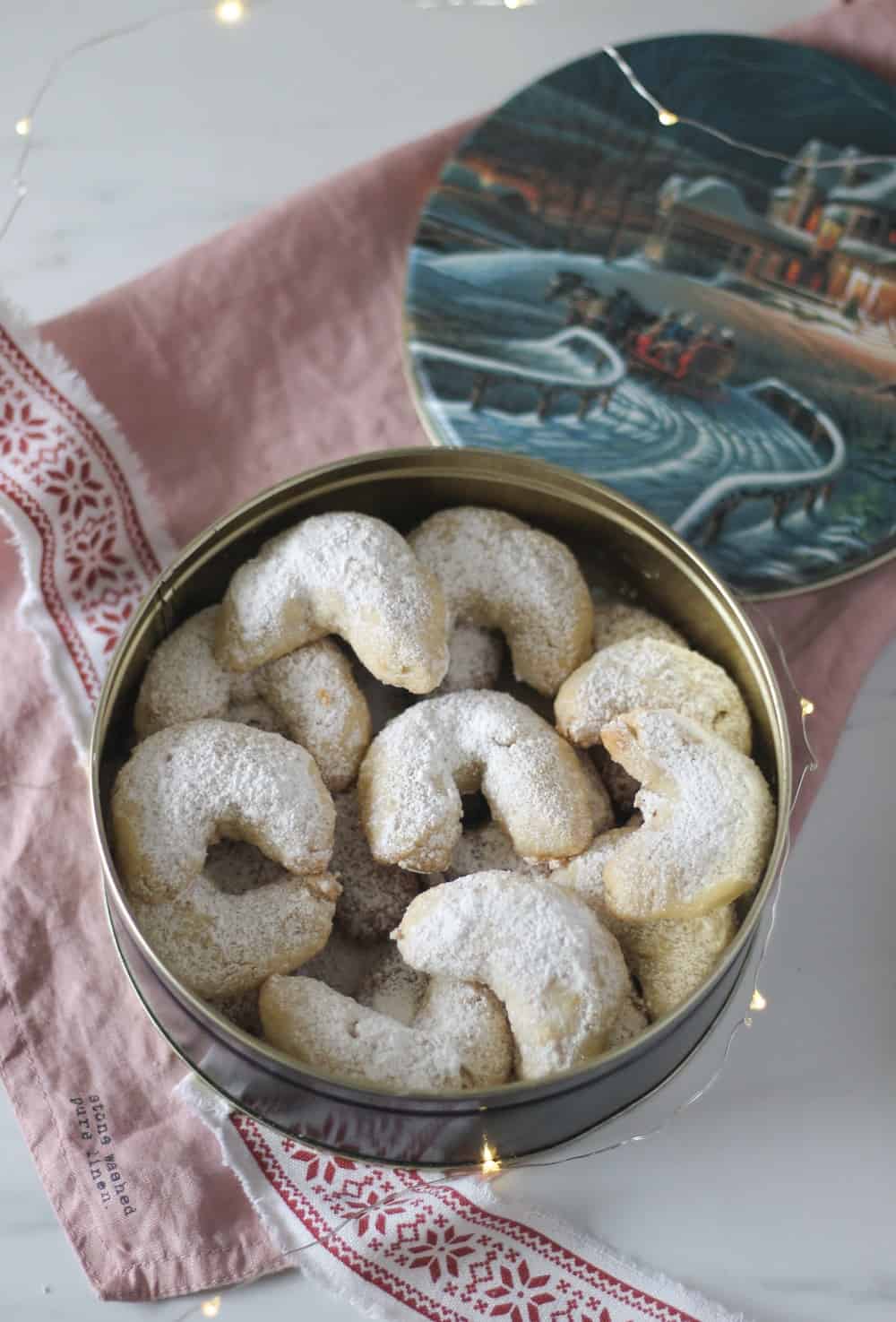 If you try this recipe, make sure to snap a picture and share it on Instagram or Facebook using the hashtag #valisesetgourmandises. I wanna see your creations! And don't forget to leave a comment below :)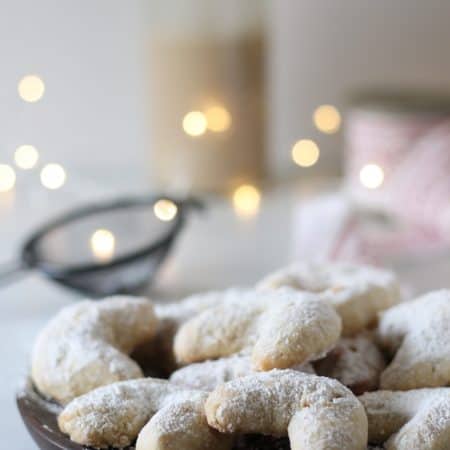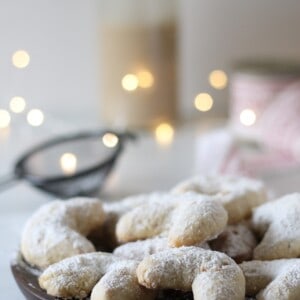 Vegan Vanillekipferl – German Vanilla Crescent Cookies
You'll be charmed by these vegan Vanillekipferl. A classic holiday shortbread dough cookie recipe from Austria and Germany!
Ingredients
2

cups

all-purpose flour

250g

1/2

cup

raw sugar

1

cup

finely ground almond

packed (100g)

1/4

teaspoon

salt

2

teaspoons

pure vanilla extract

150

g

vegan butter

cold and cut in small cubes

2

tablespoons

plant milk
Instructions
In a large bowl, mix the dry ingredients. Add the vanilla and the cold cubed butter and combine using a dough scraper (or two butter knives). Once the butter is distributed and coated with the flour, process with your hands. If the mix is too dry, add up to 2 tablespoons of plant milk. Work with your hands until you're able to form a rough ball. Try not to overwork it.

Divide into two and shape two rolls. Pleace them at the opposite ends of a parchment paper a wrap each one towards the center where they'll meet. Fold the ends of the paper underneath and refrigerate at least 30 minutes to an hour.

Once the dough cold and hard, take one roll out at a time. Cut into 12 to 15 equal pieces, roll each between your ends to form a smaller roll with smaller ends and form a crescent. Place on a prepared baking sheet. Refrigerate at least 30 minutes.

Meanwhile, preheat the oven to 350F (180C), it must be fully preheated before baking the cookies 12 to 15 minutes, depending on their size, until their ends are a bit golden.

Let cool 1 minute before dusting generously with powdered sugar.
Notes
You can freeze the dough rolls and bake later.
Nutrition
Serving:
1
cookie
Calories:
95
kcal
Carbohydrates:
11
g
Protein:
2
g
Fat:
5
g
Saturated Fat:
1
g
Sodium:
52
mg
Potassium:
11
mg
Fiber:
1
g
Sugar:
3
g
Vitamin A:
193
IU
Calcium:
11
mg
Iron:
1
mg