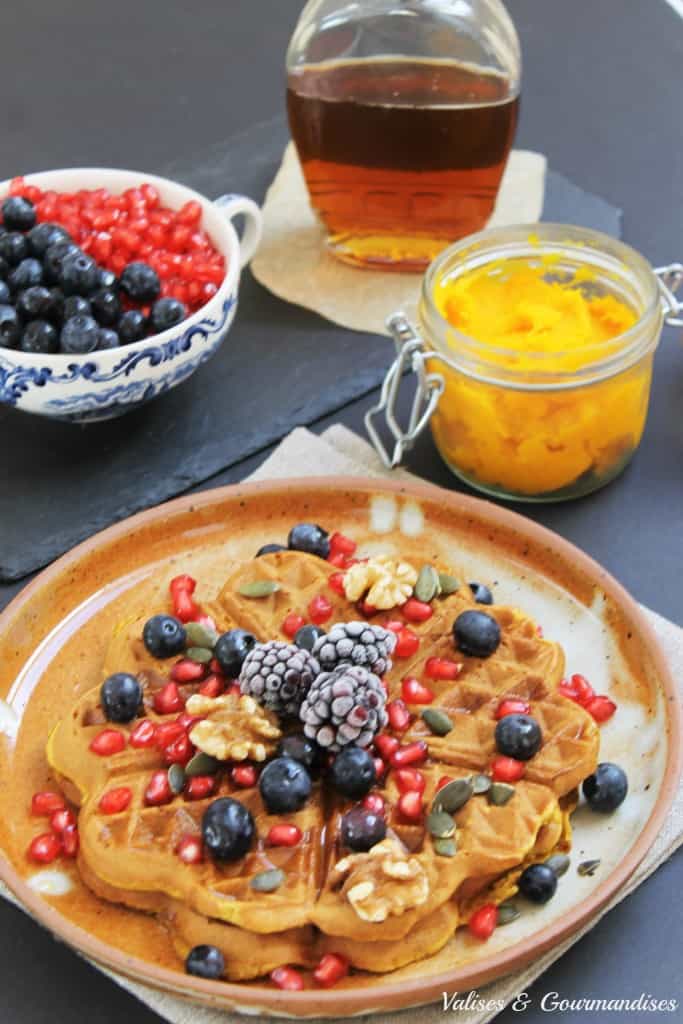 This week is pretty hectic. I went back to work at a new school on Monday and Martin's brother arrived on Tuesday! He's the first person to come visit us since we've been living in Germany. We're having fun walking around the city, showing him our favourite spots. It's kind of funny because we always forget that he doesn't understand a word of what people are saying. We're not taking our translation jobs very seriously…
But on the bright side, being exposed to German is making him want to learn this crazy language too and he's been practicing on Duolingo assiduously. That's actually what happened to us and how we ended up moving here in the first place! We'll have to wait and see if he falls into the same trap…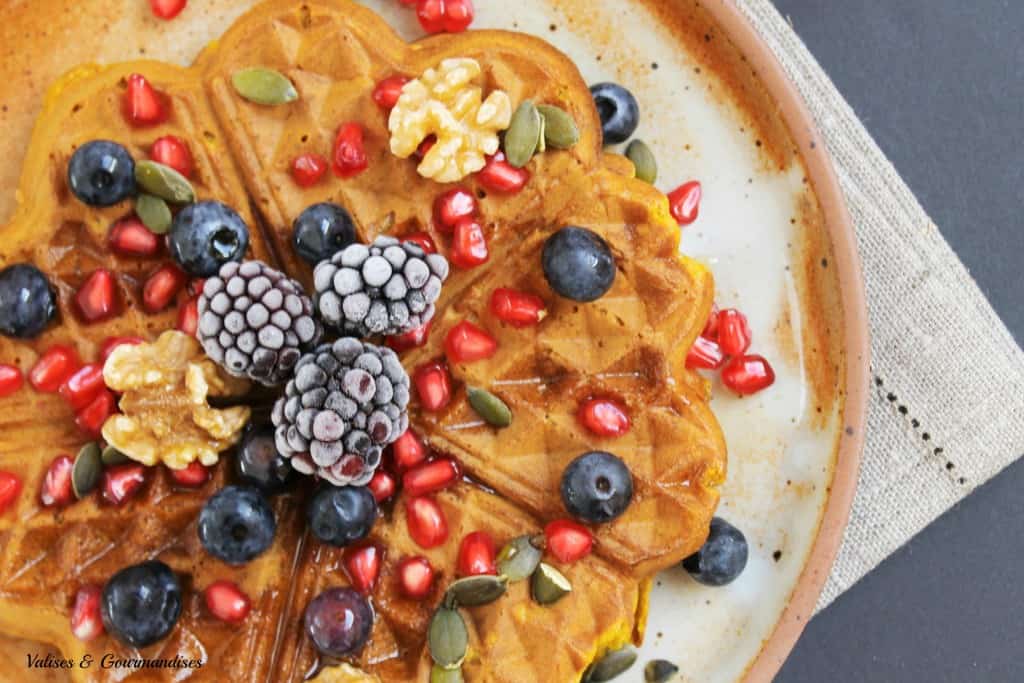 We're also enjoying cooking and visiting our favourite vegetarian restaurants in Hannover. We bought two more pumpkins and the boys are supposed to turn them into creamy purée and make me some tasty cookies while I'm at work.
We may also make these autumn waffles I made recently, even though I don't actually own a waffle maker! I just have the best landlady in the world who agreed to lend me hers. So if you don't feel like investing in one, even though you can find them for cheap, just ask around. I'm pretty sure you'll find a caring soul. You could even give it back with a batch of these beauties as a thank you.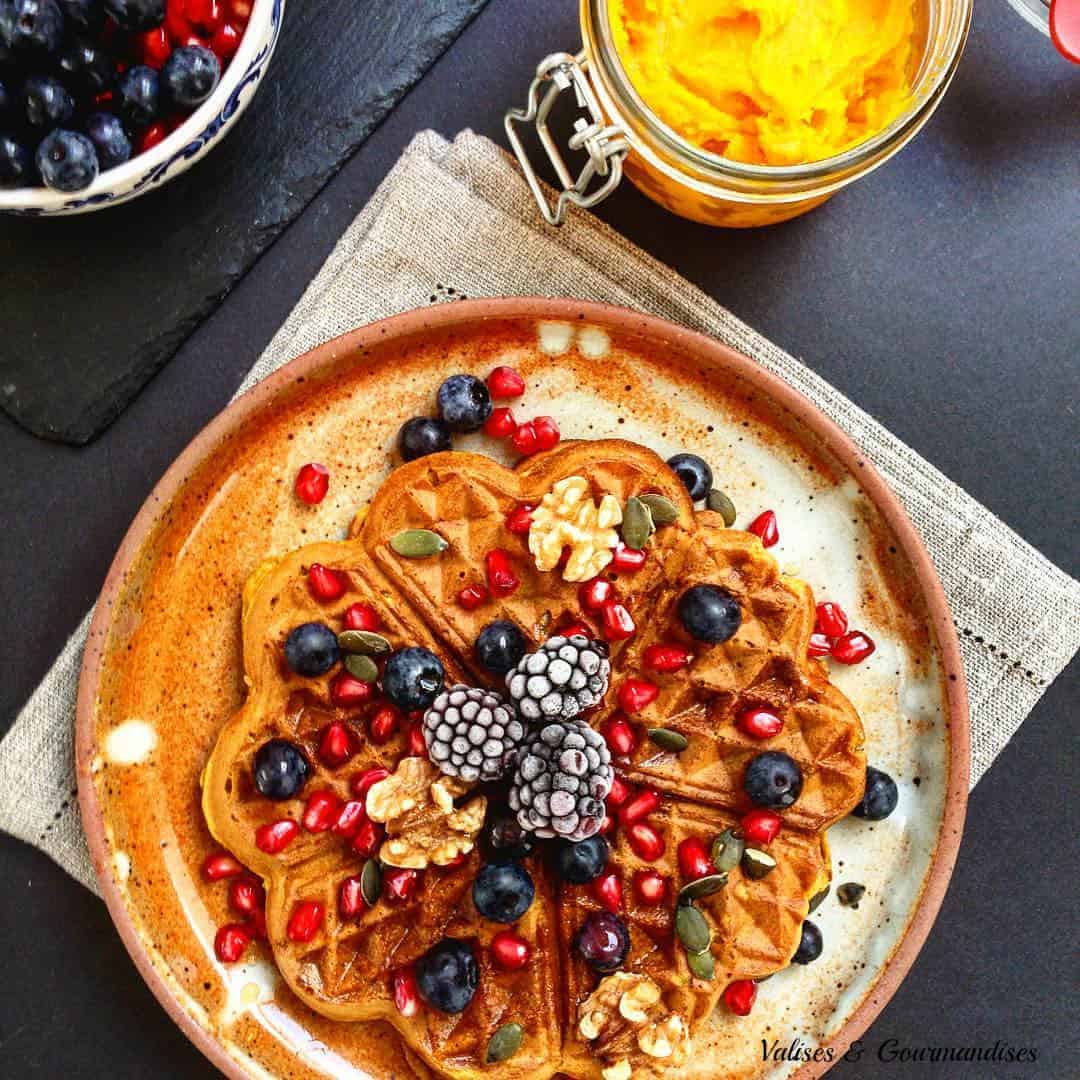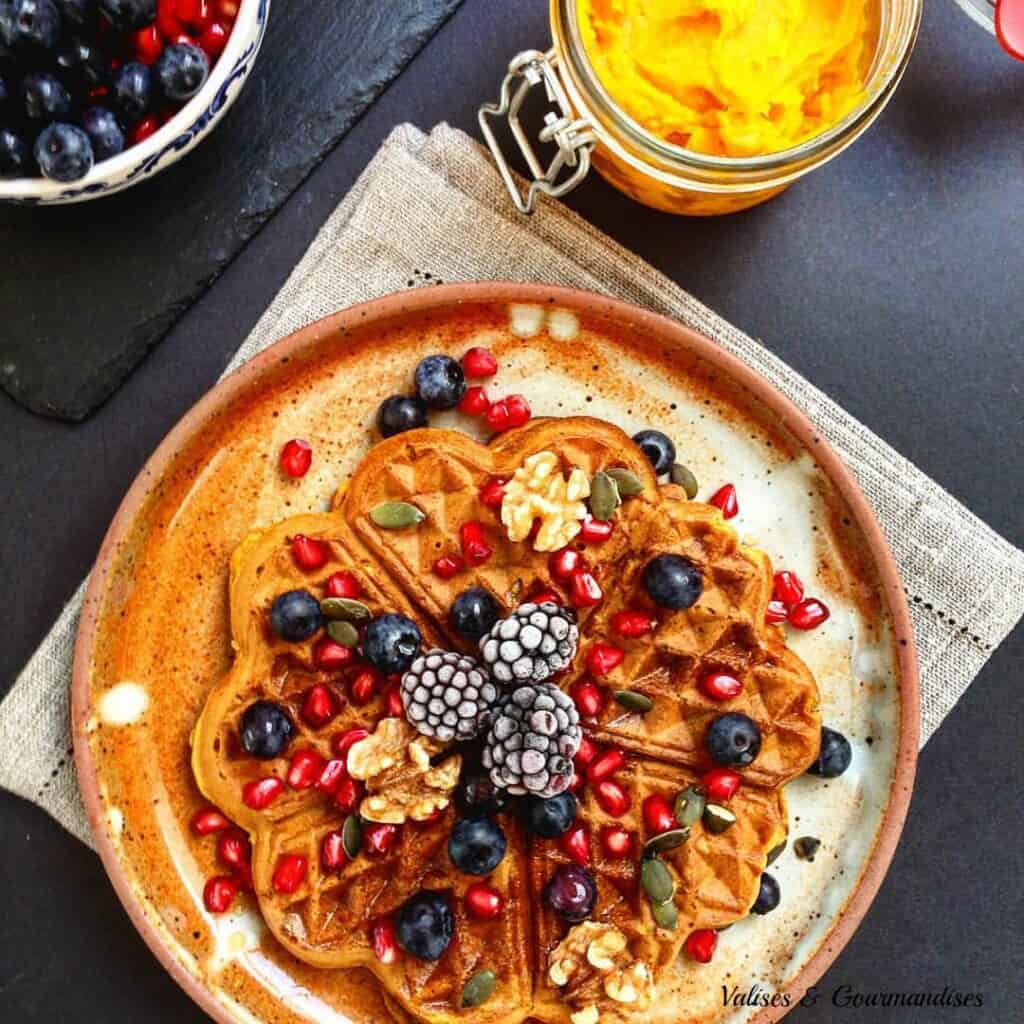 A few tips on how to make waffles like a pro
Using a clean cloth or a brush, lightly oil the iron before cooking each waffle.
Pour the batter in the middle, spread it a little and close the lid.
Do not open until ready, otherwise the bottom and top parts might separate.
If the top part tends to stick, lift the lid very gently and use a spatula or tongs to separate the waffle from the iron.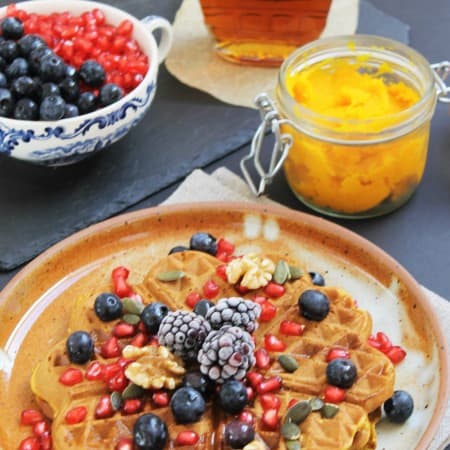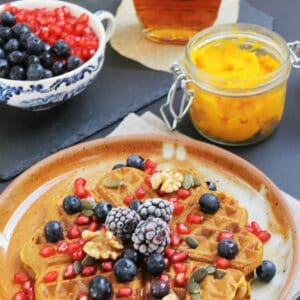 Vegan whole wheat pumpkin waffles
Dairy-free and egg-free whole wheat pumpkin waffles to enjoy fall to the fullest.
Ingredients
¾

cup

whole wheat flour

½

cup

all-purpose flour

1 1/2

tsp

baking powder

1/4

tsp

baking soda

1/4

tsp

salt

1

tsp

cinnamon

1

tsp

pumpkin spice

1 1/4

cup

plant-based milk

1

cup

homemade pumpkin puree

1

tablespoon

ground flax seeds

3

tablespoons

Canadian maple syrup

3

tablespoon

canola oil

1

tsp

pure vanilla extract
Instructions
In a large mixing bowl, combine flours, baking powder and soda, salt and spices.

In a smaller bowl, whisk the milk and the pumpkin puree together until there are no more lumps. Add flax seeds, maple syrup, oil and vanilla extract.

Preheat your waffle maker. Pour wet ingredients into the dry ingredients and whisk until combined.

Pour a little over ¼ cup of batter into your waffle maker and cook for a few minutes.
Notes
You can freeze them and reheat them in the oven or the toaster to replace good old Ego waffles!
Adapted from My darling vegan