These vegan zucchini muffins are ideal to make the most of the harvest! High in fiber, protein and also gluten free and low in fat and sugar.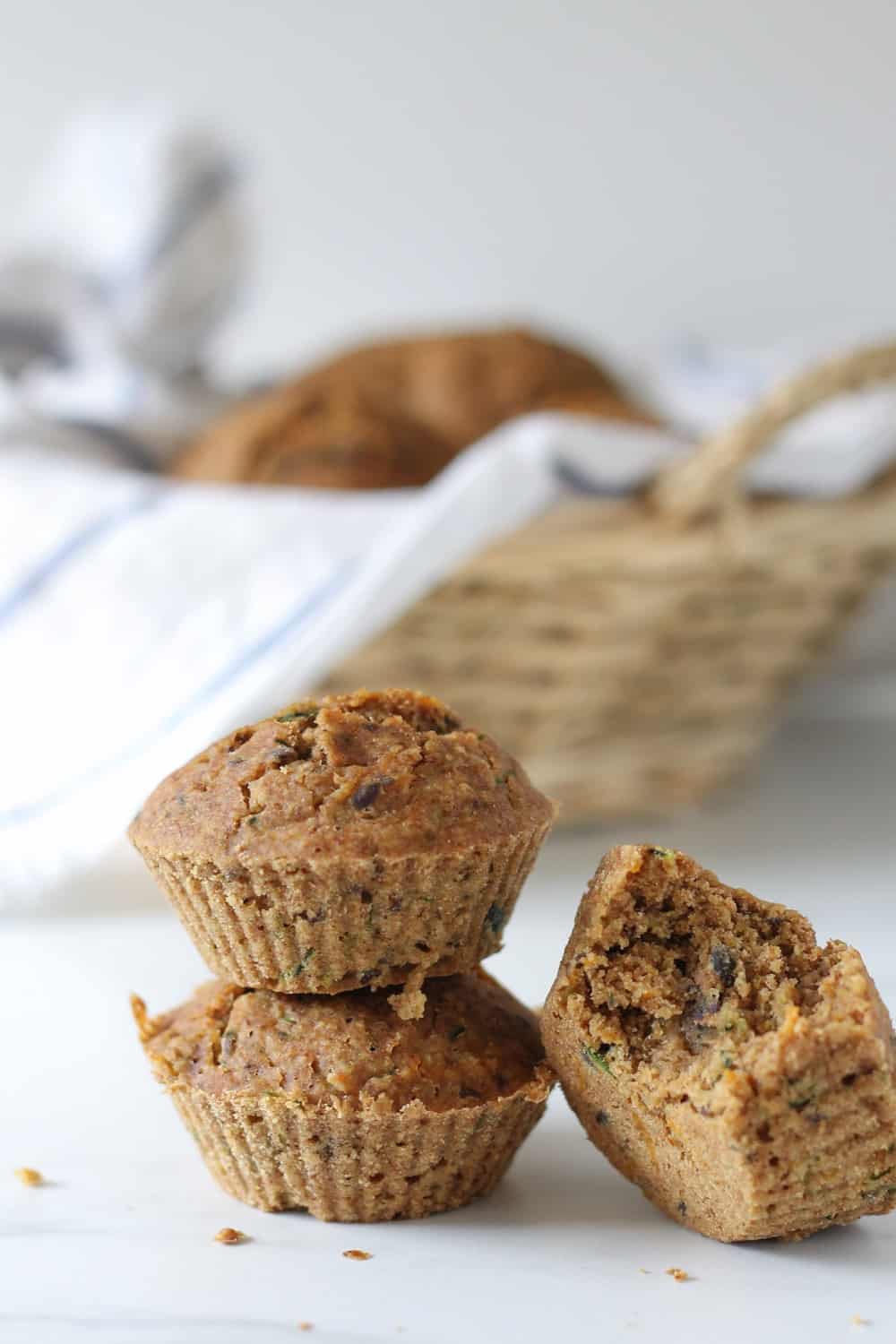 As I was supposed to work on my golden banana milkshake, I felt the urge to make zucchini bread. I must have spent a whole hour browsing the web for an interesting recipe. But they all called for outrageous quantities of oil and sugar. Even those called healthy. Thanks, but no thanks.
So I had to put my culinary talents to good use and whip up my own recipe. And since I was a bit afraid that it wouldn't cook all the way through, I decided to make muffins instead. Delicious gluten-free and vegan zucchini and carrot muffins inspired by my morning at the farmers' market.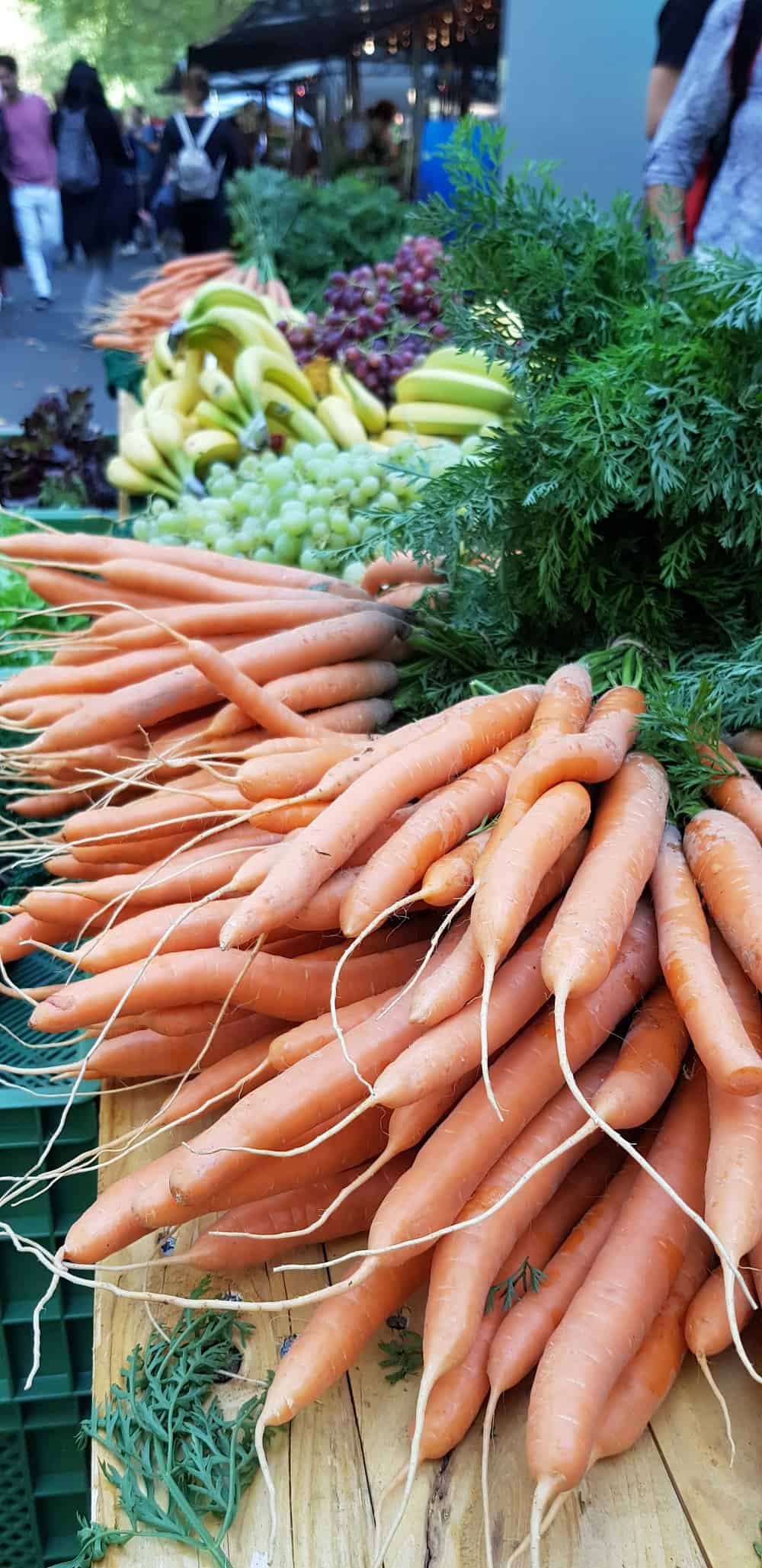 I know that the recipe may seem complicated with its somewhat long list of ingredients, but rest assured. It couldn't be simpler. Most are ingredients that are found in any muffin recipe, such as flour, baking powder, spices, etc.
I'm not a fan of gluten-free pastries that use unusual ingredients such as rice flour and xanthan gum because of their texture and taste. But by combining oats and buckwheat, which are an important part of any good pantry, we end up gluten-free muffins with the perfect texture.
The day I made them, I shared the recipe with my mom who's trying to limit gluten to see if it helps with her fibromyalgia. She made them right away and they were a huge hit, with the adults and the kiddos! I only managed to take the pictures only the next and what you see is all that was left! I made 17 smaller muffins, but if you fill your muffin tin a bit more you can make 12 without worrying about them overflowing.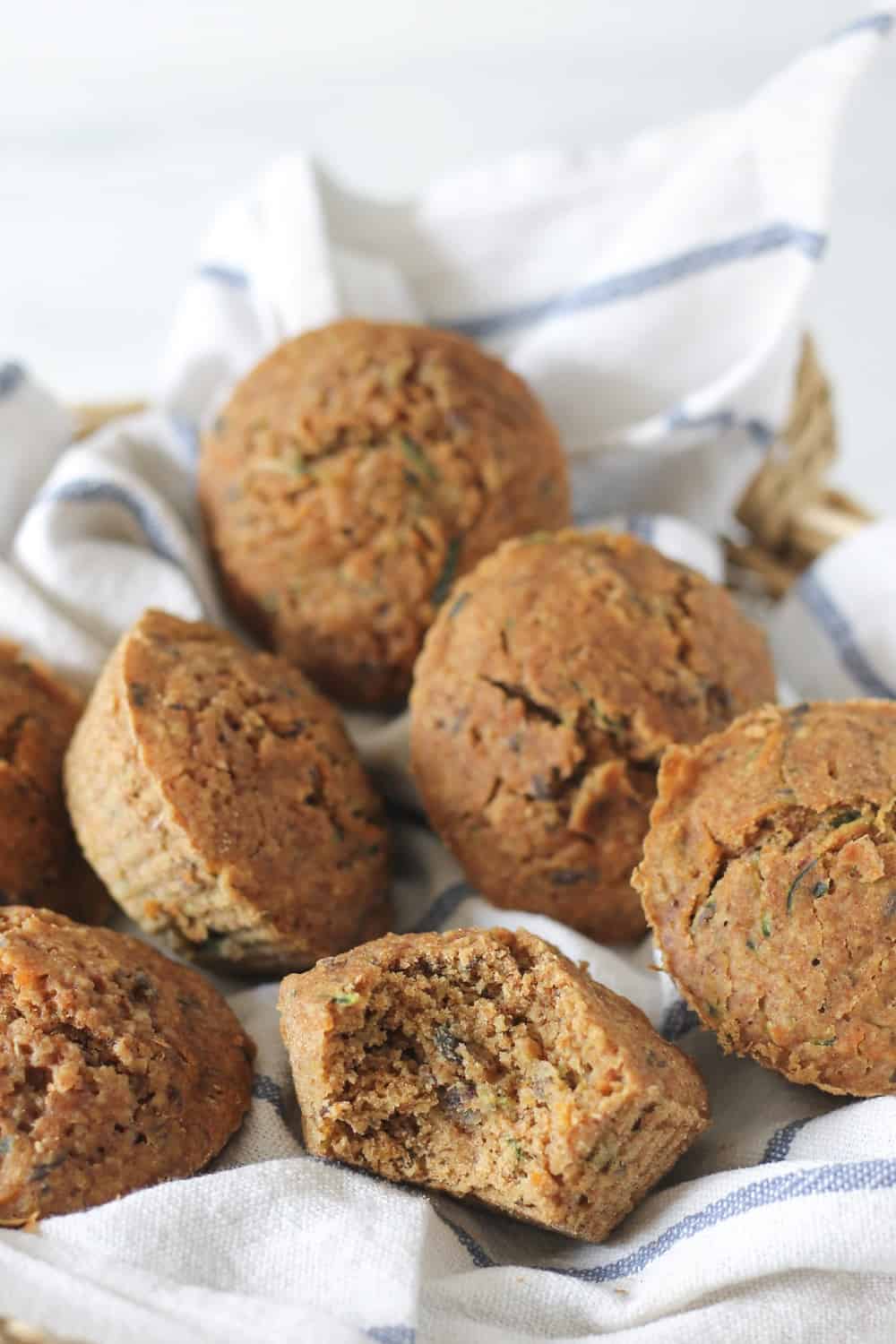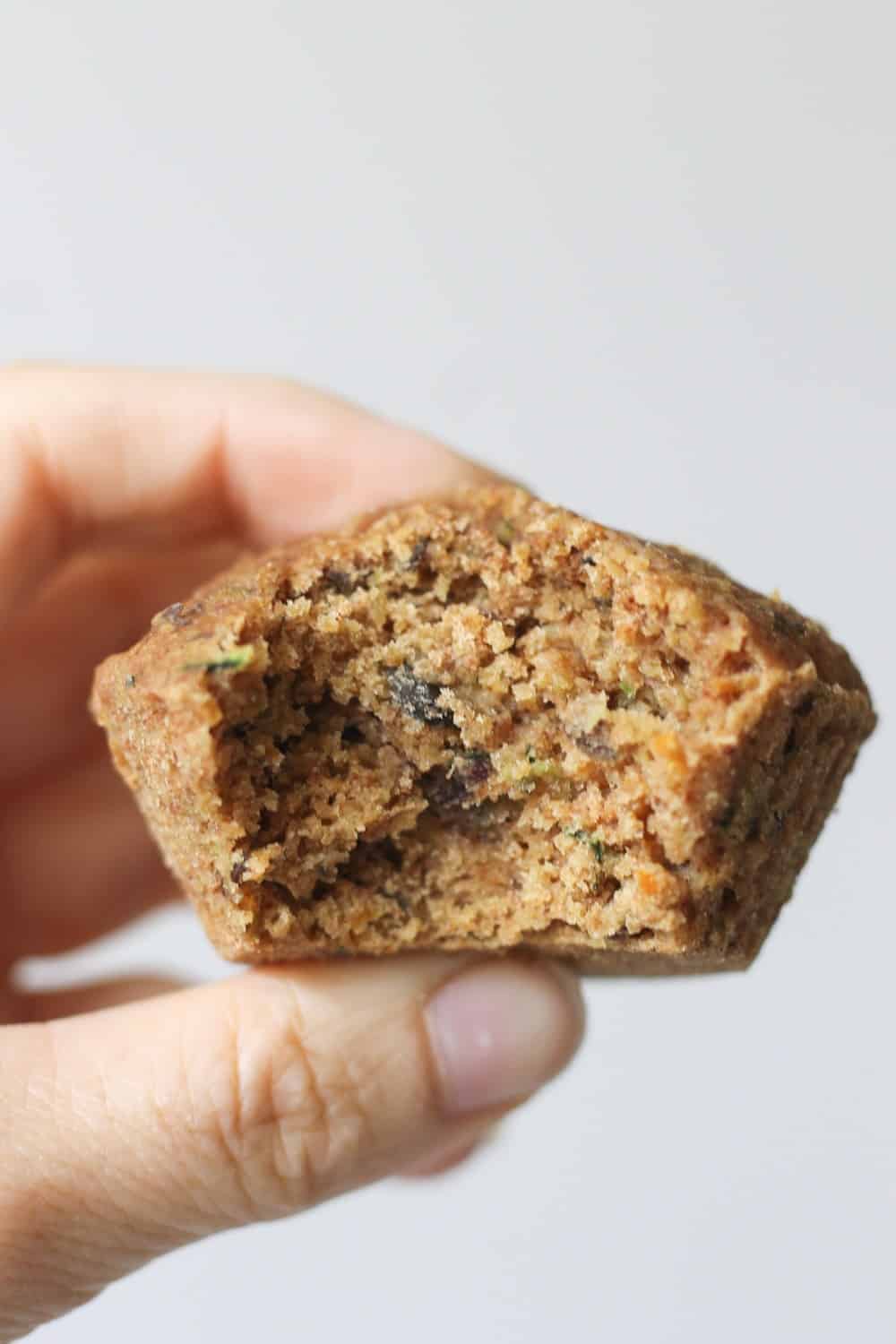 You can now find oat flour in most grocery stores. However, since it simply consists of finely ground oat flakes, it's much cheaper to make it yourself by grinding the oats in the blender. And, yes, oats are naturally gluten free. As far as science goes, only people with Coeliac disease should make sure that their oats haven't been in contact with wheat. Otherwise, you're only paying double the price for no good reason.
I also limit the amount of fat by using half oil half applesauce, which does add one more ingredient, but it's really worth it. And if you don't know what to do with the rest of the applesauce, I have a recipe for a turmeric and apple granola. Would you like it? :)
More muffin recipes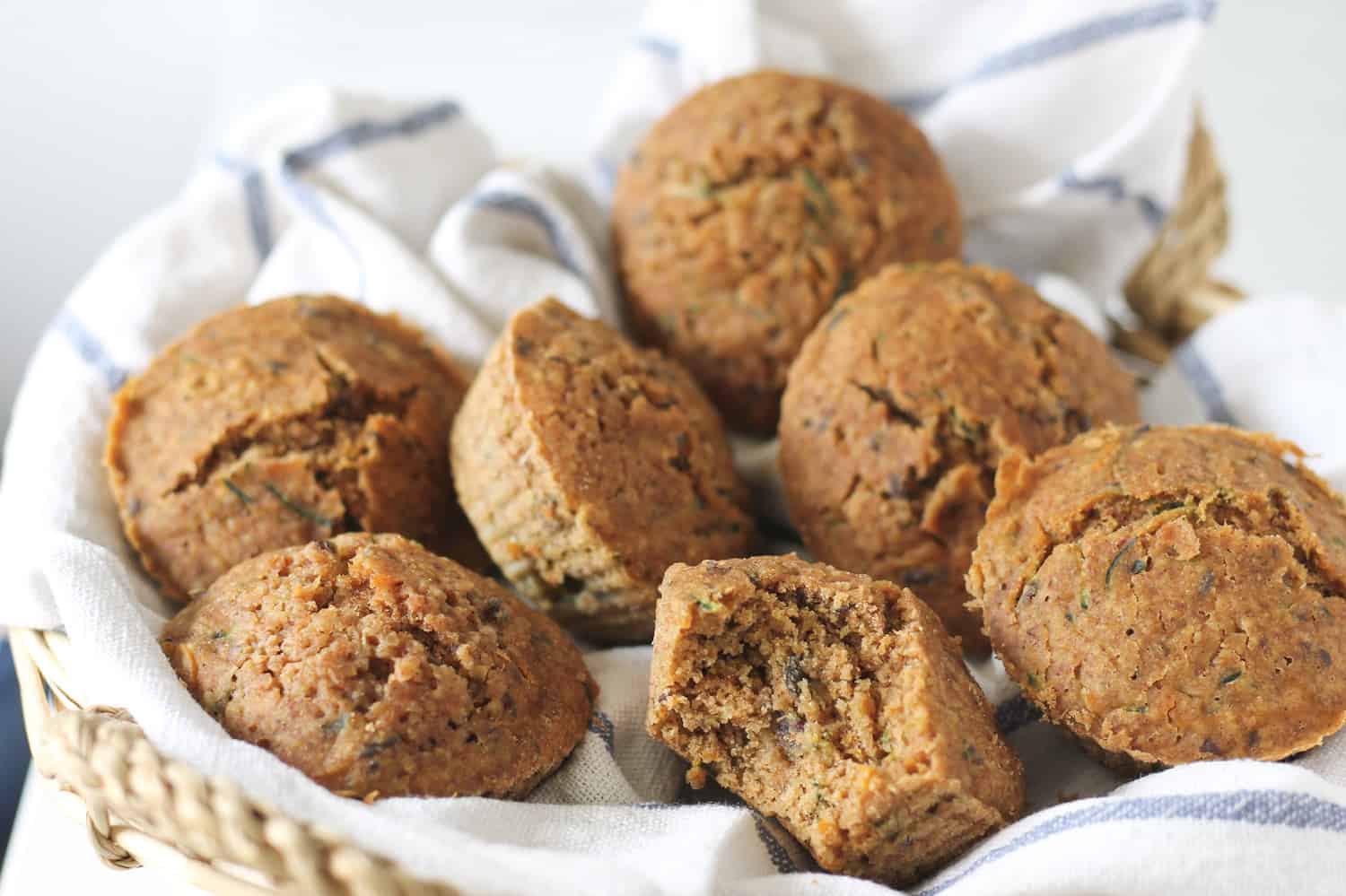 If you try this recipe, make sure to snap a picture and share it on Instagram or Facebook using the hashtag #valisesetgourmandises. I wanna see your creations! And don't forget to leave a comment below :)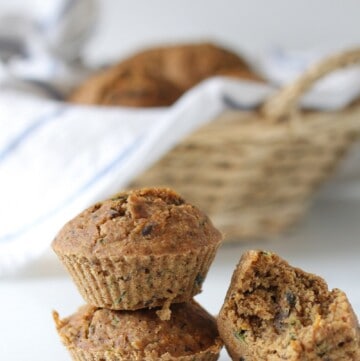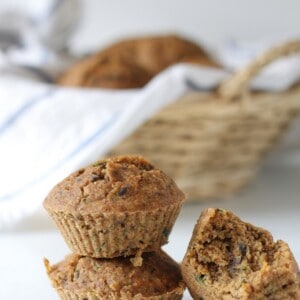 Vegan Zucchini and Carrot Muffins, Gluten Free
These vegan zucchini and carrot muffins are ideal to make the most of the harvest! They are high in fiber, protein and diverse nutrients. They're also gluten free and low in fat and sugar.
Ingredients
Dry Ingredients
1.5

cup

oat flour

(140g)

1

cup

buckwheat flour

(90g)

2

tablespoons

flax seeds

ground

1

teaspoon

raw sugar

1

teaspoon

baking powder

1

teaspoon

baking soda

2

tablespoons

cinnamon

1/2

teaspoon

ground ginger

1/4

teaspoon

nutmeg

1/4

teaspoon

salt

1/4

cup

pumpkin seeds

or nuts
Wet Ingredients
1

cup

soy milk

unsweetened

1

tablespoon

apple cider vinegar

1/4

cup

applesauce

unsweetened

1/4

cup

canola oil

1

cup

zucchini

finely shredded, packed

1/2

cup

carrot

finely shredded

1/4

cup

dates

chopped (or raisins)
Instructions
Preheat the oven to 350F (180C).

Add the vinegar to the soy milk and set aside.

Mix all the dry ingredients together in a large bowl.Incorporate all the wet ingredients expect the shredded veggies and the dates and combine with spatula.

Press the zucchini to remove as much liquid as possible. Add the veggies and dates and mix just until they are well incorporated.

Divide into oiled muffin tins or silicon moulds (let's avoid single use cups! :) and bake in the oven for 20 minutes, or until a toothpick inserted in the middle comes out clean.
Notes
*You can make your own oat flour by grinding oat flakes in a dry blender. Buy gluten-free certified oats if needed. 
**Keep them 2 days at room temperature. To keep them longer, store them in the fridge.
Nutrition
Calories:
181
kcal
Carbohydrates:
24
g
Protein:
5
g
Fat:
8
g
Saturated Fat:
1
g
Sodium:
194
mg
Potassium:
239
mg
Fiber:
4
g
Sugar:
4
g
Vitamin A:
989
IU
Vitamin C:
4
mg
Calcium:
82
mg
Iron:
2
mg