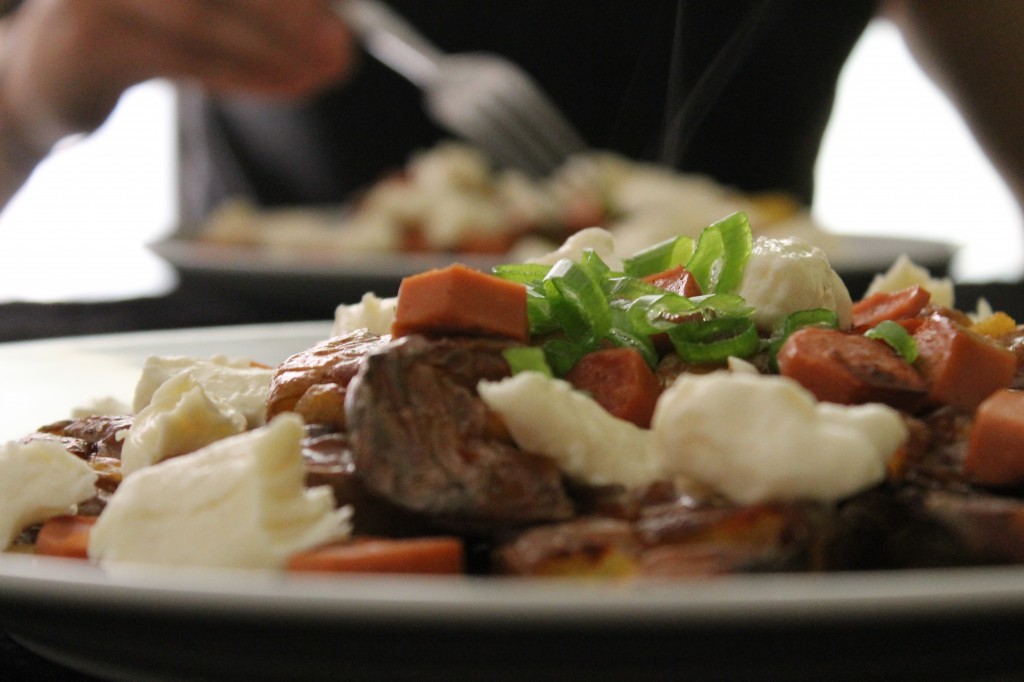 When I told my boyfriend I had decided to adopt the vegetarian lifestyle, he was immediately supportive and agreed to stop cooking meat at home. I feel so lucky that he enjoys eating healthy! He's actually the one who introduced me to whole-wheat bread and pasta, tofu and almond milk. Convincing him wasn't too hard.
I promised that we would eat more and eat better. Some people still think that vegetarians only live off of salad. Well, think again. 
There's a growing awareness of the importance of the food we put into our bodies. Just look at grocery stores and food suppliers who are trying to keep up with the pace. More and more space on shelves is devoted to variety and healthy eating. With everything we have access to nowadays, your meals don't have to be boring.
Switching to a vegetarian diet actually pushed me to try and discover new foods and recipes. More diversity, more quantity, more nutrients, less of the bad stuff; it's all given me so much more energy in general. You really are what you eat!
As a normal human being tempted by the occasional urge to indulge in fast food, I've discovered there's always a way of finding a healthier and arguably better-tasting equivalent.
If you've ever heard of or been to my home-province of Québec in Canada, you must know of poutine, our pride and joy. It's what we miss the most when we travel, because it's seldom served in other countries (unless a Québécois has decided to open a Poutinerie abroad). For the uninitiated, the basic recipe for Poutine boils down to three elements: French fries, gravy and cheese curds.
Skepticism is understandable, but until you try it, you're just like all the other naysayers that have long since been converted. The unshakable Triforce can be accompanied by a wealth of other ingredients like meats and vegetables.
Fun fact: poutine happens to be a 4 AM post-party classic and goes very well with beer.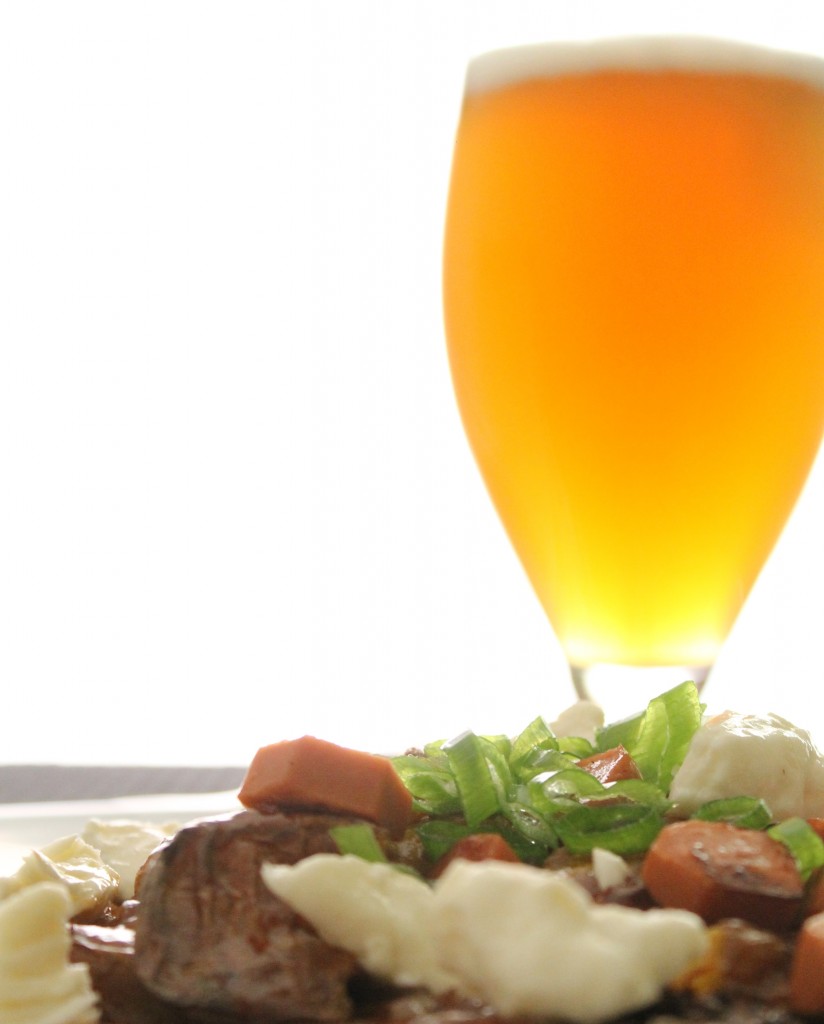 Yes, our most famous dish is regrettably fast food. But in the last few years, some of the most famous chefs in Québec have set out to transform it and put it on their menus.
This is serious business my friends. We even have an official Poutine Week during which 30 restaurants compete to win the title of "Best Poutine in Montreal". They outdo themselves to propose mouth-watering poutines using different combinations of fries, sauces, cheeses, meats and veggies.
Meat-lover editions are quite popular, but I was happy to see that my fellow vegetarians and I were not left out. For example, Lola Rosa, a vege-bistro, offers a vegetarian poutine made with sweet potatoes… I haven't tried it yet, but it's on my to-eat list!  I finally tried it last summer and it exceeded my expectations. It was a real treat!!
Some restaurants offer their own variations of poutine, which are infinite. My friends and I love Poutineville, which allows you to pick and choose from a seemingly endless list of ingredients to create your own custom recipe.
My favorite: smashed potatoes with regular poutine cheese, gravy and hot dog wieners. Not so adventurous, I know, but I've witnessed people venture a little too far on the creative side and live to regret it.
But now I need to find a new favorite. No more hot dogs for me.
Well, I promised I would innovate and create my own vegetarian versions of the recipes I love, right? So here it is… drumroll … Vegetarian Tofu Dog Poutine!
Feel free to take my basic recipe and run with it. The possibilities stretch as far as your imagination goes!
If you're feeling up to the challenge, here are some ideas to get you started: caramelized onions & sautéed mushrooms, guacamole, salsa, sour cream & sautéed pepper, tofu general tao, etc. When brainstorming for additional ingredients, think of some of your favorite foods and consider including them in your poutine!
Please select intelligently. Don't throw in peanut butter or skittles and then question the credibility of my tips if it tastes awful. If your combo does taste great though, please do let me know or share with everyone in the comments section! :)
The basic recipe is quite simple. There are only a few steps to follow.
You could boil the potatoes ahead of time and keep them in the fridge until you are ready to smash and bake them. Same thing for the sauce, but I recommend making it the same day.
The recipe is for two people, because you don't want to make a big batch and eat it later. Poutine should always be eaten fresh. Reheating or microwaving just isn't nearly as satisfying.
If you are serving more people, or simply two hungrier people, adjust the recipe by doubling it, tripling it, quadrupling it, and so on and so forth.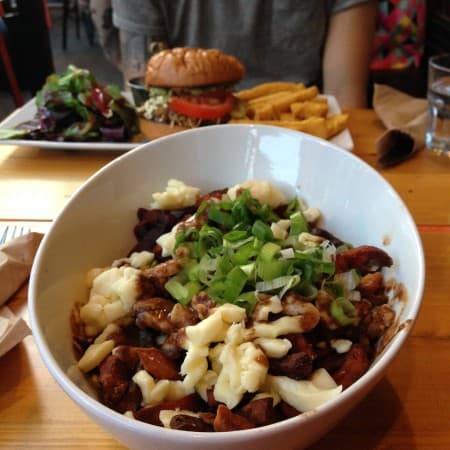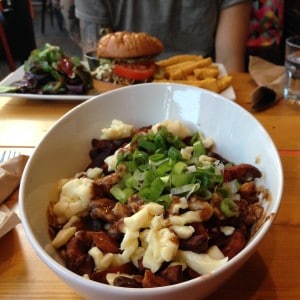 Vegetarian Poutine for Two
Have you ever heard of poutine, the national meal of the province of Québec? Try it and finally see what all the fuss is about. You won't regret it!
Ingredients
Small potatoes - enough for two people

Tofu heese curds

recipe below

3 to

fu dogs

sliced

Chopped green onion for topping

TOFU CHEESE CURDS

¼

pack firm tofu

¼

cup

lemon juice

1

tablespoon

salt

POUTINE SAUCE

1

tablespoon

olive oil

½

onion

finely diced

1

small garlic clove

pressed

1

tablespoon

maple syrup

1

tablespoon

ketchup

chili sauce or tomato paste

1

teaspoon

soy sauce

1

teaspoon

vinegar

1

teaspoon

smoked paprika

1

teaspoon

chili powder

1

teaspoon

Dijon mustard

1

teaspoon

lemon juice

1

tablespoon

cornstarch

1

cup

vegetable stock
Instructions
First of all, crumble your tofu in small and medium pieces and marinate in lemon juice & salt until other ingredients are ready (around 30 minutes). Add water to cover if necessary.

Bring a pot of salted water to a boil. Add potatoes and cook until tender (approximately 10 minutes).

Drizzle olive oil on a baking sheet. Place cooked potatoes on the sheet and squish them gently with a potato masher or with the bottom of a small glass. A simple fork also does the trick and gives them a nice groovy texture.

Drizzle with olive oil, fresh ground salt & pepper. Top with fresh herbs of your choice (rosemary and parsley are great).

Bake in the oven at 375F(190C) until they are golden and crispy, roughly 20 minutes.

While your potatoes are tanning the oven, prepare the sauce: in a small pot, heat the onion and garlic in olive oil until translucent. Add and combine maple syrup, ketchup, soy sauce, vinegar, spices, mustard and lemon juice.

Dilute cornstarch in vegetable stock and add to the pot. Bring to a boil while stirring. Reduce heat to medium and let simmer for 10 minutes, while stirring regularly. I encourage you to taste it and adjust the flavours as per your preference, if you like it sweeter, spicier, etc. I initially thought my sauce was a bit too vinegary, but once combined with the potatoes and cheese, the end-result was perfect for my taste buds.

Next, heat up the sliced tofu dogs beside the potatoes in the oven for the last 5 minutes. Drain the tofu and press to remove excess liquid.

When your potatoes are crisp and golden, take them out and lay them on two plates. Put wiener slices and cheese curds on top, pour a generous amount of sauce and top it off with a handful of green onion.
Notes
Enjoy with your favourite beer! I suggest Coup de Grisou.
A few people mentioned that they found the sauce too spicy. I suspect they used either Cayenne pepper or spicy chili sauce (which the recipe doesn't call for).