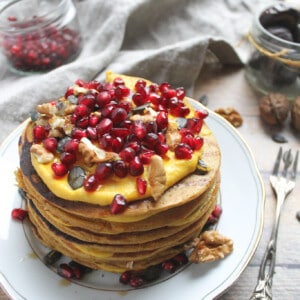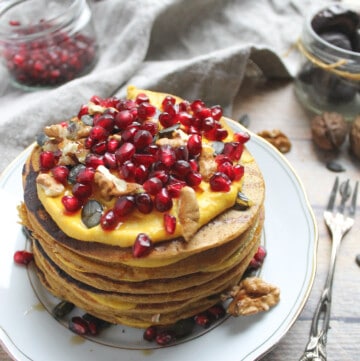 Vegan whole spelt pumpkin pancakes
These oil-free, dairy-free and egg-free pumpkin pancakes will be sure to spruce up your mornings!
In a large mixing bowl, combine dry ingredients (flour, baking powder, flax seeds, sugar, spices and salt).

Add wet ingredients and whisk to incorporate (pumpkin puree, apple sauce, milk). Add chocolate chips if using. Add a few splashes of milk if the batter is too thick to be poured.

Preheat the oven to 100F (200C) then turn off.

Heat a non-stick pan on medium-high heat. When the pan is hot, pour about 1/3 cup of the batter evenly in the center. The pancake is ready to be flipped when the top side is no longer liquid. Flip carefully, cook one or two more minutes and set aside in turned off oven.

Repeat for the other pancakes, lowering the heat if necessary.