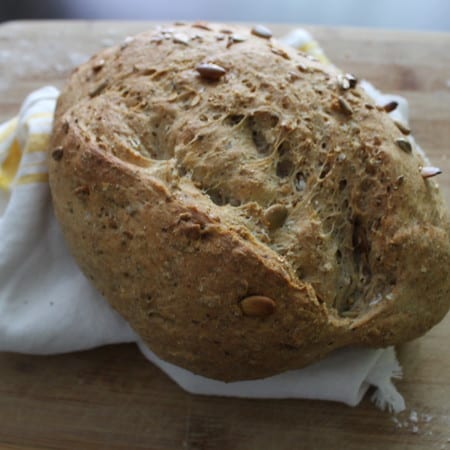 Homemade Multigrain Bread
Forget about store-bought bread with this easy-to-make chunky multigrain loaf.
In a big bowl, combine the flours, the oats, the seeds, the yeast and the salt.

Add water gradually and mix until the dough holds together. Add some water if it is too dry and won't come together, or flour if it is too sticky.

Knead on a lightly floured surface until the dough forms a soft and elastic ball. Approximately 10 minutes.

Turn on the oven for a minute and then turn it off. Place a bowl of hot water in the oven. Place the dough in a lightly oiled bowl, cover with a clean towel and let rise in the oven until it has doubled in size, approximately 2 hours.

Once doubled, punch down the dough ball and let sit for 10 minutes. If making two loaves, cut the dough in two equal parts with a sharp knife. Give them a cylinder shape.

Place the loaves on an oiled cookie sheet. Humidify the top of the dough and press the garnishes to help them stick.

Cover with the towel and let rise in the oven for one last hour or until the loaves have doubled in size.

Remove from the oven and preheat to 375°F.

Bake for approximately 40 minutes, or until the top is golden and the bread sounds hollow when knocking on it.

Remove from the oven and let cool on a grid.