Everytime I told anyone I was going to spend the Holidays in Norway, they had the same reaction: "Wow, you'll see, it's very expensive over there."
I wish they had been wrong, but we quickly realized that the country has earned its reputation. Here's a concrete example: in basically any café, two cappuccinos and two croissants will cost you CAD$20. If you're European, that's about €13. Yup… The Canadian dollar stings.
This shouldn't keep you from visiting the Norvegian capital though. You just have to spend wisely to enjoy the city with a clear conscience!
There are many activities you can do for free. You can also save a lot of money by foregoing the hotel and opting to housesit, or couchsurf, or by using Airbnb.
As for us, we spent two weeks housesitting a nice apartment overlooking the fjord without having to spend a dime. All we had to do was take care of the cat and water the plants while the owners were celebrating the Holidays with their family abroad. They were even nice enough to lend us their transport cards, as well as let me use… their Vitamix blender! In short, we got pretty lucky.
To reach Oslo, Ryanair offers cheap flights from many European cities – we paid €55/pers. for a round trip in the middle of the Holiday season. No kidding!
And finally, avoid restaurants if you know what's good for you (and your wallet). It's better to cook most meals and to save that money for an overpriced coffee here and there.
Oslo Opera
Only a few steps away from the main station, this is probably the most famous building in the city.
Built in a modern style, you can walk on the roof, just like at the Place des Arts in Montreal, to admire the view overlooking the port and the city (that's where the resemblance to Montreal stops).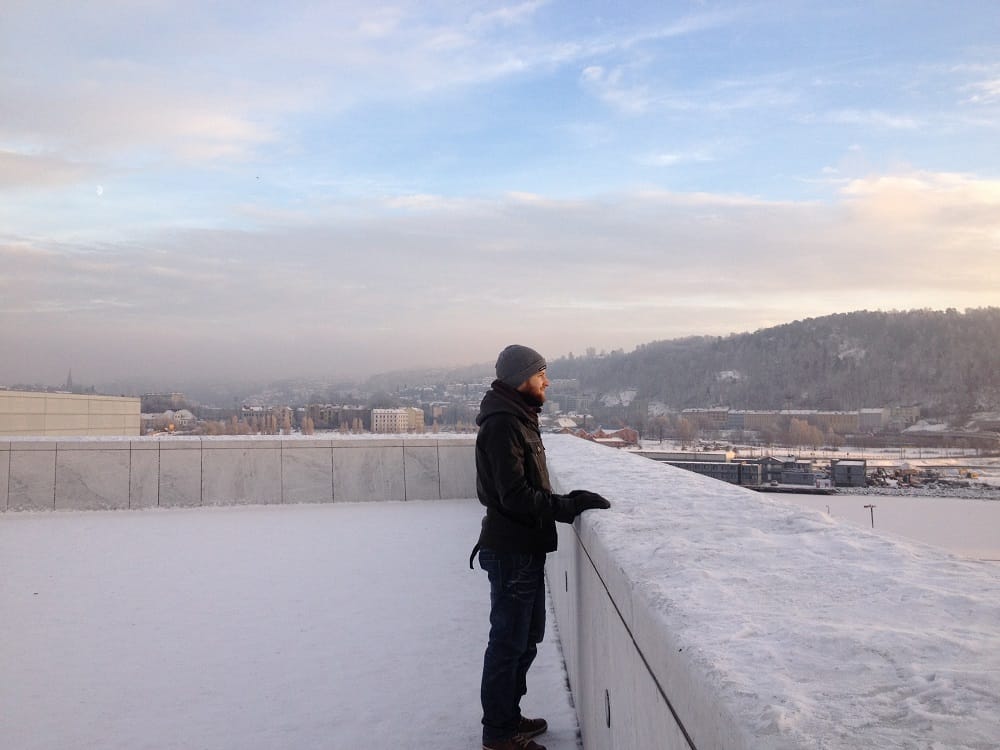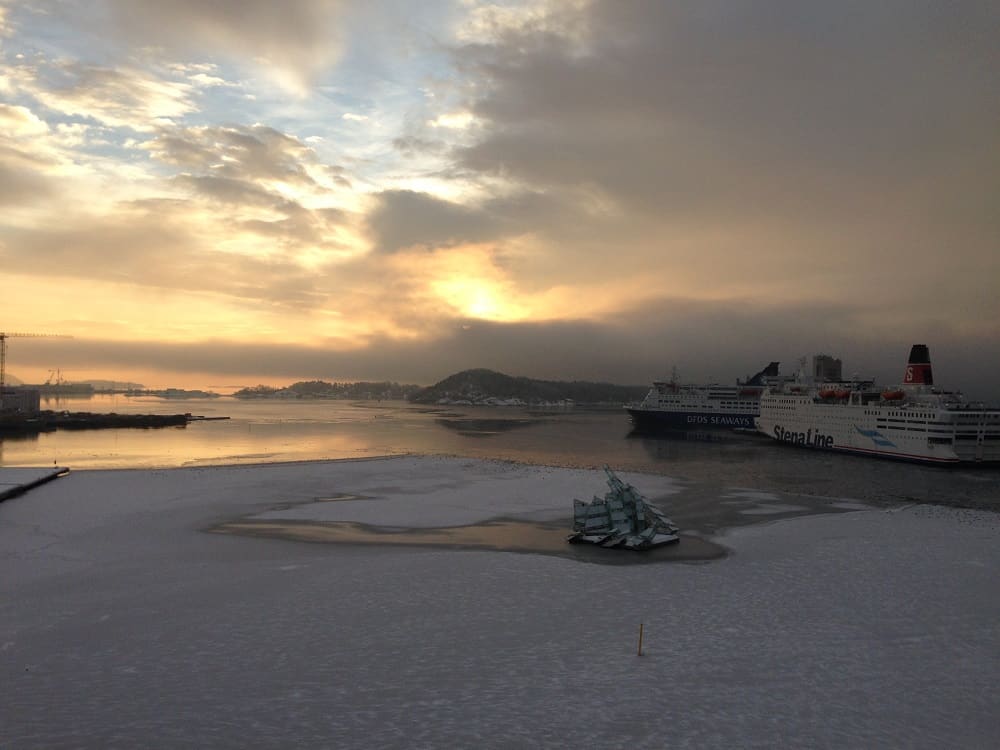 The entrance is also open to visitors. Take a peek, warm yourself up, and take advantage of the toilets.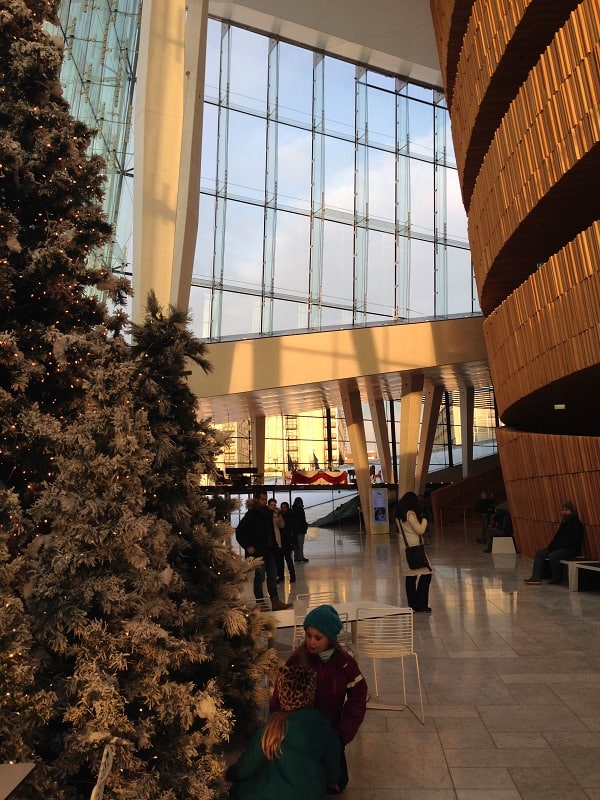 Akershus Fortress
The Akershus Fortress is between the Opera and our next stop, so why not take a moment for a nice quiet walk. Enjoy the view of the city and the port from a different vantage point.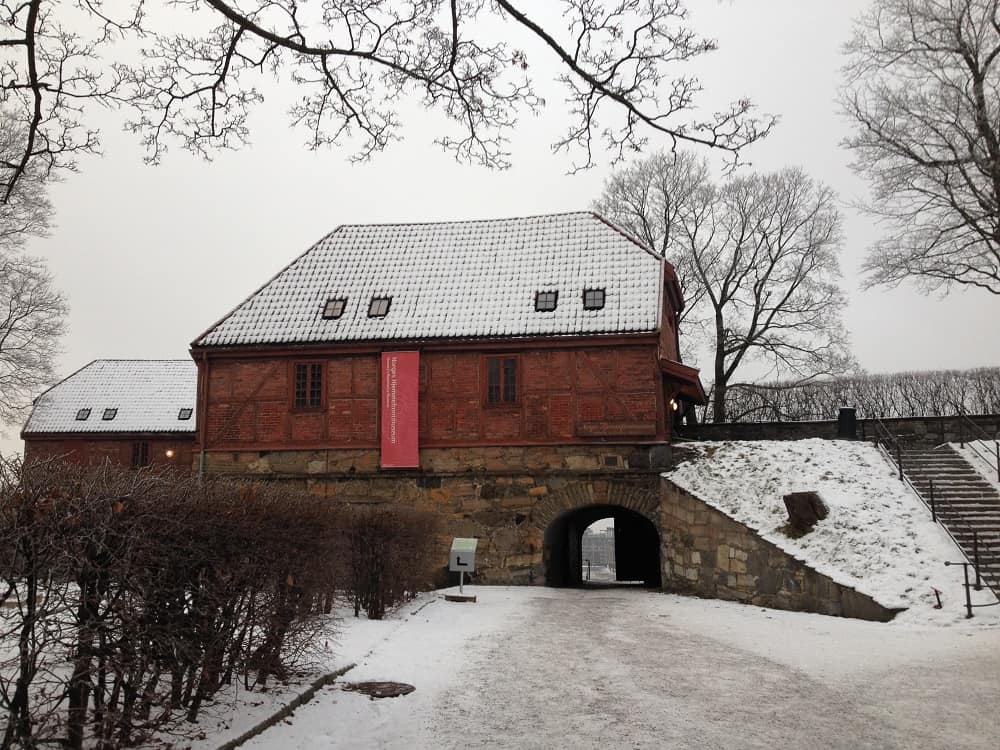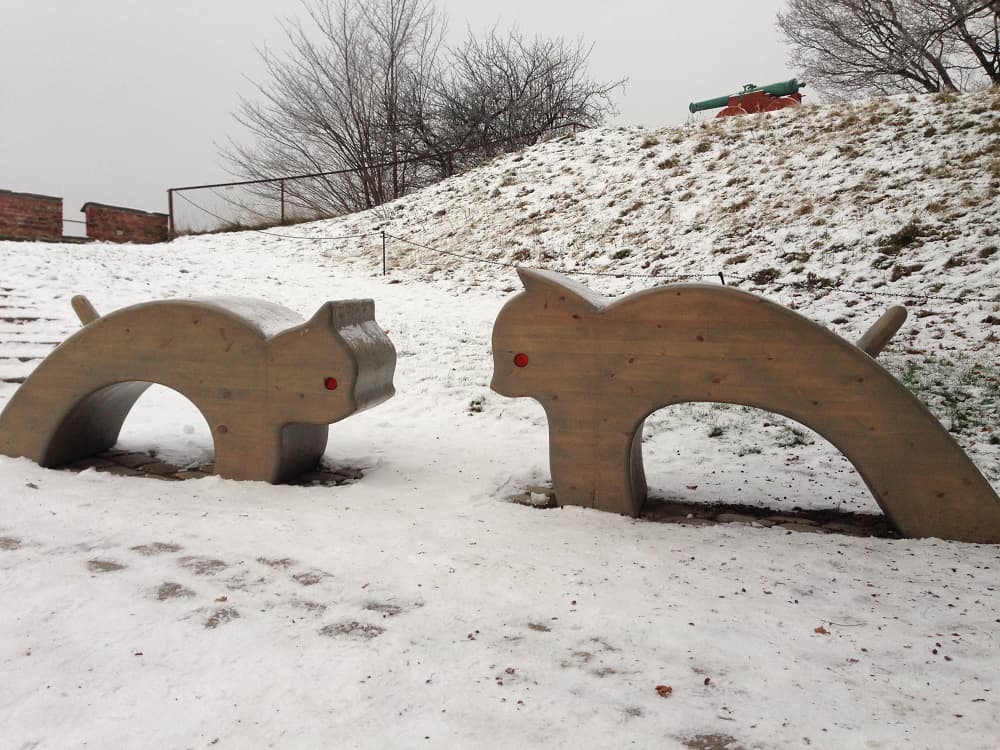 Nobel Peace Center
A few days before our visit, this is where the Nobel Peace Prize was awarded to two outstanding people. Malala Yousafzai is a young Pakistani girl who grew up in a village ruled by the talibans. She now campaigns for girls' rights to go to school and receive an education. Kailash Satyarthi is an Indian man who's actively worked to liberate and protect slave children for about three decades.
< The exhibition room reflects this year's theme: children. We walked around the colourful hall, looking at the pictures and text describing the two recipients' work, trying to wrap our heads around a world so different from our own. Some little kids were playing in the slides at the center of the room, innocently unaware of how lucky they are to be born in this part of the world.
No need to tell you that the exhibition struck quite a cord with us. We took the opportunity to purchase a few books at the store, with profits directly contributing to the Center's activities.
Vigeland Sculpture Park
This grandiose park was entirely conceived by artist Gustav Vigeland at the beginning of the last century. Once through the portal, visitors are greeted by human-size bronze statues representing adults and children. I found it fascinating that Vigeland managed to recreate the emotions so vividly in the park's 212 statues.
Even more impressive, if you keep walking south, you'll find yourself in front of a 14-feet tall sculpture representing 121 people, carved into one single pillar of stone.
You're curious as to how the artist achieved such an exploit? Head to the Vigeland museum, located in the southern area of the park. There, for just a few crowns, you can see the molds that were used on display.
If it hadn't been for our frozen extremities, we could have wandered in the park for the entire day. I can imagine it being the perfect spot for a summer picnic.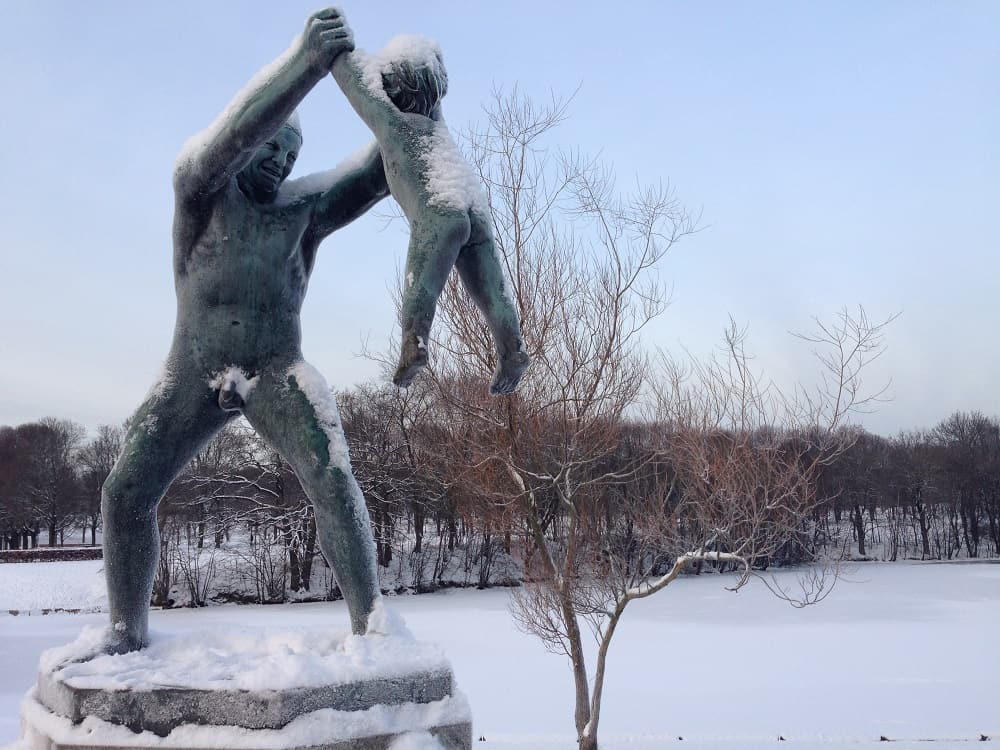 Take a stroll through the Christmas Market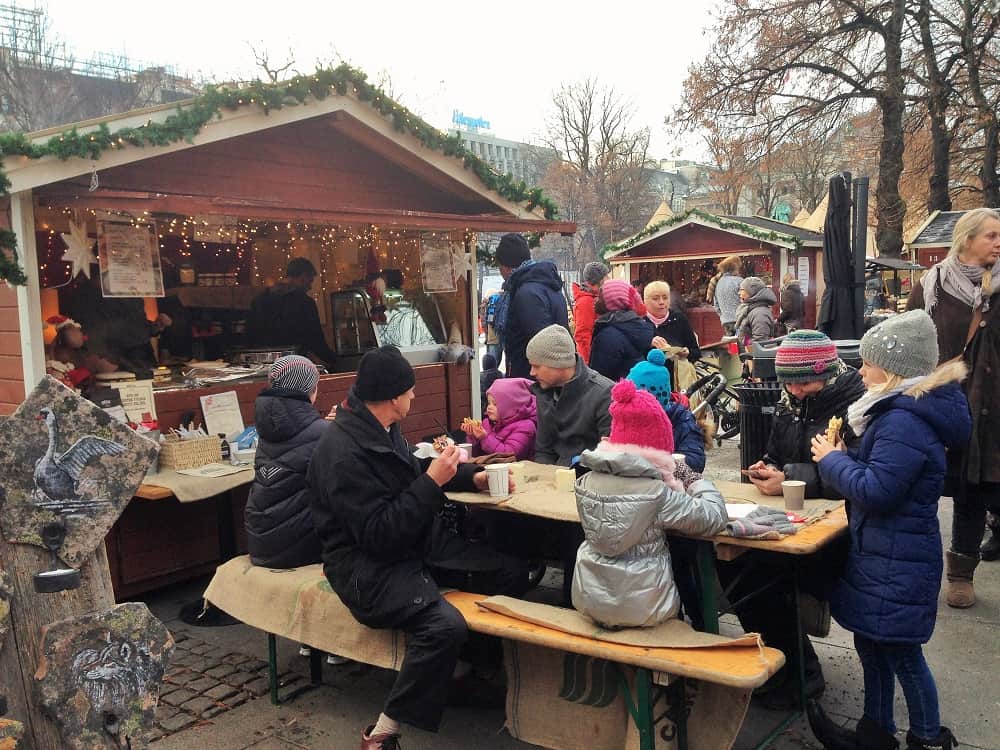 Ok, this one is a bit tricky. If you're strong-willed enough to walk through a Chrismas Market without buying anything, it's technically a free activity. After repeated visits to the one in Hanover, which is absolutely gigantic, I was expecting to be blown away by Oslo's. But to be honest, it's rather tiny! Size isn't everything though. It's a nice place to spend a fun afternoon and drink some heart-warming Glögg, which is essentially a hot, sweet mulled wine that helps fend off the cold quite effectively.Changing of the guard at the palace
Everyday at 1:30 you can witness the changing of the guard, which is a bit formal for our taste but seems to attract its fair share of tourists. We were never around at the right time, but we still eventually conquered the slightly-sloped hill to admire the palace before heading back downtown. Hollmenkollen Olympic Jump
We really wanted to go see it for the stunning view on the city, but in December the sun goes up a little after 9am and down around 3pm. We didn't manage to go because I was actually sick as a dog for almost the entirety of our stay in Oslo. Traveling isn't all adventure and glamour.
The pictures I've seen are absolutely gorgeous! Any daredevils out there may attempt to slide down the mountain on a sled. I dare you to do it on a crazy carpet! :P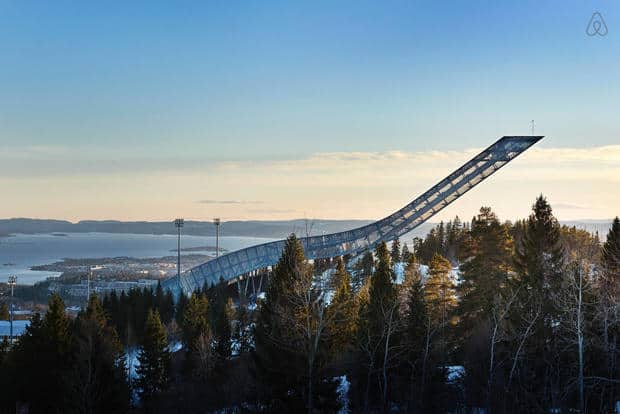 Visit Oslo actually produced a promotional video which made me regret not being able to go and see it for myself. You can watch it on YouTube. You'll also find an exhaustive list of free museums and more as well as additional info on the capital on their website.
Practical info
Languages spoken: Norwegian, but English is commonly spoken.
Currency: Norwegian crown
To find vegan & veg-friendly restaurants in the area: How to find vegetarian restaurants abroad with Happy Cow
Have you been to Oslo? Would you add anything to my list!?
For more pictures of our trip, head over to Valises & Gourmandises' Facebook page!