I didn't get much sleep last night. My boyfriend, who gets sick once in a blue moon, kept twisting and turning, unable to get any shut-eye due to a sore throat, congestion and headache.
This winter, I've been regularly making my classic lemon, ginger and honey infusion, and neither of us got sick, but I hadn't made it in a while because of an empty jar of honey. So to kill his germs before they besiege us both, I went out and bought a cute jar of raw organic honey, along with some veggies to make a hearty barley soup.
I felt that my man needed something a bit stronger than my basic infusion, so I brewed him a batch of this home-made tea I found a while back. It combines ingredients with immune boosting, antiseptic, anti-inflammatory, expectorant and pain-relieving proprieties, to name only a few. Ingredients you probably already have in your kitchen, nothing complicated.

After drinking a big mug, he says he's already feeling better. I'll be making it daily to help him get back on his feet and to make sure I stay flu-free!
If you try this recipe, make sure to snap a picture and share it on Instagram or Facebook using the hashtag #valisesetgourmandises. I wanna see your creations! And don't forget to leave a comment below :)
After the incredible popularity of this infusion, I've come up with not one but three other versions to help you fight off microbes this winter!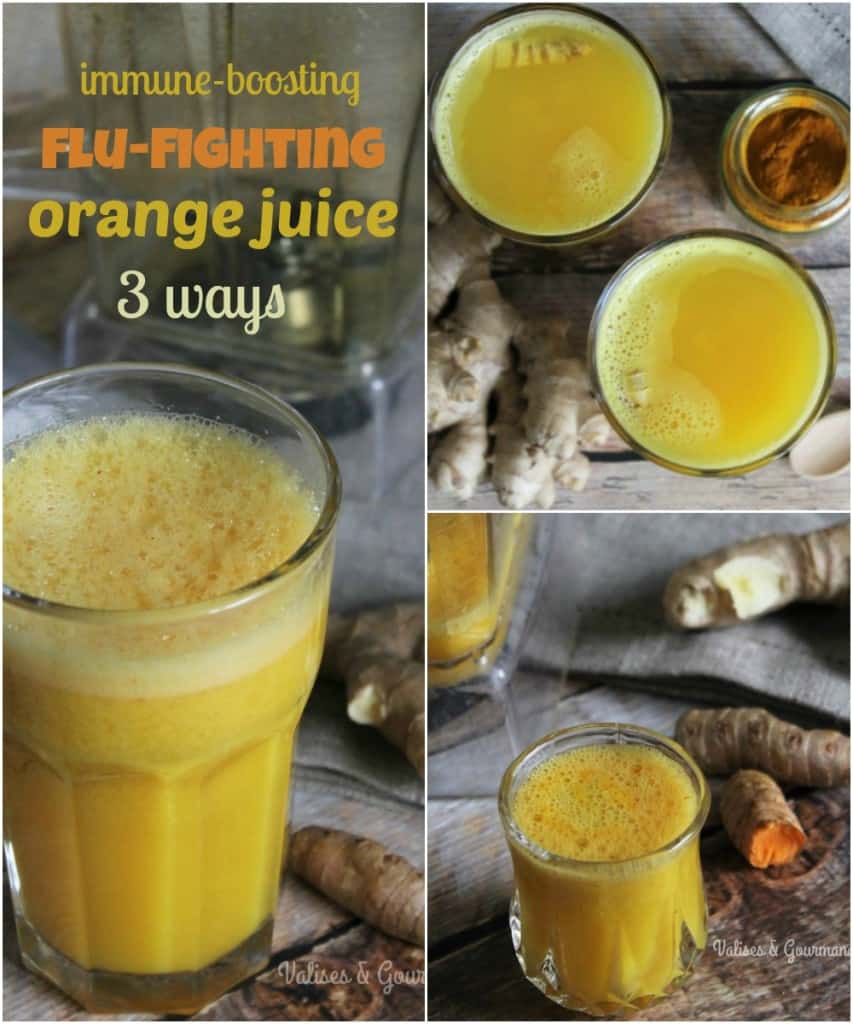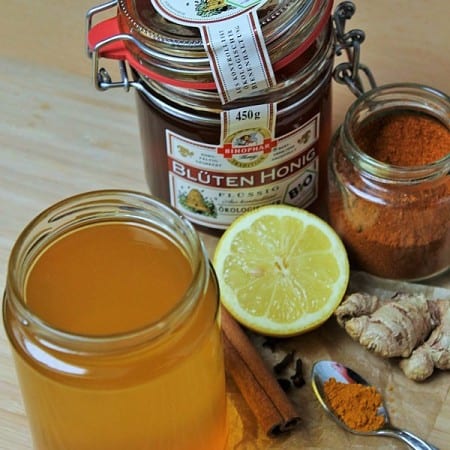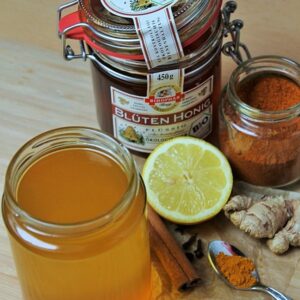 Flu-fighting infusion
It's flu season again, and whether you're already feeling under the weather or just trying to avoid getting sick, try this powerful microbe-fighting infusion.
Ingredients
3

cups

of water

Juice of half a lemon

1

stick of organic Ceylon cinnamon

3

slices

1/4 inch thick of organic ginger

¼

teaspoon

cloves

½

tablespoon

Organic turmeric

As much Cayenne as you can handle

try a pinch or two

A small pinch of black pepper

2

tablespoons

organic raw honey
Instructions
Bring all ingredients except honey to a boil.

Once boiling, reduce heat and let simmer for 10 minutes.

Strain the infusion with a fine mesh sieve and divide into two mugs.

Add about one tablespoon honey per mug, stirring well. Enjoy warm.
Similar recipes