WE'RE GOING TO SRI LANKA!!!!!!
Oh, sorry, did I startle you? I'm just so excited I can barely contain it.
So yeah, from March 2nd to the 21st we'll be exploring this fascinating island and eating all the spicy food and the tropical fruit! We wanted to go somewhere special for our honeymoon and I think we picked the perfect destination. What do you think? Have you been? I want your suggestions!
Since we bought our plane tickets, I've been adding chilies and Cayenne to our food to prepare our taste buds to the cultural shock. And I'm sure it's still nowhere near the fire-inducing Sri Lankan food that awaits us… After all, the cuisine is said to be similar to that of south India, which is mighty spicy. It also and features lots of coconut, so bring it on!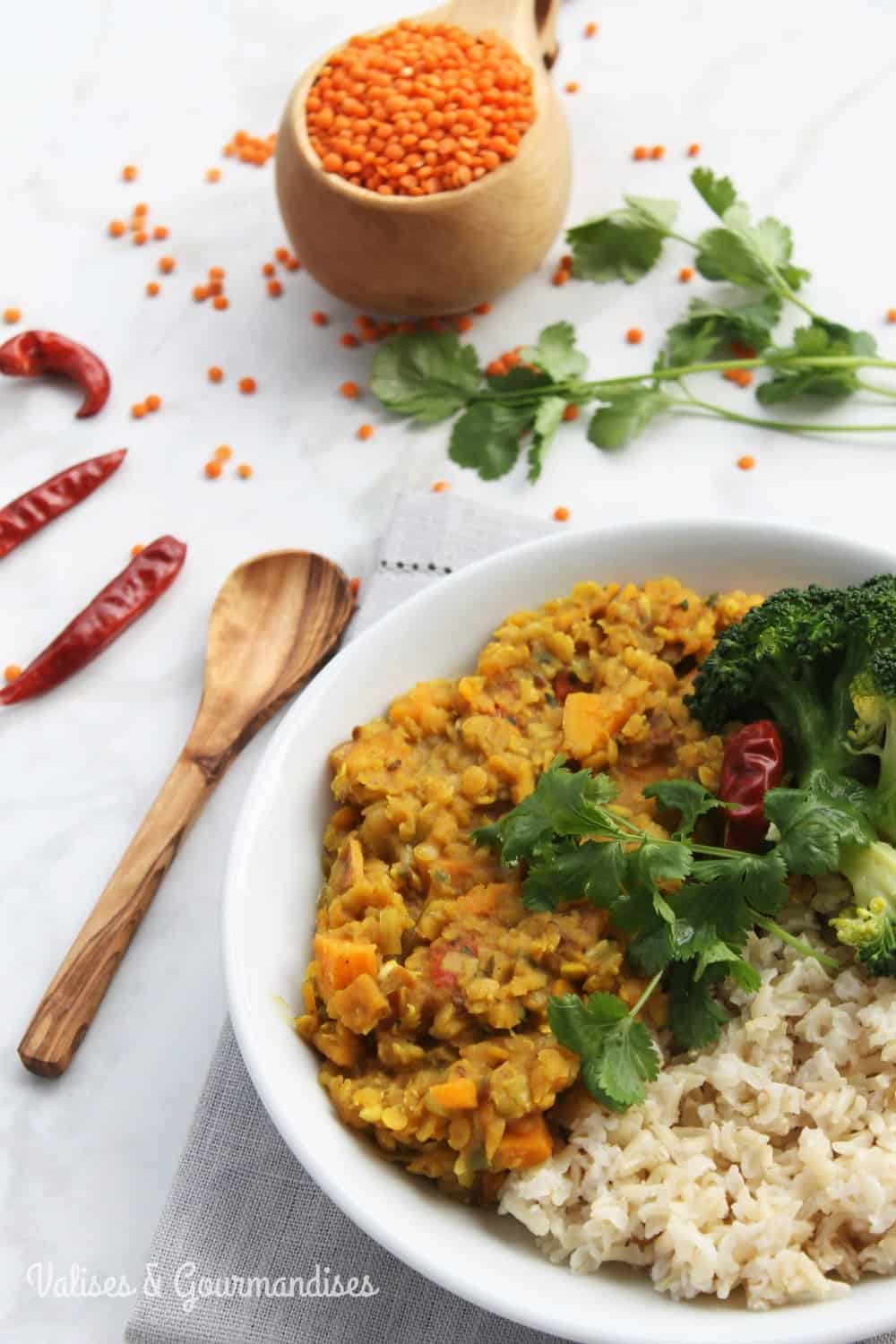 We look forward to taking a cooking class and learning how to make dhal like a local, but until then I'll just share the yummy recipe I've developed over the years and that we both love, Martin and I.
Dhal, also spelled dal or daal, is a very basic and popular dish throughout India and its neighbours. Usually served with rice and flat bread, it makes for a nutritious meal that's also cheap and easy to make. My friend who lived in New Delhi for a couple of years calls it a poor's people dish. Which in no case means that it's not tasty and satisfying! Especially with the addition of leek and sweet potato.

It has a thick soup-like consistency. But I had some lighting problems during the shoot and the rice absorbed most of the liquid. Again, being a blogger ain't easy! Leftover also tend to thicken up in the fridge and I love to warm them up on the stove with veggie stock and coconut milk. I'm telling you, that's the stuff.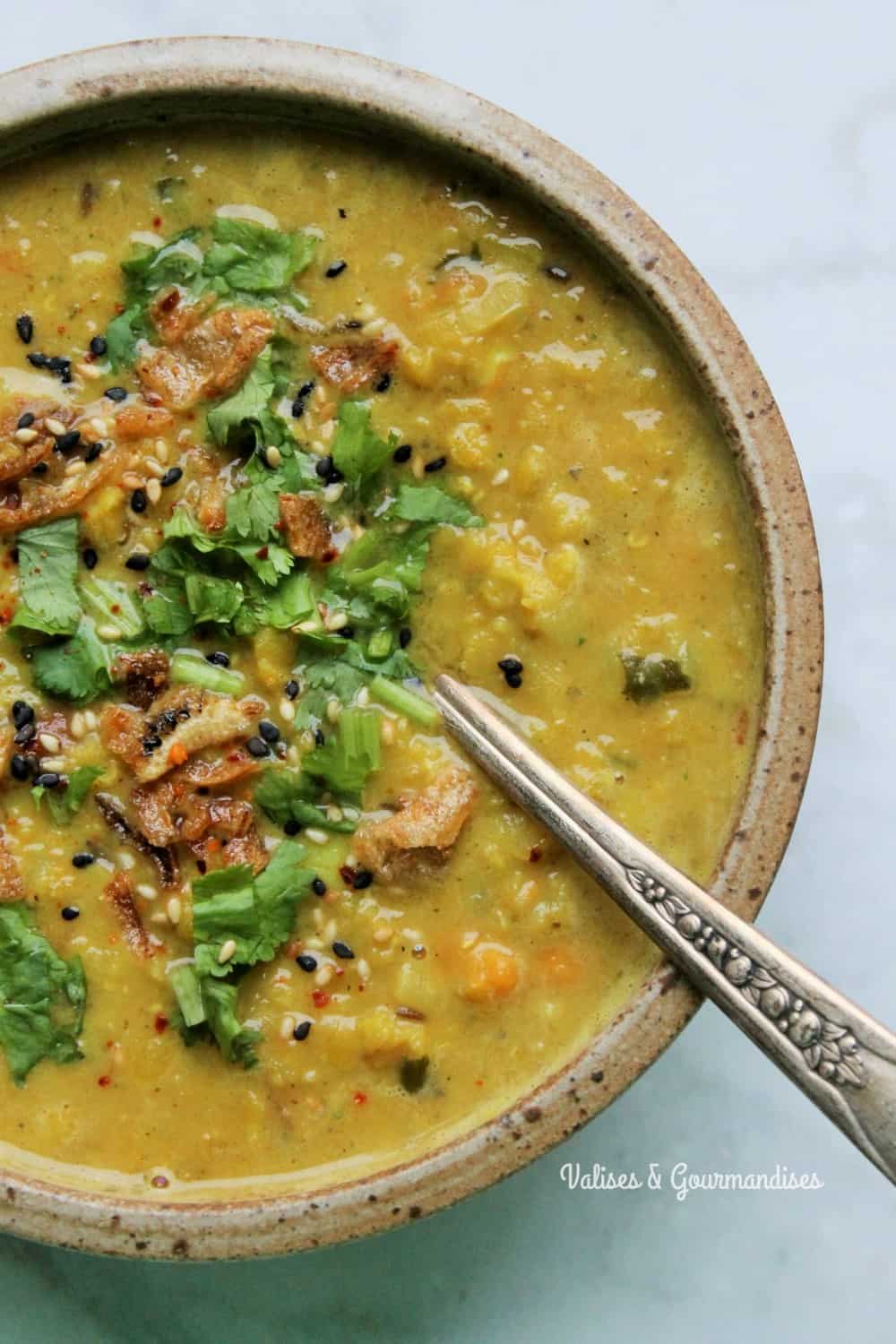 If you try this recipe, make sure to snap a picture and share it on Instagram or Facebook using the hashtag #valisesetgourmandises. I wanna see your creations! And don't forget to leave a comment below :)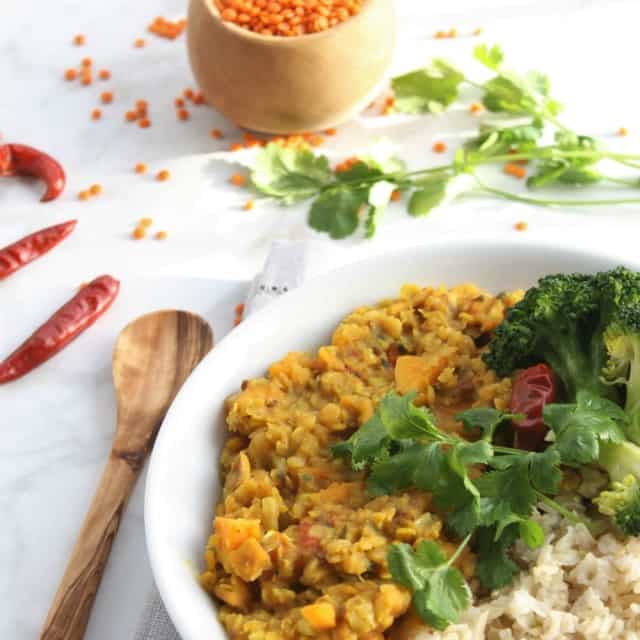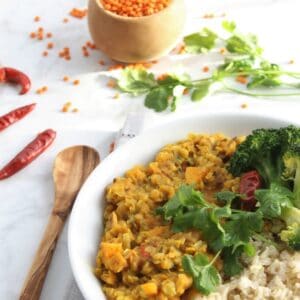 Vegan red lentil dal with sweet potato and leek
This healthy red lentil dal is an easy & delicious way to include more beans into your diet, and the addition of sweet potato & leek takes it to the next level!
Ingredients
1

teaspoon

organic coconut oil

1

small leek

minced

3

cloves

of garlic

crushed

1

tablespoon

fresh ginger

grated

1

small sweet potato

diced

1

cup

split red lentils

2.5

cups

water

½

cup

cherry tomatoes

or one tomato, diced

1.5

teaspoon

curry powder

½

teaspoon

turmeric

1

teaspoon

cumin seeds

1

teaspoon

ground coriander

2

small dried chilies

chopped, or ½ teaspoon red chili flakes (adjust to desired heat)

½

teaspoon

Black pepper

Optional add ins

A few curry leaves or 1 bay leaf

½

teaspoon

garam masala

¼

teaspoon

mango powder
Instructions
Rinse the lentils and let soak in water while you prep the veggies. When ready to start cooking, drain them, give them a good rinse and set aside.

In a pot on medium-high heat, melt the oil and sauté the garlic and the leek for about 5 minutes. Add tomatoes, ginger and spices (except the garam masala and the mango powder) and roast for 2 minutes. *If it starts sticking to the botton of the pot, add a bit of water

Add the sweet potato, the lentils and the water. Bring to a boil, reduce heat and let simmer covered about 15 minutes until the potatoes are cooked through. Add more water if needed.

Once everything is cooked, add the garam masala and mango powder if using and cook 2 more minutes.

I like to mash some of the dhal with a potato masher before serving for a thicker consistence.

Serve on brown rice or with flat bread and garnish with cilantro.
Notes
If you have leftovers, reheating it on the stove with veggie broth and coconut milk makes for a delicious lentil dal soup!
Related recipes