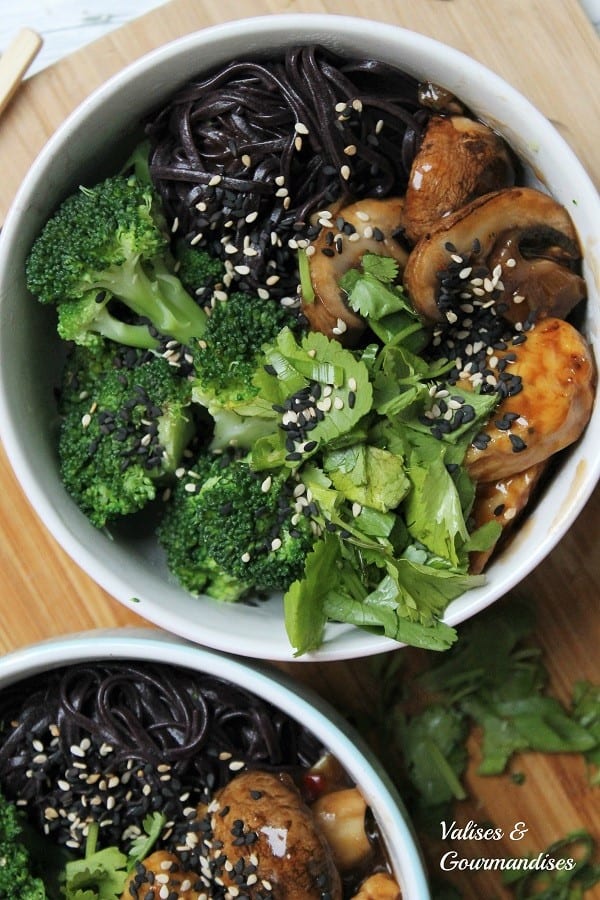 It's been a year. A year of hearing about Ricardo's famous general tao tofu. A year of seeing pictures on the veg-Facebook groups I follow. A year of wiping saliva off my keyboard without trying the recipe myself.
But finally, finally! I'm part of the gang! I can now add my two cents when I see such publications on my wall. Because of course I couldn't just follow the recipe to a tee.
I had to replace ingredients we're all used to cooking with, like soy sauce and brown sugar, with their healthier counterpart (shoyu sauce, which contains more soy beans than salt and coconut sugar, which has a lower glycemic index). Cornstarch, which is used to thicken the sauce, also didn't make the list. Instead, I used arrowroot powder, a non-GMO starch that comes from a rhizome and is high in B vitamins and other nutrients. I also switched tofu for tempeh, because that's what I had in my fridge and because it's a super healthy food that I'm trying to eat more of. And you know what? I don't regret anything!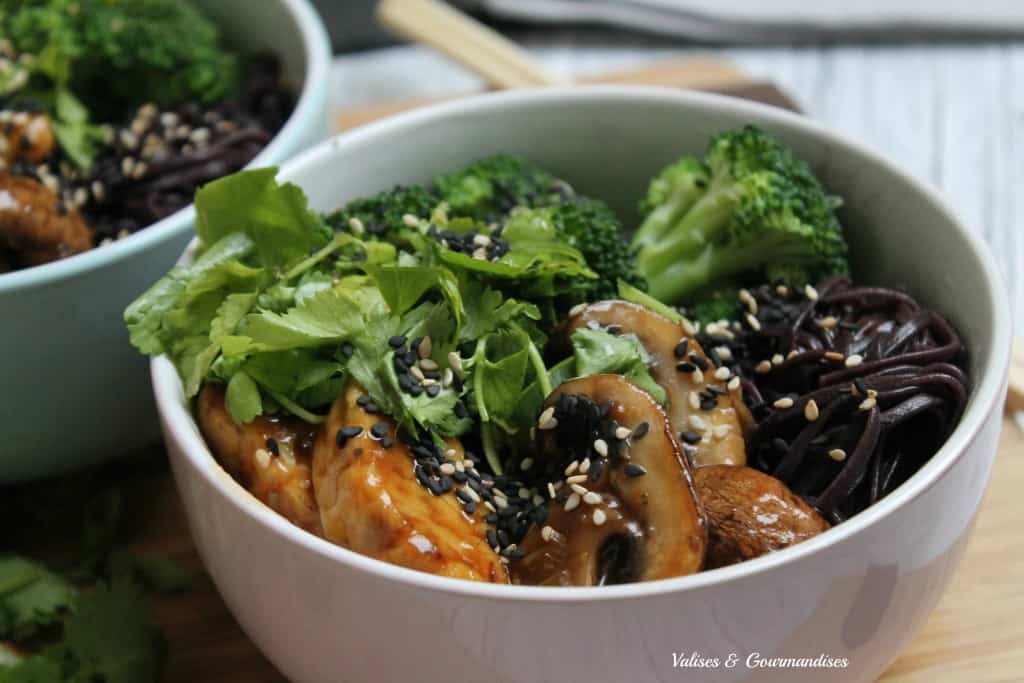 But now you may be scratching your head wondering what the hell is tempeh. Don't let its strange appearance deter you; it's simply fermented pressed soy beans, a process that gives it its many health benefits. It originated more than 2000 years ago in Indonesia and is gaining popularity in the Western world, thanks to its nutritional profile. One hundred grams of raw tempeh cru contains 200 calories with 10% calcium, 19% proteins and 20% iron.
Its taste may be surprising at first, and not in a good way to be totally honest. I've found that different brands have completely different tastes, ranging from pretty disgusting to absolutely delicious. So try different ones before deciding that tempeh isn't for you. Some also recommend boiling it to remove the bitter taste, but I don't find it useful when the tempeh already tastes good.
Now, as to where to find it, your best bet is naturally in health food stores or specialized grocery stores. But a rising number of regular grocery stores is starting to carry organic tempeh.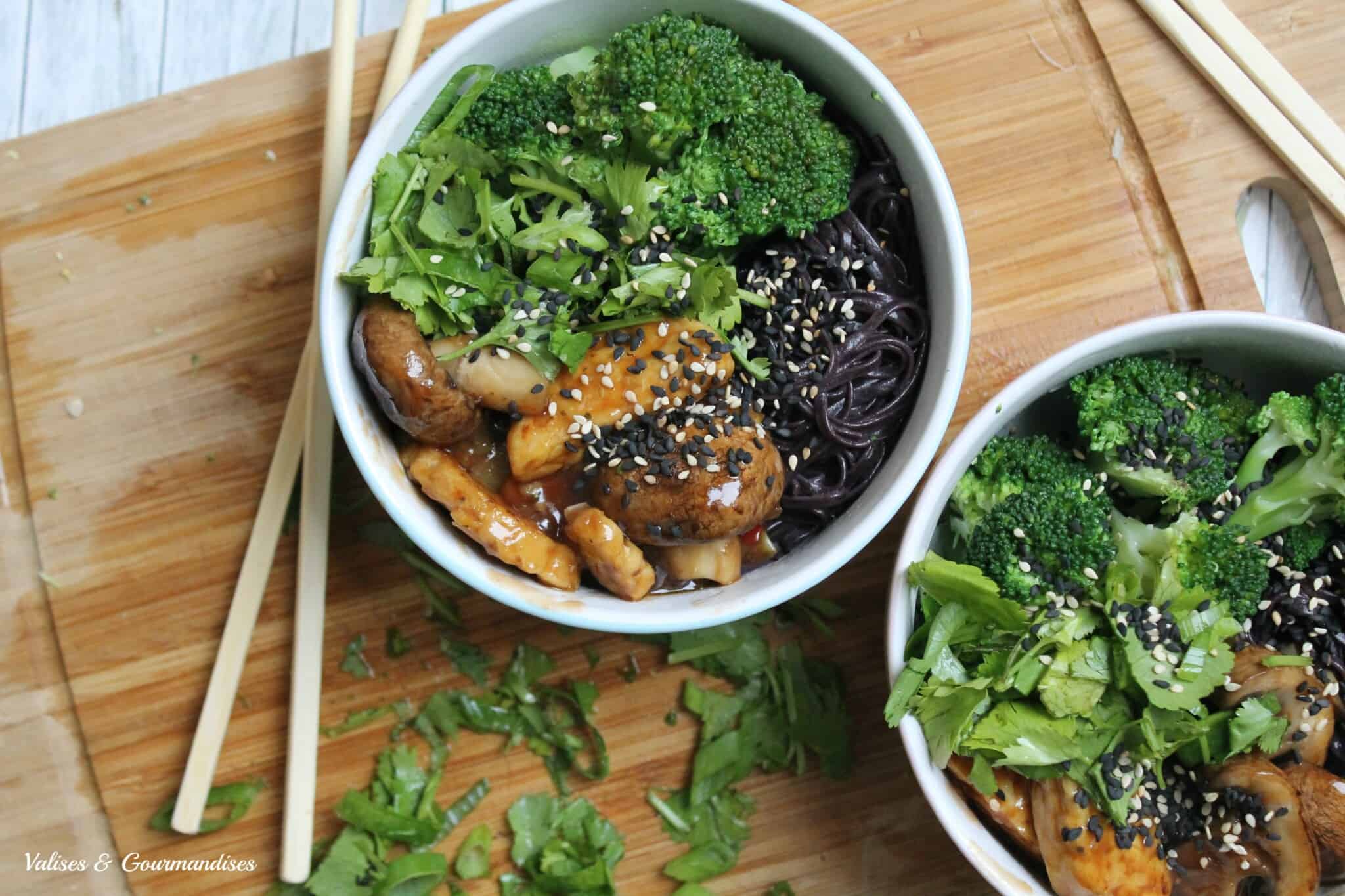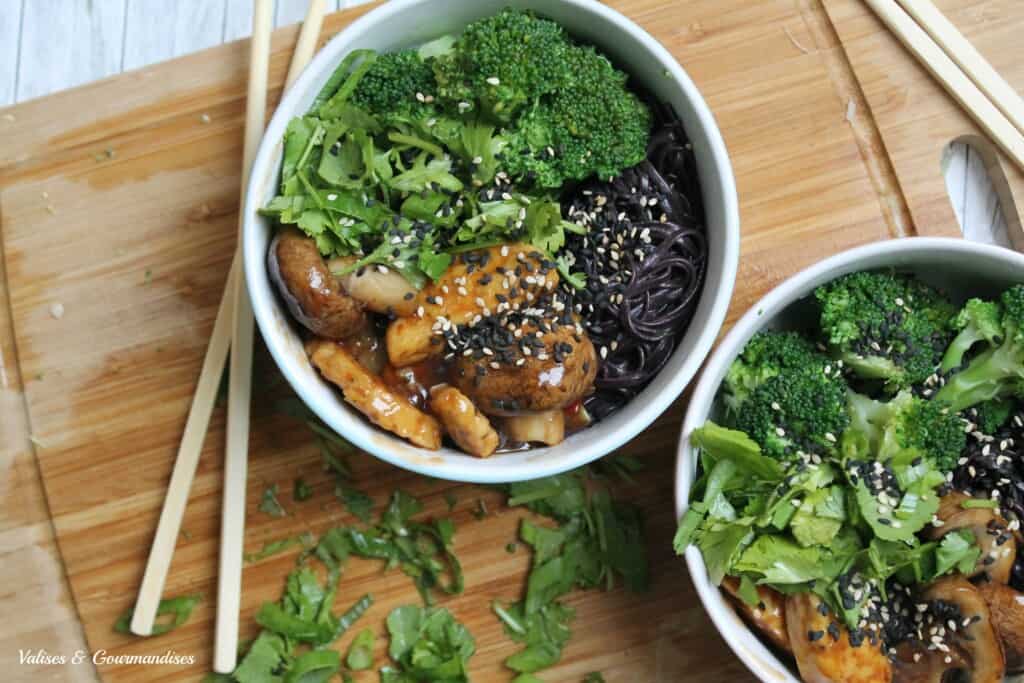 So get those chopsticks out and have at it!
If you try this recipe, make sure to snap a picture and share it on Instagram or Facebook using the hashtag #valisesetgourmandises. I wanna see your creations! And don't forget to leave a comment below :)
Pin for later: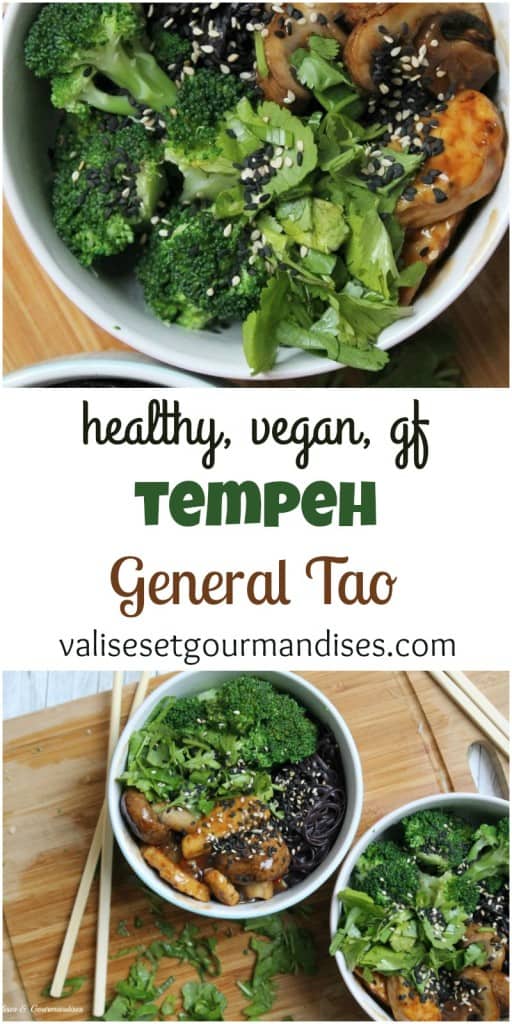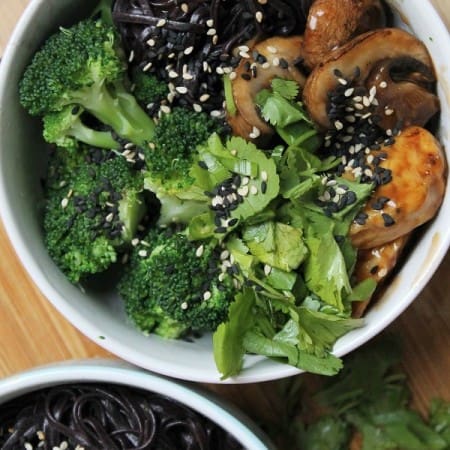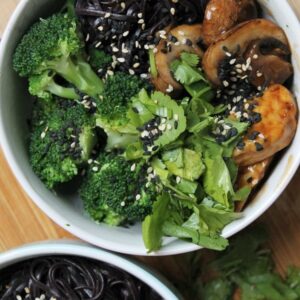 General Tao Tempeh
Enjoy this healthy General Tao, an Asian restaurant classic without the guilt!
Ingredients
Sauce

¼

cup

60 ml vegetable broth

¼

cup

60 ml coconut sugar or molasses

2

tablespoons

30 ml shoyu soy sauce (or regular soy sauce) *see notes

2

tablespoons

30 ml rice vinegar

2

tablespoons

30 ml organic ketchup

1

teaspoon

5 ml arrow root powder (or corn starch)

1

teaspoon

5 ml sambal oelek (or Sriracha)

Tempeh sauté

1

pack

appr. 200-220g of plain or smoked tempeh, diced

1

tablespoon

15 ml arrow root powder

8

button mushrooms

cleaned and halved

1

tablespoons

15 ml canola oil

4

green onions

minced and white part set aside

1

teaspoon

5 ml fresh ginger, finely minced or grated

2

garlic cloves

crushed

Salt & pepper

Sides

About 80g of black rice noodles

½

broccoli

cut in florets

Bunch of fresh cilantro

minced

2

tablespoons

sesame seeds
Instructions
In a bowl, mix all the ingredients together and set aside.

In a larger bowl, mix the tempeh with the arrow root powder and shake to remove the excess.

Heat a large pan or a wok and roast the sesame seeds until they are golden and odorant, and then set aside. Add the oil to the pan and sauté the mushrooms for 2-3 minutes. Add the tempeh and sauté until it becomes slightly golden. Remove from the pan and set aside.

While sautéing the mushrooms and tempeh, put water to boil and then cook the noodles following the instructions of the package. You could even place a steamer on top of the pot to steam your broccoli.

Sauté the white parts of the onions, the ginger and the garlic for a few minutes. Add the sauce and bring to a boil while stirring. Add the tempeh mix and cook until warm and well coated.

Lay the noodles in a bowl and cover with the broccoli and the general tao tempeh. Garnish with cilantro, green onion and sesame seeds.
Notes
*If you're a sauce lover, doubling the sauce recipe is advised!
*Shoyu sauce is a healthier type of soy sauce. You can also use tamari for a gluten-free version.
Adapted from Ricardo
Similar recipes