Whether you're vegetarian or not, you'll love this vegan meat pie, a healthy rendition of a Holiday tradition from Québec! Good news, it can also be frozen.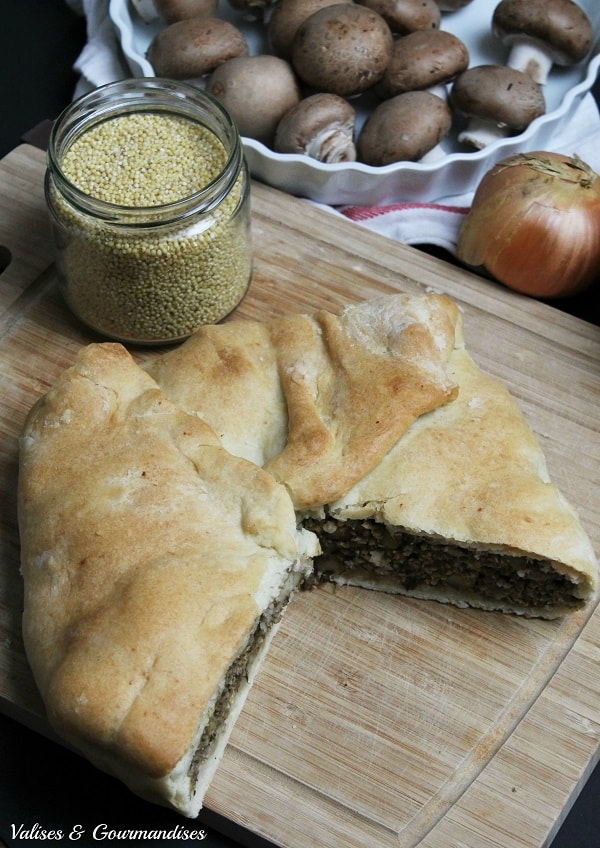 If you're from Québec, you know what a tourtière is, no doubt about it. But if you're not, introductions are in order. Tourtière is a traditional meat pie that you'll find on pretty much every Christmas table in Québec, along with meatball stew and a turkey.
The name apparently has old origins as it was prepared with tourte, a bird that's unfortunately gone extinct. It's now usually made with ground beef and pork and Christmas spices.
I've been hearing about vegan meat pies for a while now and I was eager to try them. Since we're staying in Hanover for the Holidays, we decided it was the perfect opportunity to recreate this tradition. I didn't know that finding a pie plate in Germany would be so complicated though, but 5 stores and 24 euros later, Martin brought me a nice quiche-style mold that worked perfectly. It ain't always easy living abroad! #firstworldproblem
I knew it would be good, but I didn't expect the texture to be so similar to the meat pie my grandma makes! My skepticism quickly transformed into exaggerated excitement. I even called my sisters and wrote my best friend to tell them about my discovery!
I took my inspiration from different recipes and created my own and the result is quite impressive. The texture is soft and the taste if perfectly balanced! For the shortcrust pastry dough, I was a bit worried after reading lots of comments on diverse recipes.
I used this one from Cherry Pepper (video in French) and I can tell you that it will be my go-to recipe from now own! It's easy to make and to handle, so much so that I was afraid it wouldn't have the right texture, but no, it was just perfect!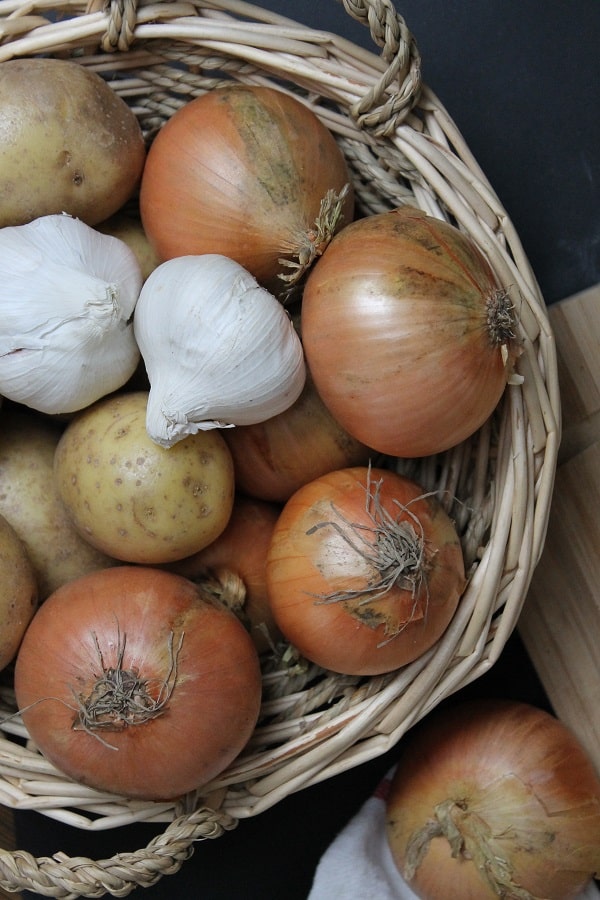 Whether you're vegetarian or simply want to eat a little less meat at Christmas and not feel like a stranded whale the day after Christmas, this vegan meat pie is for you. Millet is also a lot cheaper than meat and didn't cause the useless death of a sensitive animal.
Plus, unlike the original version, my tourtière contains fiber and an array of vitamins and minerals. You can of course prepare it in advance, bake it a little and freeze it. you can also make mini pies as gifts for the Holidays!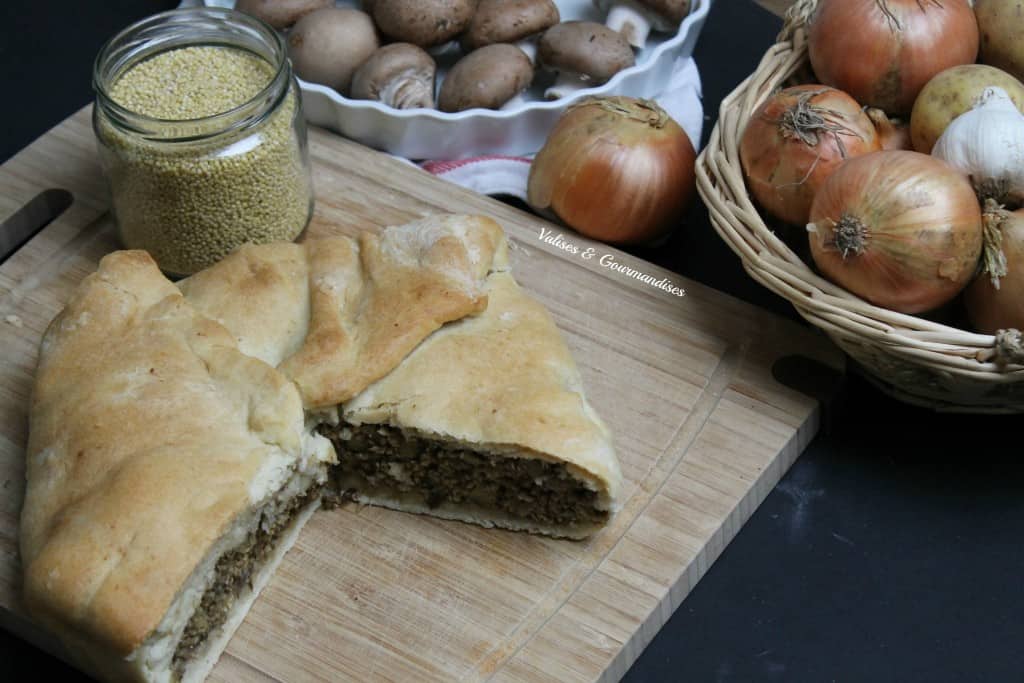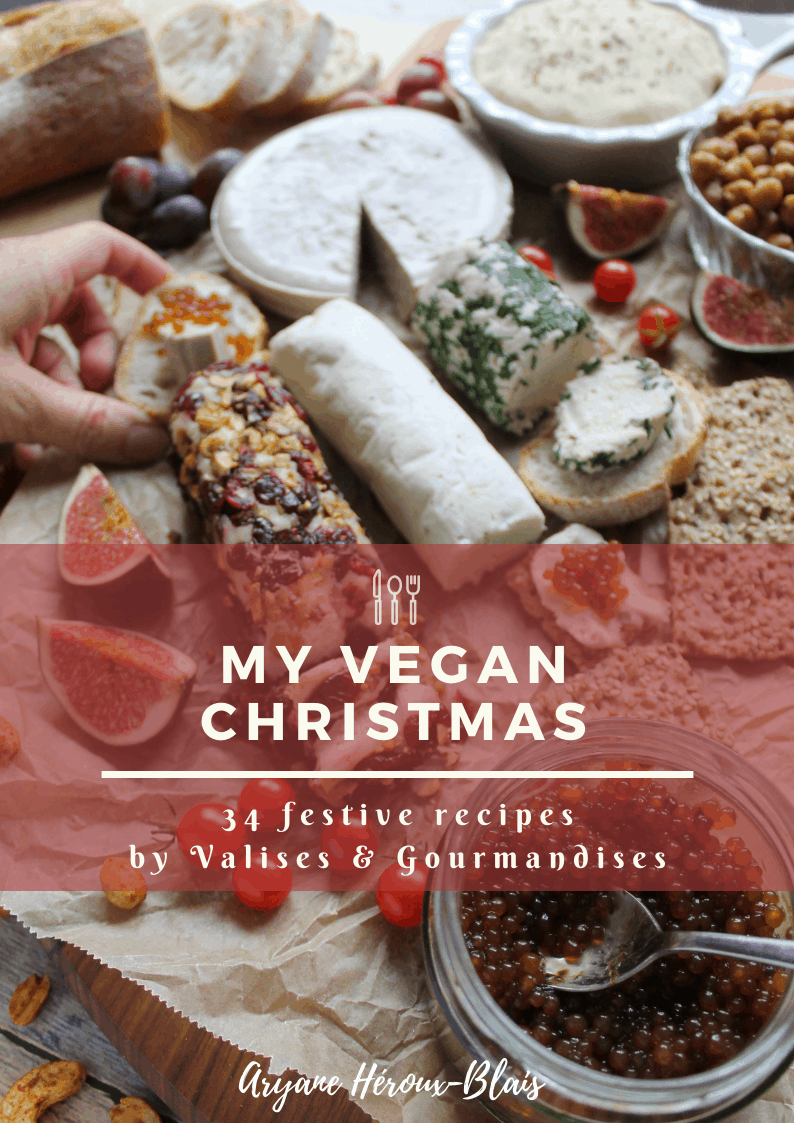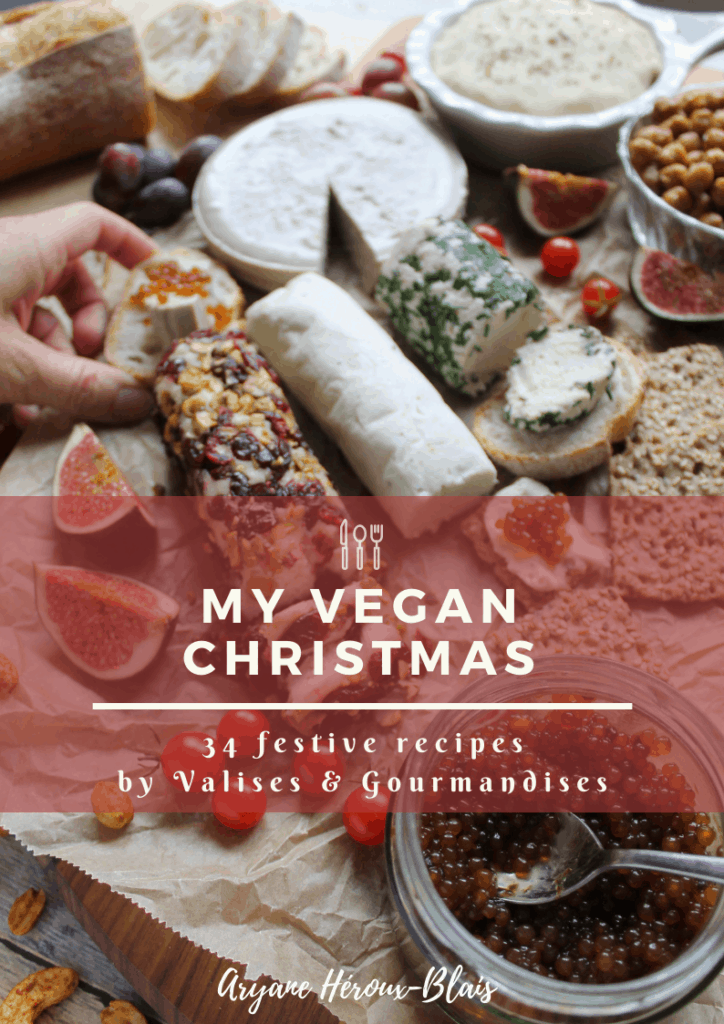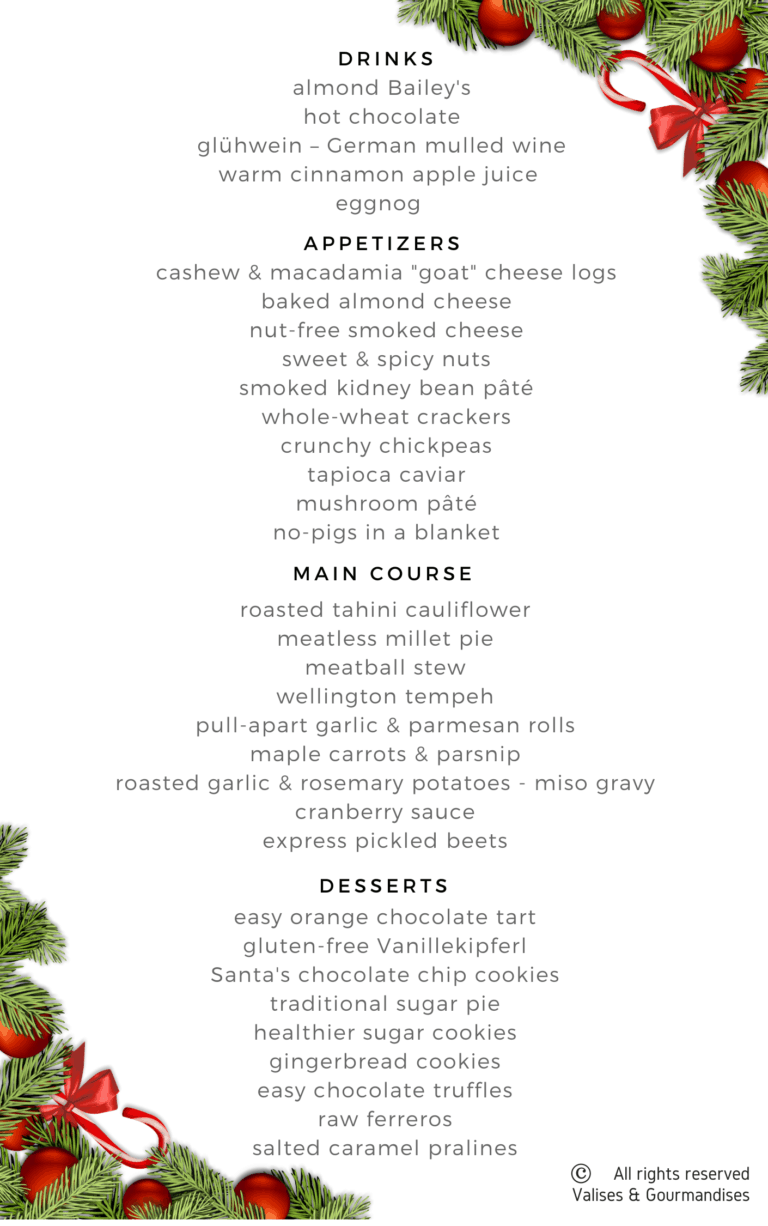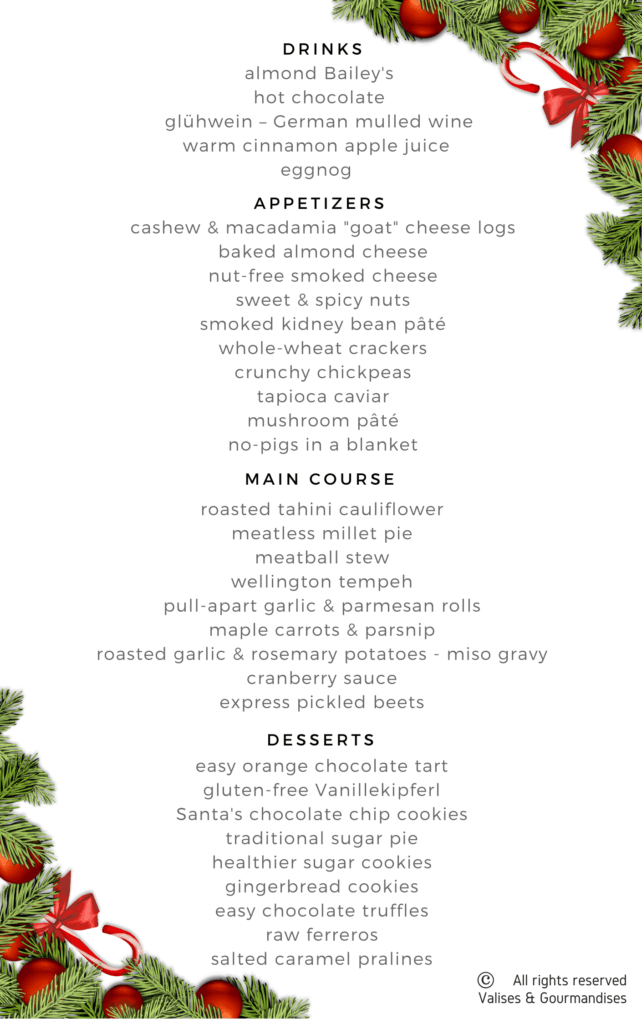 Let me know how your family likes it :) I wish you all wonderful Holidays with the people you love! Merry Christmas!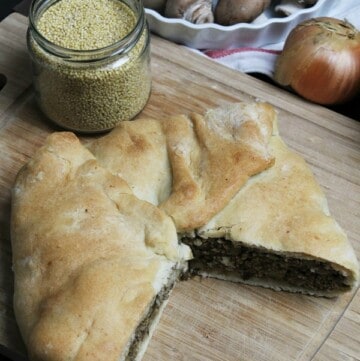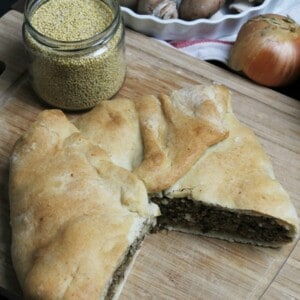 Vegan Québec-style meat pie
Whether you're vegetarian or not, you'll love this vegan meat pie, a healthy rendition of a Holiday tradition from Québec!
Ingredients
Millet
1

cup

millet

1 ½

cup

vegetable broth
Meat-Pie Filling
2

onions

chopped

3

cloves

garlic

crushed

250

g

button mushrooms

chopped

2

potatoes

finely diced

2

tablespoons

soy sauce

1 ½

tablespoons

vegan Worcesteshire sauce

(if you can't find any, replace it with soya sauce)

1

tablespoon

nutritional yeast

optional

1

teaspoon

steak spices

1

teaspoon

dried mustard

½

teaspoon

allspice

½

teaspoon

nutmeg

½

teaspoon

cinnamon
Vegan Pie Crust
500

g

all-purpose flour

(about 2 ½ cup, you can use half and half whole wheat and all-purpose)

2

teaspoons

baking powder

pinch of salt

¼

teaspoon

nutmeg

100

ml

canola or mild olive oil

200 to 250

ml

water
Instructions
Millet
Rinse the millet well. Put it in a small pot and roast it a few minutes on high heat. Add the vegetable broth and bring to a boil. Lower the heat and let simmer for about 10 minutes. Fluff with a fork and set aside.
Vegan Pie Crust
Mix the dry ingredients for the dough. Add the oil and mix with your fingers until little lumps form. Add about 200 ml water and mix well by hand. Add the rest of the water if necessary. Knead until you reach a soft ball of dough. Set aside.
Meat-Pie Filling
Using a food processor ideally, finely dice the onions, the garlic and the mushrooms in small batches. Finely dice the potatoes by hand.

In a large pan, heat a little bit of oil on high heat. Add all the vegetables and cook for 5-10 minutes until they lose their water and it evaporates.

Turn off heat, add the cooked millet, the sauces and the spices and mix well. Adjust to taste. Set aside.

Preheat the oven to 350F (180C).
Assembling
On a clean floured working surface, roll the dough in a large thin disc. Fold it on the pin roll and gently place it in your 24cm pie plate.

Add the filling and fold the dough to create a rustic-looking pie and cut the excess so it's not too thick. Brush with a little bit of oil to get a golden crust.

Bake on the lower grid for about 45 minutes. Take out of the oven and let cool before removing from the plate using clean oven gloves.
Nutrition
Calories:
504
kcal
Carbohydrates:
81
g
Protein:
13
g
Fat:
14
g
Saturated Fat:
1
g
Sodium:
544
mg
Potassium:
512
mg
Fiber:
6
g
Sugar:
3
g
Vitamin A:
94
IU
Vitamin C:
14
mg
Calcium:
85
mg
Iron:
5
mg