This vegan and gluten-free version of a German rhubarb cake uses oat and almond flour instead of wheat for a more nutritious dessert.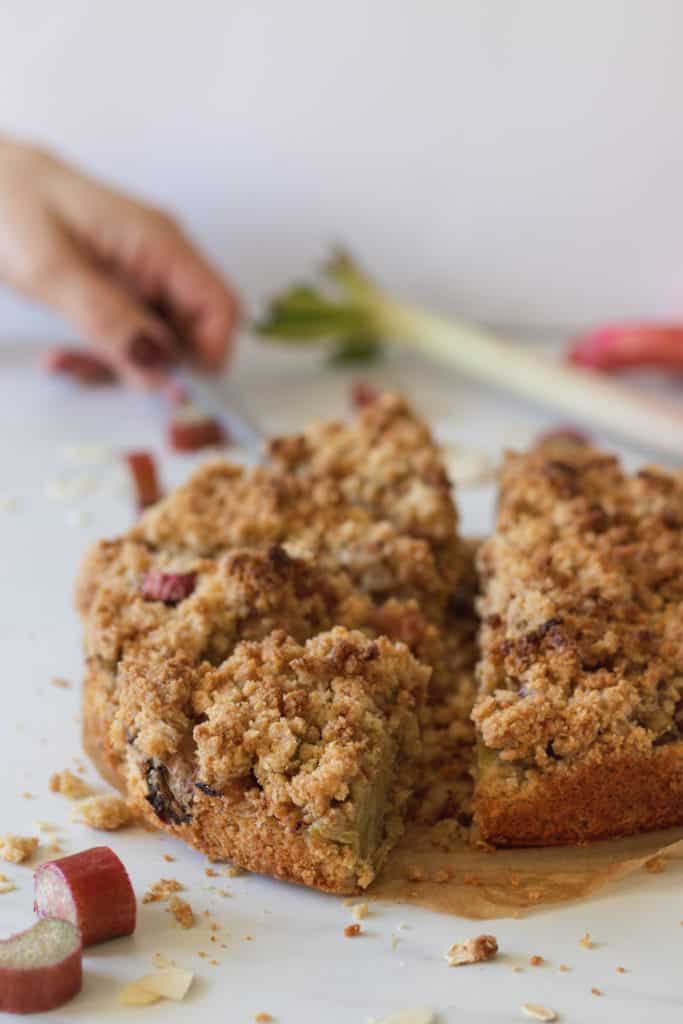 I'm back with another traditional German recipe! Rhubarb season is already in full swing here over on the Old Continent and the sweet & sour vegetable (what???) lends itself beautifully to all kinds of desserts. Like
cakes.
I have a very hard time passing on rhubarb cake and wasn't too sad to have to make (and eat) this vegan rhubarb crumble cake (or as they call it in German Rhabarber Streuselkuchen) not once but twice. Once to test it and the second time to make it pretty enough to photograph and test a different sweetener. Oh, the difficult life of a recipe developer! (And I'm not even happy with those pictures so I might have to make it a third time haha)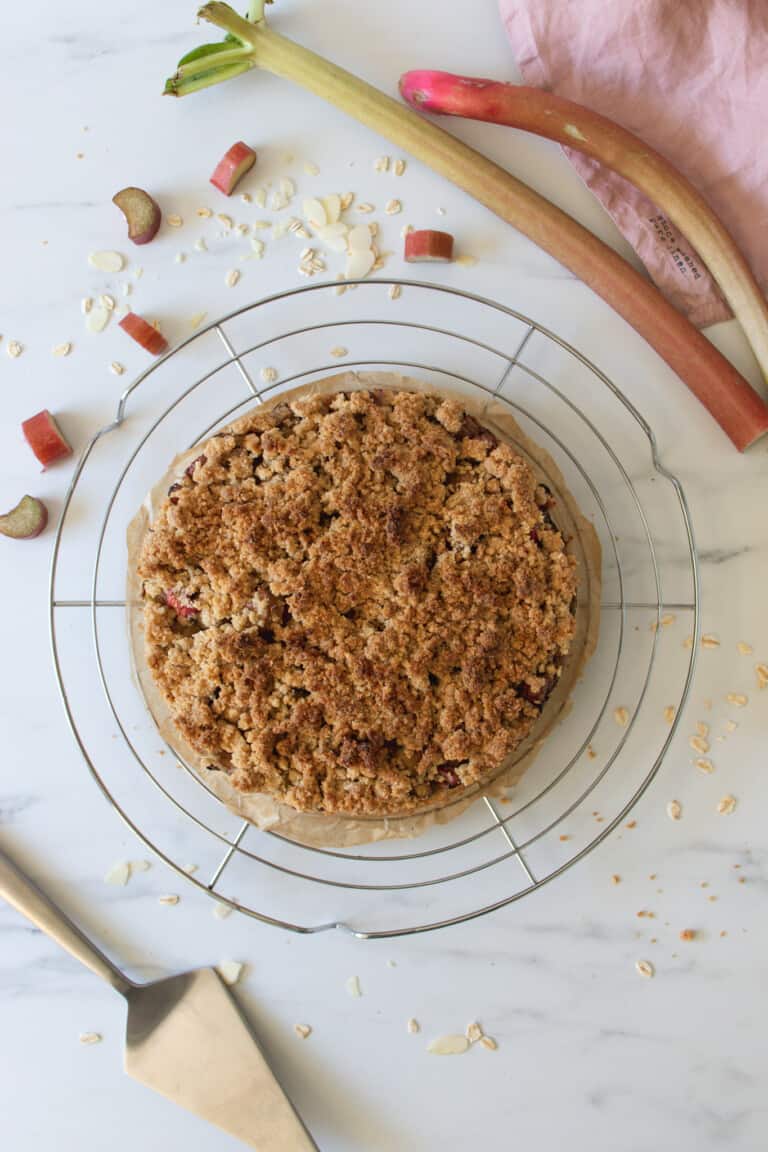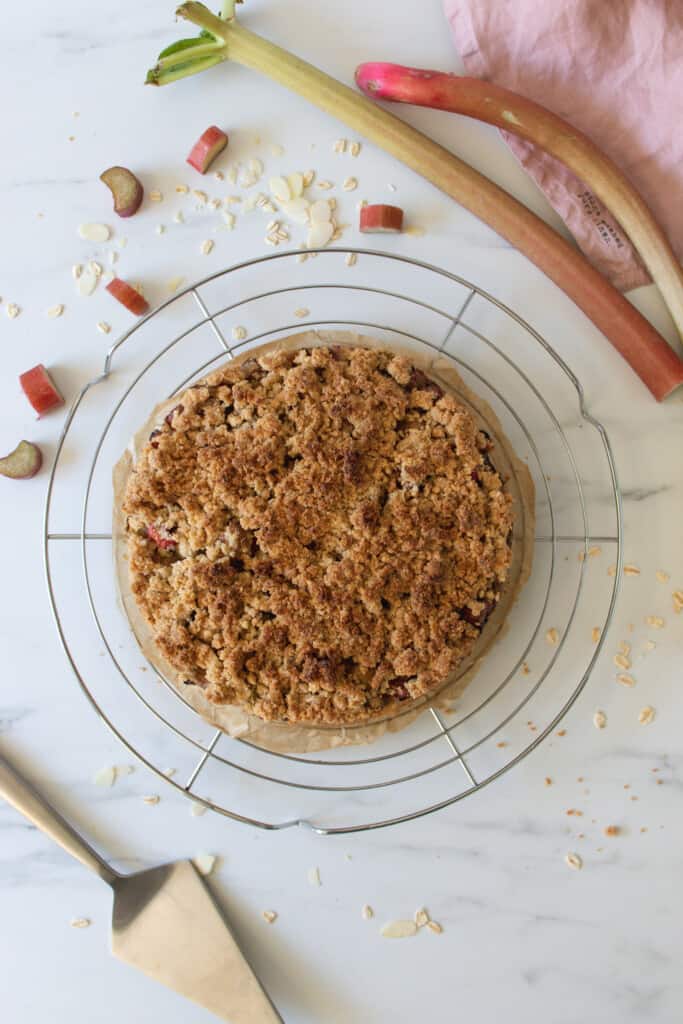 I first tried it with date sugar for a refined sugar free version. Then I tried it with raw sugar, which is nowhere near as healthy but is much cheaper and probably easier to find. So please know that the recipe works with both options, oh and that the date sugar will lend a dark colour to your cake, and in my opinion a more interesting taste, FYI.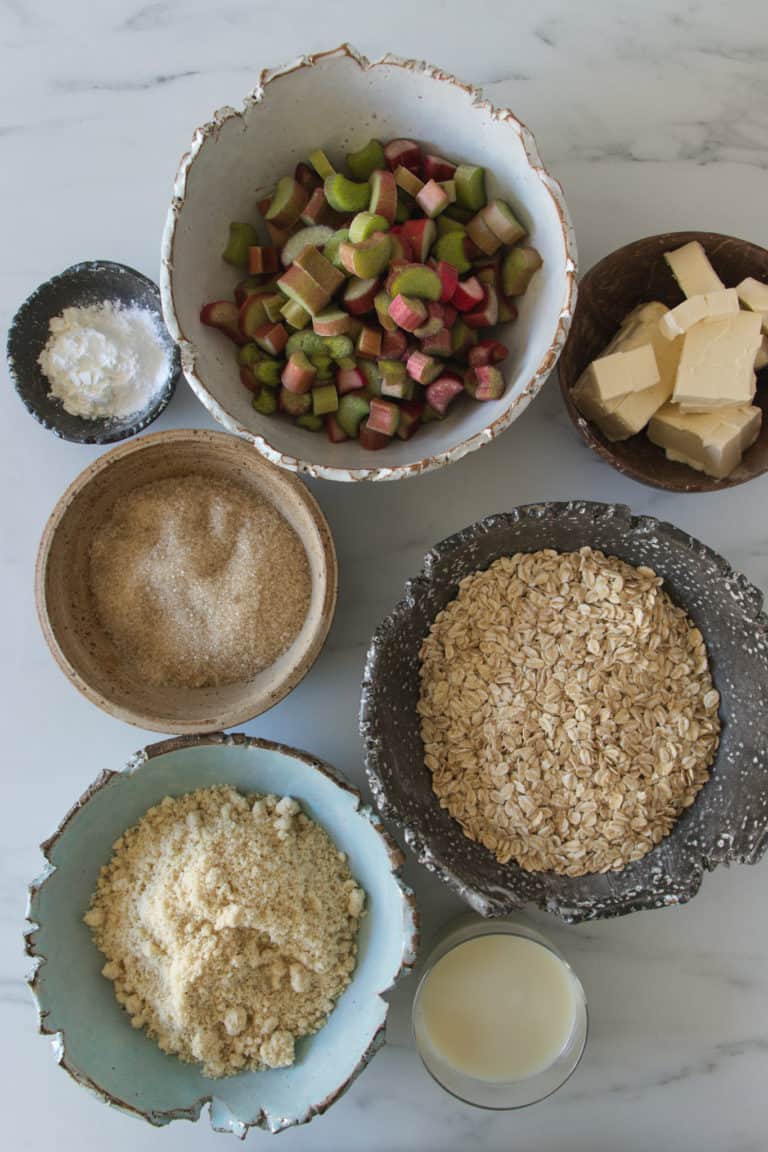 Easy option for gluten-free flour
I decided to use vegan butter instead of racking my brain trying to find the healthiest oil-free alternative because I actually believe that it's totally fine to eat oil & sugar in moderation. And that since the cake was gluten free, I was a bit suspicious about how it would turn out if I used applesauce or something similar. But I do believe that you could adjust the recipe and find a fat-free replacement if that's important to you.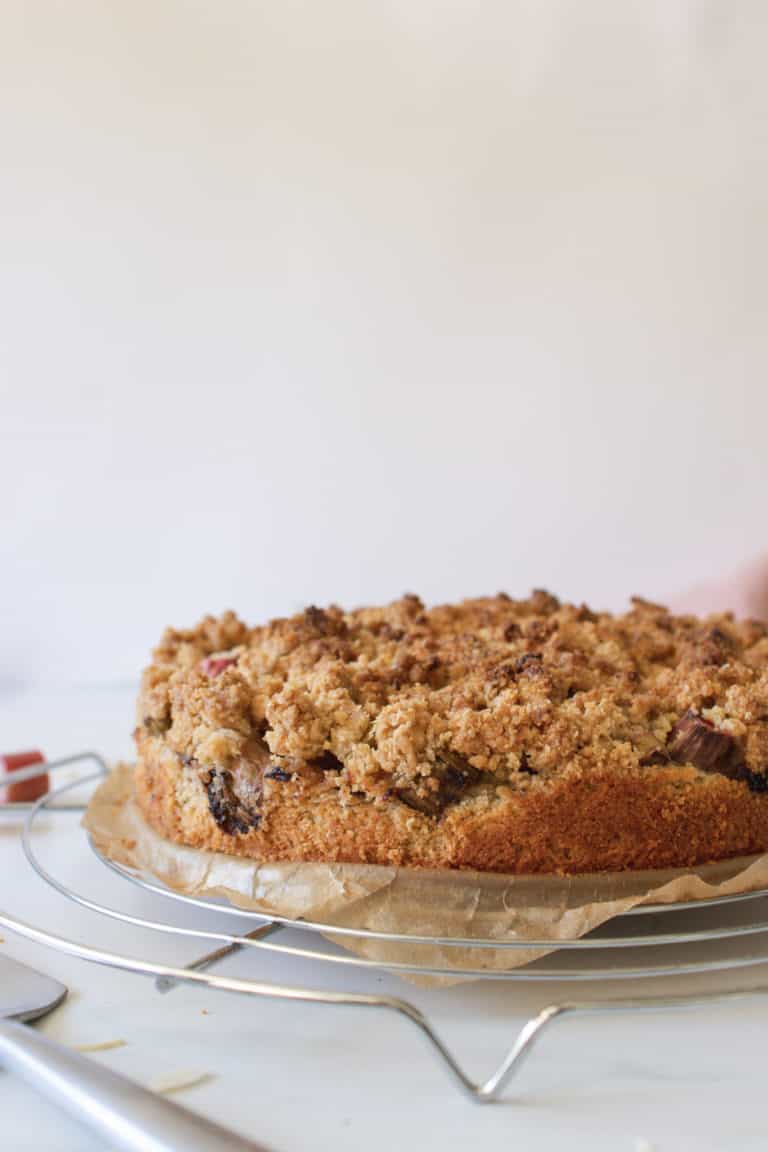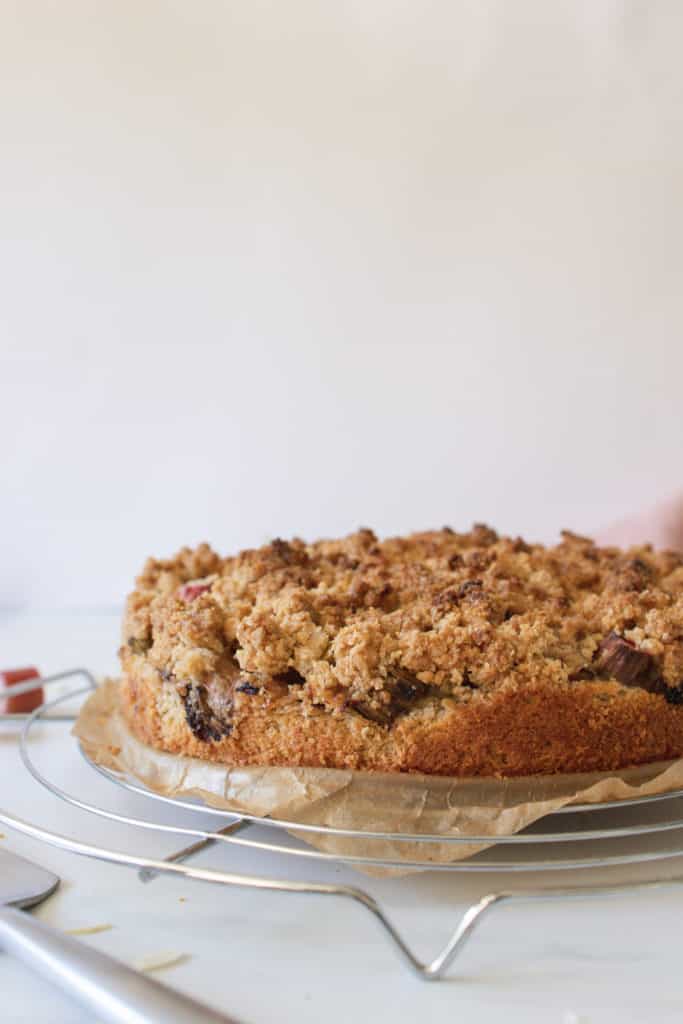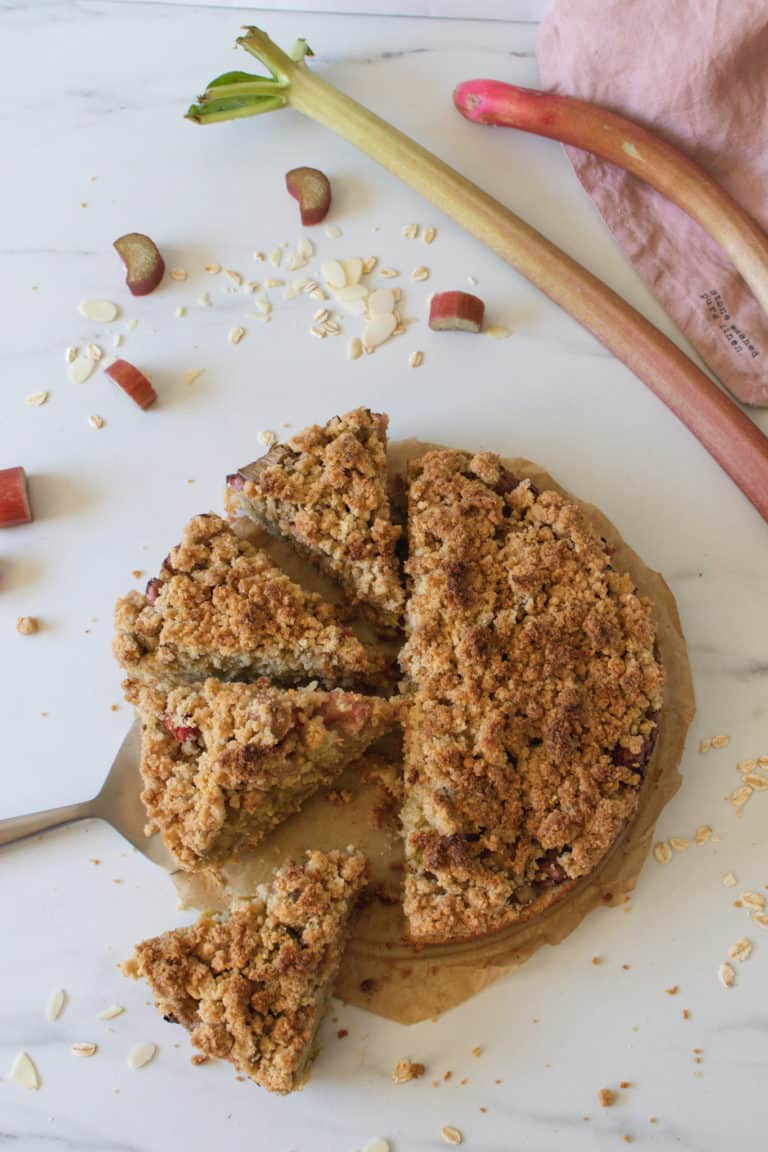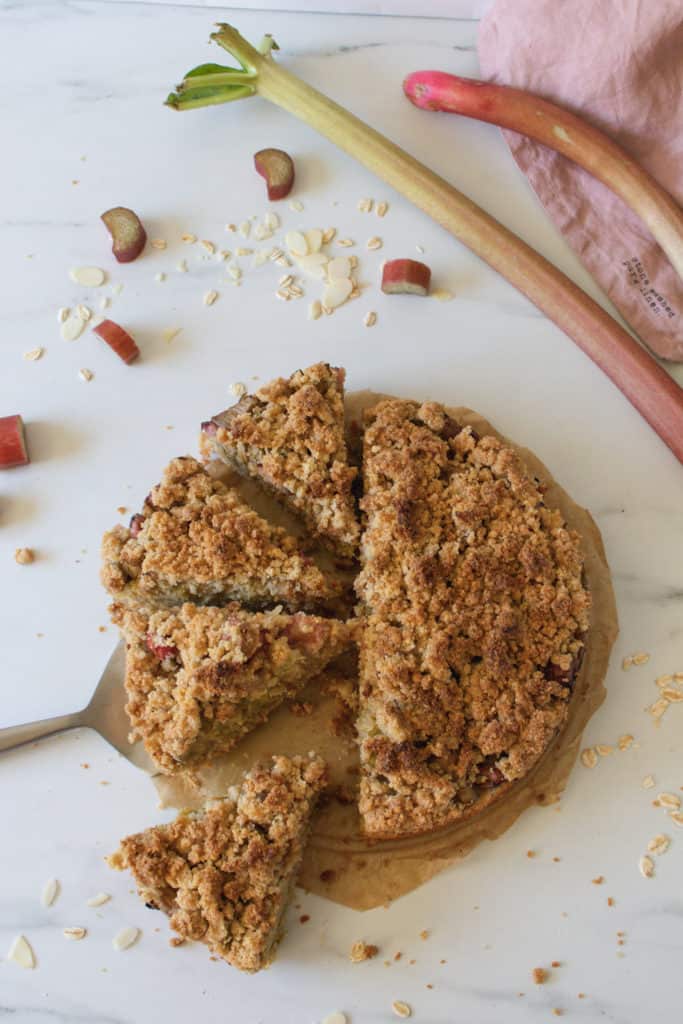 I chose to make my vegan rhubarb crumble cake with a mix of oat flour and ground almonds both times and I love the texture, it's so so good! "Cakey" on the outside and a bit moist in the middle, thanks to the juicy rhubarb.
You could however make it with whole wheat flour if (like me) you don't mind gluten and prefer the convenience & price tag, but I like that oats & almonds are packed with protein as well as various vitamins & minerals. To make oat flour, simply process rolled oats in the blender until you reach a fine powder. That's it!
More German recipes
Not a fan of rhubarb?
Well, that's weird if you ask me but don't worry! You can use just about any fruit you like. Germans are big fans of crumble cakes and like to make them with plums, cherries, apples…
Voilà, I hope you try it and see for yourself why it's a favourite in German households. If you do, please make sure to snap a picture and share it on Instagram or Facebook using the hashtag #valisesetgourmandises. I wanna see your creations! And don't forget to leave a comment below :)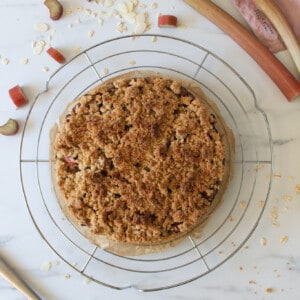 German vegan rhubarb crumble cake, gluten-free
This vegan and gluten-free version of a German rhubarb cake will definitely become a classic! The traditional wheat flour is replaced with oat and almond flour for a more nutritious dessert.
Ingredients
Cake Layer
100

g

raw cane or date sugar

100

g

vegan butter

150

g

oat flour*

100

g

almonds

finely ground

1

tablespoon

cornstarch

1

teaspoon

baking powder

125

ml

plant milk

300

g

fresh rhubarb

in 1 inch pieces
Vegan Crumble
50

g

oat flour

50

g

almonds

finely ground

50

g

vegan butter

50

g

sugar

cane or dates
Instructions
Preheat the oven to 350F (180C). With a handmixer, whip the sugar and butter together. Add the rest of the batter ingredients and mix until well combined. Transfer to a 20-cm springform and smooth the top with a spatula.

Add the rhubarb and press gently. 

With your hands or the mixer, combine the crumble ingredients until the texture ressembles wet sand. Spread evenly over the rhubarb. 

Bake in the preheated oven for around 50 minutes. If using wheat flour, the baking time might be shorter. The cake is ready when a toothpick inserted in the middle comes out clean.
Notes
To make oat flour, simply process oats in the blender until you obtain a fine powder.
This version baked in a 20-cm mould will stay quite juicy. If you prefer drier cakes, use a moul up to 26 cm big, but note that it will be quite thin since this flour mix won't rise as much as wheat or spelt).
Nutrition
Calories:
401
kcal
Carbohydrates:
42
g
Protein:
8
g
Fat:
24
g
Saturated Fat:
4
g
Sodium:
186
mg
Potassium:
352
mg
Fiber:
5
g
Sugar:
20
g
Vitamin A:
787
IU
Vitamin C:
3
mg
Calcium:
144
mg
Iron:
2
mg