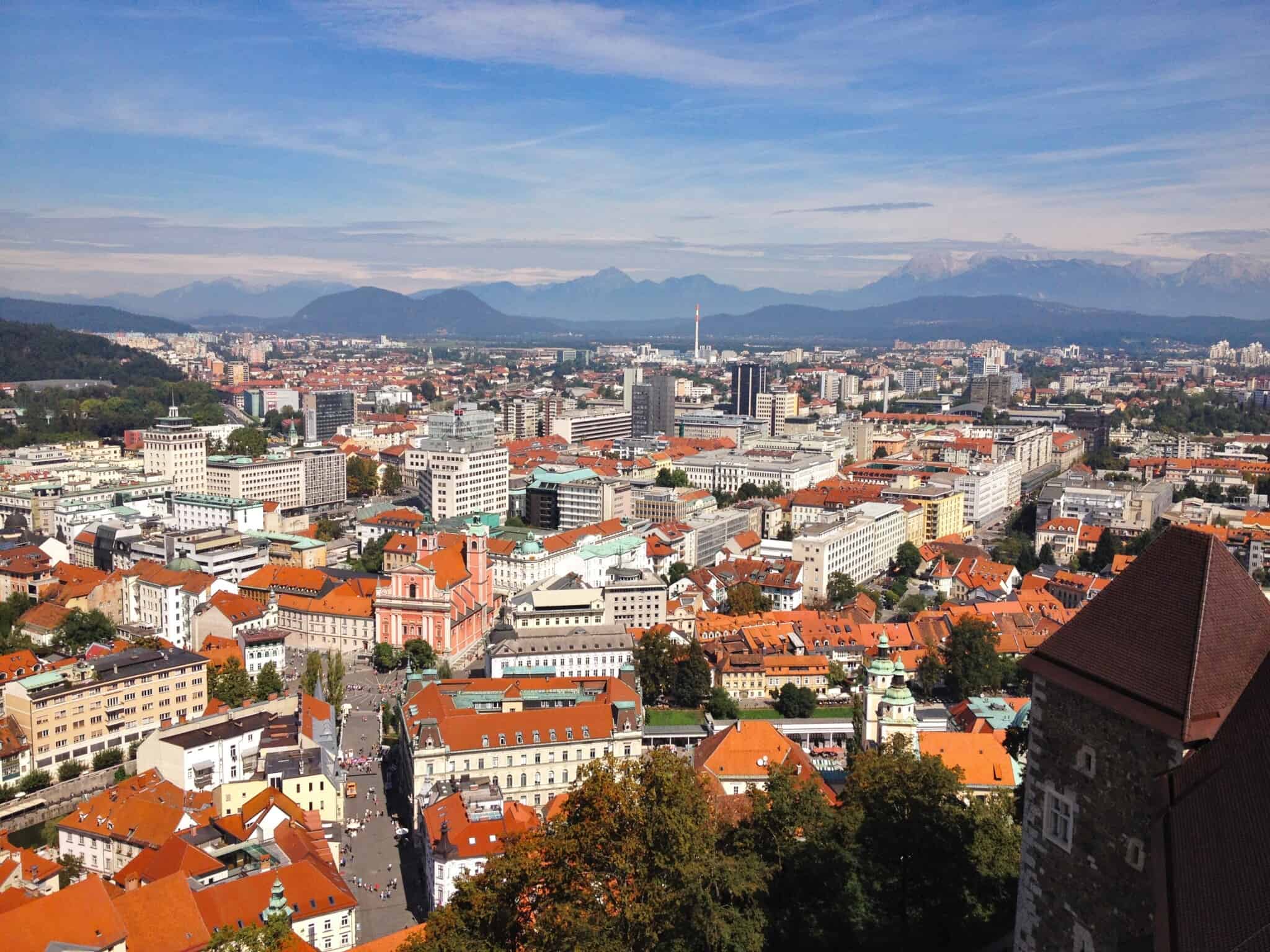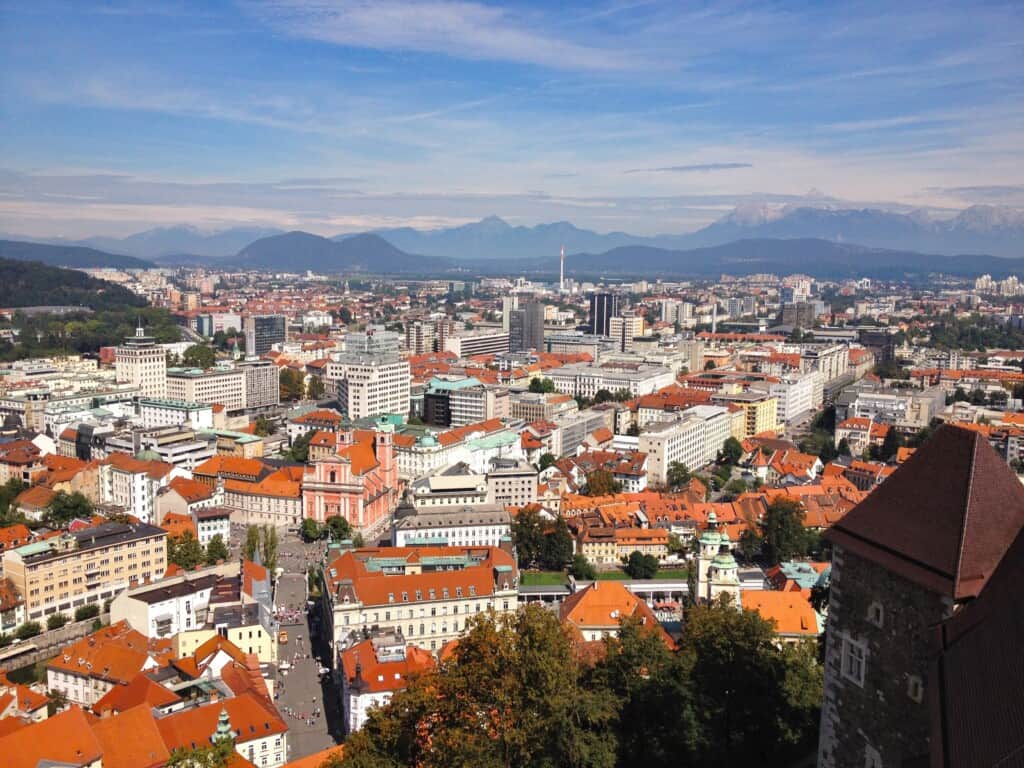 Me: "After Italy, we're gonna spend a week in Slovenia, I can't wait!"
Pretty much everyone: "You mean Slovakia, right?"
Ok people, let's get things straight. No, I'm not going to Slovakia, I'm going to Slovenia. It exists, it's a country. And it needs to go on your list. Yup, add it right now. Unless you're not into breathtaking landscapes ranging from Adriatic beaches to sky-high mountains, Tuscany-like hills and pure alpine water lakes. In which case maybe you should just go to Slovakia. (I actually have no idea what Slovakia's like.. can you tell!?)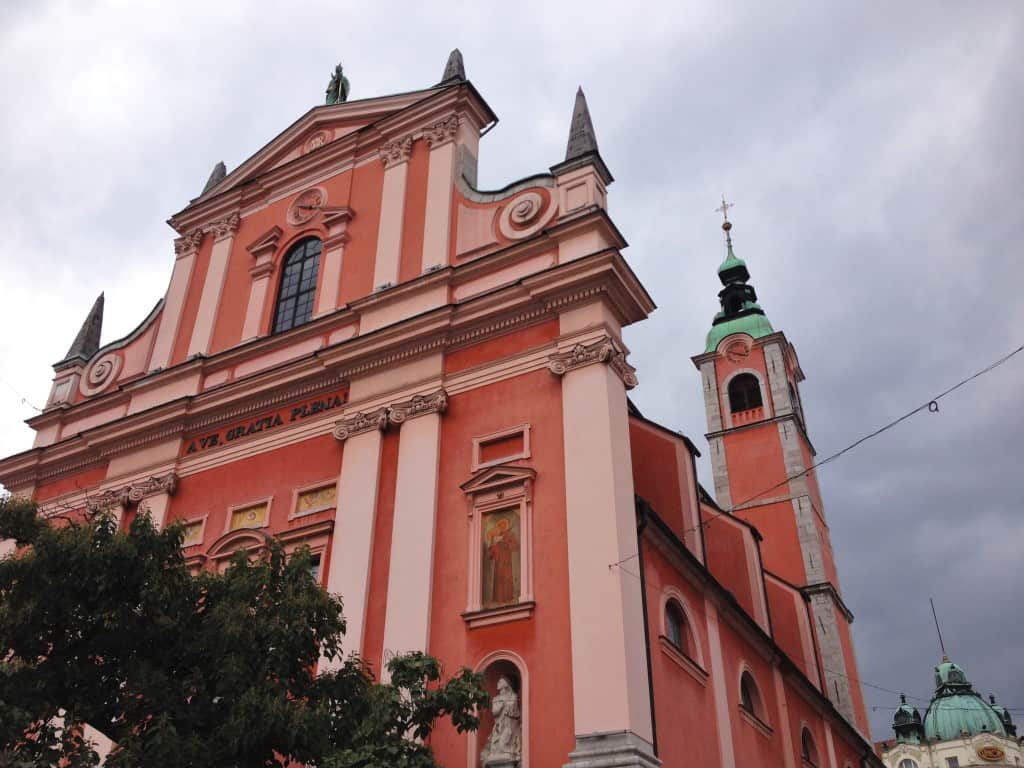 I guess we haven't heard so much of the country on its own because it was part of Yugoslavia before gaining its independence in 1991. And the similarities between the two countries' names, Slovenia and Slovakia, lead to so many postal quid pro quos that officials must meet every month to exchange wrongly addressed mail.
I actually don't remember how I first heard of Slovenia. All I know is that my country-girl side immediately felt compelled to get on a plane and pay a visit to this extraordinary land. Spending a few days in Austrian Alps last year left me wanting more and I was impatiently awaiting our road trip across this tiny country.
But more on that later. First up, Ljubljana, the capital. Before going any further, I think a crash-course in pronunciation is in order: the easy way to say it is lubiana. There, I just saved everyone a whole lot of embarrassment.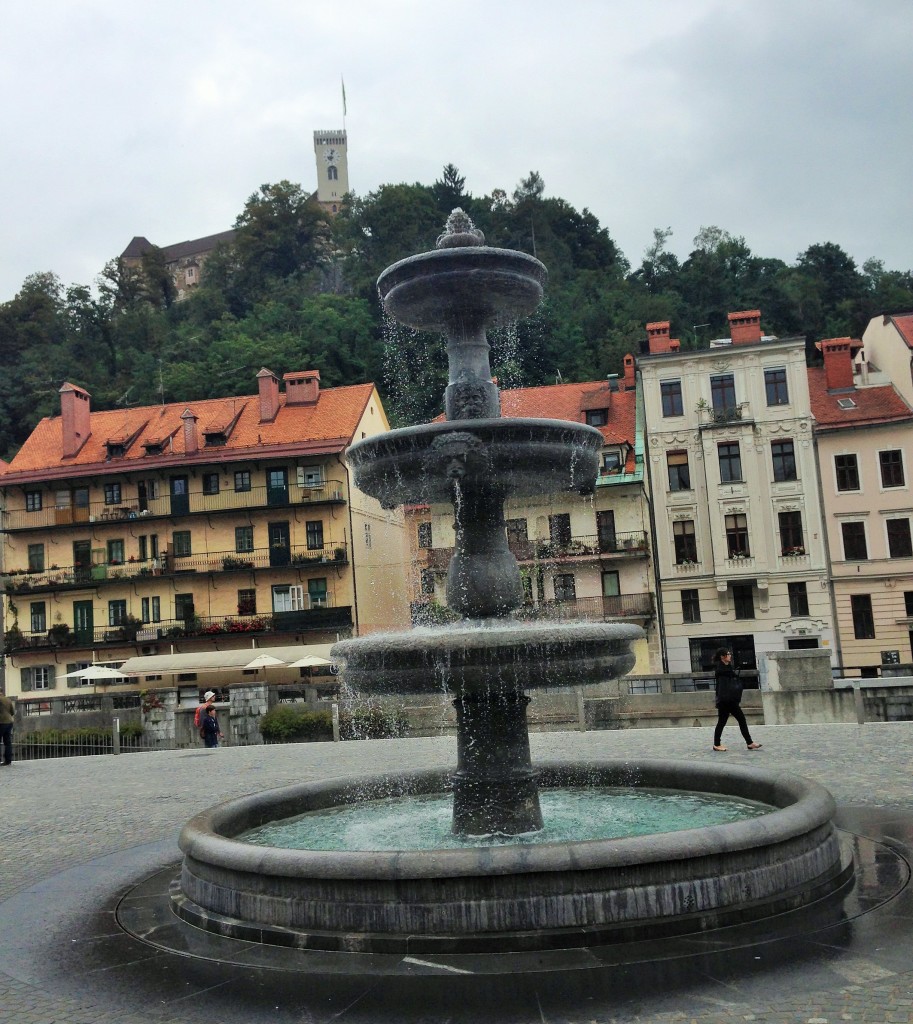 After all the crazy tourist buzz of Italy, this tiny metropolis was a nice and welcomed break. There were some tourists, of course, but not that many. Mostly Europeans I'd assume. But don't worry, that doesn't mean it's boring.
I found it to be a very young, colourful and somewhat alternative city. And a very budget-friendly one at that.
From Venice, no one could tell us how to get to Slovenia, which is only 2.5 hours away by car. People told us that we had to take a train to Trieste and from there another one to Ljubljana. Well it doesn't have to be this complicated. I found a shuttle that goes to Venice twice a day and only costs €25 per person. They pick you up in Mestre, which is a short bus ride outside of Venice and they bring you directly to Ljubljana's train/bus station.
Ljubljanica
One cannot talk about Ljubljana without mentioning the Ljubljanica river, which means little Ljubljana, and alongside which you'll find an abundance of beautiful terraces.

We spent a good while just sitting on a bench and watching the many ducks swimming and drifting on the current. There are also many nice bridges that join the two sides: the modern butcher's bridge where lovers seal their love with a lock (and throw the key in the river… not my favorite tradition), the dragon's bridge, built to commemorate the 40 years of reign of the emperor François-Joseph, the historic triple bridge that leads to the main square, and many more.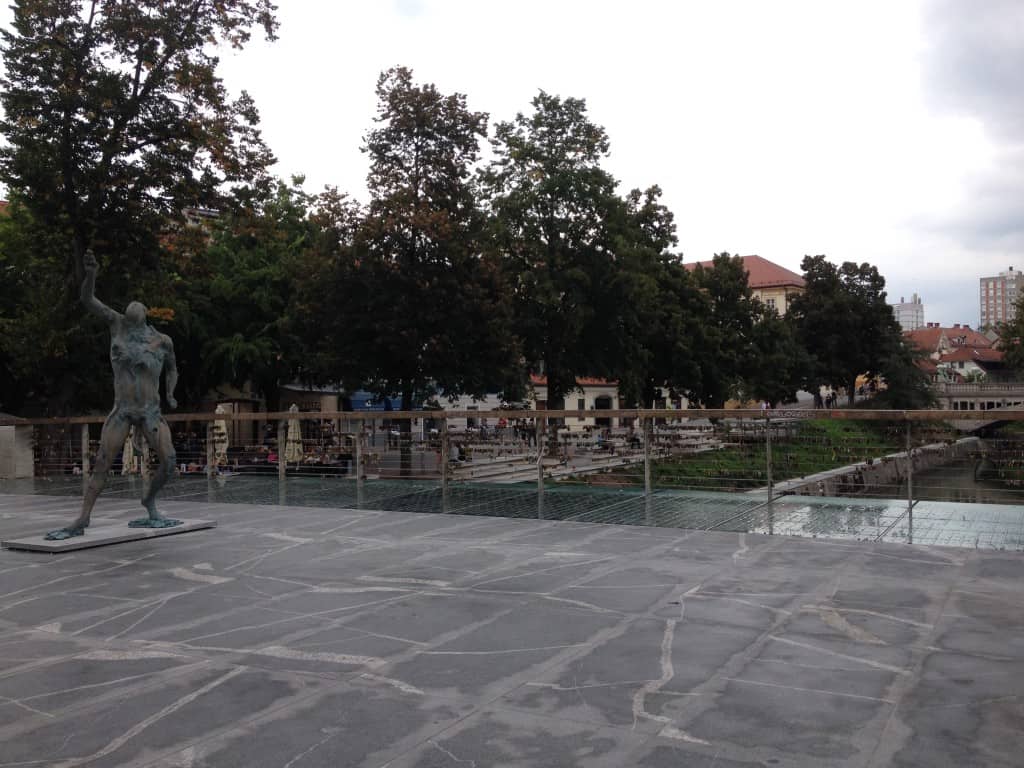 Farmer's market
The farmer's market is a must. The sheer size of it makes it very hard to miss.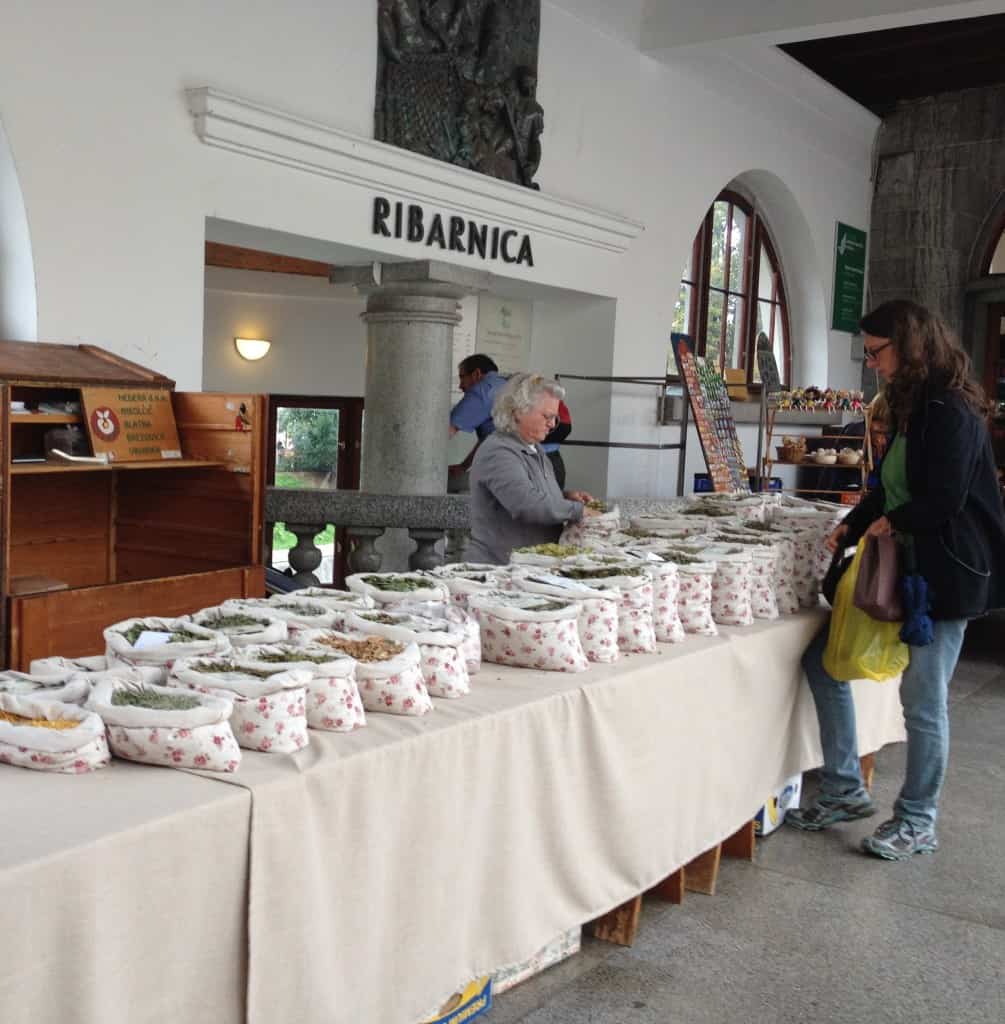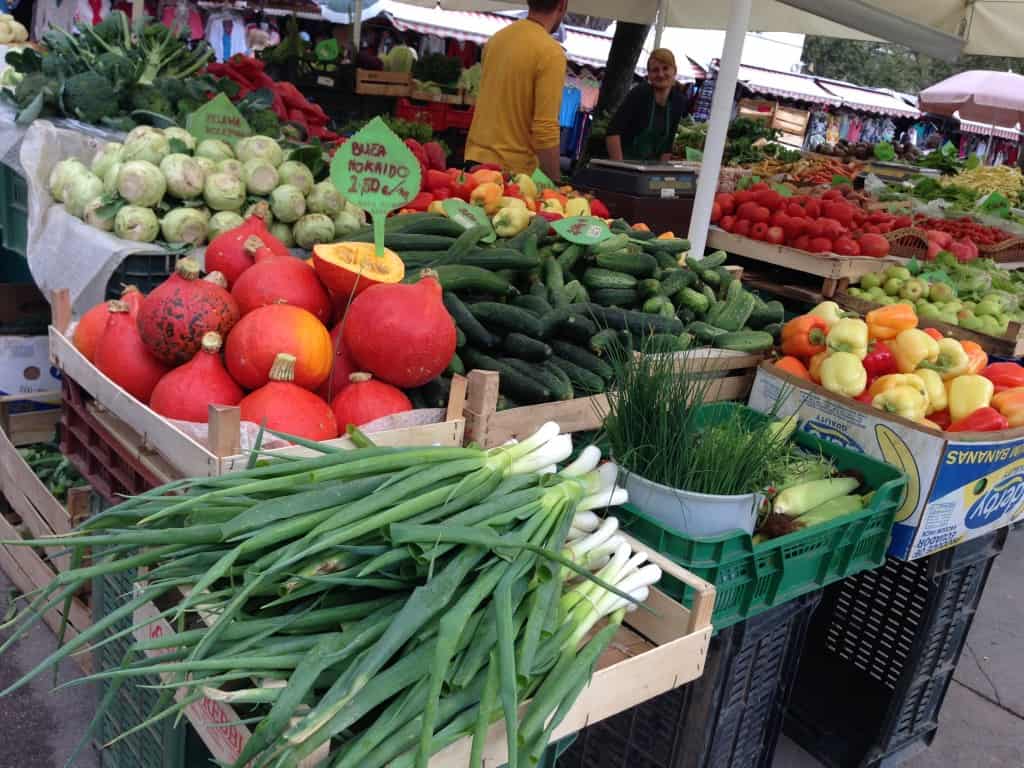 If you happen to be there on a Friday, make sure to try the open kitchen, where they serve food from all around the world. We were visiting Bled that day so we missed it but our friends highly recommended it!
Ljubljana's Castle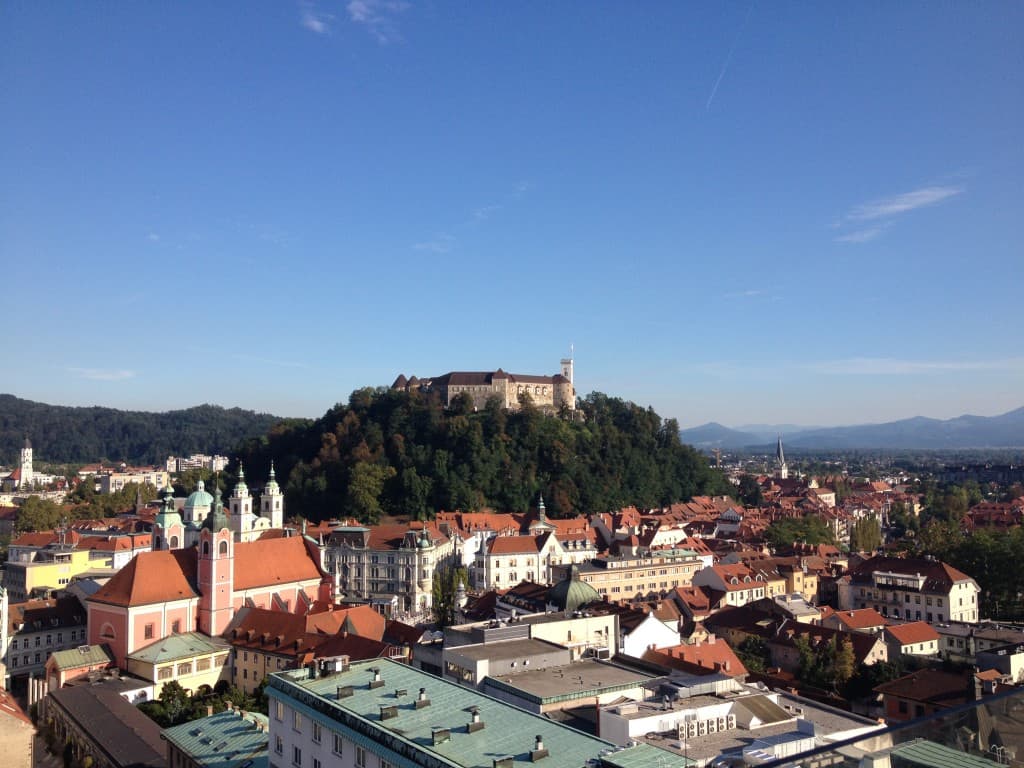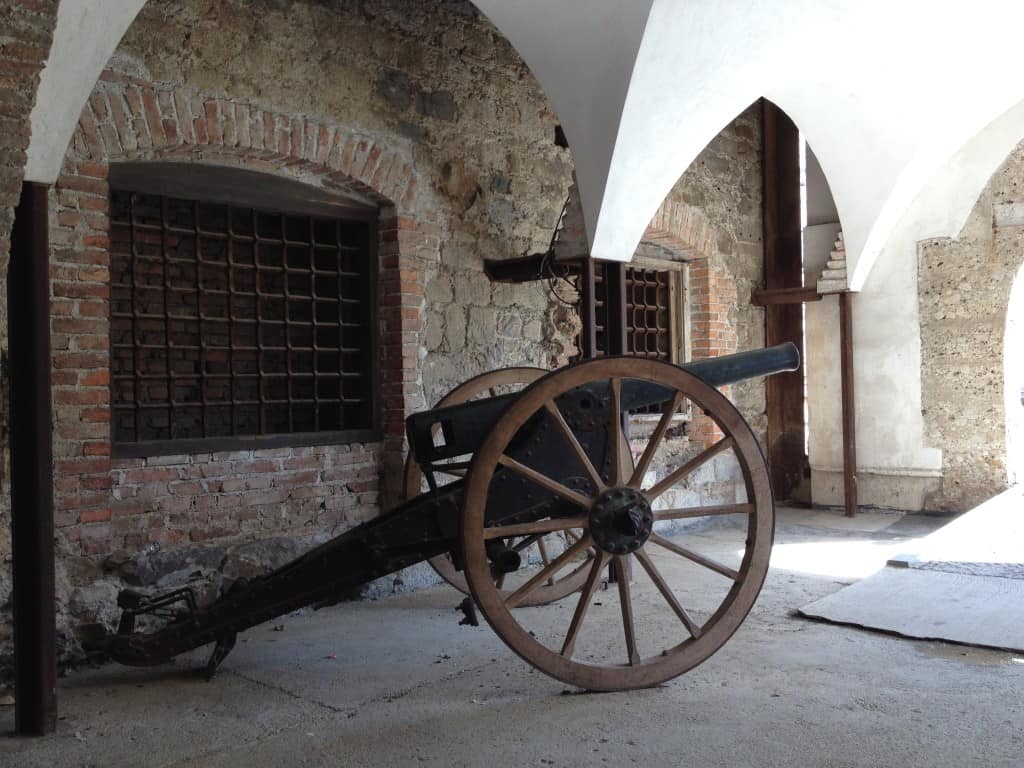 After meandering around the market, head to the funicular that will take you to the castle on the top of the hill. It's only a few minutes away. From there, you'll get a nice 360° view on the city and its surroundings.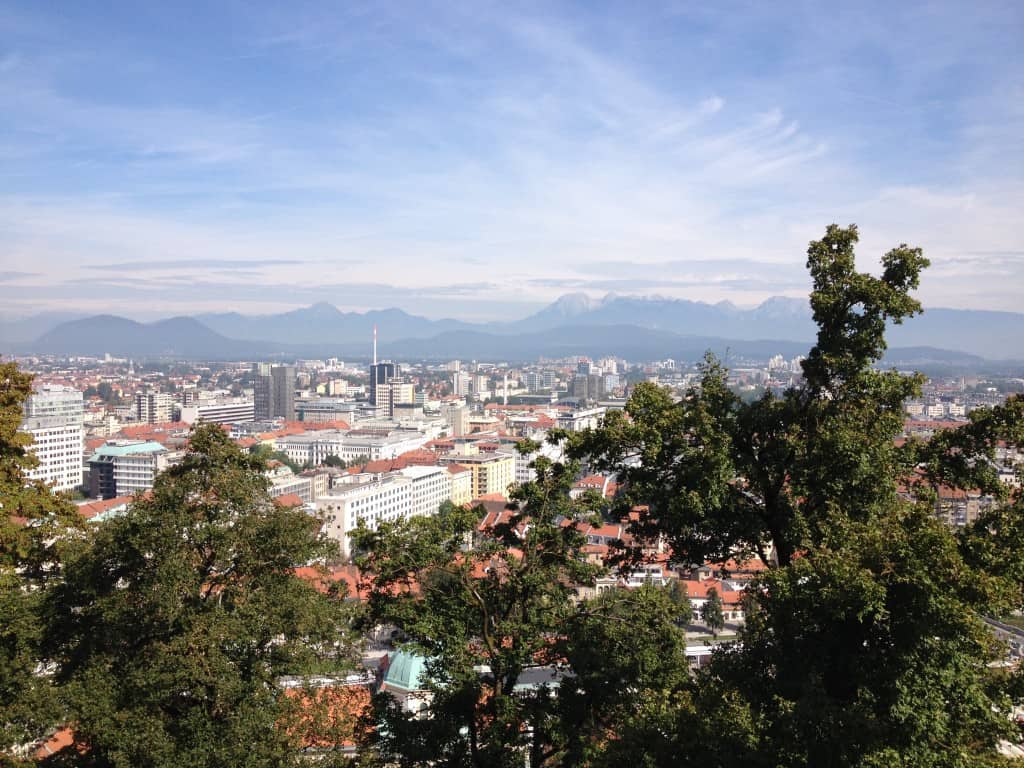 The buildings have been beautifully renovated in a modern style that showcases the medieval architecture. Your partner's getting on your nerves? Leave him in an old jail cell while you go off and admire the nice art gallery or climb the bell tower.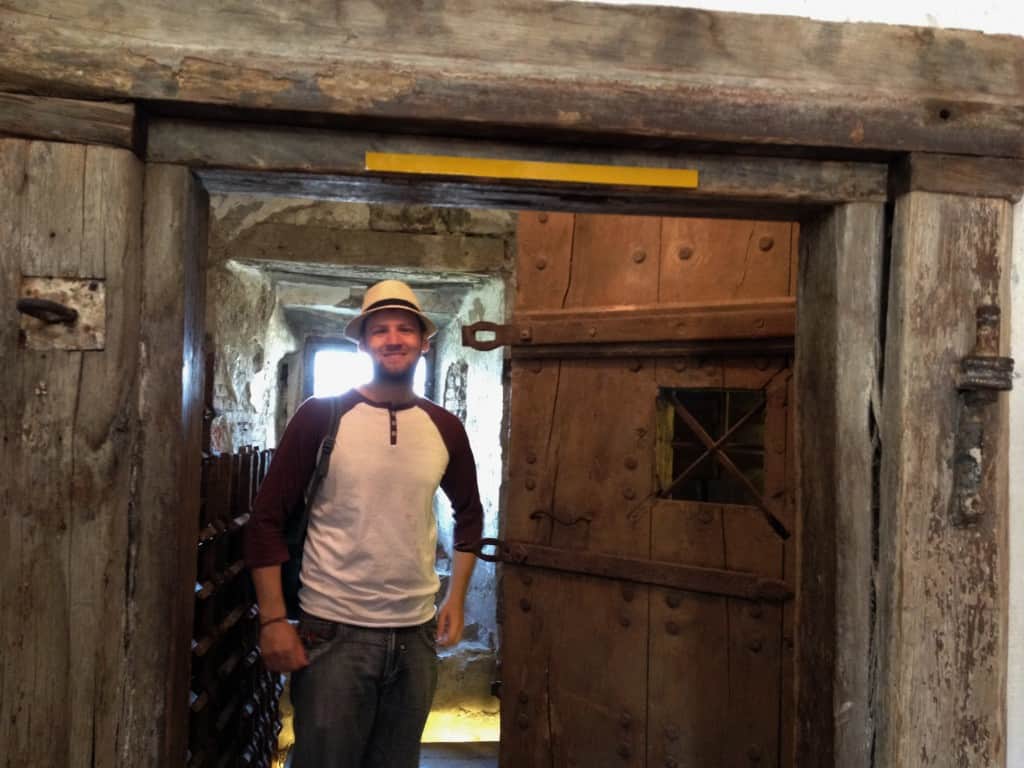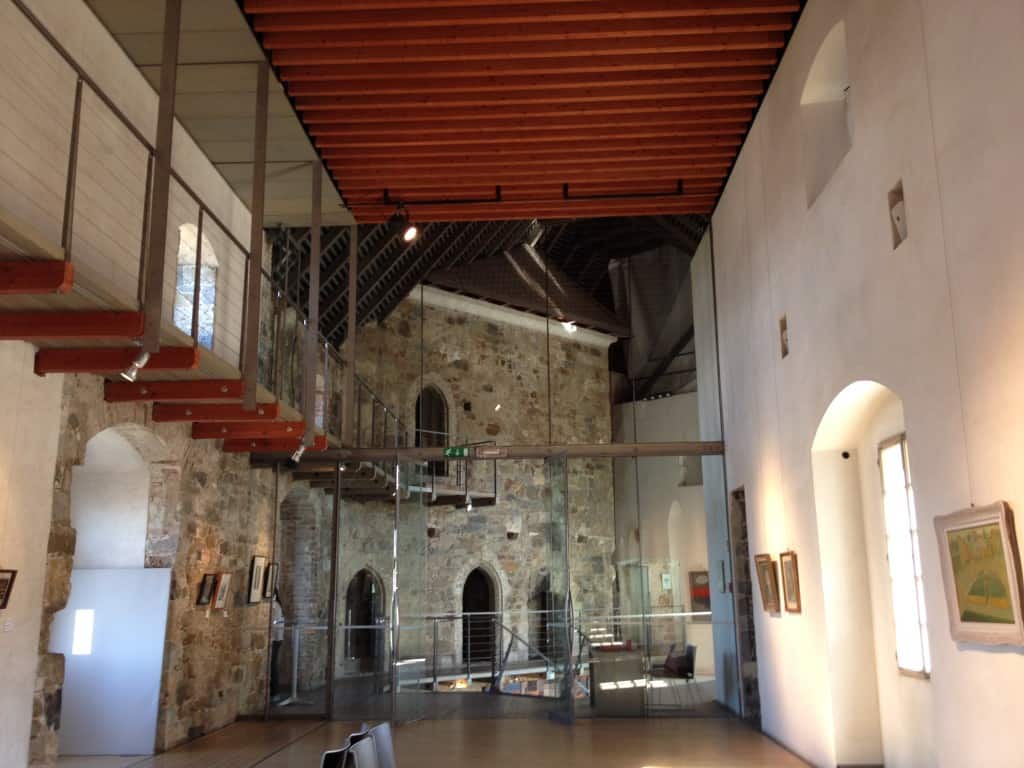 Our favourite part was that, on a nice sunny day, you can sit on the terrace and immerse yourself in a good book. If there wasn't a whole city to discover, we could have lied under the sun for the entire afternoon.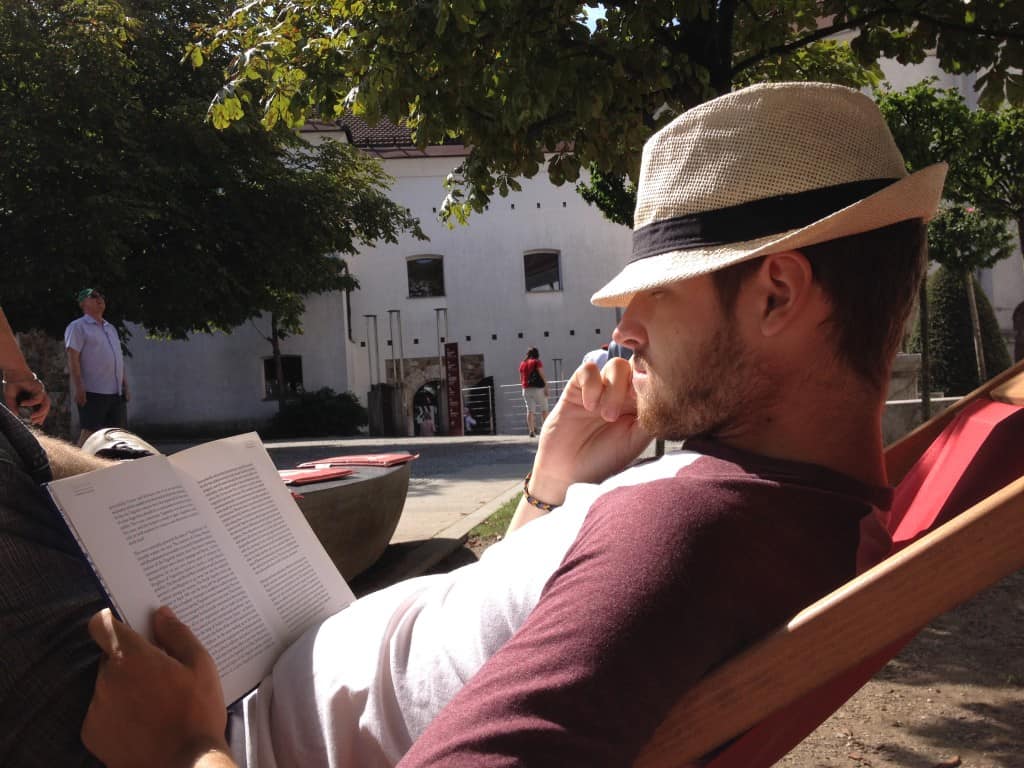 A green and vegan-friendly city
Ljubljana was very much in tune with my newfound hippie side. I was pleasantly surprised to find compost and recycling bins scattered here and there around the pedestrian historical center.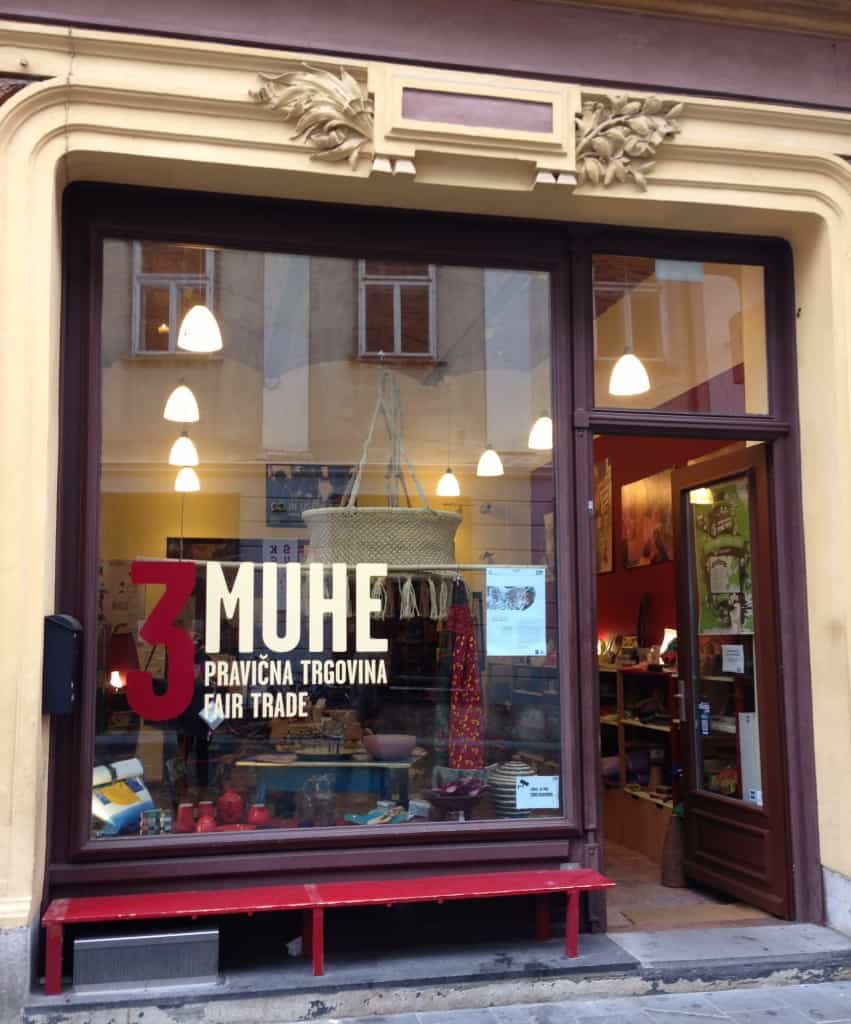 There was also a nice array of fair-trade and local artisanal shops. I got my hands on some organic roasted pumpkin seed oil produced in the region. Tasty stuff.
Slovenians are undoubtedly very big on meat, but a vibrant vegan/vegetarian community is also able to thrive thanks to the vegan restaurants and special sections in the center's grocery stores.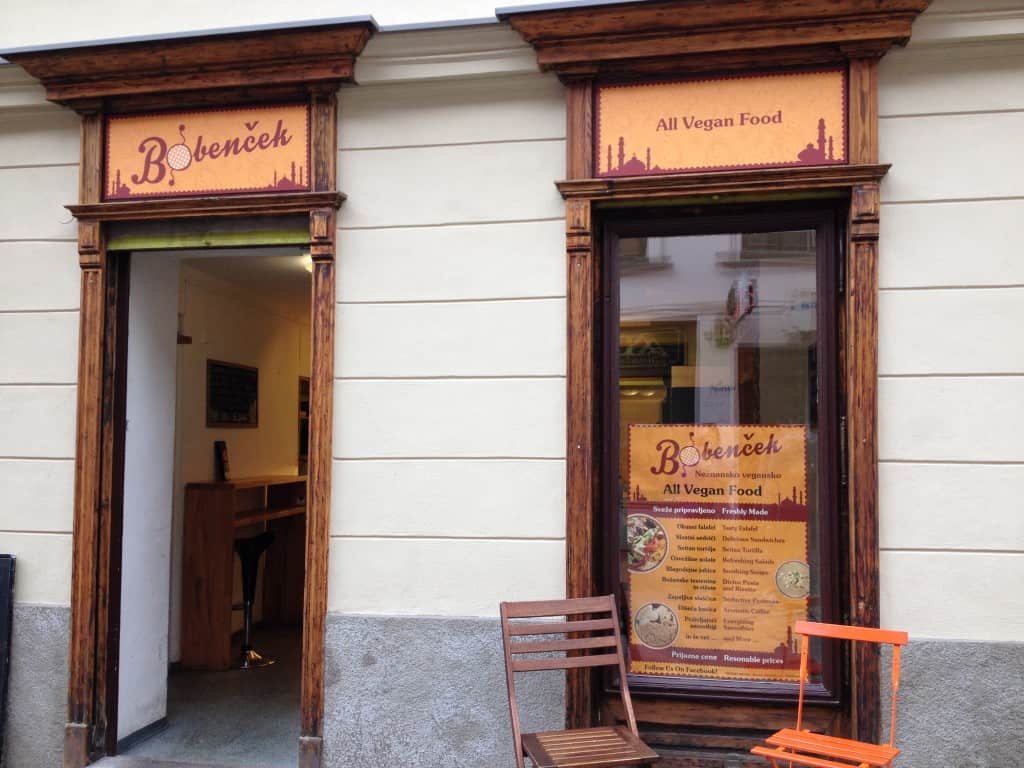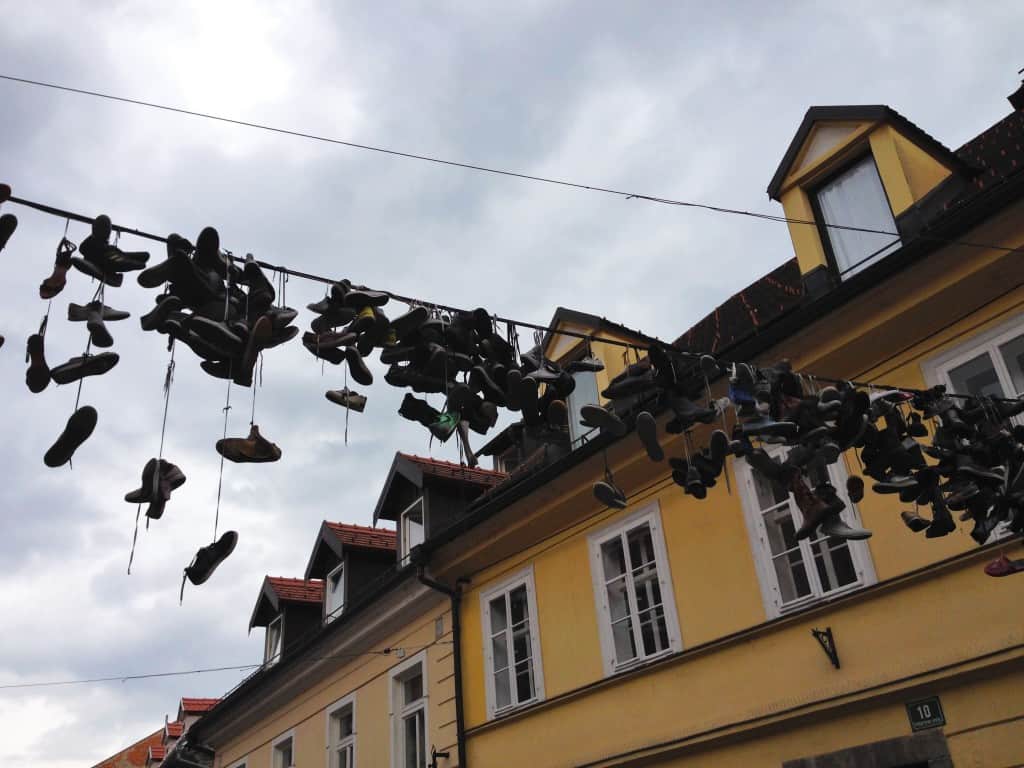 Ljubljana's kosilos
Feel like enjoying lunch in a nice restaurant without forking out the big bucks? Take advantage of Ljubljana's kosilos, which simply translates to lunch. We stumbled upon alovely 300 year-old restaurant called Pri Vitezu and we had a very hard time believing it when the check arrived. €15 for two three-course meals.
On a nice day, you can sit on the terrace and enjoy the view of the river but the dining rooms are so nicely decorated that we preferred to eat inside and go have a beer on another terrace later. We had the place all to ourselves with some smooth jazz and a cozy atmosphere.
The concept is quite common all around the city but our food tour guide Maja assured us we had chosen the crème de la crème.
Practical info
Languages spoken: Slovenian, but you'll survive with English or even German.
Currency: Euro
To find vegan & veg-friendly restaurants in the area: How to find vegetarian restaurants abroad with Happy Cow
Have you been to Ljubljana? What are your recommendations?