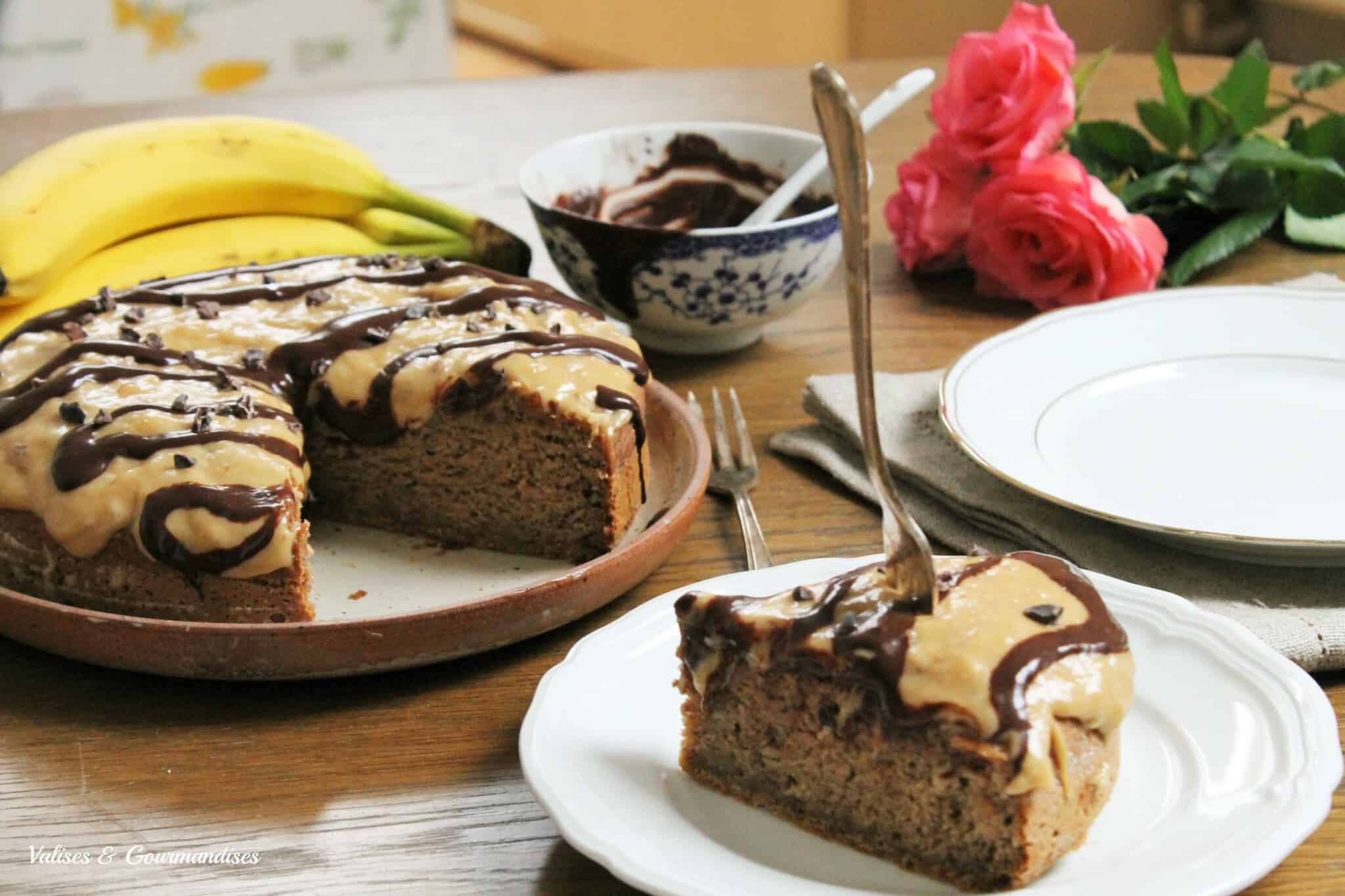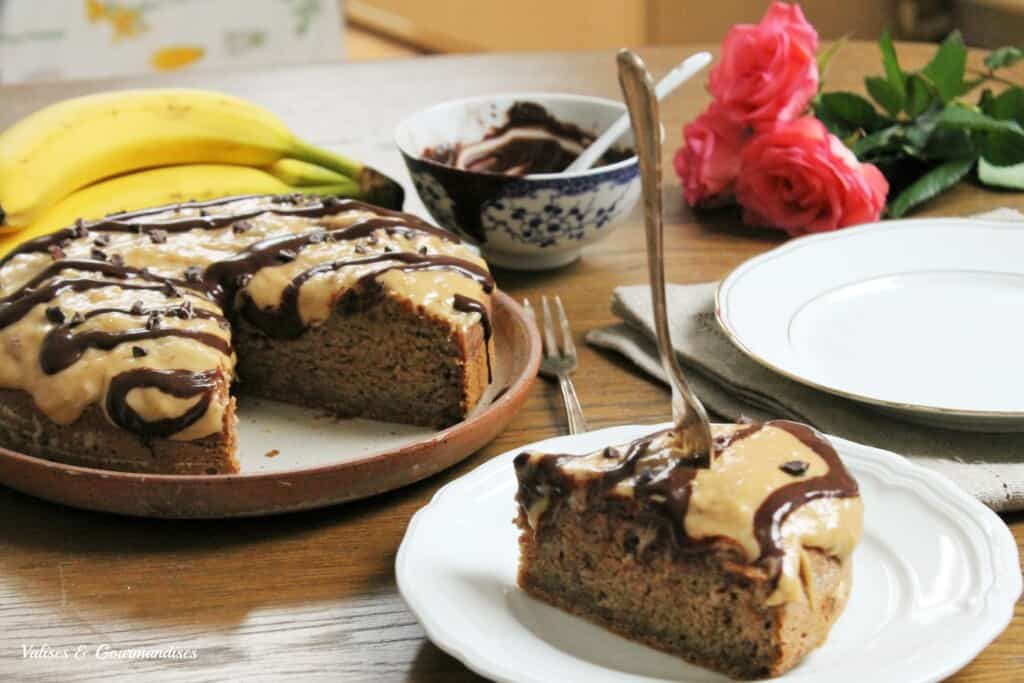 Sweet mother of cakes, I'm in heaven.
Banana. Peanut butter. And chocolate. Combined in a healthy yet mouth-watering drool-inducing cake. And just in time for your Easter celebration.
Two of my favourite cafés in Hanover, Café Bohne and Carrots & Coffee, offer a delicious cake with this flavour combo from time to time. Every time I go, I secretly hope that there will be a slice waiting for me. It's just the perfect friend for my oat milk cappuccino.
Last Sunday, I decided to stop waiting for things to happen and to whip up my own. Plus, quite honestly, the weather has been awful lately and there's no way I'm going outside if I don't have to. Not even for a sweet piece of cake.
Now, the recipe seems quite long, but you probably already have most ingredients in your pantry and the actual making and frosting of the cake only takes a few minutes. You will notice however two unusual foods, namely raw cacao powder and maca powder. If you don't have them, go ahead and use the same amount of regular cooking cacao powder. But if you are interested in making your dessert even healthier, I strongly recommend using these "superfoods"! I also sprinkled the finished cake with some raw cacao nibs because I just love their taste and crunch.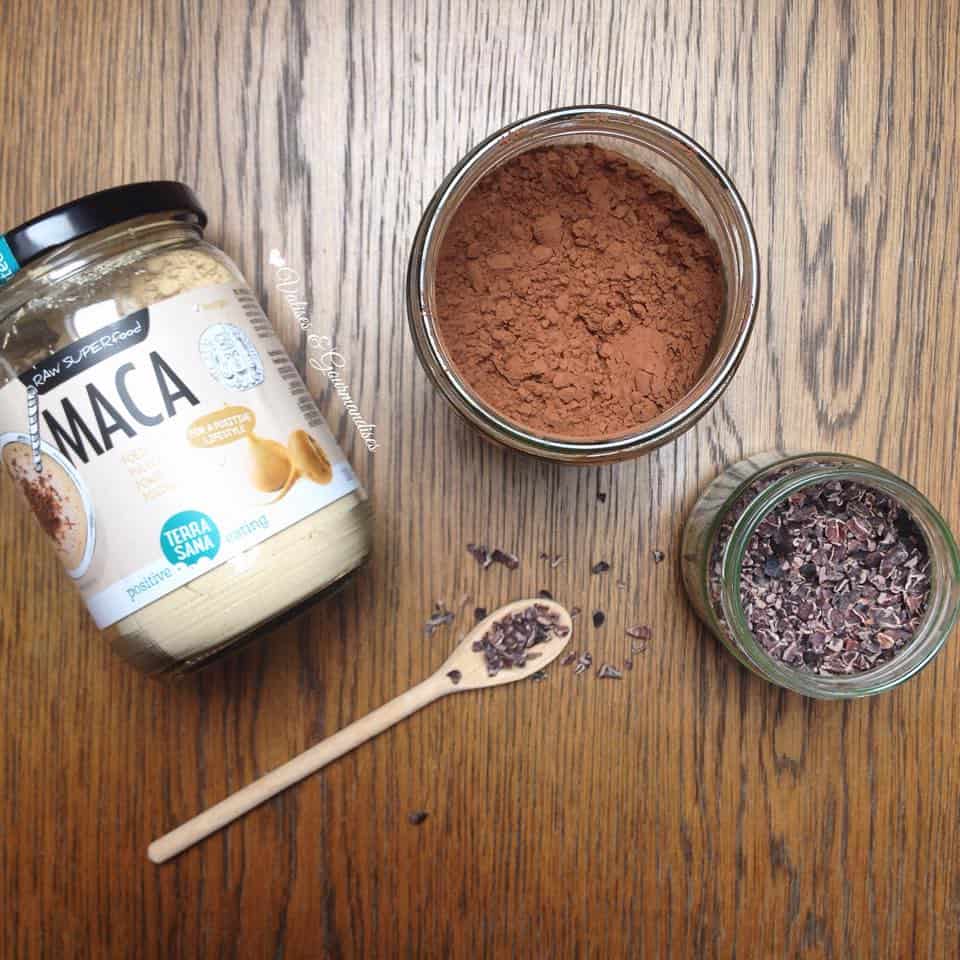 Raw cacao nibs: Cacao beans are harvested and fermented before being dried at low temperature to preserve their nutrients. The skin is then removed and they are broken down into smaller pieces, the nibs. They are rich in magnesium, iron, fiber and antioxidants and may even help improve your mood!
Raw cacao powder: Raw cacao nibs can then be pressed to extract the cacao butter, which can be used in baking or in homemade beauty products. Once the fat removed, cacao powder remains. I wouldn't use raw cacao for baking, since the heat would destroy most of its nutrients and antioxidants, but it's perfect for raw desserts and sauces!
Raw Maca Powder: Maca is a root vegetable grown in the Peruvian Andes. It is believed to increase sexual desire and fertility, especially in men, and has been used for this purpose for about 2000 years. It is also said to help with hormone imbalances. Well, we don't really have lots of research data about all this, but what we do know for sure is that maca is a good source of iron, magnesium, selenium, calcium and fiber.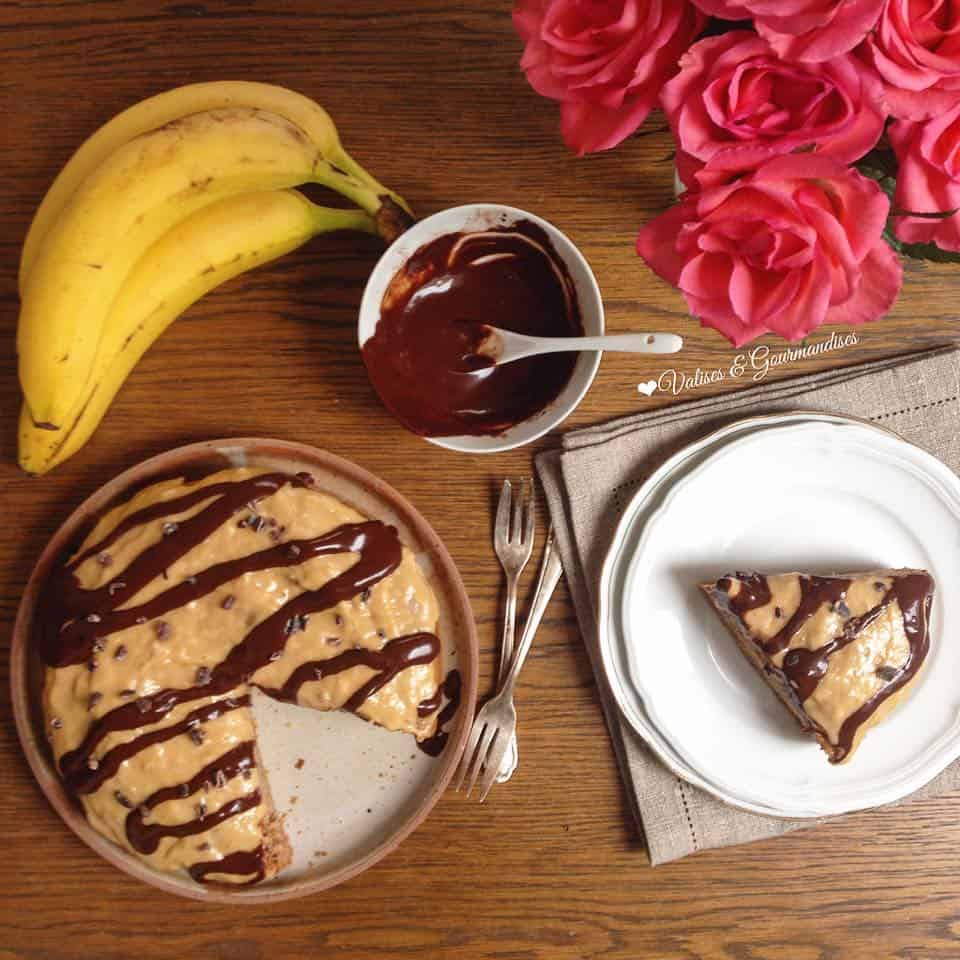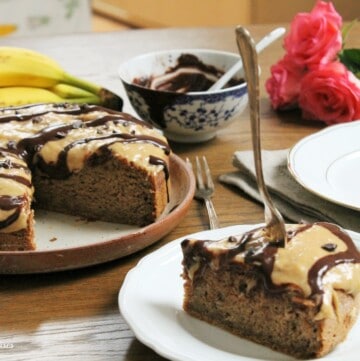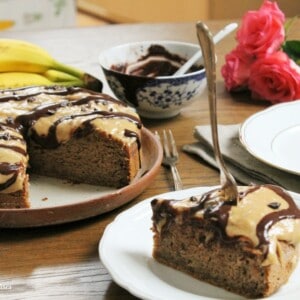 Healthy banana cake
Finally a healthy banana cake recipe to satisfy your cravings! Serve with a peanut butter frosting and a raw maca chocolate sauce for a decadent treat!
Ingredients
Wet ingredients

½

cup

organic soy milk

1

teaspoon

organic apple cider vinegar or lemon juice

3

medium-size organic bananas

1

tablespoon

ground flaxseeds + 3 tablespoons warm water

2

teaspoons

pure vanilla extract

¼

cup

Canadian maple syrup

2

tablespoons

organic canola oil

Dry ingredients

2

cups

wholegrain spelt flour

whole wheat works too

½

teaspoon

baking soda

1 ½

teaspoon

baking powder

½

teaspoon

sea salt

1

teaspoon

organic Ceylon cinnamon

½

teaspoon

allspice

1

tablespoon

organic hemp seeds

optional

Organic raw cacao nibs

for sprinkling
Instructions
Oil and flour an 8-inch round cake pan (I think a 9-inch would work too, yielding a slightly thinner cake). Preheat the oven to 350F (180C).

In a small bowl, combine soy milk and apple cider vinegar. Set aside and allow to curdle, this will be your "buttermilk". In another small bowl, combine flaxseeds and water and set aside, this will be your "egg".

In a medium bowl, mash bananas very well until they're in an almost liquid state. Whisk in flax egg, vanilla extract, maple syrup and oil. Then add your vegan buttermilk and combine well.

In a large mixing bowl, combine flour, baking soda, baking powder, salt, cinnamon and allspice. Whisk in wet ingredients and mix until fully incorporated.

Pour the batter into your pan and bake for 25 to 45 minutes. (Mine took 45 minutes, but I'm a bit paranoid when it comes to baking so I set a timer to 20 minutes and then check doneness every 5 minutes using a toothpick: the cake is ready when the toothpick comes out clean). Once your cake is done, remove from the oven, let cool enough to handle and unmold. Let cool completely before icing.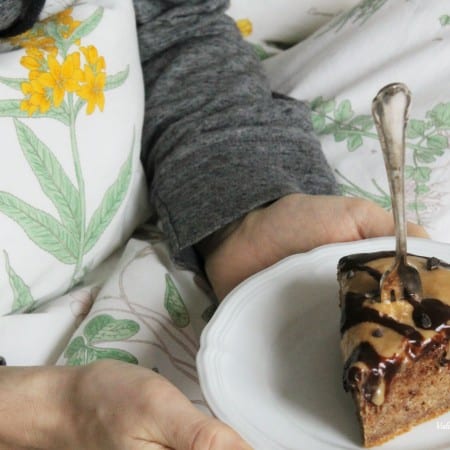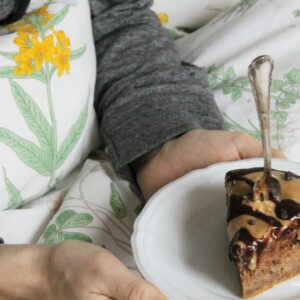 Healthy peanut butter frosting
A delicious raw and healthy peanut butter and banana icing, perfect on banana or chocolate cake!
Ingredients
1

ripe organic banana

2

tablespoons

creamy natural peanut butter

Powdered sugar

optional, will help make the frosting a little less sticky
Instructions
In a medium-sized bowl, mash your banana very well with a fork until it's an almost liquid state. Add in your peanut butter and mix very well. Add powdered sugar, 1 tablespoon at a time, until you reach desire consistency and sweetness. I must have added about 2tbsp. If you want to avoid sugar, you could omit completely, you'll simply end up with a stickier and of course less sweet icing.

Once your frosting/icing is ready, simply pour it over your cake and spread evenly.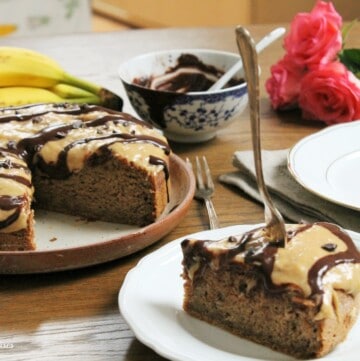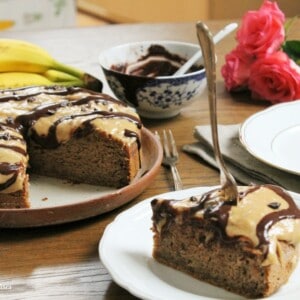 Raw cacao and maca chocolate sauce
Whip up this nutrient-packed chocolate sauce in only minutes and use on anything your heart desires.
Ingredients
1

tablespoon

organic raw cacao powder

regular cacao works fine

1

teaspoon

organic maca powder

optional, replace with more cacao if you don't have maca

1-2

teaspoons

maple syrup

to taste

Water

as needed
Instructions
Whisk your cacao and maca together (if you don't have maca, just use more cacao).
**This article contains a few affiliate links, which means that I will receive a small commission if you purchase a product through them. The price remains the same for you, but this way you are helping me maintaining the blog and providing you more interesting content! :)
Similar recipes