*Edited Dec 29, 2016 to make them vegan.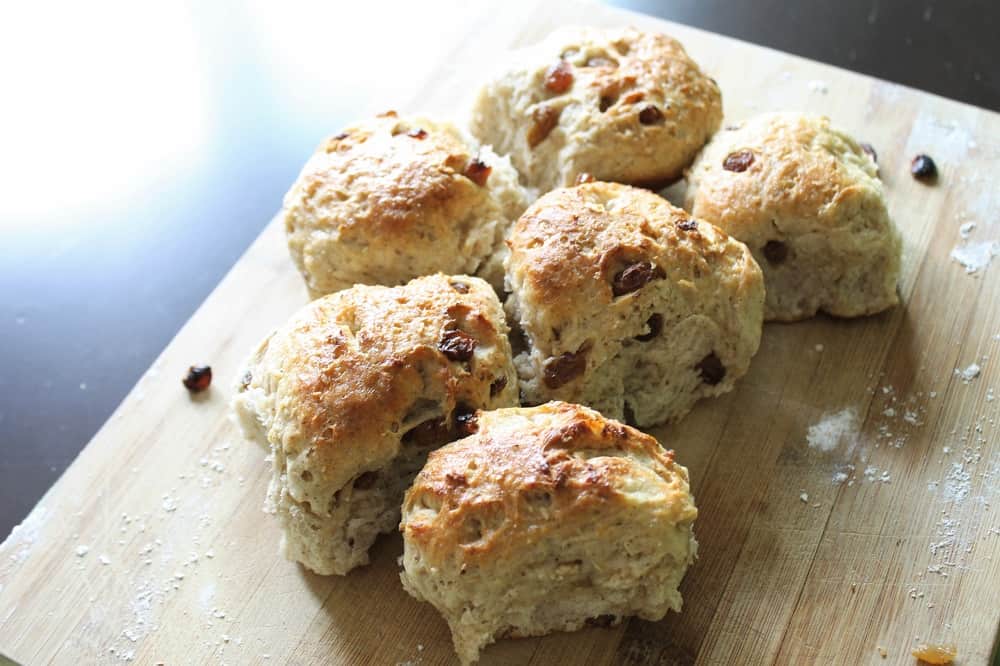 Maple-glazed cinnamon-raisin-oatmeal breakfast rolls. Wow, that's a mouthful… Bun intended! Ok, stopping now… I've always had an obsession with cinnamon and raisins. Good things come in pairs, and it's definitely the case here. I love them in bread, bagels, cookies, oatmeal, cakes, and I could keep going.
I stumbled across this recipe a few weeks ago and it immediately caught my attention. Honey, cinnamon, raisins and oatmeal. In a roll? Challenge accepted. I spruced things up a little by adding flax seed for more nutrients and by doubling the amount of cinnamon (no such thing as too much). I also reduced the baking heat for maximum fluffiness. I ran out of honey as well I no longer consume honey, so I replaced it with maple syrup. There are worse things in life.
Did I mention they are super easy to make and don't require many ingredients? That being said, just be ready to knead. Plan a total of approximately four hours to make the rolls: it took me 20 minutes to knead the dough, 2 hours for it to rise, another 20 minutes of kneading and shaping the rolls, another 1-hour rise and 15 minutes of baking.
They. Are. Worth. Every. Minute.
They are so soft and moist and chewy and yummy and fluffy and soft and… you get the point. The maple-syrup glaze gives them the perfect hint of sweetness and they're loaded with raisins.
I wasn't working today and was alone at home. I thought long and hard about it, and decided to stay in my PJs. Then, I decided to do some baking. Before getting started, every epic journey needs a soundtrack, so I put on some Half Moon Run. Their Dark Eyes album has been my latest craze.Seriously, I've been listening to it twice a day for the past month. I'd describe it as Radiohead-ish. *It's December 2016 now and I still listen to them as much as when I wrote this post <3
I recently realized that making bread is way simpler than people think. Cheaper and healthier too. I've tried three recipes so far: these breakfast rolls, Ricardo's homestyle bread, and a delicious multigrain loaf. All three were well worth the effort. Needless to say, nothing beats the smell of fresh bread baking in the oven to greet your loved ones after a long day at work or school.
With the speakers on high, I laid out all my ingredients and got ready to bake my breakfast rolls, as well as two multigrain loaves that only require 10 minutes of kneading. They're chock-full of sunflower and pumpkin seeds, and boy are they divine when toasted. I've made it a habit of dividing one recipe into two loaves and freezing one. It's perfect for two people, but if you have kids or glutton roommates, you don't have to worry about them going stale… they won't last a day. I urge you to try them!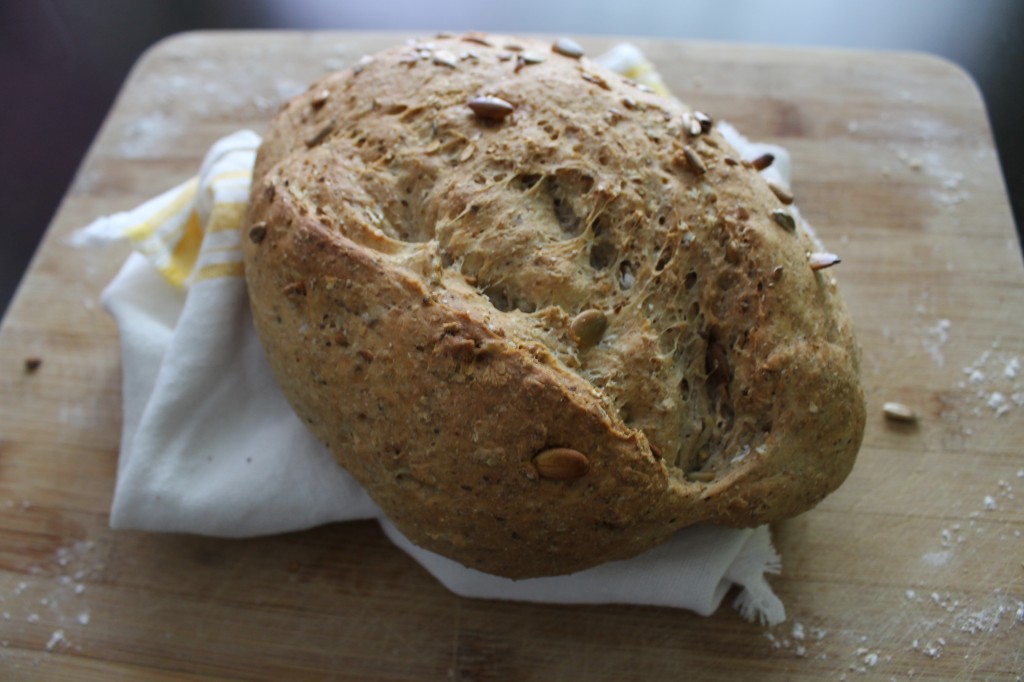 As for the rolls, they're obviously best served warm, on their own or with butter. One recipe makes 16 rolls. I recommend making the most of your kneading by preparing a double-batch and freezing half. They'll still taste great! Simply unthaw them and warm up in the oven at low temperature.
You could make them the day before a brunch and reheat them before serving. Oh, and don't forget to store them at room temperature in an airtight container.  Bon appétit!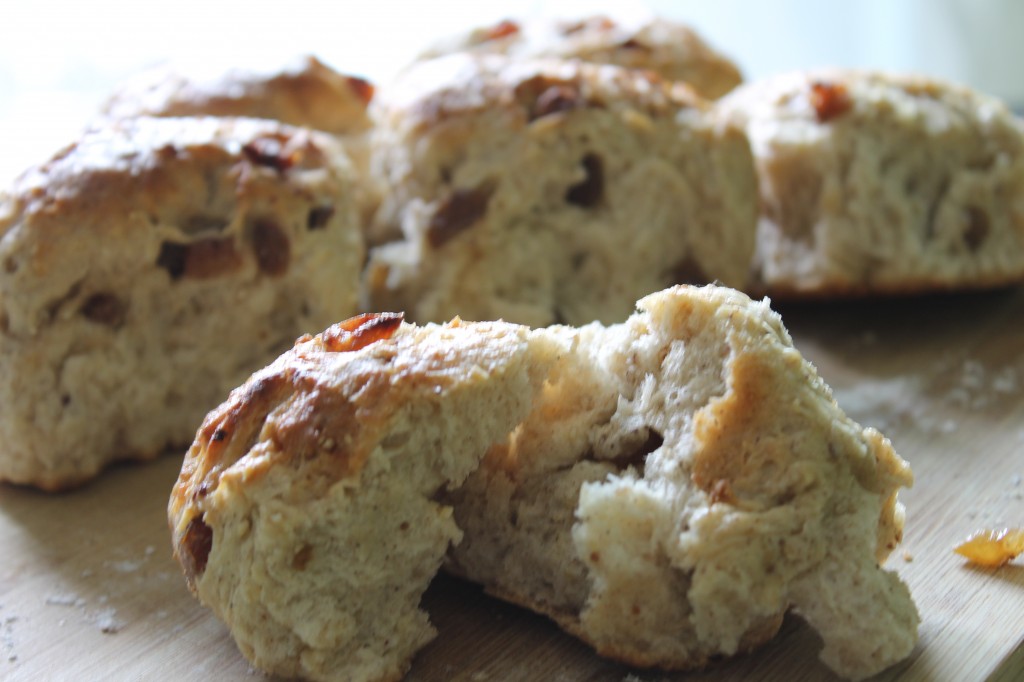 Here's what you'll need for the maple-glazed raisin-oatmeal breakfast rolls (I've really got to find a shorter name…).
*** Below is the "by-hand recipe". If you are lucky enough to own a stand mixer, check out Averie's instructions.
Pin for later (click on the photo):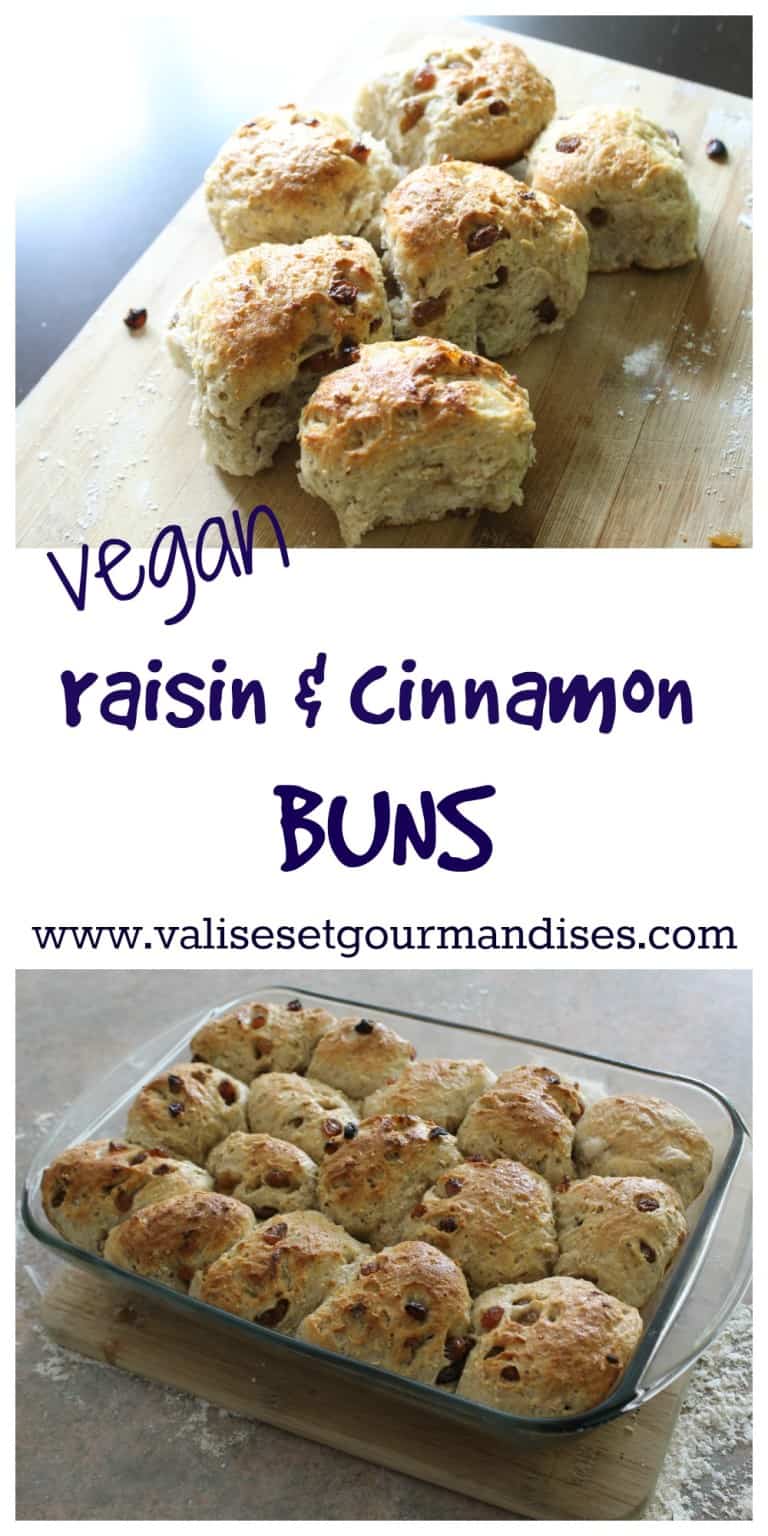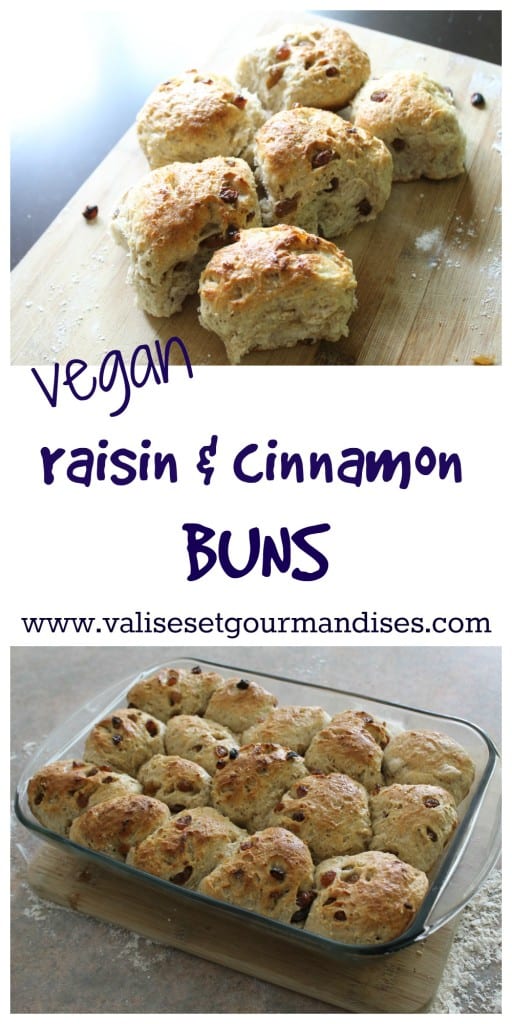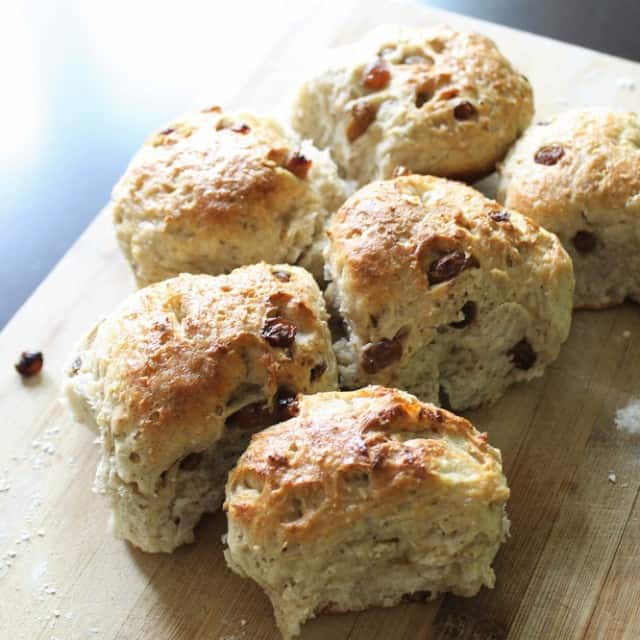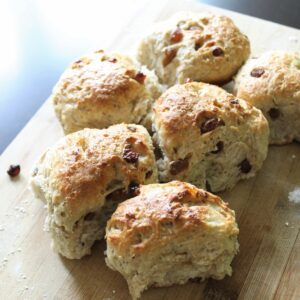 Maple-Glazed Raisin-Oatmeal Breakfast Rolls
These raisin buns are the perfect addition to your your next brunch! They require litle active-preparation time and are healthier than the store-bought version. And they're vegan, of course!
Ingredients
1

cup

warm water

2 1/4

teaspoons

instant dry yeast

one 1/4-ounce packet

1

flax egg

tablespoon ground flaxseeds mixed with 3 tablespoons water

1/4

cup

maple syrup

3

tablespoons

organic canola oil

1/2

teaspoon

salt

or to taste

3

cups

bread flour + another ½ cup *do not substitute for whole-wheat flour

it will not work. Remember that the whole oats and flax seed bring in more nutrients and fibers.

1

cup

old-fashioned whole rolled oats

not quick cook or instant

1

cup

raisins

2

teaspoons

cinnamon

1

tablespoon

ground flax seed

MAPLE BUTTER

2

tablespoons

dairy-free butter

2

tablespoons

maple syrup

*A 9x13 inches pyrex pan
Instructions
In a small bowl, mix the flaxseeds with the water and set aside.

In a microwave-safe bowl, heat water for 30 seconds. Pour into a large bowl, sprinkle the yeast on top of it and combine. Let sit for 10 minutes.

In a large mixing bowl, mix the first 3 cups of flour, the oats, raisins, and cinnamon. Measure the remaining ½ cup of flour and set aside.

After the 10 minutes have passed, add the flax egg, maple syrup, oil, and salt to the yeast mixture, and mix with a wooden spoon until well combined. Add dry ingredients and knead until you can make a ball.

Gradually incorporate the remaining ½ cup of flour. It took me 20 minutes by hand. It would take about 10 minutes with a stand mixer with the dough hook attachment.

Start kneading in the bowl, and when your ball is not so sticky, transfer onto a lightly floured counter or table. Knead until all the flour has been incorporated, approximately 20 minutes.

Turn on the oven for a minute and then turn it off. Place your ball of dough in a lightly greased bowl, cover with a clean dish towel and place it in the turned off oven with a bowl of hot water. Let rise until it has doubled in size, about two hours .

Once the dough has doubled in size, punch it down and knead on a lightly floured surface for a minute. Shape into a ball, place it back into the bowl, cover it, and let sit for another 10 minutes.

Oil a 9x13-inch pyrex pan and set aside.

Place your dough on a lightly floured surface and roll into a 16 inches cylinder. With a sharp knife, cut 16 pieces. Roll each one into a ball, stretching them and tucking the dough underneath. Place directly in the pan, tucked side facing down.

Cover with the dish towel and let rise for one last hour. When balls are doubled in size, remove from the oven and preheat to 375F.

Melt two tablespoons of butter and mix with two tablespoons of maple syrup. Brush the mixture on the rolls and put your pan in the oven for 10 minutes. Check them often.

After 10 minutes, place on lower rack if the bottom seems uncooked and bake for approximately 5 minutes.
Notes
Store them at room temperature in an airtight container. You can also freeze them for up to three months. Simply unthaw and warm up in the oven before serving.