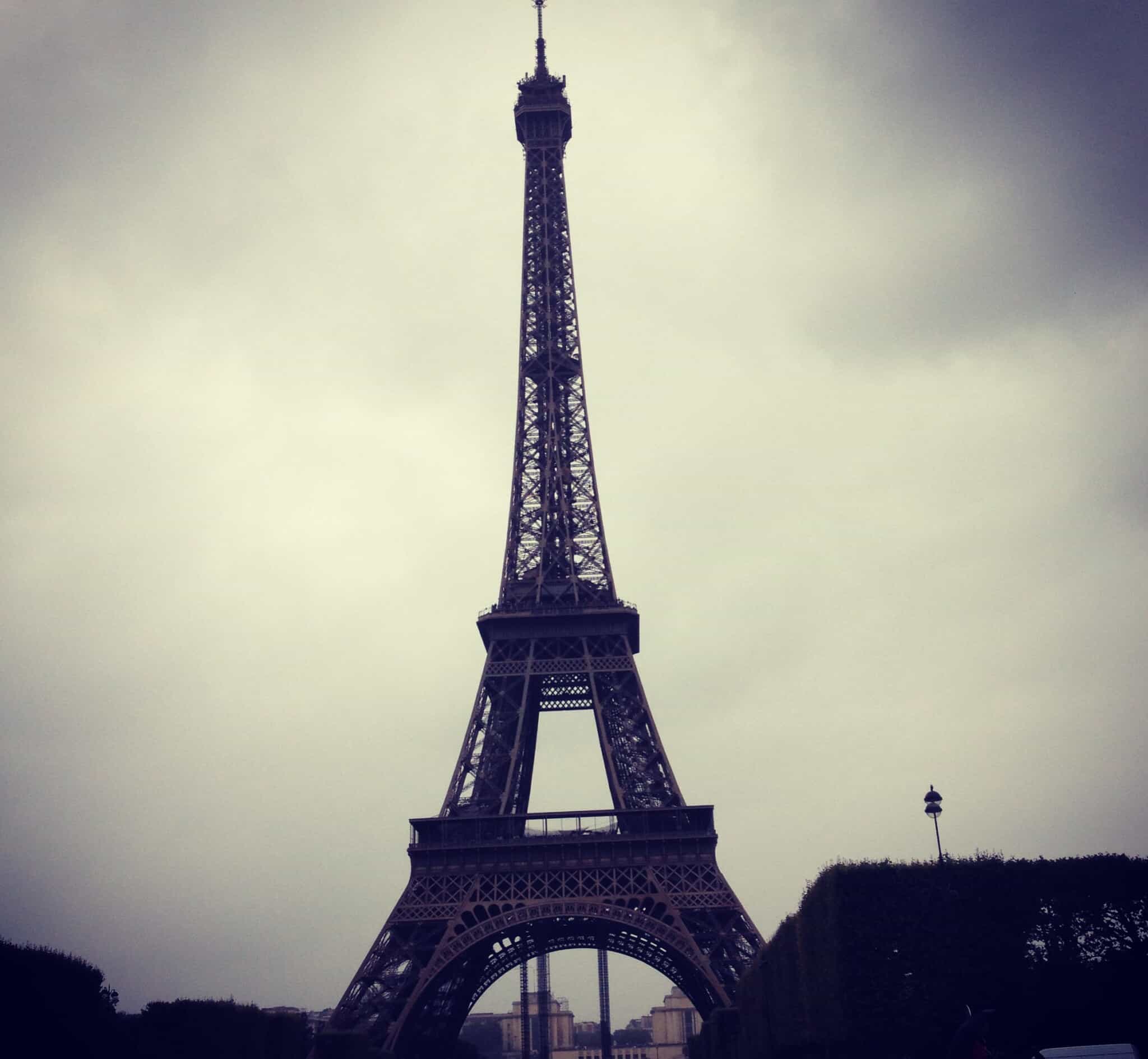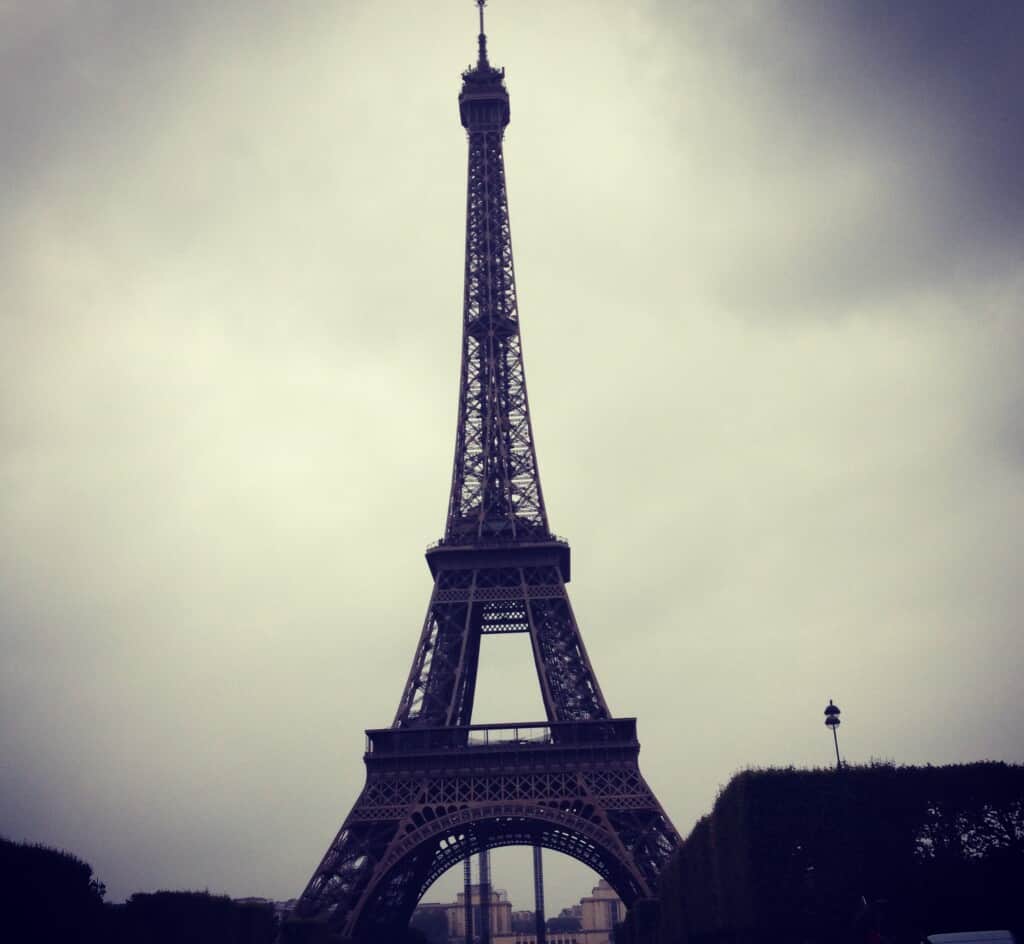 The famous Ville Lumière needs no introduction. Capital of France, rich in culture and history, we've all heard of Paris to some extent; it's arguably one of the most renowned cities in the world along with London, Rome and New York.
It's the setting of so many stories, books and movies from my childhood, and I had no doubt that I would go there someday and see it for myself. Naturally I had high expectations, but I was also afraid of coming face to face with a disappointing cliché. No suspense: I'm glad to report that's not the case.
The city has something to offer for everyone. Whether you're into history and museums, or you just want to wander like we did and discover its many neighbourhoods and restaurants, there's always something to do in Paris.
I went there with my boyfriend for a grand total of five days in September 2013. It was a romantic getaway of sorts. After all, Paris is also known as the City of Love. We had rented a tiny apartment in the 2e arrondissement, a quiet little neighbourhood full of quaint little markets such as bakeries, restaurants, and fromageries. Oh, and wineries. Let's not pretend I'm a wine connoisseur in the slightest; all I can tell you about it, is that I like to drink it. In this regard, Paris lived up to its reputation: the wine is good and so much cheaper than back home!
When we first walked out of the metro station and I caught glimpse of our typical narrow Parisian street under a refreshing light rain, my emotions got the best of me and I started to cry. Just a few tears.
What's the first thing you do on a morning in Paris after a long overnight flight, during which you hardly slept? Eat breakfast of course!
If you're a breakfast lover like myself, you'll find that Paris offers the crème de la crème of morning munching. As you walk throughout its little streets, the smell of fresh croissants and coffee will be sure to lure you in one of the many cafés.
The crazy part is that we tried different places every morning and each was more delicious than the next. Our favorite? The organic breads, jams and juices at Le Pain Quotidien on rue Montorgueil, in the 2e arrondissement.
Since we're on the topic of food, note that we did not eat one single bad meal. At first we thought we were just lucky, but there's no doubt now in my mind that Paris (and likely all of France too) is a signature destination for those who enjoy fine eating.
Although it played a big part in the experience, we did more than just stuff our faces. The French capital has a lot of attractions and sightseeing to offer. Here's a day-by-day summary of what we visited.
Day 1 – Le Louvre, Les Champs Élysées and Arc de Triomphe
Our bellies now full of our first Parisian breakfast, we were ready to go out and explore!
We head out onto the road without any real idea where we were going. For the first day, we simply walked, and walked, and walked, getting acquainted with our neighbourhood and finding our bearings. I recommend doing a little bit of research on Paris before going, because the number of attractions can be overwhelming. We wandered around with our map, often wondering what this and that was. Funny anecdote, we actually stumbled upon this huge monument, only to later realize it was the exterior of Le Louvre. Once inside the inner court, the glass pyramid kinda gave it away.
I cried a bit again.
From there, we made our way through the Jardin des Tuileries, oldest public park in Paris, to the Champs Élysées, which actually isn't a field at all, but just a big boulevard with fancy expensive shopping stores. Maybe because I'm used to seeing such things where I come from in Montreal, or maybe because my teenage shopping years are behind me, but I was expecting more from this one.
Luckily, the boulevard eventually lead us to the Arc de Triomphe, iconic Parisian landmark. It really is a majestic monument to behold.
However, what I remember the most from this moment is watching the traffic circle around chaotically, and trying to understand how all these people could drive in this roundabout without bumping into one another. Accustomed to our very strict road code back home, I was utterly fascinated.
We also decided to share some of our nut mix with the pigeons. Do NOT try this. Seriously. It looked like a scene out of Hitchcock's Birds.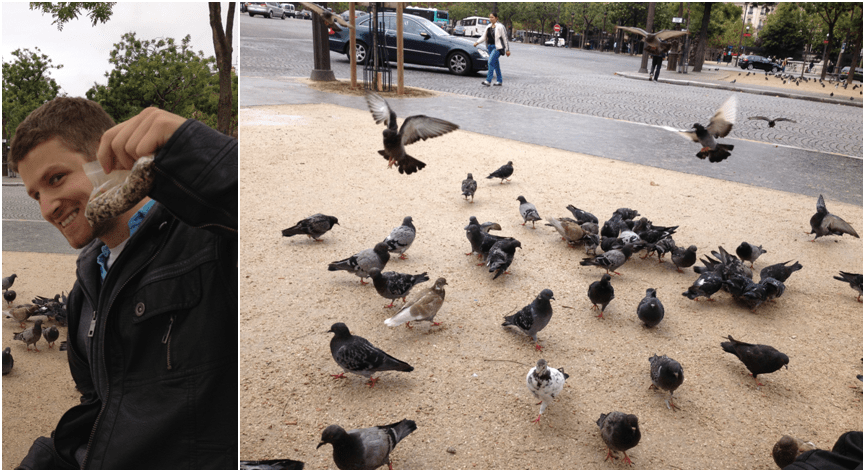 After this NDE, we took a bus home, excitedly spotting the Eiffel Tower along the way.
Day 2 – Quartier Montmartre, Basilique du Sacré-Cœur, Moulin Rouge, Les Invalides and night cruise on La Seine
Awaking from a much needed night's sleep, it wasn't long before we jumped out onto the street in search of a breakfast joint. Surprisingly, neither of us felt any jet lag. Or maybe the excitement just outweighed it.
The objective for the day was to walk our way to Quartier Montmartre, the hip artistic neighbourhood, and its white Basilique du Sacré-Cœur.  It was a quite a workout walking uphill for more than an hour, but in the end we were well rewarded with a panorama view of Paris and some delightful sunshine to boot.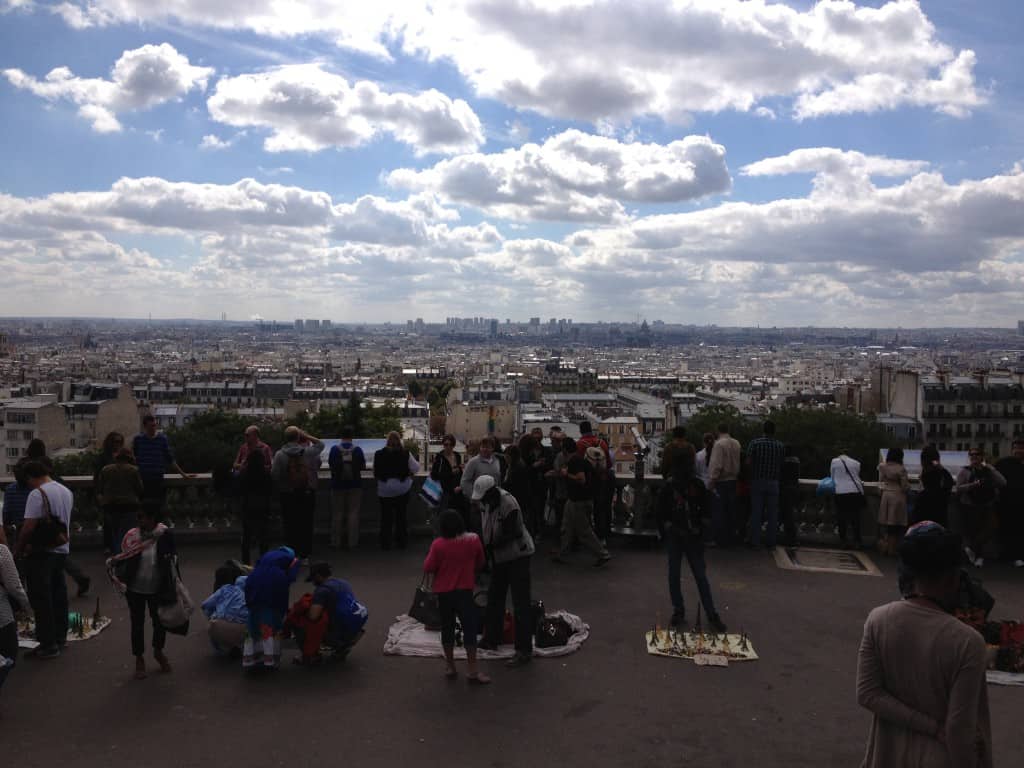 Overall, we actually weren't very fortunate weather-wise during our stay. It was often cloudy or lightly raining. All my nice dresses spent the week in my suitcase. On the upside, it never rained hard enough to prevent us from going about our business. All in all, I think we were chanceux dans notre malchance as the French would put it.
Walking around the Quartier Montmartre and getting lost in its charming streets was undeniably a top highlight of our time in Paris. The Basilique atop the hill is truly beautiful and offers, as I mentioned earlier, a breath-taking view of the city. It's made of white stone that whitens and hardens over time.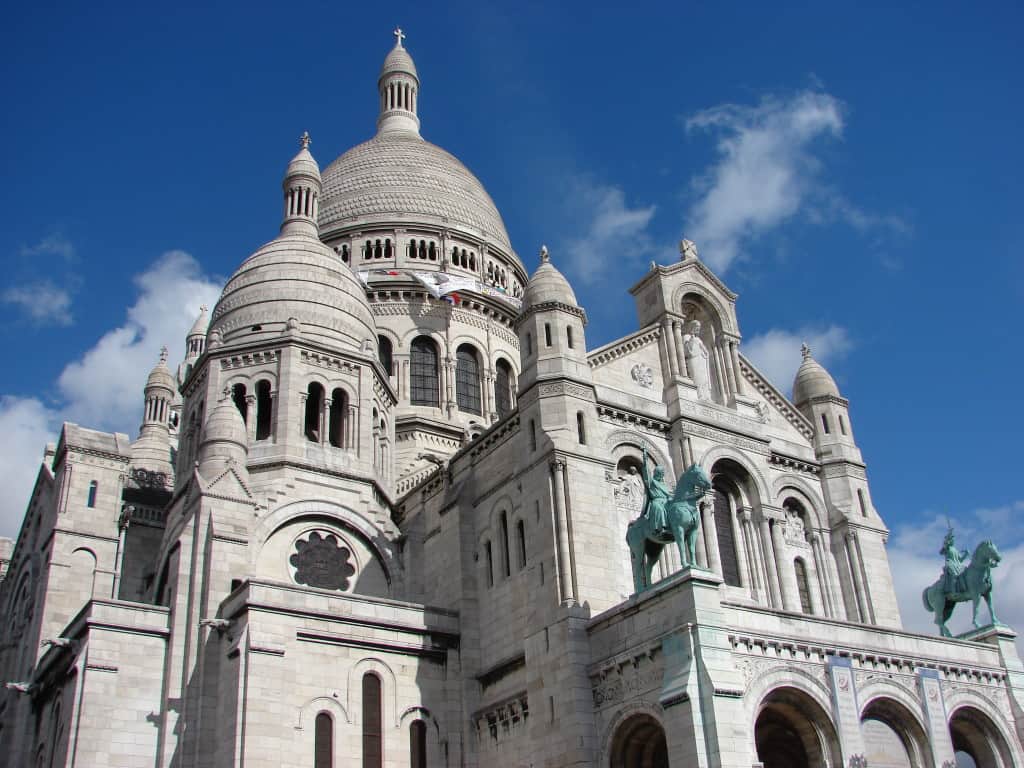 The Place du Tertre, a very popular square of Quartier Montmartre, was a bit too touristy for my taste. Case in point, there was a huge Starbucks… I still suggest going though, because the festive atmosphere makes it well worthwhile. And it really is right beside the Basilique.
We had decided to take the night cruise on the Seine River that night, and had some time to kill beforehand. From Montmartre, we took yet another stroll to stop by the naughty windmill that inspired one of my favorite movies (yes, Moulin Rouge!).
The show itself cost more than we were willing to spend, around €100 a ticket. From the outside, in broad daylight, it was underwhelming to be honest. However I've been assured the show is amazing if you're ready to fork out the cash for it. Maybe next time!
After having the best croque-monsieur of all time for dinner, we made our way to the Seine for our night cruise. On the way, we crossed Les Invalides, a bunch of very beautiful military museums, the Champs de mars and the Eiffel Tower.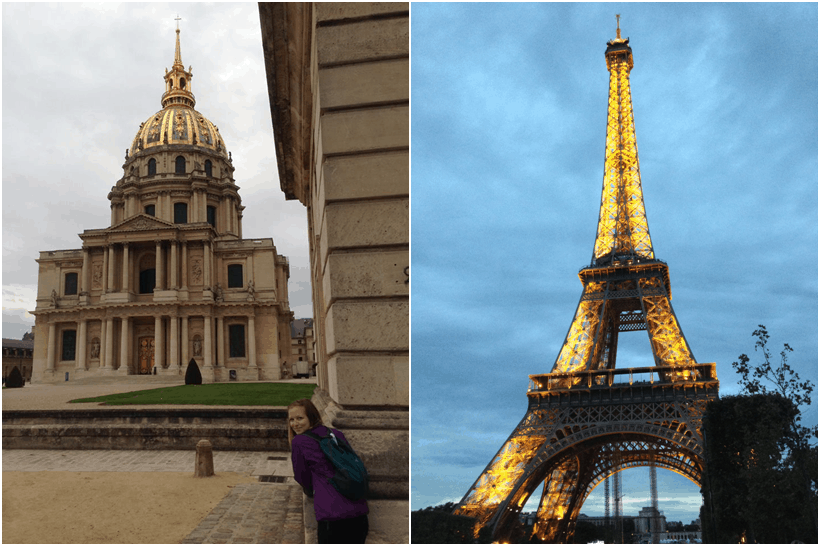 The night cruise on the Seine sounds quite romantic (and it is!), but independently of that, I wholeheartedly recommend it because you get a good tour of the city and audio guides explain a lot of interesting historical facts about the important monuments and this will likely help you zero-in on those you'll personally be interested in seeing.  There are day cruises available too if you want to see a little better.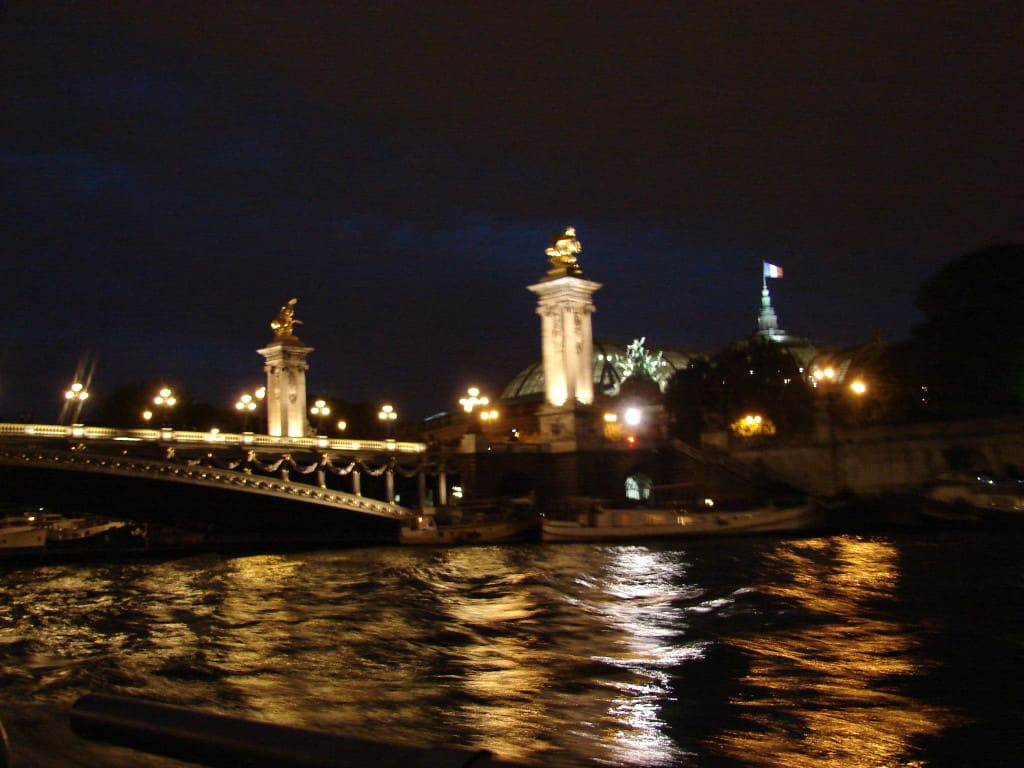 Day 3 –Cathédrale Notre-Dame de Paris, Cimetière du Père-Lachaise and Parc des Buttes de Chaumont
Day 3 was painful. Walking long hours, especially uphill (remember our walk up to Montmartre?) served as a reminder that I should hit the gym once in a while, or at least be more active. I'll get back to my yoga classes next week…
We got up around 9 and had another great breakfast. I think this is the day we ate at least three croissants… each. We decided to rest our sore legs and take advantage of our metro/bus pass. I love the bus because it allows you to sit back and enjoy the view while being able to get off when you see something you like.
Our first stop of the day was none other than the Cathédrale Notre-Dame de Paris, home to Victor Hugo's famous Quasimodo. Located on Île de la Cité, along with La Conciergerie, the prison where Marie-Antoinette was kept before her execution, the cathedral is easily reached by metro or by bus.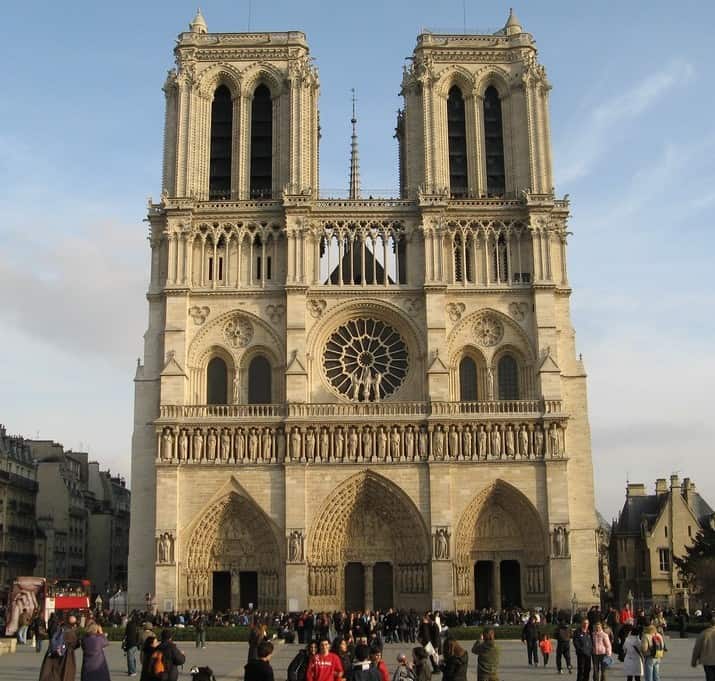 Again, my expectations were wrong. But not in a bad way. I thought this mythical church would be all gold and luxury, but on the contrary it is quite stark and gloomy.
There was a 2-hour wait to climb up to the roof of the cathedral and we didn't feel up to it. We still got to go inside though. It was immense and dark, lighted by only a few candles, yet unmistakenly grandiose. Even Martin, who doesn't care that much for visiting churches, admitted how amazing it was and agreed that the cathedral is a must-see.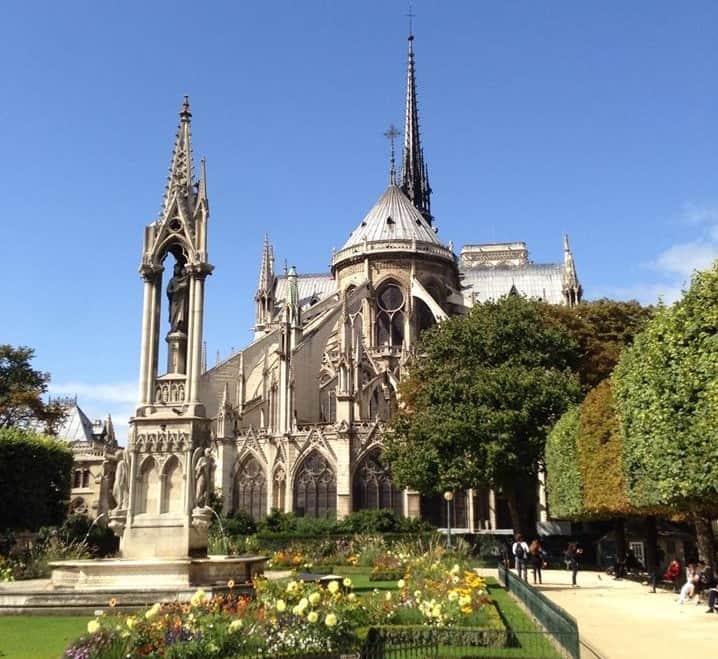 Behind the church is a little park where we sat to plan our next stop, le Cimetière du Père Lachaise, one of the most renowned cemeteries in the world.
On our way there, we made a pit stop at a boulanger and bought a €0,99 baguette, then at a neighbouring caviste for a €3 red wine bottle, and a good one at that, and finally, at a nearby fromager for some incredible fresh goat and brie cheese costing about €5.
When we made it to the cemetery, we took a seat and enjoyed our Parisian snack before walking around to see some of the famous tombs like that of Jim Morrison, Molière and Oscar Wilde. At 44 hectares in size, make sure you bring a map of the place because you might get lost in the labyrinth of trails.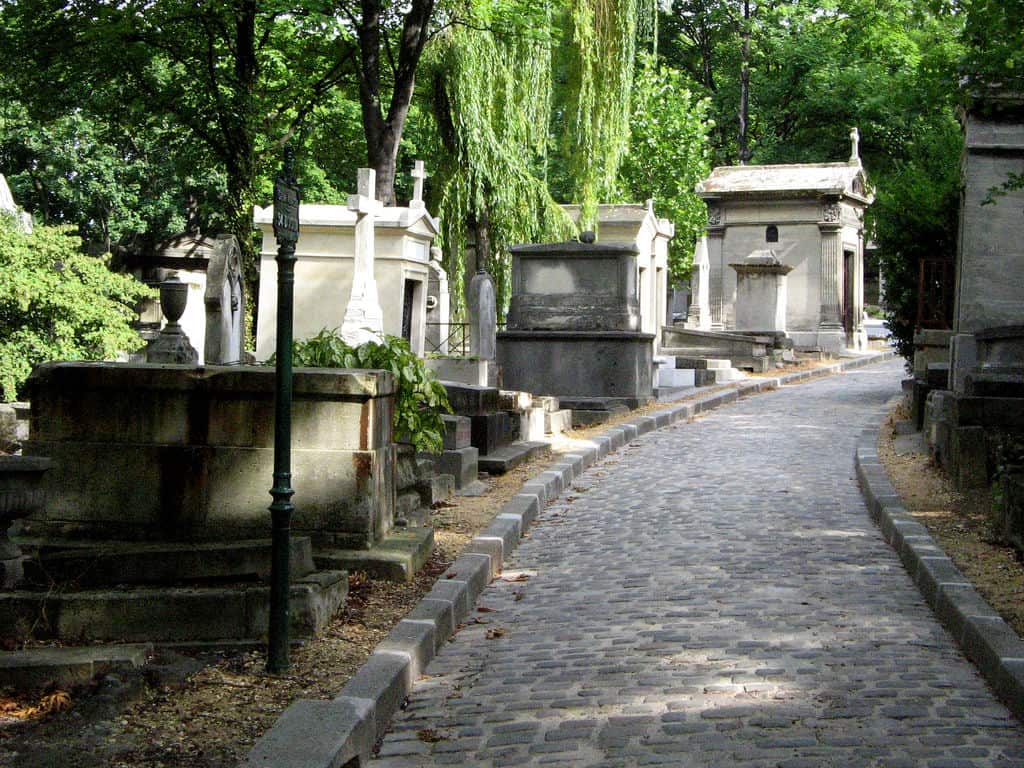 Once we found our way out, we hopped on a bus and got off at the Parc des Buttes Chaumont, a hidden gem that won't get as much attention as Paris' bigger attractions, but that I highly recommend if you're not pressed for time during your stay.
In the center of the huge park lies the Temple de la Sibylle, perched 50 meters high atop a cliff and an artificial lake where you'll likely find swans drifting about. We worked our way up to the temple, crossing the suspension bridge, and were once again rewarded with a beautiful view of Paris.
Fatigue was kicking in, and we had a big day ahead of us at Versailles, so we went to bed early to make sure our batteries would be fully recharged.
Day 4 – Château de Versailles
All of day 4 was dedicated to Versailles. At first, I wasn't sure it was worth going, but all my friends who went assured me I would really be missing out. And they were right!
Le Château de Versailles was home to the royal family, and of course Marie-Antoinette. It's very hard to believe people lived in such abundance, especially when you know that the peasants were famished.
Versailles deserves its own post. Besides, this one seems to be getting lengthy anyway.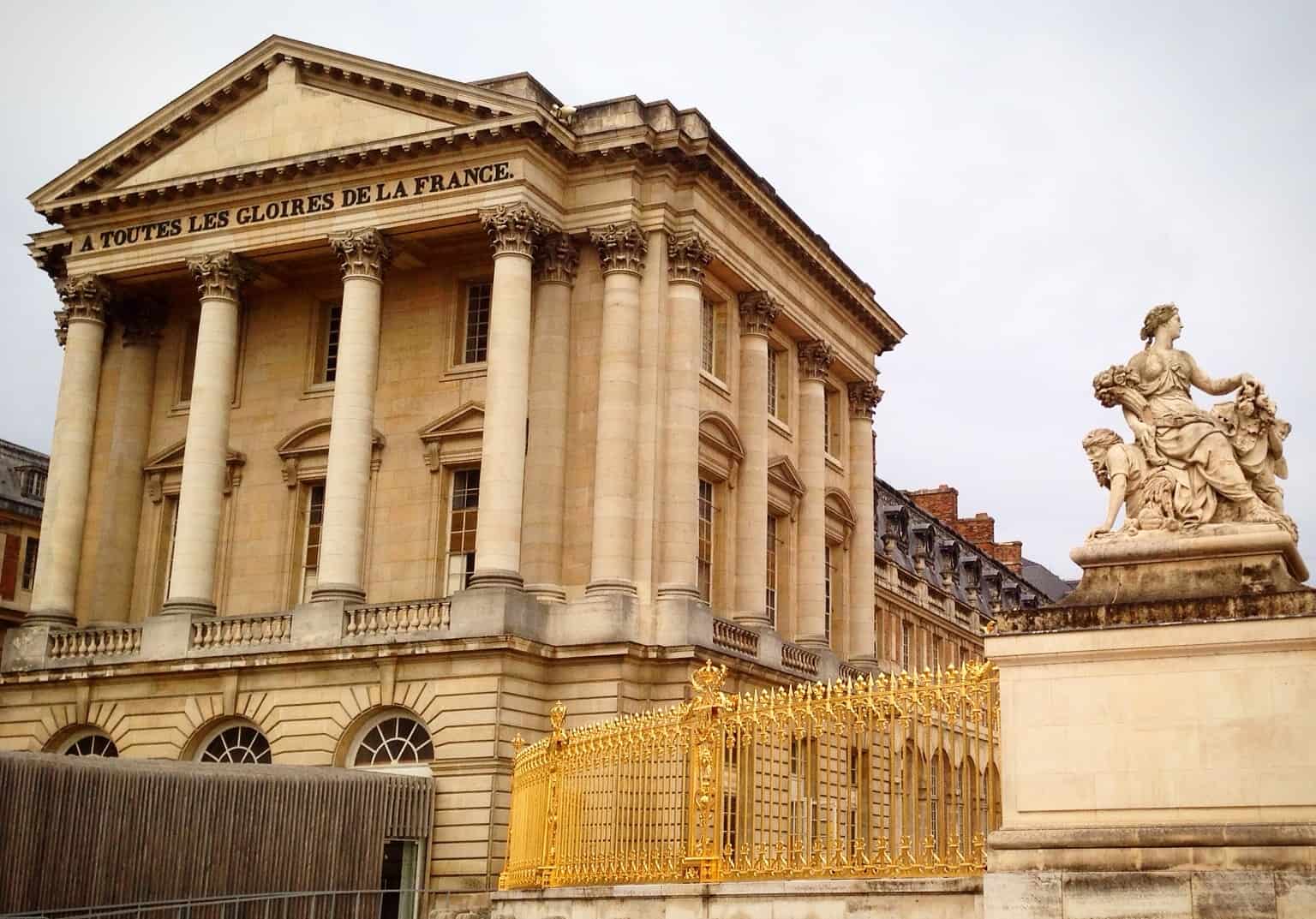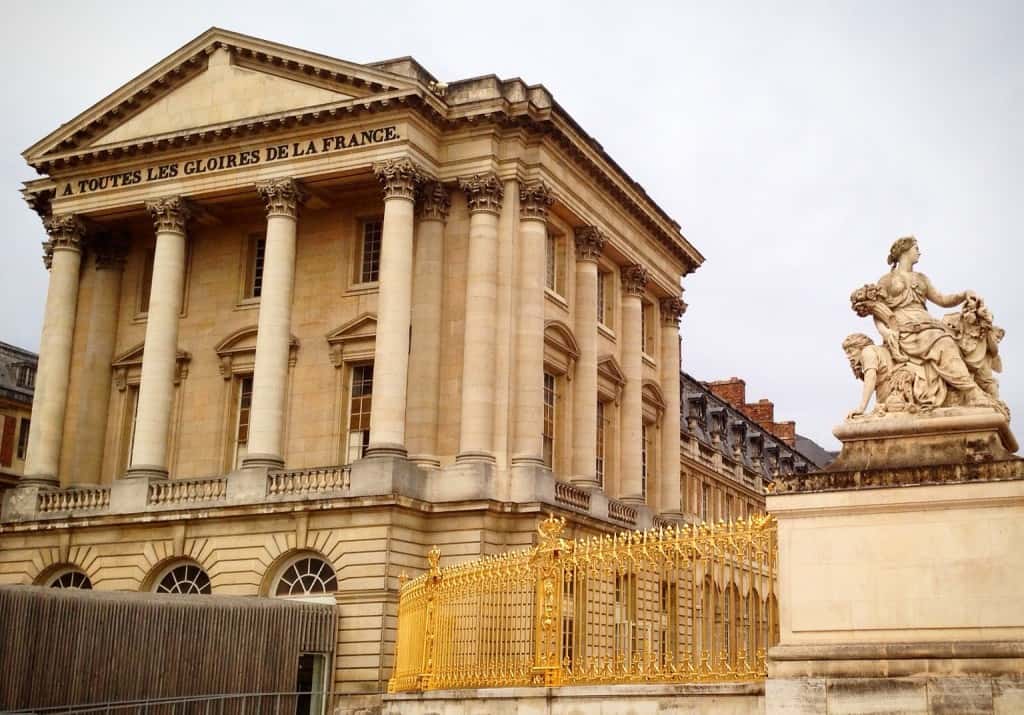 Day 5 – Tour Eiffel, Panthéon
We had walked by the Tour Eiffel  pretty much every day, always discouraged by the insane amount of visitors waiting to climb it. By some chance, we found ourselves at the foot of the tower on the day of our departure, without any waiting time. None. Whatsoever.
We didn't take long to agree to go up, in spite of our slight apprehension of heights. With 1665 steps leading to the third floor, which stands 276m above the ground, the tower can be intimidating.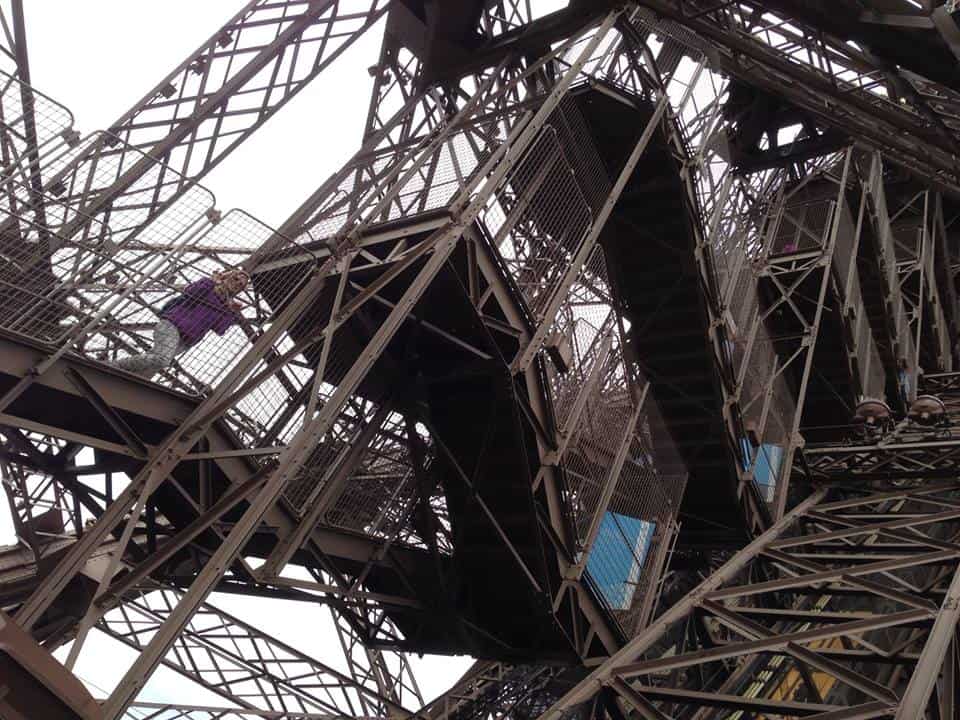 We climbed the first two floors and resigned to take the elevator to get to the third and final one. I was afraid it would be shaky, but it's quite sturdy and I felt perfectly safe. After a few minutes we were greeted with some rain but that didn't deter our excitement.
We let the view sink in for a good while, then decided to have lunch and dry off at the restaurant on the first level of the tower. They serve your meal in a cute picnic basket, and for a surprisingly reasonable price, at least at lunch time. I recommend it.
We still had an afternoon left in Paris before our late evening flight. We took the metro to the Panthéon which is located on the Montagne Ste-Geneviève in the 5e arrondissement, a part of town we hadn't seen thus far. Many renowned public figures of France are interred there, such as Pierre and Marie Curie, Victor Hugo and Voltaire, just to name a few. The Panthéon is also surrounded by other beautiful monuments, like the Law Faculty building.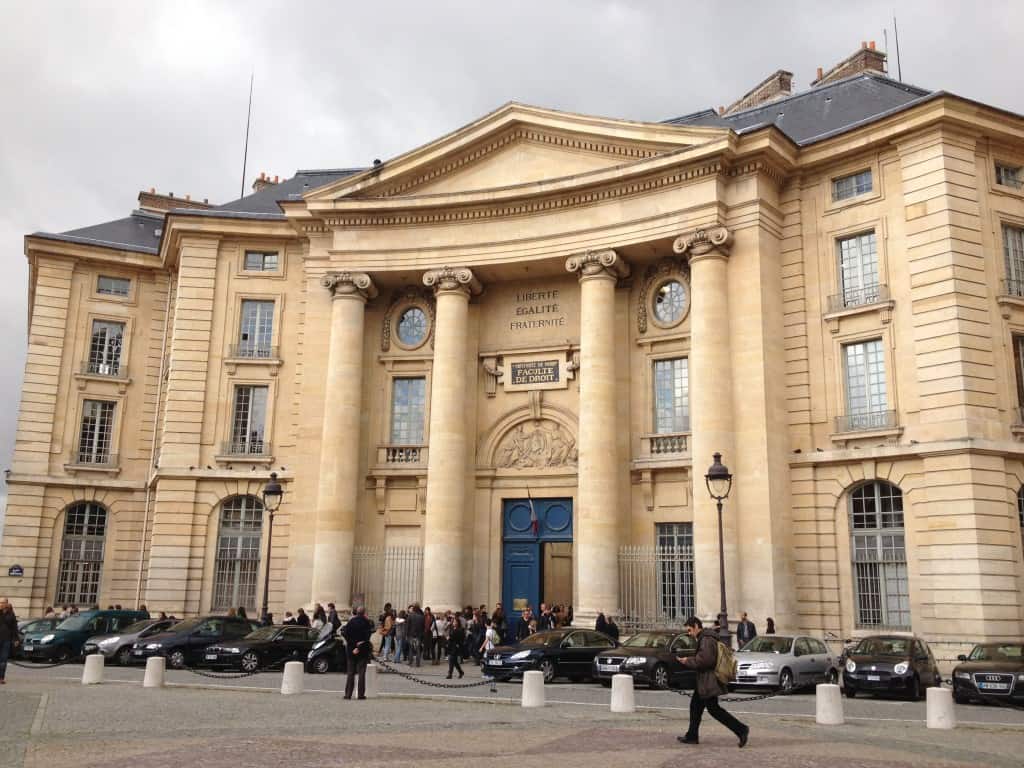 Finally, we had to face reality. Time had flown by and it was off to Austria. Already. Gosh.
We really enjoyed our time in Paris. The five days we spent there allowed us to see a lot of things and get a good feel for the city. Sometimes, it's hard not to dwell on what we missed, like the Jardins du Luxembourg, the Catacombes, visiting the interior of the Louvre, climbing up the Cathédrale Notre-Dame… But it's okay, we know we'll come back someday. Even though it feels like we keep saying that everytime we have to leave somewhere… Plus we have all these other destinations in France to visit. Sigh.
Let's stay optimistic. Any suggestions for my next visit?