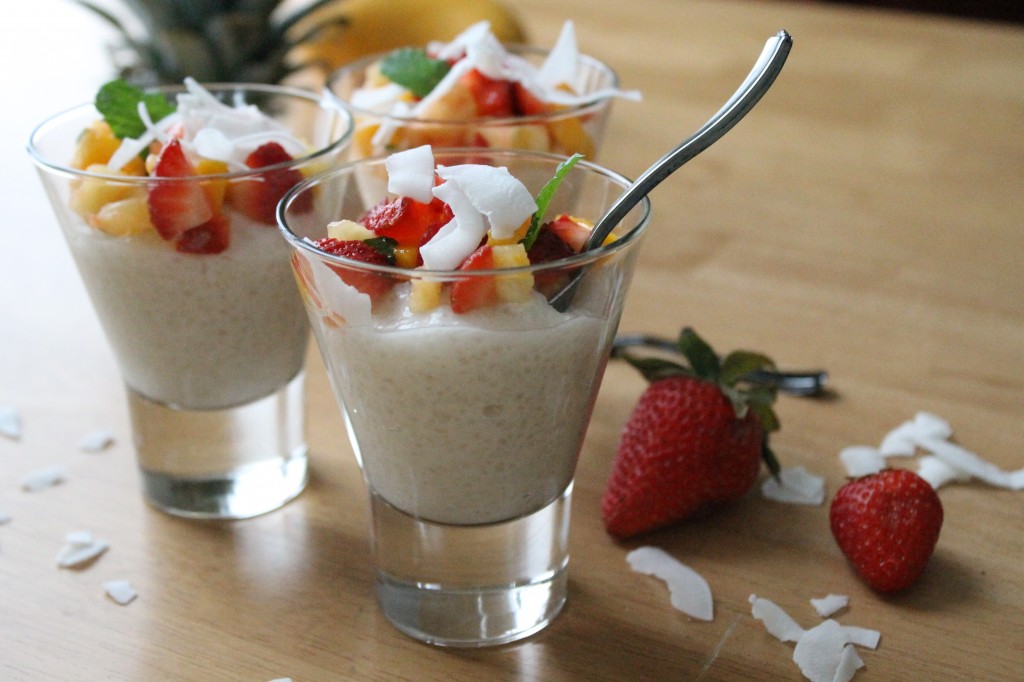 Whenever I go on vacation to Cuba, I always buy massive amounts of dark rum to bring back home, which I practically never drink… the guys throw a party or two and you know how the story, and incidently the bottle, ends.
Since discovering that rum also serves as a remarkable and hangover-less ingredient though, I've been making good use of it around the kitchen. It does a fantastic job of boosting the flavour of a chocolate ganache or, like in this case, a coconut tapioca pudding.
I took my old tapioca pudding recipe and veganized it. I replaced the cow milk by almond milk and swapped the eggs for cornstarch to get a thick texture. You could skip the cornstarch for a more creamy liquid-like result. Your call.
Forget all preconceived notions from store-bought or cheap Chinese restaurant tapioca puddings. You shouldn't base your opinion on these poor renditions of a great dessert. The real thing is tasty, rich and creamy, and so versatile.
A bright sunny weekend brought out my tropical side. My friends and I arranged a little field trip to the Marché Jean-Talon on Sunday and I took my new camera out into the world for the first time. I took a few shots I'm really happy with. All those fruits and flowers just waiting to be photographed. I can't wait to start honing my skills! I had never realized how much harder it is to take a good picture with a professional camera. Kudos to all the talented photographers out there, you have all my eternal respect and admiration.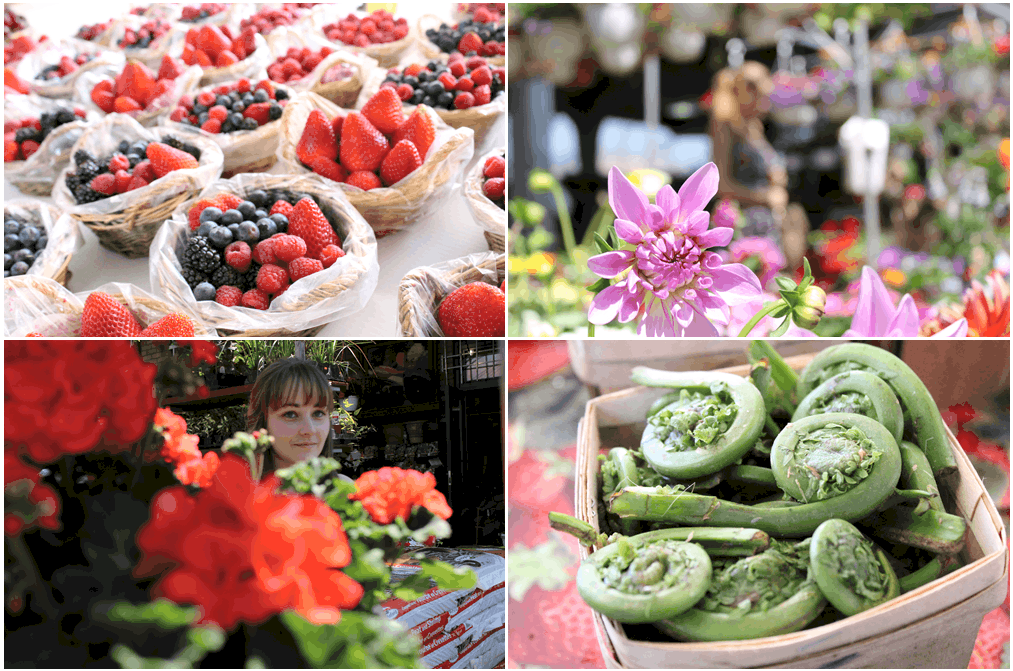 While at the market, I stocked up on yellow mangoes (my favorite), strawberries and added a pineapple for good measure. Together, with a hint of lime and agave nectar, the fusion yielded the best fruit salad ever to hit my taste buds. No kidding. I barely used any sweetener; fruits are naturally sweet after all. After one bite, I was so excited that I cut the remaining fruits and made a big batch for our lunches. It thought it would last a good three days in the fridge, but it was ultimately a victim of its own success…
So where was I? Oh yes, creamy tropical tapioca pudding! With rum! With a pudding like that topped with a fruit salsa like this, nothing was gonna stop me now.
Needless to say, my roommates were pretty delighted to be greeted with this treat after a long day at work. Not to mention the Banana & PB muffins that were in the oven and spreading their aroma… But that's another story :)
This tropical pudding is perfect for hosting. It can be prepared in advanced and served at the opportune moment.
Bon appétit!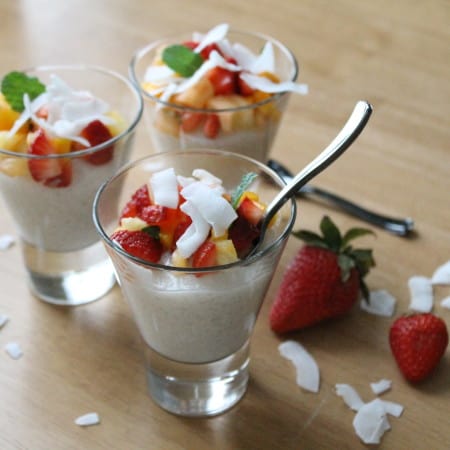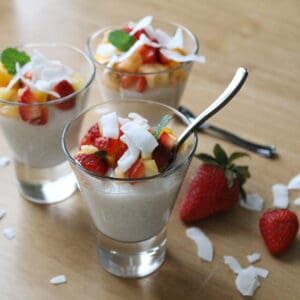 Vegan Rum Coco Tapioca
This tropical tapioca is perfect for hosting parties, as it can be made in advance and set out on the table when ready to eat.
Ingredients
Rum Coconut Tapioca
1

can full-fat coconut milk

1/2

cup

almond milk

1/3

cup

raw sugar

1

teaspoon

vanilla

1

generous tablespoon rum

1/4

cup

fast cooking tapioca

1/4

cup

roasted coconut flakes

1

tablespoon

cornstarch¸

1

tablespoon

water
Tropical Fruit Salad
½

cup

strawberry

diced (about 4 strawberries)

½

cup

yellow mango

diced (half a mango)

½

cup

pineapple

diced

2

fresh mint leaves

minced

1

tablespoon

freshly squeezed lime juice

1

tablespoon

agave syrup

or honey, but it will no longer be vegan
Instructions
In a small bowl, combine fruits, lime juice and agave nectar together. Keep in the fridge until ready to use.

In a medium saucepan, whisk together the coconut and almond milk, tapioca pearls, sugar, vanilla and rum. Let sit for 5 minutes.

Mix water and cornstarch in a small bowl and set aside.

Cook tapioca on medium for about 5 minutes, until it starts simmering. Add cornstarch mixture and cook for another minute.

Remove from heat and let sit for 20 minutes, stirring every 5 minutes.

Divide in 12 verrines, or if you're feeling generous like me, 6 small bowls. Place in the fridge for one hour.

Before serving, add fruit salsa & coconut flakes
Notes
Cover your verrines/bowls with a plastic lid instead of using plastic wrap.