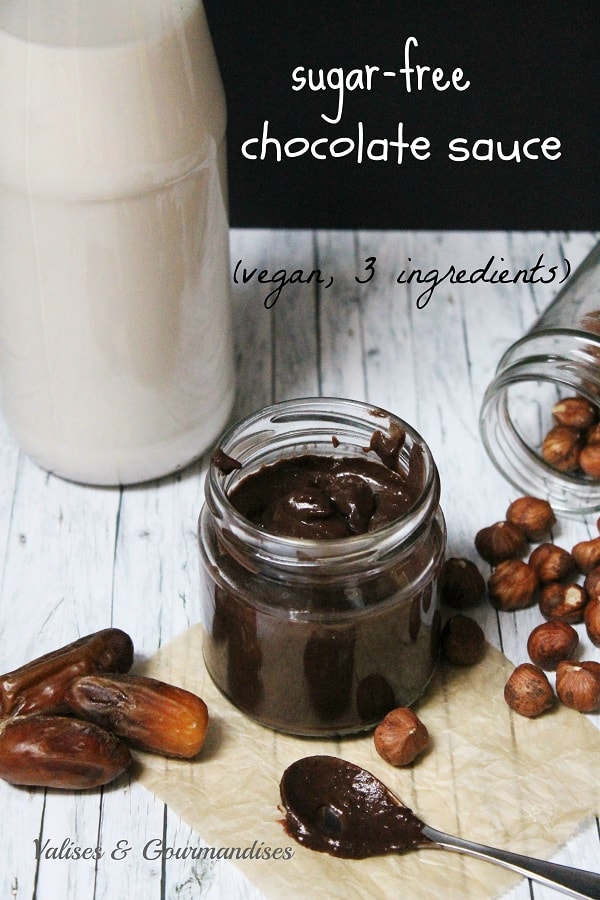 Chocolate sauce, how do you feel about it? That was a rhetorical question, we all know it's awesome. On just about anything and everything. So good I wanna indulge whenever I want. Even for breakfast.
But glucose-fructose syrup and other weird ingredients I can't even pronounce? NOT things I want in my food. I seriously wonder what is wrong with the food industry today!? Is that what we really want to feed our bodies and our kids'? Now that I know how important the quality of the food we ingest is, I yearn for real food. Unprocessed wholefoods that actually taste better than the fake stuff and make me feel good, instead of getting me on a high from which I inevitably crash.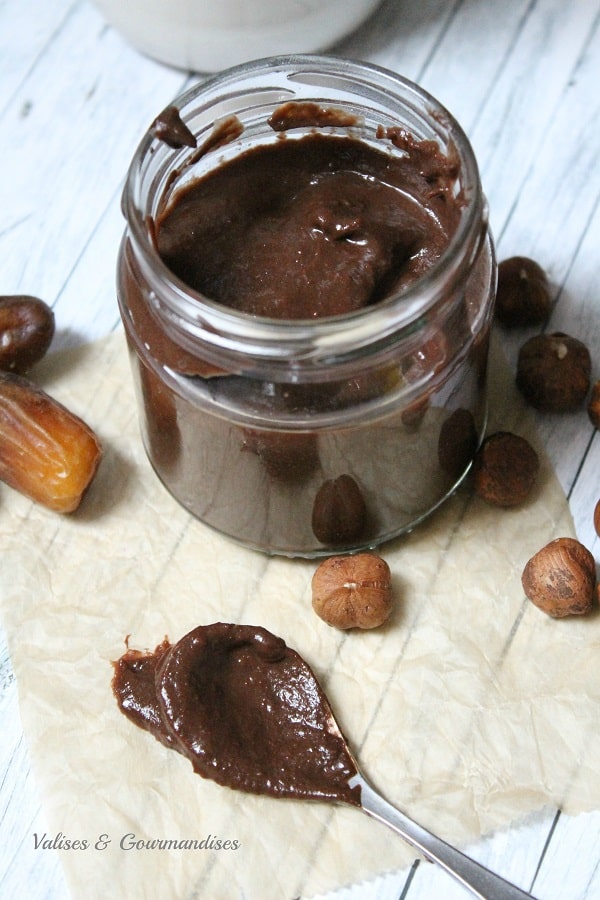 This quick chocolate sauce comes to the rescue with its three simple ingredients: raw hazelnut milk, date fruits and cacao powder. Date fruits are a nutrient and fiber-rich sweetener that I recently discovered. I had always associated them with the very unappetizing date squares and had absolutely no idea that this noble fruit has allowed ancient civilizations to thrive in arid areas for thousands of years. Respect. Just be aware that if you purchase the dried kind, you have to make sure they're not covered with glucose syrup.
As for the hazelnut milk, you can find the recipe here. It was my first attempt at homemade milk and its creamy nutty flavour got me hooked immediately. I'm devising a cashew chocolate milk next. Did I mention I love chocolate?
You can of course use whatever milk tickles your fancy but I find that hazelnut yields an interesting flavour reminiscent of (and tastier than) a popular spread who shall not be named. I don't want to get sued you know. And for the rest it's pretty easy, all you need to do is thoroughly blend the soaked dates and the milk together (I'm using my Omniblend, which I love, but any blender will do, even an immersion one). Then, you just simmer this caramel-like mixture with the cacao powder and, if you want to intensify the flavour a bit, a little splash of dark rum. Did I mention I love rum in my chocolate? Well I do.
Keep simmering until you've reached the texture you're looking for. It will be very runny at first, but don't panic, it will get thick and rich and creamy and yummy. If you want it on the pourable side, like to pour on your banana ice cream, just cook it until you get there, this should only take a few minutes. I wanted a really thick sauce to spread on my sprouted buckwheat crepes, so I let it cook longer. Tasting during the process is permitted. Just try to leave enough for others. Or not.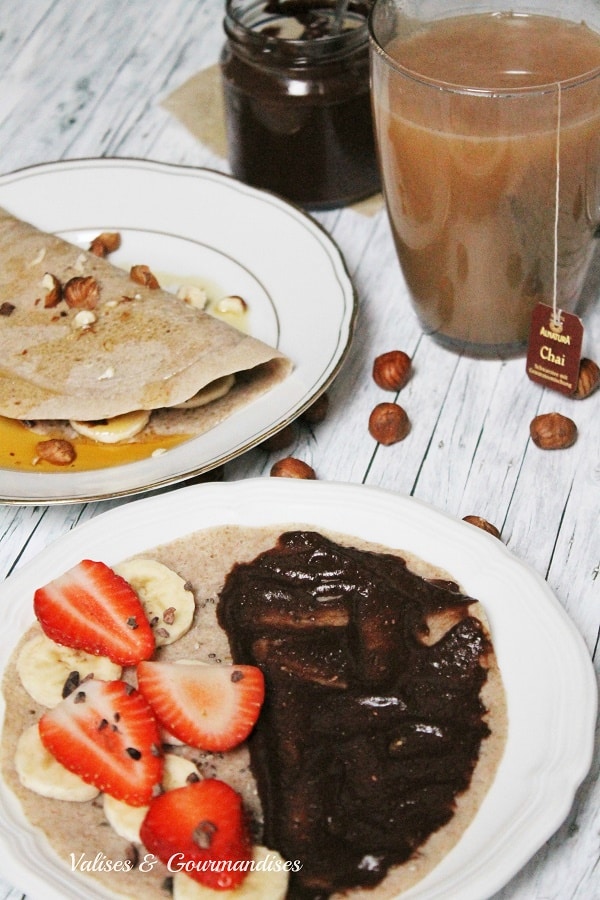 I'm sure your mind is already racing with ideas to put this decadent sauce to good use.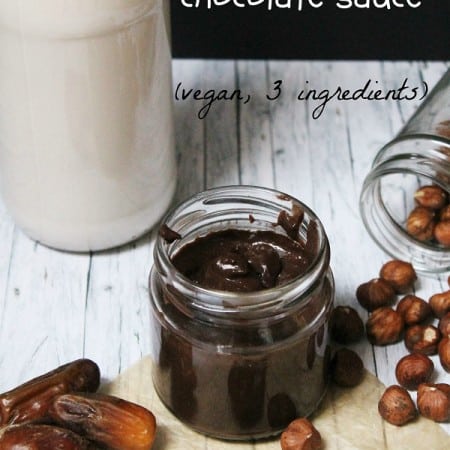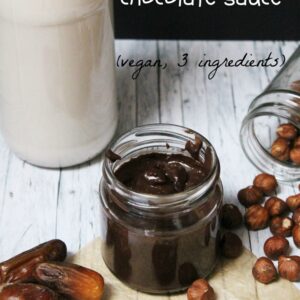 Sugar-free chocolate sauce
Indulge in this guilt-free decadent chocolate sauce. It only requires 3 ingredients, is vegan and sugar-free!
Ingredients
½

cup

Medjool dates

about 8 dates, without the pit

¾

cup

hazelnut milk

1

teaspoon

fairtrade cacao powder

1

tablespoon

dark rum

optional
Instructions
Soak the dates in hot water for at least 15 minutes. Drain but don't throw away the water. Use if to sweeten tea, smoothies, oatmeal, etc.

In a

high-power blender

, blend the milk and the dates on high speed for about 1 minute, I use the 30 second function twice.

Pour in a small pot, place on the stove on medium heat and whisk in the cacao powder and the rum, if using. For an even more chocolaty taste, add another half teaspoon of cacao powder.

Bring to a low boil while whisking, lower the heat and let simmer until the sauce thickens, a little over 5 minutes. Seeing how liquid it was at first, I panicked a little and almost added arrow root powder (a natural thickener), but my patience paid off and I ended up with a very thick sauce.
Notes
Notes : Let simmer longer for a spreadable sauce. Let simmer a few minutes less for a runnier sauce that's ideal for iced coffees and ice cream.
**This article may contain a few affiliate links, which means that I will receive a small commission if you purchase a product through them. The price remains the same for you, but this way you are helping me maintaining the blog and providing you more interesting content! :)