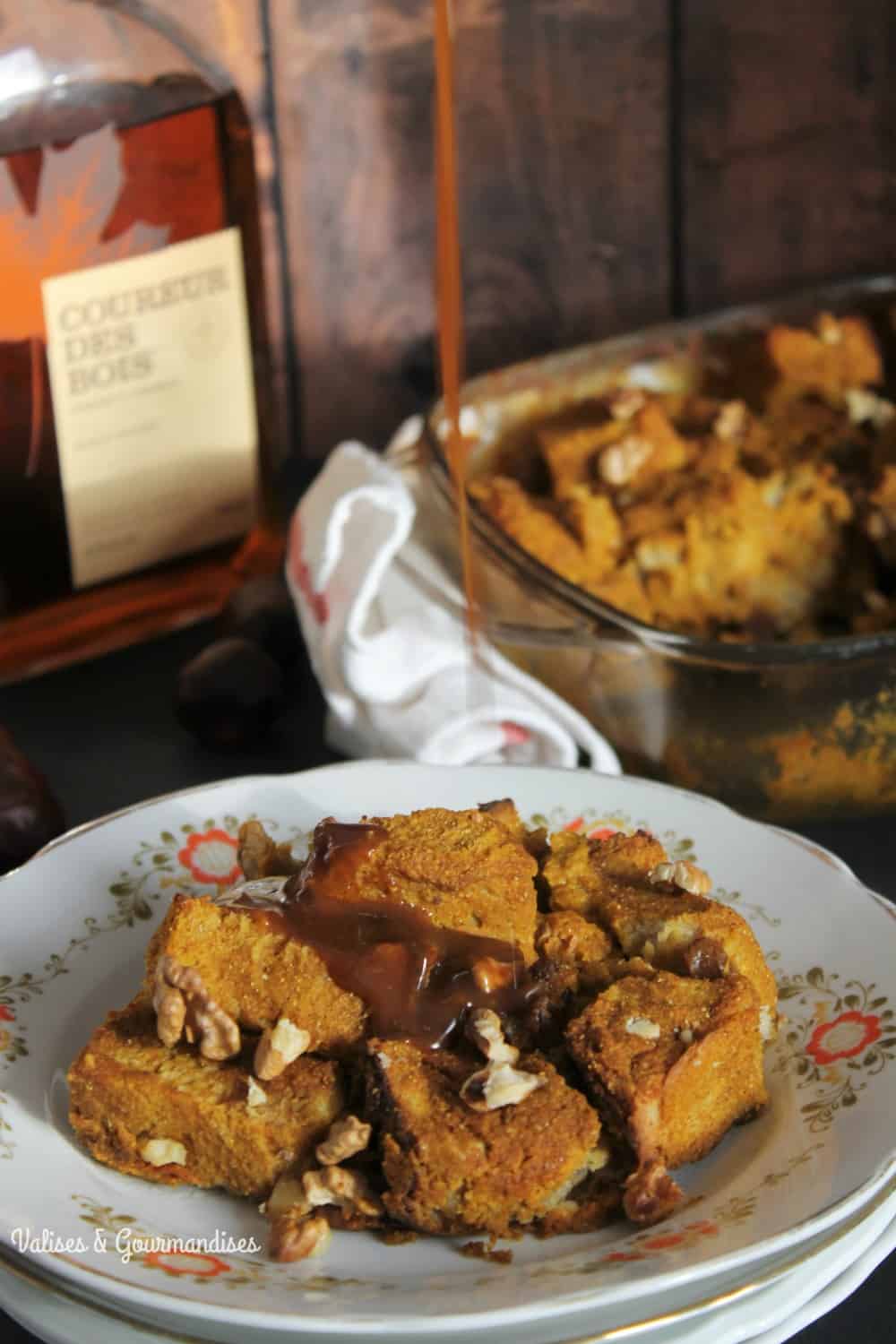 There's this little café in our neighbourhood that makes the best sourdough in town. Well, to be honest it's the only one we've tried, but it's so good that we don't feel the need to find another one. We go there about once a week to get a fresh pillow-soft loaf, which Martin usually eats on its own while I smother mine in peanut butter.
We love going out to eat, especially here in Hanover where it's so affordable! But, big but actually, breakfast here sucks. It seriously does. If I want to eat bread with jam, a few spreads and fruits, well… I'll eat that at home, thank you very well.
I desperately miss Québec-style brunches like the ones you get at Aux Vivres in Montreal, or at Café Frida in Trois-Rivières. I know I can make the best pancakes and waffles, but I miss going out with friends to try new things. Brunch used to be a big thing for us, a social gathering where we'd gulp down the best food.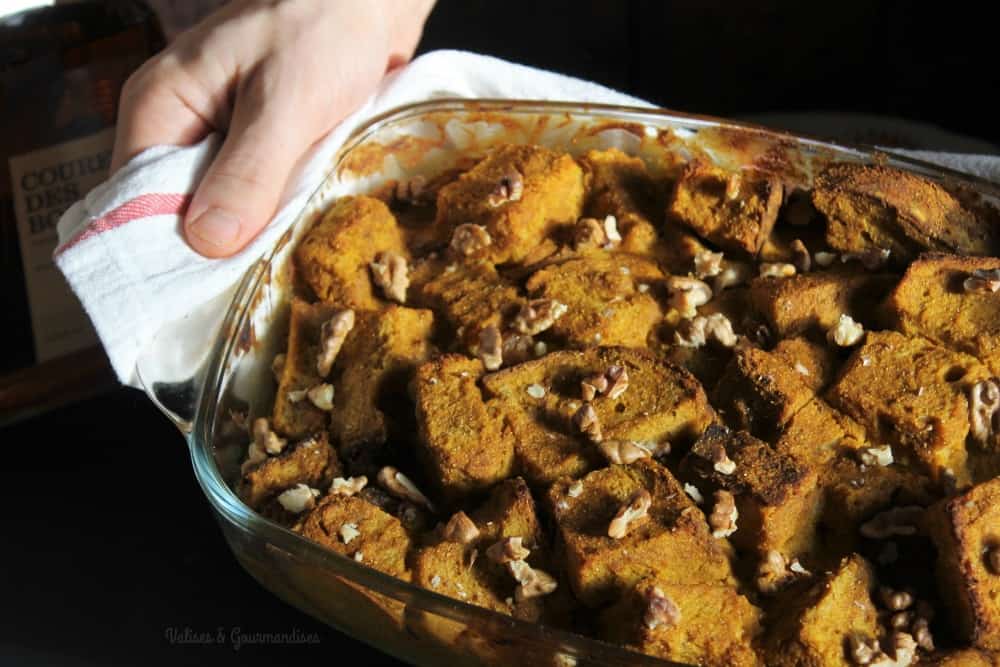 So just in time for the Holidays, I thought I'd develop this recipe that had been sleeping in the back of my mind for a while. A healthy pumpkin French toast casserole with a luscious maple-whisky caramel sauce. All plant-based but not in the least boring, in case you're still not familiar with the diet.
This is the perfect dish for a Christmas morning brunch. Prepare everything the night before, pop in the oven and have your family wake up to the smell of warm pumpkin French toast and caramel. You can hold the whisky if you're serving kids too but if it's an adult-only celebration, then the Coureur des Bois is a must!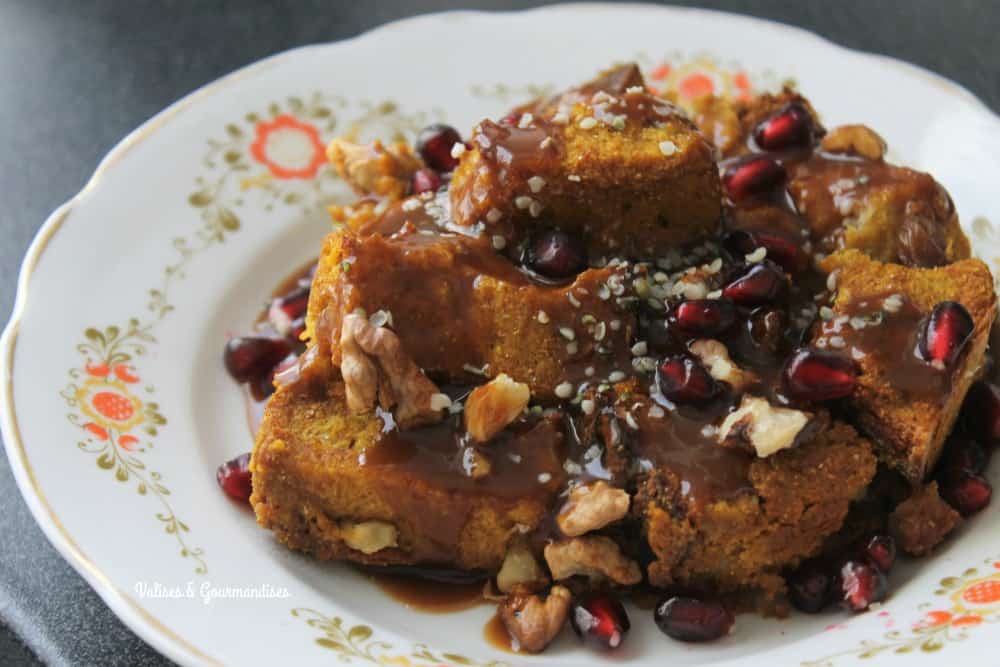 If you try this recipe, make sure to snap a picture and share it on Instagram or Facebook using the hashtag #valisesetgourmandises. I wanna see your creations! And don't forget to leave a comment below :)
Vegan pumpkin French toast casserole with a maple-whisky caramel sauce
Impress your family at brunch with this easy vegan pumpkin French toast casserole. Prepare everything the night before and bake in the morning. And don't forget the maple-whisky caramel sauce!
Ingredients
500

g

sourdough bread

or any dense bread loaf

1

cup

pumpkin purée

2

cups

unsweetened plant-based milk

2

tablespoons

organic chia seeds

I used white

6

deglet dates

more for a sweeter casserole

1

teaspoon

pure vanilla extract

1

teaspoon

organic cinnamon

¼

teaspoon

all-spice

1/8

teaspoon

ground cloves

1/8

teaspoon

ground ginger

1/8

teaspoon

ground turmeric

¼-½

cup

organic raisins

Maple whisky

I used Coureur des bois

Walnuts or pecans to taste

the more the better
Instructions
Add the raisins to a small bowl and add just enough maple whisky to cover. Let sit for a while, ideally a good 2 hours.

Lightly oil a 9x13 baking dish. Cut the bread into one-inch pieces and set aside.

Add all the pumpkin batter ingredients plus the whisky that the raisins haven't soaked in to your food processor or

blender

. Once smooth, add a quarter to the baking dish. Top with a third of the bread. Repeat until all the batter and all the bread have been used. Make sure the bread is well coated (you can also drop the bread along with the raisins into the blender to make sure it's well coated). Distribute the raisins throughout the casserole. Cover and refrigerate overnight (or at least an hour or two).

The next morning, remove from the fridge and top with nuts. Bake for about 30 minutes in an oven preheated at 350.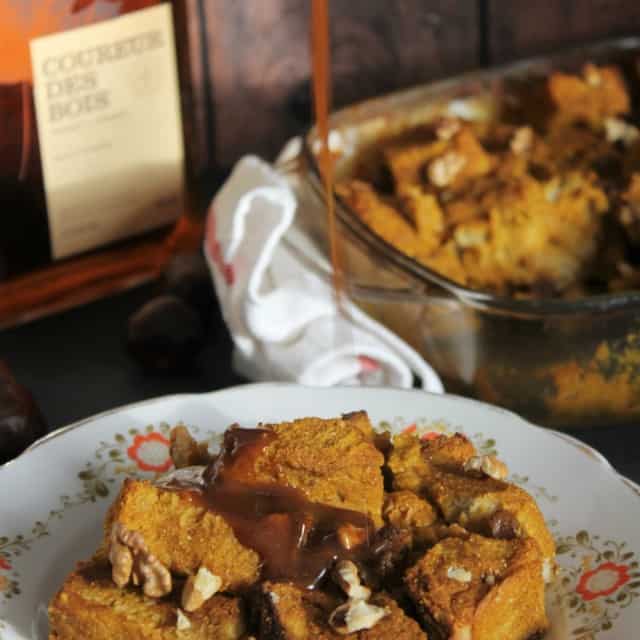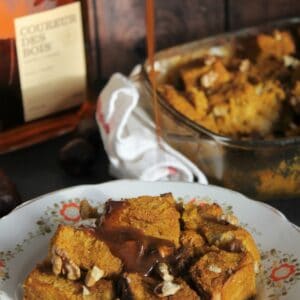 Vegan maple-whisky caramel sauce
Serve this luscious vegan caramel sauce on a pumpkin French toast casserole, on banana ice cream, on hot chocolate. Basically on anything your heart desires.
Ingredients
1

cup

raw sugar

1/4

cup

water

½

cup

plant cream

such as soy or oat (optional but highly recommended for a luscious sauce)

1

tablespoon

vegan butter or coconut oil

again, optional but highly recommended

1

tablespoon

maple whisky

you can also use a tablespoon maple syrup and a tablespoon regular whisky if you can't find it
Instructions
While the French toast casserole is baking, prepare the caramel sauce. On medium heat, simmer raw sugar with ¼ cup water, swirling pan NOT stirring until it turns a deep amber colour (about 15 minutes). Keep an eye on it to avoid burning.

Turn off the heat and move aside. Slowly stir in the cream. Add butter and melt, if using.

Add the whisky and a pinch of salt and place back the burner, still turned off, for another minute, stirring constantly.

Serve warm on the French toast. You can store the leftovers in an air-tight jar or bottle in the fridge.
Notes
There are ways to make sugar-free caramel, using for example coconut milk and coconut sugar. However, after trying it, I didn't find the taste quite as good as a more traditional caramel sauce. If you have a good enough blender, you could also choose to soak about a cup of dates and process them with some water, a little bit of maple syrup and a pinch of salt.
Related recipes