The easiest chocolate truffles you'll ever make: all the great taste without any of the hard work. Free of dairy and gluten.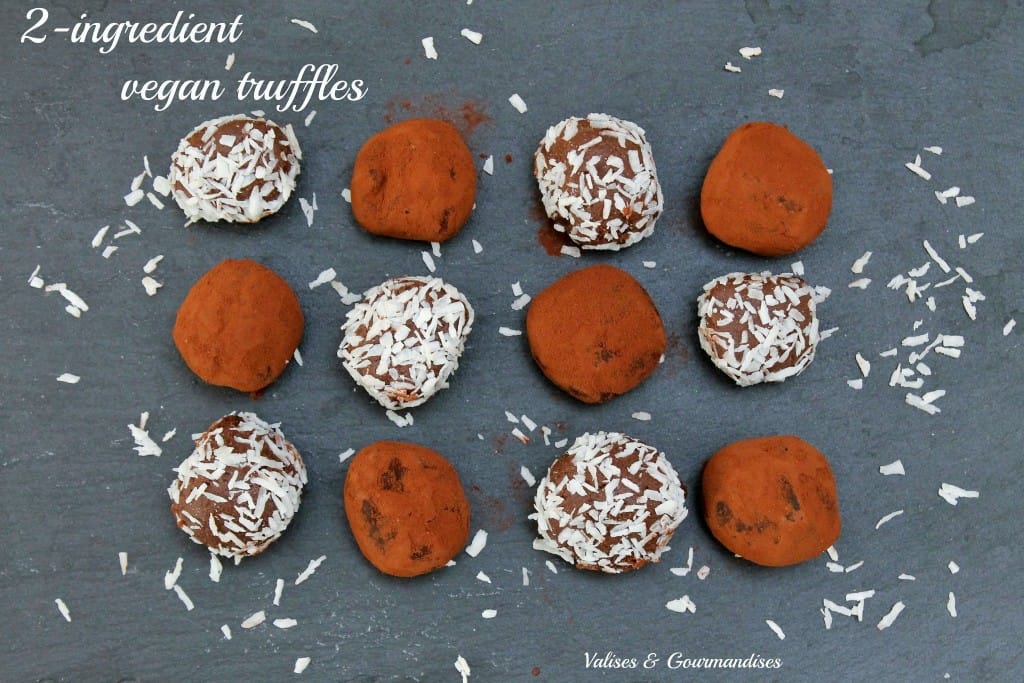 This post was updated on December 1st, 2019 to include more info and a step-by-step video. The original post in from Dec. 2015 :)
I'm already halfway through the Holidays! I'm not complaining though, I still have a good 10 days to go. How about you? Did you have a white Christmas? Did you eat lots of cookies!?
Martin and I only had one party so far, on the 24th, so we managed to eat pretty well and not binge on sweets. Since they were serving turkey, we brought a comforting millet "meat-pie" (along with a bottle of ketchup, just in case), so we'd have a little bit of Québec with us.
Truffles make the best gift!
A few hours before the party, I had the idea of making easy vegan truffles for our hosts. Thank goodness because they had done so much to make everything perfect that showing up empty-handed would have been embarrassing!
The truffles were such a hit that I decided to make them again for our New Year's party. And then again and again. And, of course, I had to share the recipe with you :)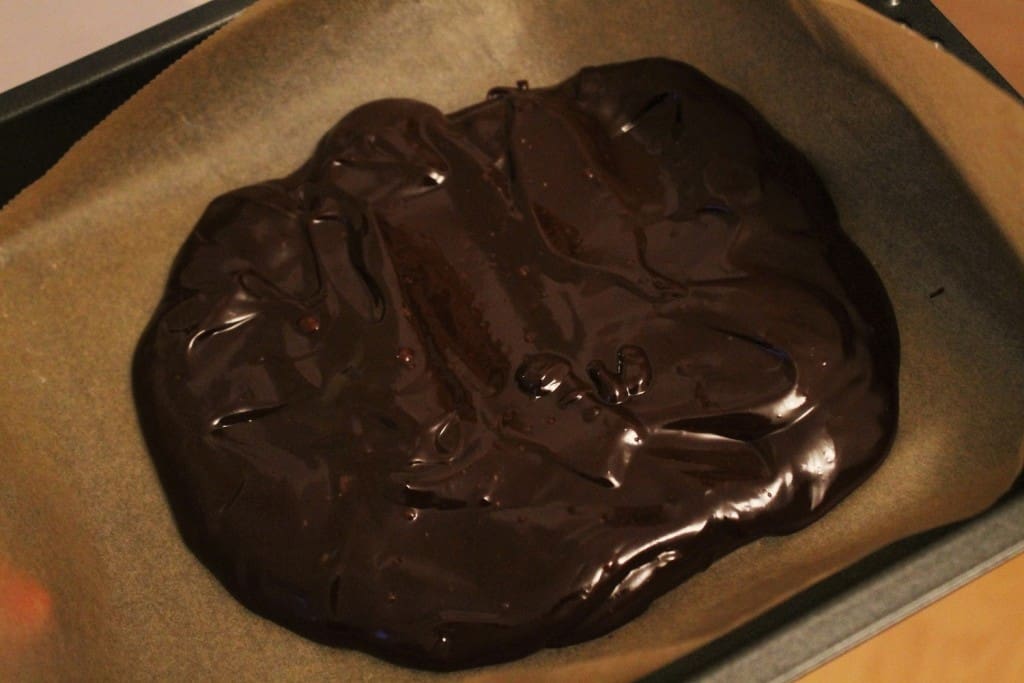 How can I make truffles without butter and cream?
By using dark baking chocolate and vegan cream or full-fat coconut milk, you obtain the creamiest melt-in-your mouth dairy-free chocolate truffles. There are plenty of recipes on the Web, but I love this one because of how simple it is and how decadent the truffles turn out.
As you can see, two simple ingredients is all you need to make this classic holiday treat. I also enjoy adding a bit of alcohol to bring out the taste, but it's up to you. But I mean, we're celebrating, right?
Can I flavour my vegan truffles?
Of course! This time I added some Amaretto and a little bit of cinnamon. I then coated half the finished truffles in cacao powder and the other half in coconut flakes.
You could also choose to add some instant coffee powder, orange zest (or liquor), chai spices or even a pinch of cayenne. If you're a fan of the mint-chocolate combo, then infuse a handful of fresh mint leaves in your warm cream and remove right before pouring on the chocolate.
Here are some ideas to coat your vegan chocolate truffles:
cacao powder
cacao powder mixed with ground spices
coconut flakes
crushed nuts
fruit powder
melted dark baking chocolate
crushed vegan candy canes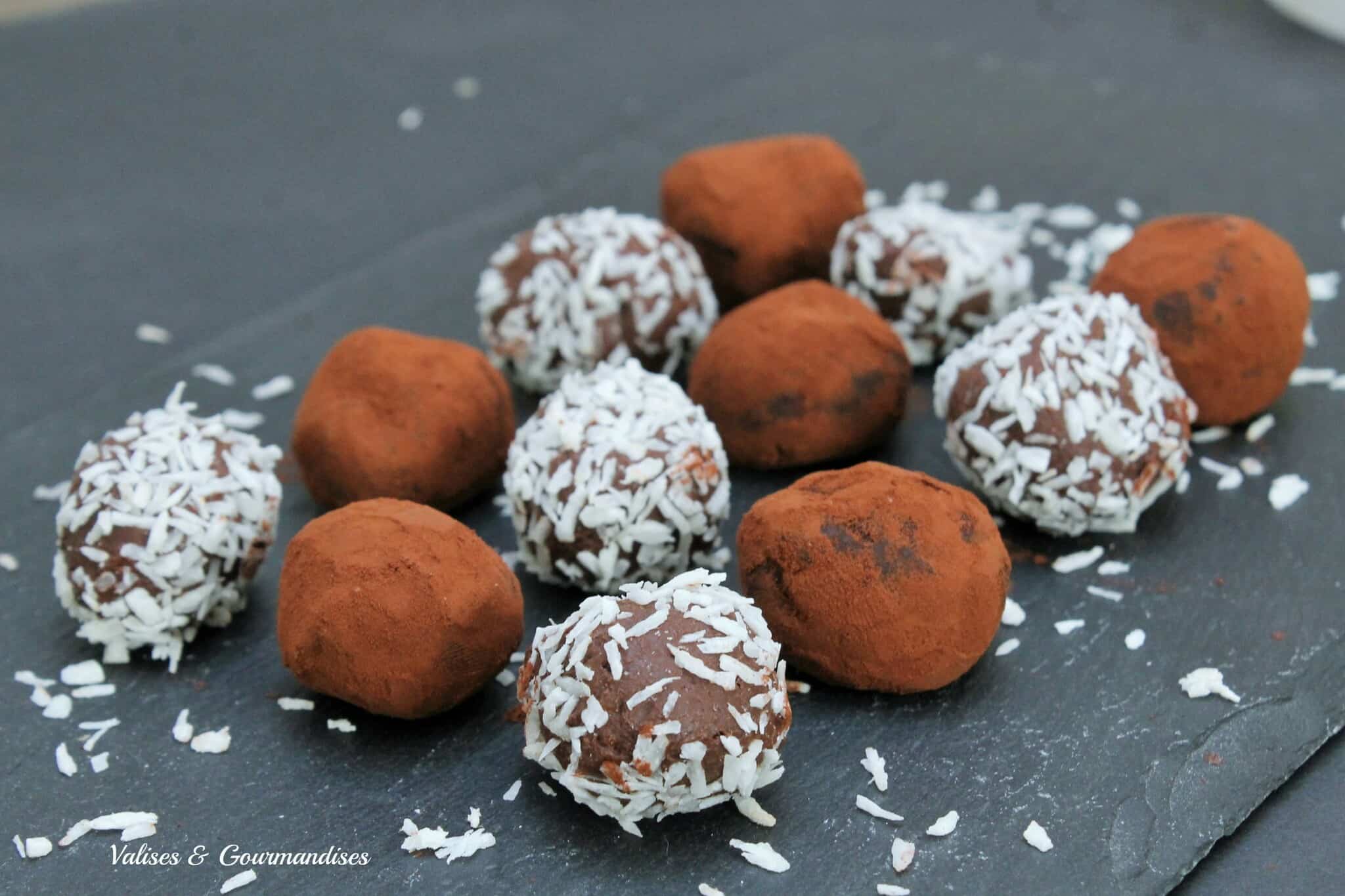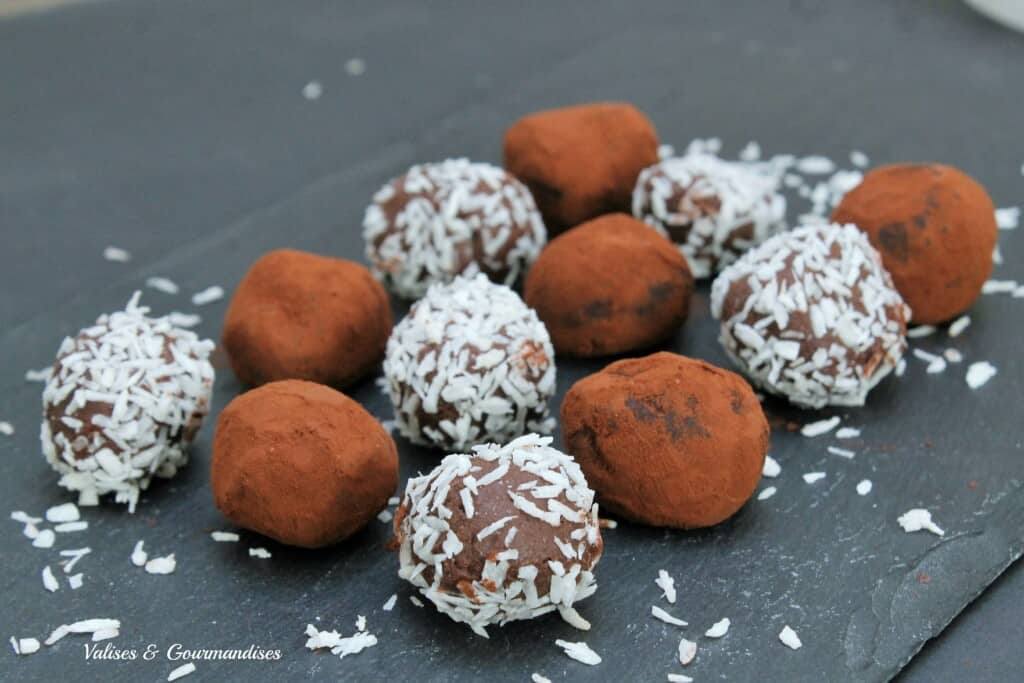 Are you enjoying the Holidays and cooking a little too? If you make these pretty chocolate truffles, make sure to snap a picture and tag it on Instagram or Facebook using the hashtag #valgourmandises. I would love to see your creations! :)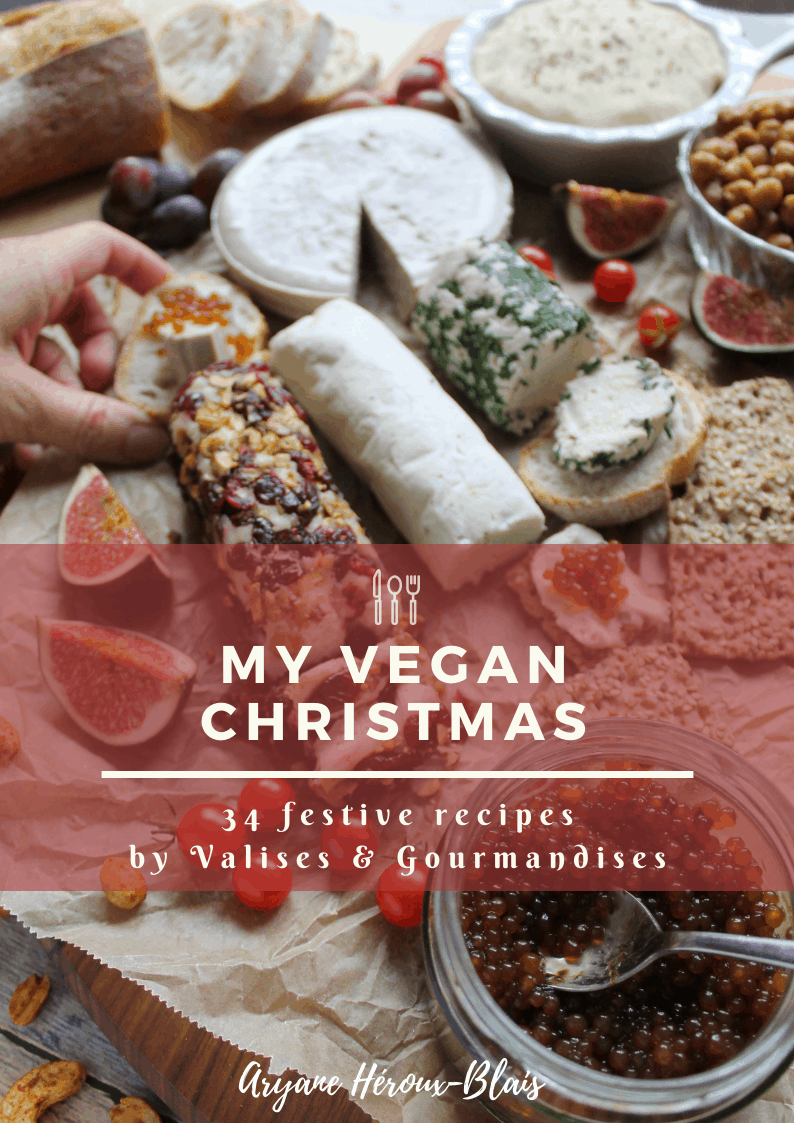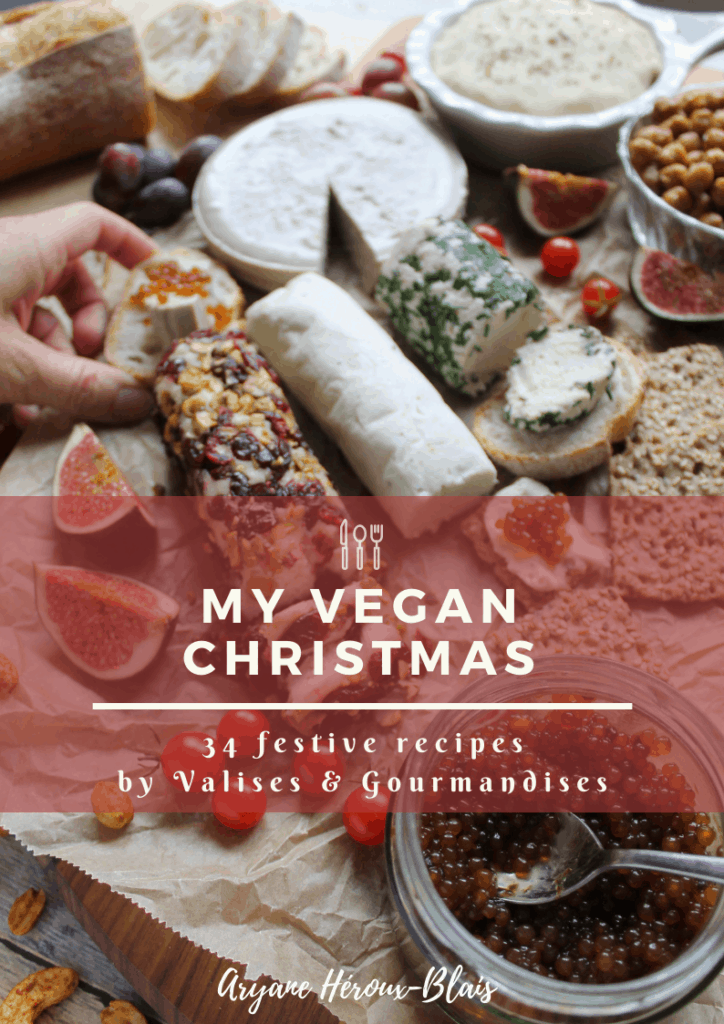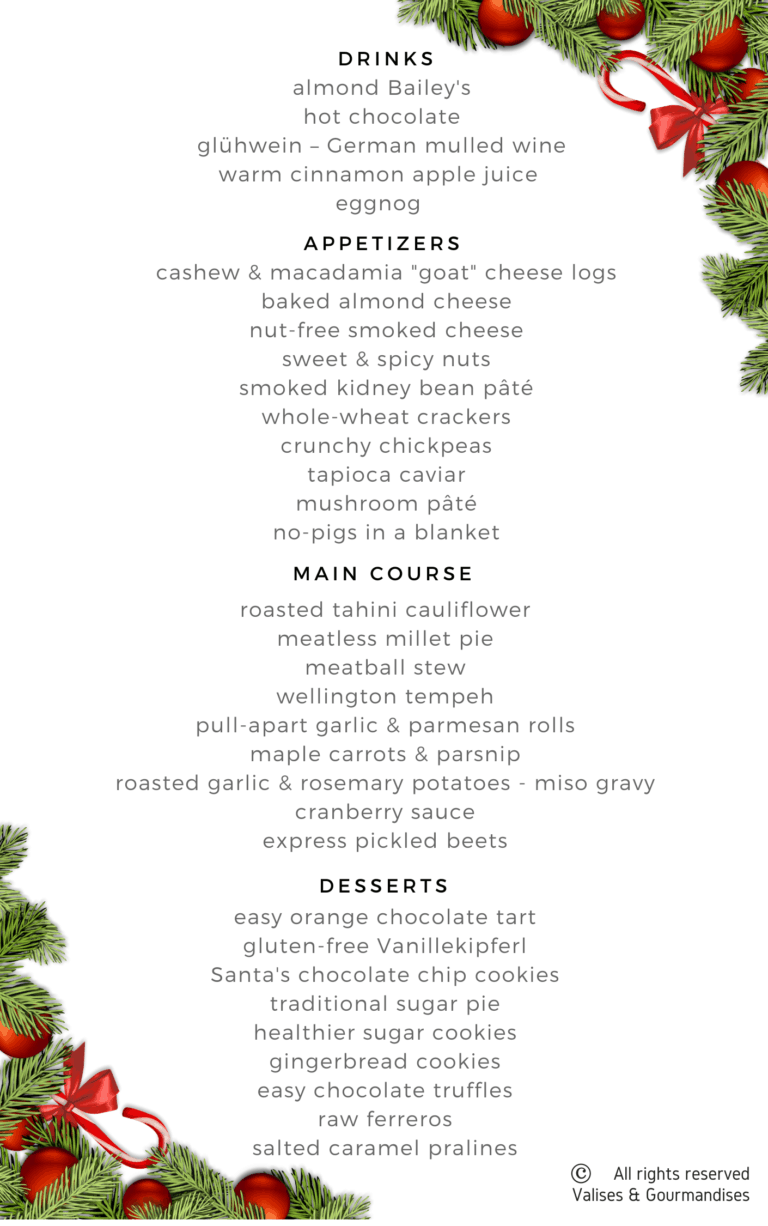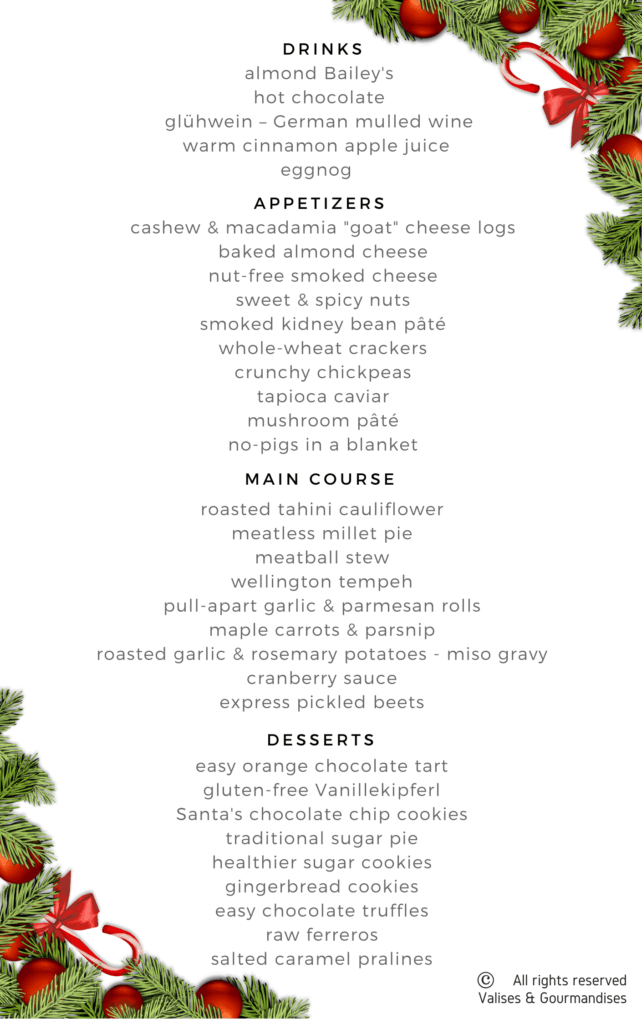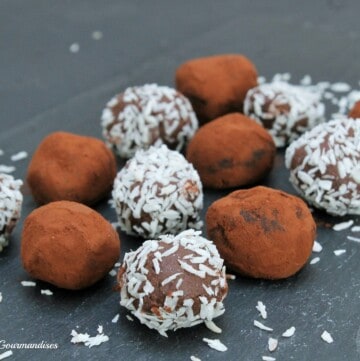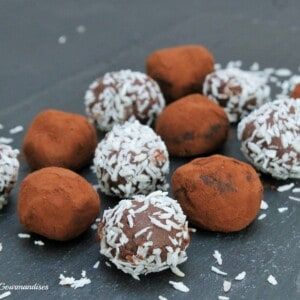 Easy 2-ingredient chocolate truffles
The easiest chocolate truffles you'll ever make: all the great taste without any of the hard work.
Ingredients
450

g

vegan dark chocolate

16 oz (either a bar or in chips)

1

cup

vegan cream

(oat cream, soy cream or whole fat coconut milk)
Optional
1-2

tablespoons

Amaretto or rum
Coating
cacao powder

coconut flakes

powder sugar

crushed nuts

melted chocolate
Instructions
If you're using a chocolate bar, cut it in small pieces and put inside a large bowl. If you're using chocolate chips, simply place them in a large bowl.

In a small pot, bring the cream to a low boil. Pour on the chocolate, wait a minute and mix well until it has a shiny consistency. Add the alcohol if using. *if you add a tablespoon of alcohol, deduct a tablespoon of cream to avoid the truffles being too soft*

Pour into a rectangle mold lined with wax paper (see picture above) and place in the fridge for a few hours, or in the freezer if you don't have enough time. Once the chocolate is well set, remove from the fridge and cut 1cm-large strips. Cut these strips in four. You should end-up with about 60 1cm2 squares, which I find is the perfect size.

Slightly roll each square between your palms to make it rounder. Roll the truffles in the coating (for example in some cacao powder mixed with cinnamon) and keep them in the fridge in an air-tight container.