Are you ready for this vegan tofu ricotta? I've been avoiding tofu recipes on the blog. Not because I don't like tofu, on the contrary. I often crave it, served with baby spinach. I'm weird, I know >.<
No, it's mostly because I want people to stop thinking that vegetarians and vegan only eat that. But on the various veg Facebook groups I'm part of, people seem to absolutely love this staple of Asian cuisine. Which inspired me to do a tofu series on a blog where I'll share a few of my favourite recipes!
This tofu ricotta only requires a few ingredients that you probably have on hand and a big 5 minutes of your time. You don't even need a fancy $600 blender!!! A simple food processor or immersion blender will do the trick.
The perfect tofu for the job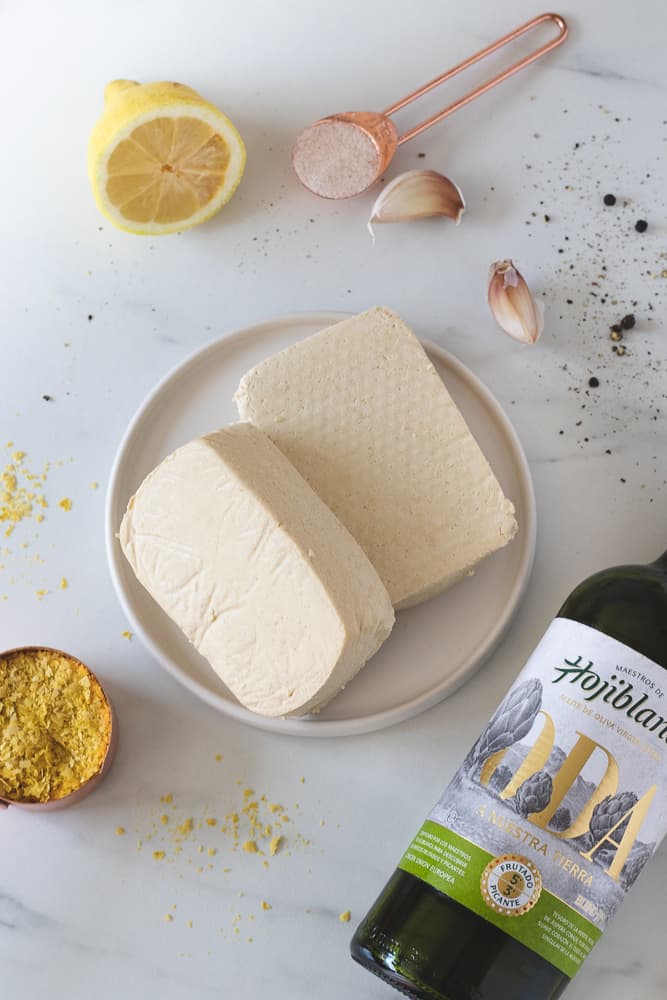 It's best to choose a tofu that semi-firm, more soft than grainy. Since brands can't seem to agree on definitions, you may have to gently squeeze a few packages at the store to find the right one, which might get you weird looks but it's totally worth it!
Please do not buy silken tofu, it contains way too much water! You want a ricotta that's not fully smooth, that still has a nice texture to it. This one is quite compact, so if you want it "looser", simply add more olive or even plain vegan yogurt.
Does tofu ricotta taste the same as traditional ricotta?
Though some bloggers will tell you "OMG you guys, my version tastes exactly THE SAME as the original", I won't lie to you. At the risk of raining on your parade, the answer is no, it doesn't taste exactly the same as ricotta made with animal milk.
The right question would rather be: is it delicious and satisfying? To which I would answer without hesitation: it sure is! I find that it's perfectly seasoned and makes it a much nicer alternative to bland ricotta.
How to use it?
Easy peasy. Use it as you would traditional ricotta. It's a bit different, of course, but we get very interesting results. Add a layer to your favourite lasagna, stuff cannellonis with them, or combine it with zucchini for a fancy appetizer!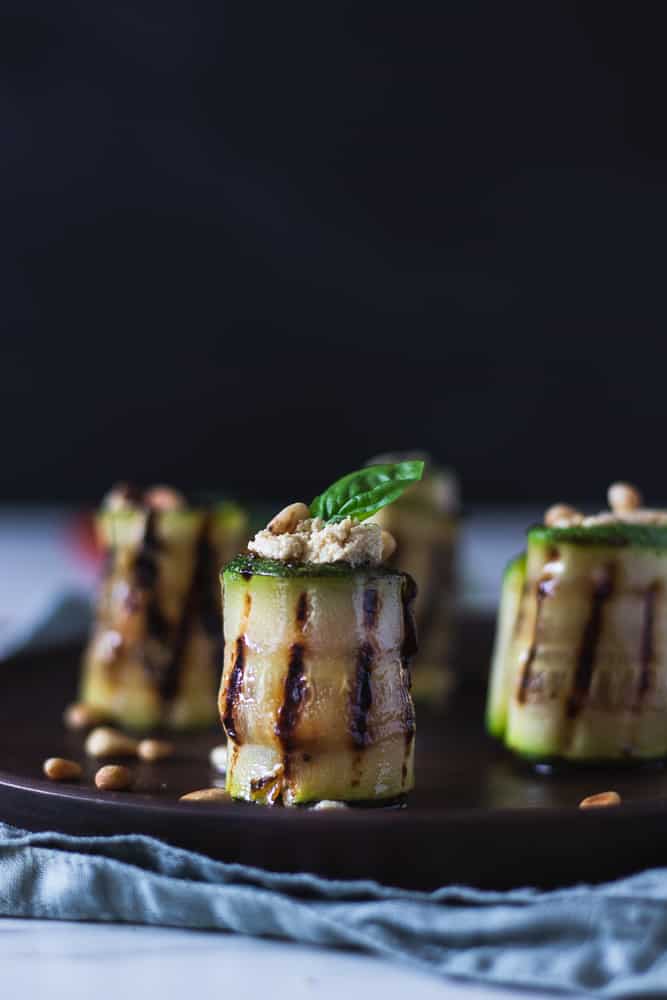 Similar recipes
If you make this vegan tofu ricotta, make sure to snap a picture and share it on Instagram or Facebook using the hashtag #valisesetgourmandises. I wanna see your creations! And don't forget to leave a comment below :)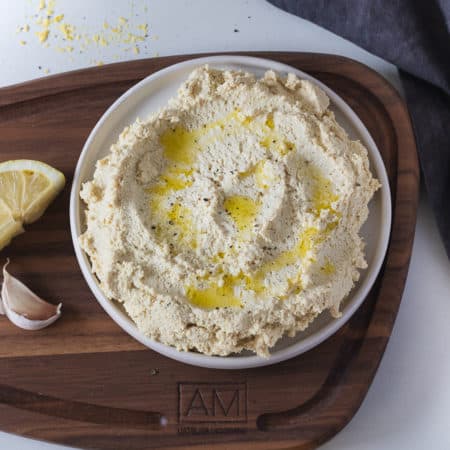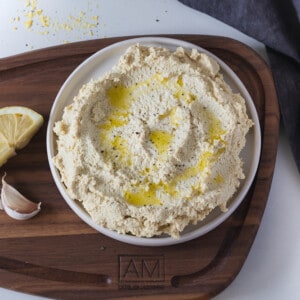 Vegan tofu ricotta
This vegan tofu ricotta is high in protein and low in fat. It's also very easy to prepare and ready to add to your favourite recipes!
Ingredients
1

block semi-firm organic tofu

400 g*

the juice of half a lemon

1

teaspoon

apple cider vinegar

1

garlic clove

crushed

1/4

cup

nutritional yeast enriched in B12

1

teaspoon

sea salt

1

tablespoon

cold-pressed olive oil

Fresh black pepper
Instructions
Pat the tofu with a clean cloth, you don't need to press it to remove the water.

In a large bowl, crumble the tofu and add the lemon juice, vinegar, crushed garlic, black pepper and half the nutritional yeast and salt. Process with an immersion blender, or in the food processor, until well combined but not fully blended (you don't want a cream, you still want some texture). Taste and add the rest of the yeast and salt if needed (I like mine with a lot of flavour so I add it all). 

Add the olive oil and blend one last time, scraping the sides if necessary. 

Ideally, refrigerate for a few hours to let the flavours blend together. 
Notes
The tofu must be firm, but still "creamy". Avoid tofu that's very dry and crumbly, which won't yield a nice result.
Keeps about one week in the fridge. 
Don't hesitate to add herbs, fresh or dried! 
If you have plain unsweetened vegan yogurt, you can add a spoonful for a mild fermented touch :)