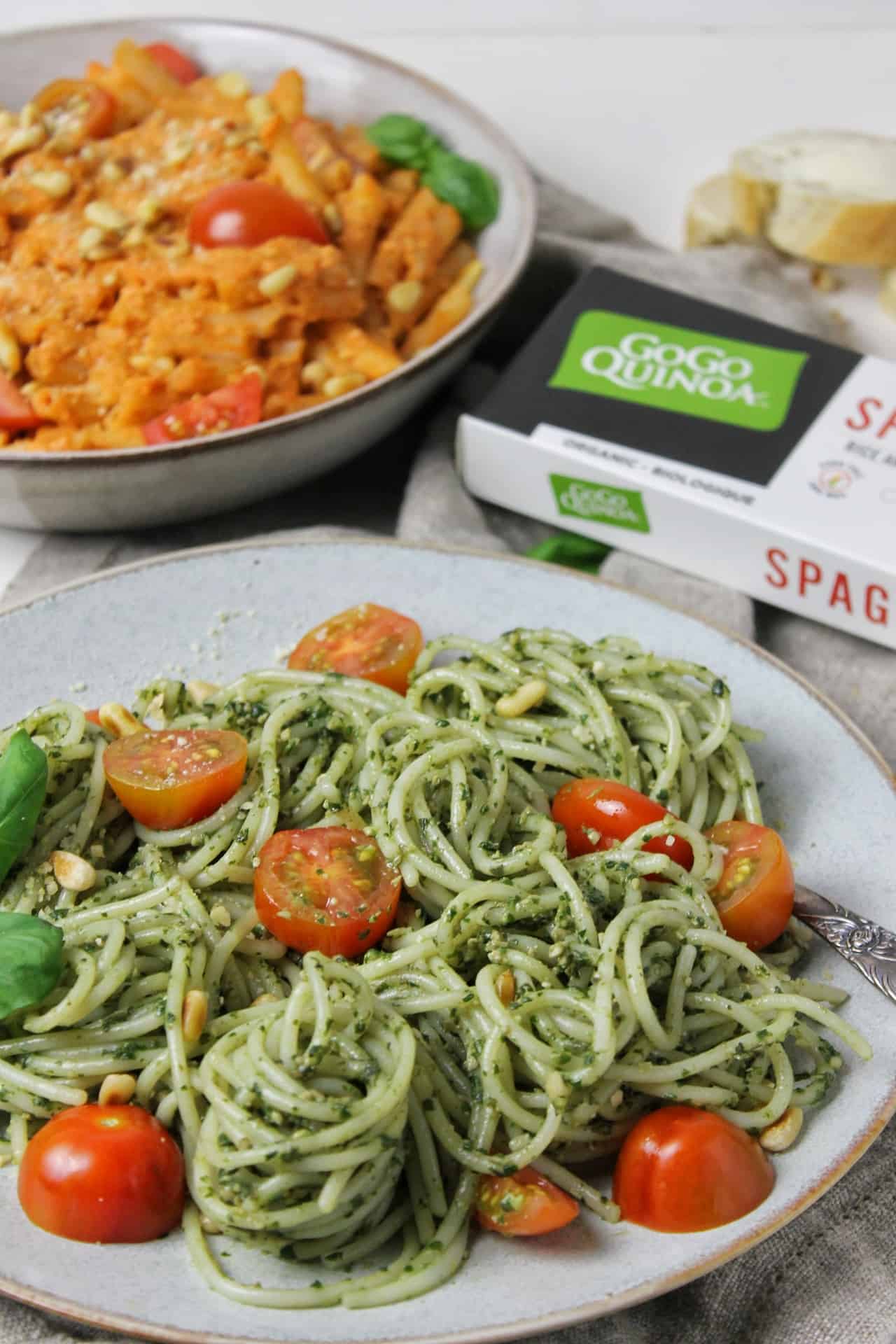 This post is sponsored by Gogo Quinoa – I'm using their gluten-free organic noodles for these two weeknight pasta dishes!
I have been in dessert mode for the last few months. If it were only for me, I would be flooding the blog with sweet recipes.
However, I first started the blog to show people how easy and delicious vegan food can be. And, even though we all love a good oreo cookie (see previous recipe), what I think is really important is sharing simple but delicious recipes that will help you on a daily basis. Like pasta.
So I teamed up with Gogo Quinoa, a Montreal-based company, to bring you these two pasta dishes that are quick enough to be made on a weeknight.  And that's not all. We're also giving away a pasta bundle so you can get started and make these at home! Keep reading to know how to enter.
I personally don't avoid gluten, but when it comes to noodles, I have almost fully switched over to gluten-free alternatives, as they are just as good as the wheat ones, seriously. This way I can also feel less guilty about scoffing down half a baguette, which may or may not have happened during the photoshoot. I guess we'll never know… :)
But know that if you are allergic to gluten, all Gogo Quinoa products are certified organic and gluten free and are sourced ethically, which is of the uttermost importance when it comes to the popular "pseudo grain" that is quinoa.
I used the amaranth penne and the quinoa spaghetti for these two recipes, which have the same nice consistency as white pasta. They also have a "super grains" line, which are made with different types of "flour" such as lentil, sorghum, chia…
And the best part is that you could win them all, along with some pretty pink Bolivian salt, by entering the giveaway :)
HOW TO MAKE VEGAN PESTO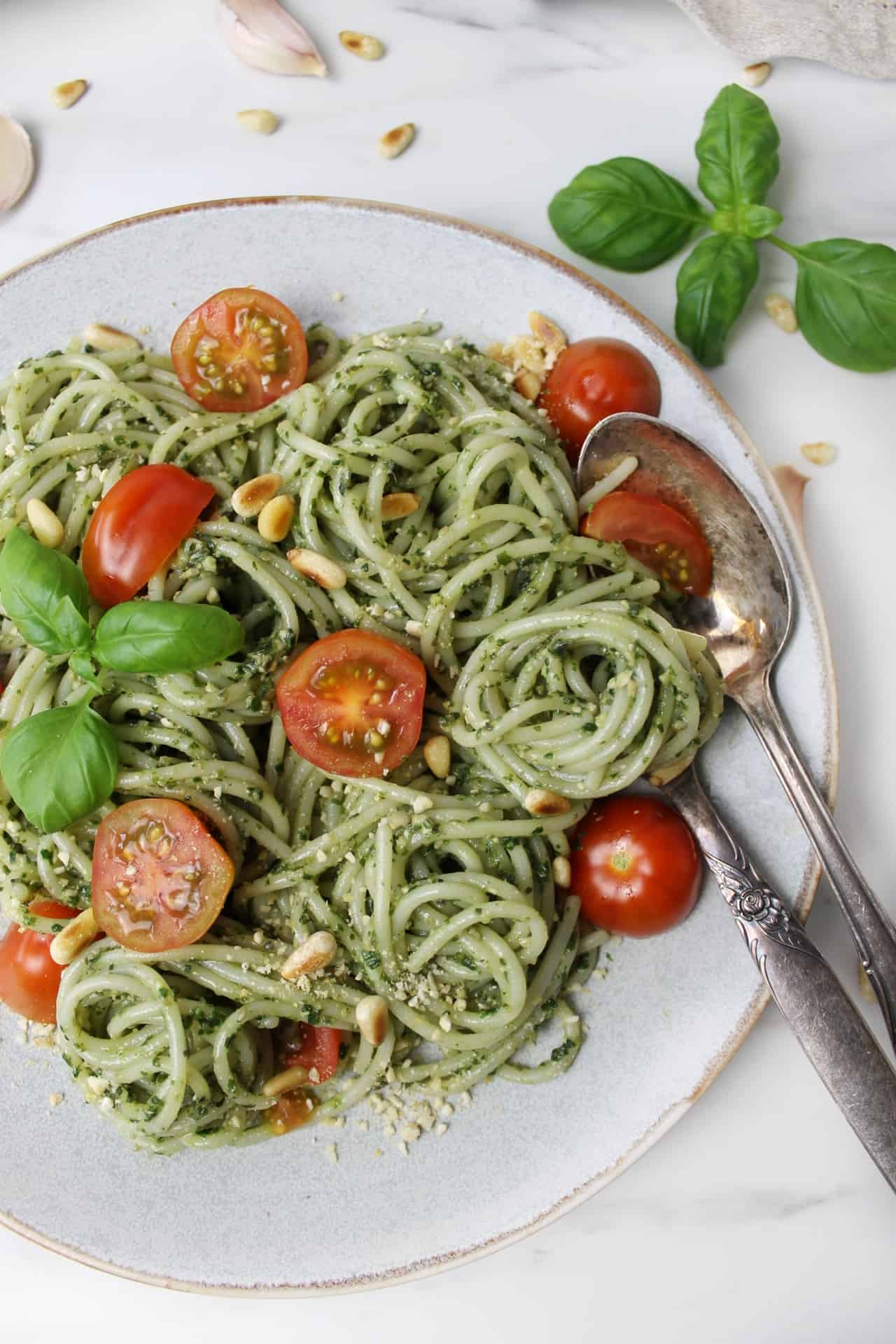 So now to the sauces! Have you ever made your own pesto? It's so easy that there's really no reason not to.
I am giving you one combo idea, with pumpkin seeds and spinach (and basil of course!), but as always I encourage you to experiment with different nuts and seeds as well as different greens. I also make it a little lighter and healthier by cutting down on the oil and replacing some of it with water. Again, find what's best for you.
But what about parmesan, right? Fear not, I've got you covered! Just whip up a batch of this easy peasy cashew parmesan and use it as you would dairy parmesan. You can also use sesame or sunflower seeds for a nut-free version. We actually always keep a jar on hand to add to pretty much everything!
VEGAN ROSÉ SAUCE
A lot of people think that vegans cannot eat creamy sauces like Alfredo, mac'n cheese and rosée sauce. Which is a bit sad considering the vast array of alternatives out there! Coconut milk, silken tofu, white beans and cashews to name only a few.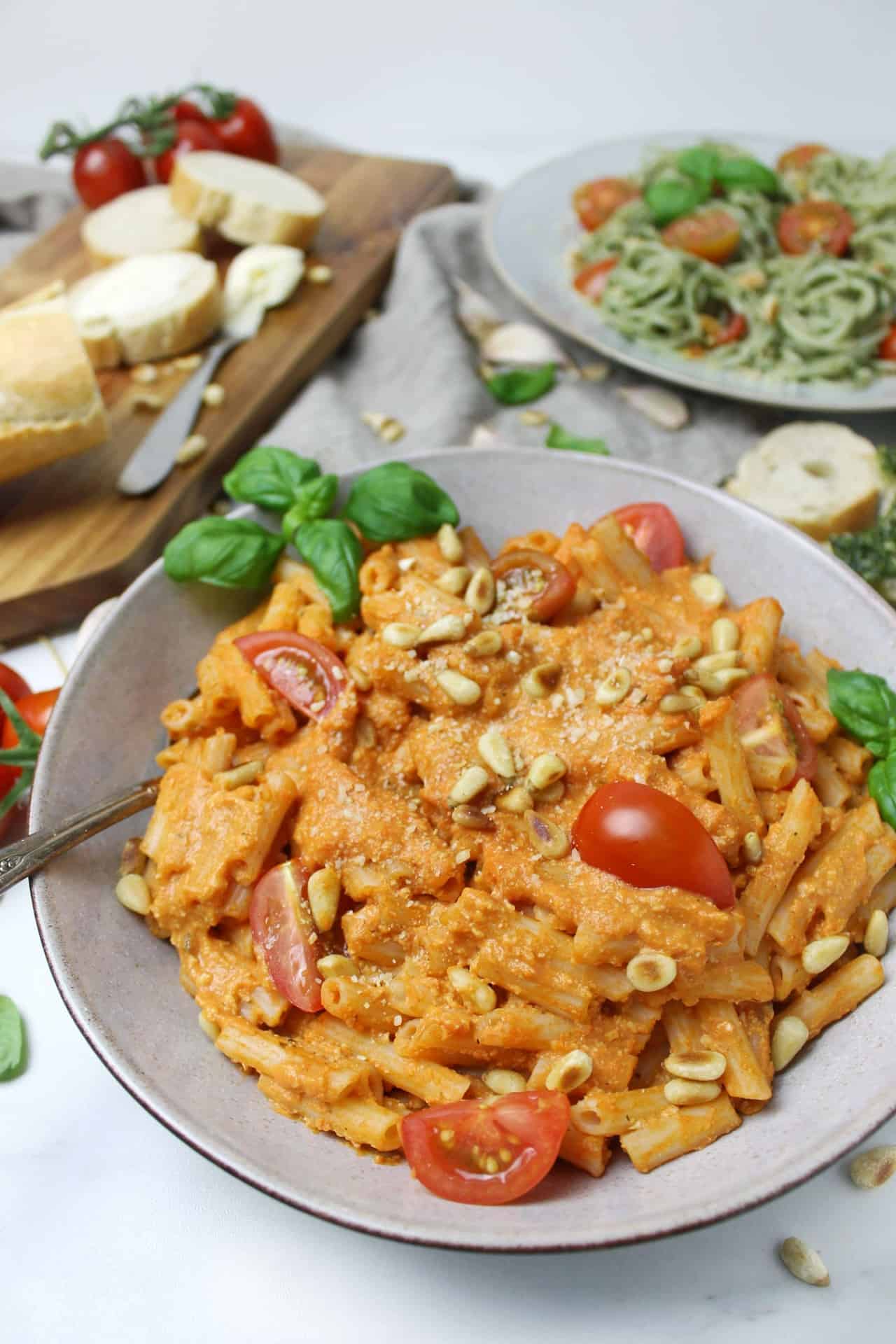 For this particular recipe, I used oat cream, which is becoming more and more easily available. But since most brands are not necessarily certified gluten free, you may want to use soy or rice cream.
And the best part is that you don't need any kitchen equipment other than a small pot and a whisk!
Now it does look a bit thick on the picture but that's just because I was a bit too enthusiastic with the parmesan.. oopsie :) If you're more reasonable than I was, what you'll end up with is a luscious sauce that will fufill your wildest pasta dreams!
a Rafflecopter giveaway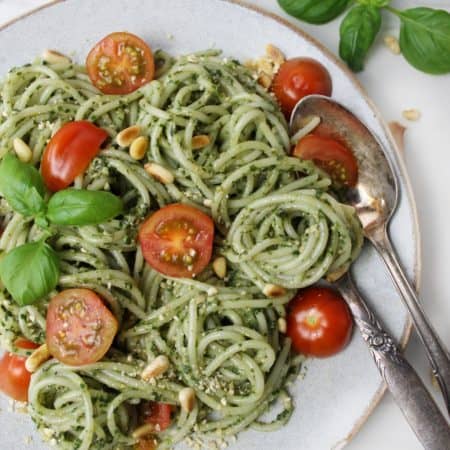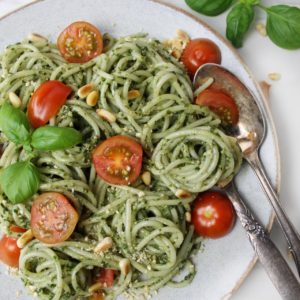 Vegan pesto spaghetti
Vegan pesto is an easy way to eat more greens without realizing it. It comes together in only 5 minutes and, paired with quinoa spaghetti, it makes a scrumptious weeknight dinner!
Ingredients
2

cups

fresh basil leaves

1

cup

baby spinach *see notes

2

garlic cloves

1/4

cup

pumpkin seeds *see notes

2

tablespoons

lemon juice

1/4

cup

homemade nut parmesan

about 1/4 cup water

1/3

cup

olive oil

Pink Andean salt & black pepper

to taste
Instructions
Cook the noodles according to the package instructions.

Combine the basil, spinach, garlic, pumpkin seeds and lemon juice in a food processor and pulse until nicely chopped. Add up to 1/4 cup of water and pulse again to combine well.

While the food processor is running, slowly add the oil through the opening. Finally add in the nut parmesan and pulse just enough to combine.

Strain the noodles, add them back to the pot and mix in the pesto. Divide into 3 bowls and top with some more parmesan and favourite toppings.

Store leftover pesto in an air-tight jar in the fridge.
Notes
*Feel free to experiment with other greens such as kale or arugula.
**Don't hesitate to use whatever nuts or seeds you have on hand.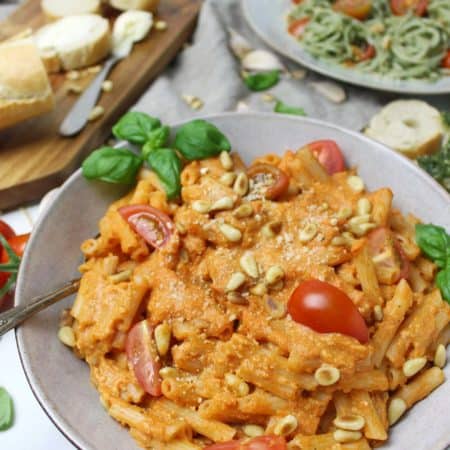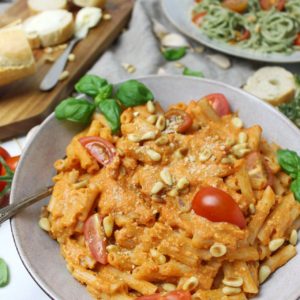 Vegan rosée-sauce penne
Creamy sauces aren't a thing of the past and these vegan rosée-sauce penne are here to prove it!
Ingredients
2-3

garlic cloves

crushed

½

onion

finely diced (optional)

1.5

cup

plain tomato sauce

½

teaspoon

dried oregano or basil

optional

3/4

cup

plant cream *see notes

1/3

cup

homemade nut parmesan *see notes

Pink Andean salt & black pepper

to taste

Toppings of your choice
Instructions
Cook the pasta according to the instructions on the package.

Meanwhile, in a small pot on medium heat, soften the onions in a little bit of oil or water, about 5 minutes.

Add the garlic and cook for a minute. Add the tomato sauce, the oregano and some salt & pepper, and gently bring to a boil.

Whisk in the plant cream and let simmer for at least 5 minutes or until the noodles are ready. When ready to serve, incorporate the nut parmesan or nutritional yeast.

Drain the pasta well, rinse them slightly, add into the sauce and coat well. Divide into 3 bowls and top with some more parmesan and your favourite toppings.
Notes
*Vegan cream can be found in most supermarkets nowadays. My favourite is definitely oat, but some brands might not be gluten free. Depending on how creamy you like your sauce and how thick your cream is, you might need more or less cream.
**Some plant creams may be thinner than others. If you find that your sauce is too runny, dilute half a tablespoon corn or tapioca starch in a little bit of water and add to the sauce to thicken.
***For a nut-free version, substitute sesame or sunflower seeds for the cashews. If you don't want to make the parmesan, you could also simply add nutritional yeast.
This post was sponsored by GoGo Quinoa. All opinions expressed in this post are my own, as always.