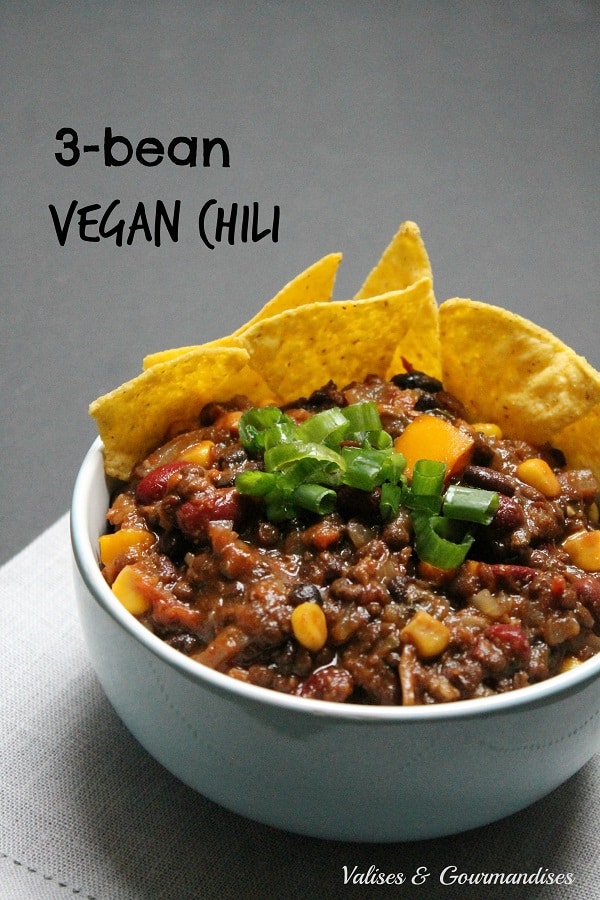 Did you see the Canadian dollar's recent freefall? Let's just say it was a very unwelcome surprise for our return to Europe. In short, to give you an idea of the situation, €1 now costs us $1.50. Ouch.
But oh well, we won't let that ruin our stay here. We just probably won't be spending as much money and we'll pay attention more carefully to what we buy. Which means we also need satisfying budget-friendly recipes. Cue this 3-bean chili, another take on a timeless classic that's been reinvented a thousand times over. It has its merits though.
This foolproof edition is prepared in a single pot in roughly 30 minutes.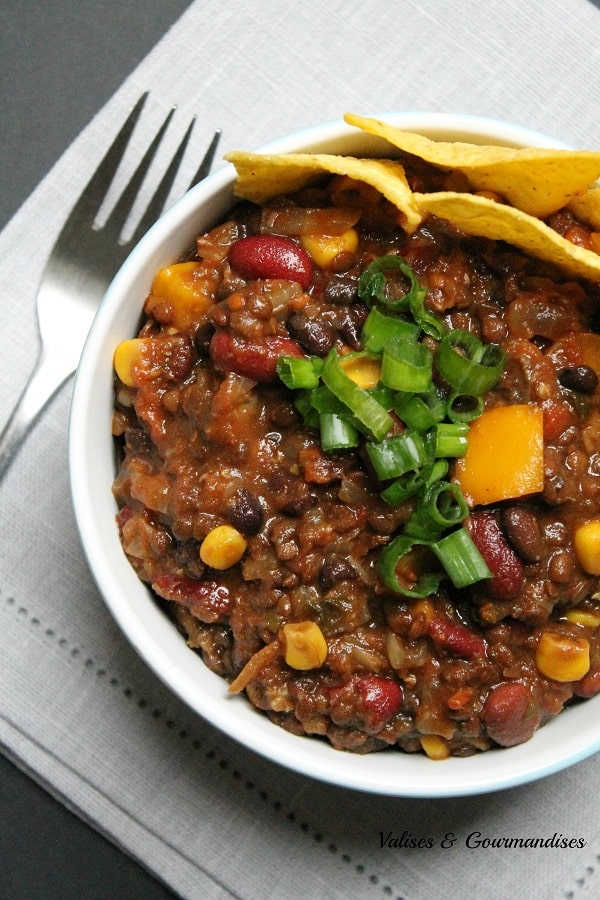 I find it perfect because
It tastes delicious
It's nourishing and nutritious (know the difference!)
It yields 6 large portions
It freezes well
It comes to about $1 per portion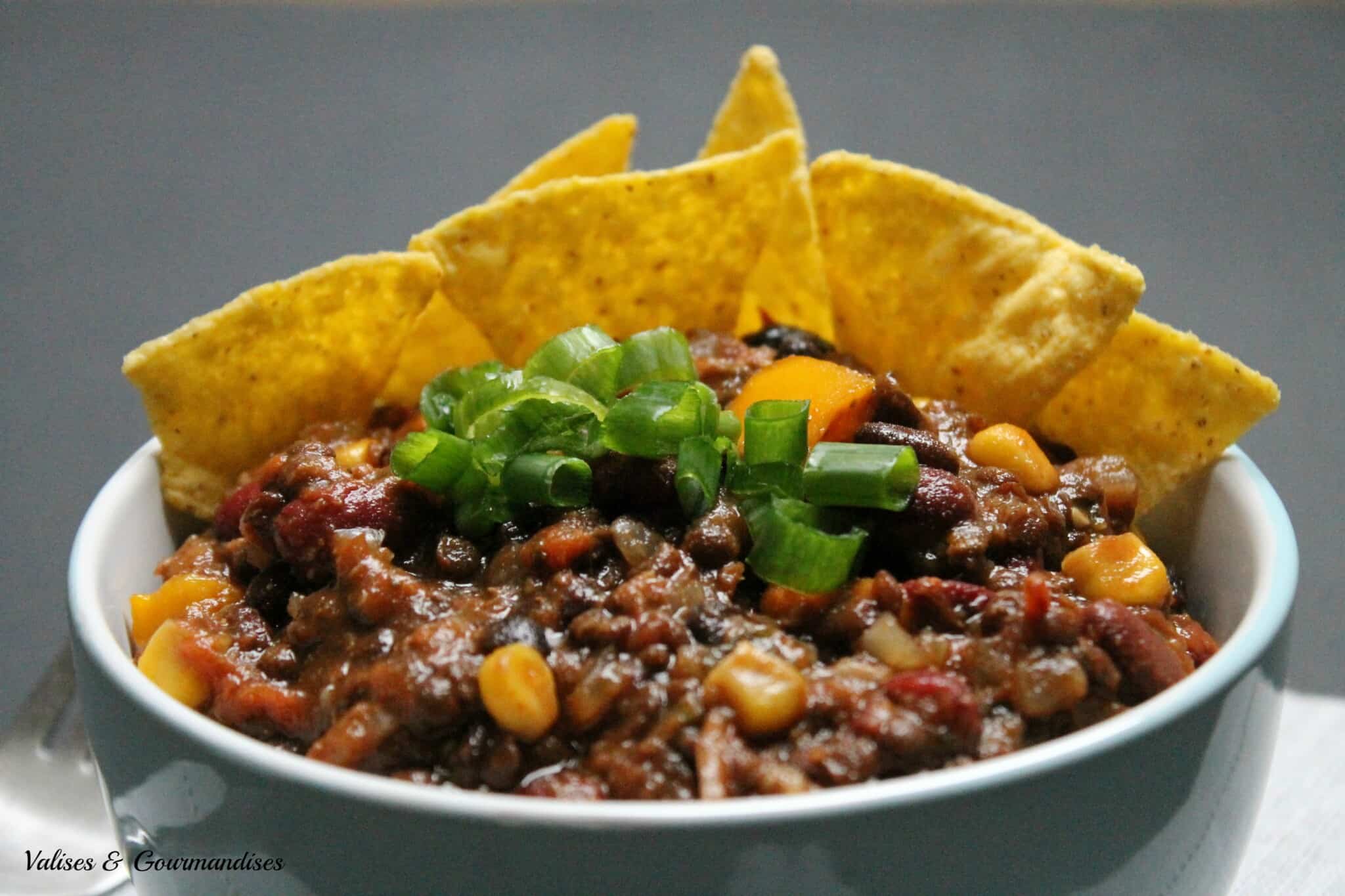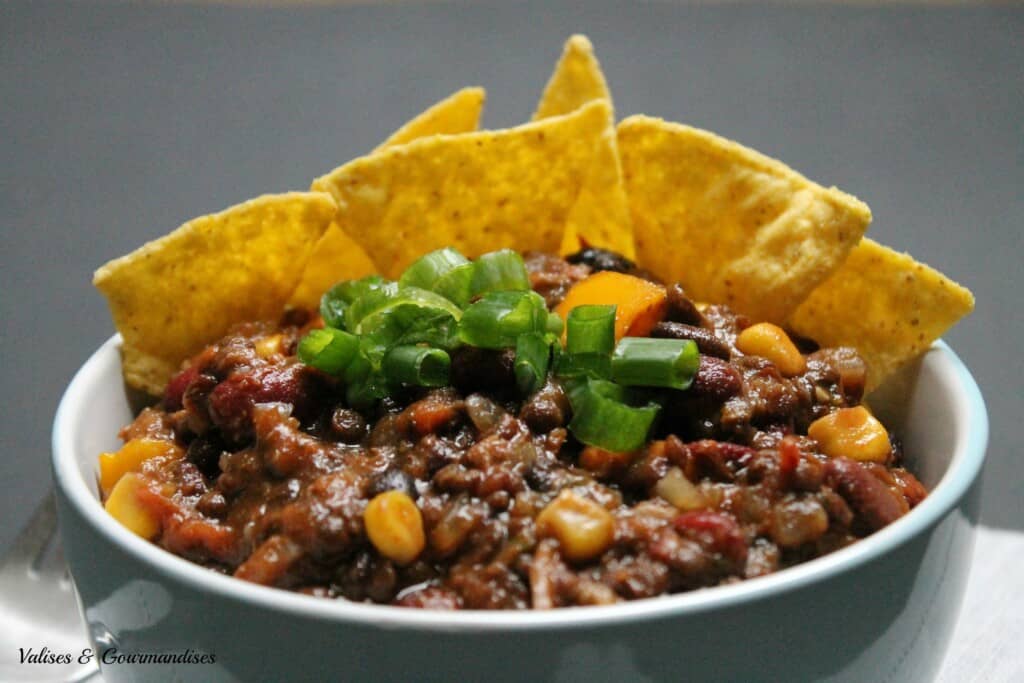 Feel like treating yourself a little? Top it with plant-based sour cream, avocado, fresh tomato and organic corn chips. But quite honestly, it's so good on its own that you don't even need all the fancy fixings!
It also serves as a chunky topping on French fries. Or nachos. Or an oven-baked potato. Or a veggie dog. Or as a sloppy joe! Put your thinking cap on too and there's no telling where you'll get swept off to…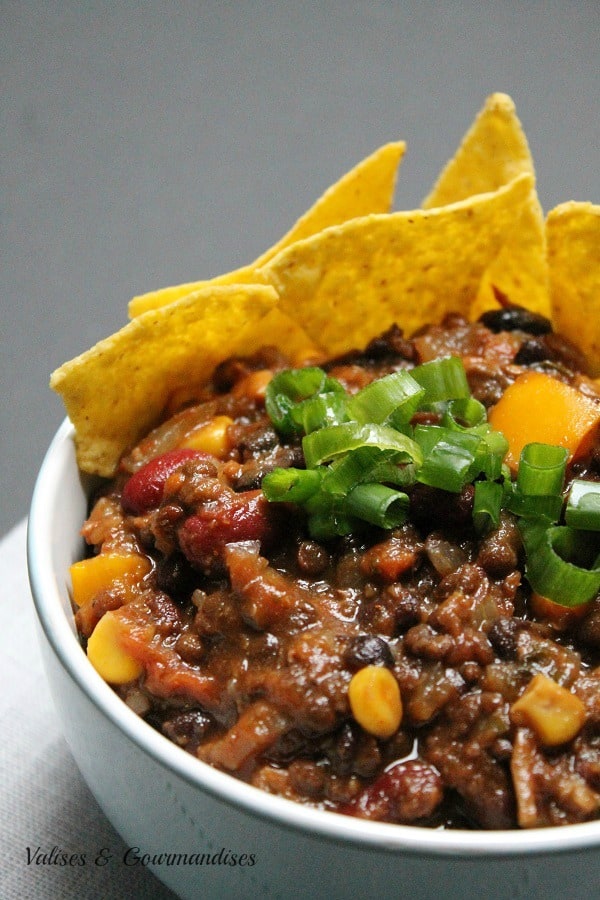 Related recipes
If you try this recipe, make sure to snap a picture and share it on Instagram or Facebook using the hashtag #valisesetgourmandises. I wanna see your creations! And don't forget to leave a comment below :)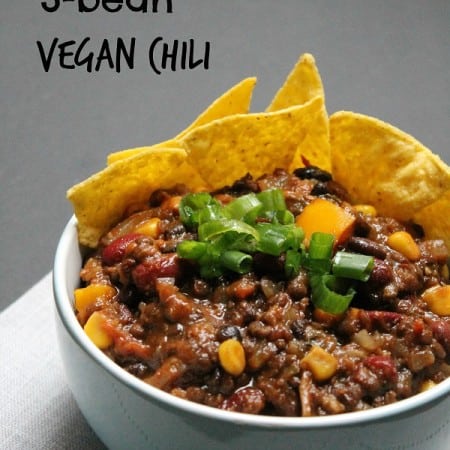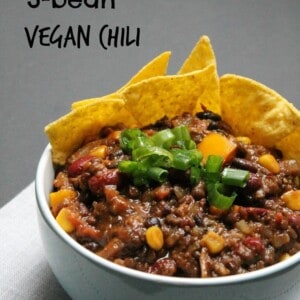 3-bean vegan chili
This vegan chili offers the most nutrition for your buck and is sure to satisfy even the most voracious appetites. Plus, it serves as a decadent topping in a bunch of yummy recipes!
Ingredients
1

onion

minced

4

large garlic cloves

crushed

1

bell pepper

largely diced

6

button mushrooms

sliced

2

large carrots

sliced

1-2

jalapeño pepper

minced

2

tablespoons

chili powder

1

tablespoons

cumin

1

tablespoons

dried oregano

Cayenne pepper to taste

2

cups

cooked lentils

rinsed and drained

2

cups

cooked red kidney beans

rinsed and drained

2

cups

cooked black beans

rinsed and drained

1

can diced tomatoes

with the juice

1

cup

vegetable broth

optional

1-2

cups

frozen corn
Instructions
In a large pot, sauté vegetables on medium-high heat with a little bit of water until the onion is soft.

Add all the other ingredients, mix well and bring to a boil. Reduce heat and let simmer until all the vegetables are tender. Let simmer a little bit longer for a less liquid texture, or on the contrary add some more broth or tomato juice for a soup-like texture.

Add salt and pepper.

Serve with green onion, fresh herbs such as cilantro and parsley and organic corn chips.
Notes
Suggested add-ins: replace either red or black beans with 1 cup quinoa, 1 cup pumpkin purée and 1 extra cup vegetable broth.
You can also add a teaspoon of liquid smoke for an interesting smoky flavour. (Start with a little and then add more to taste).
-This chili keeps in the fridge for several days and gets even more savoury with time. Can also be frozen.