This lentil and beetroot salad is perfect for work and school lunches. Thanks to the tofu feta and the fresh herbs, it's an explosion of flavour!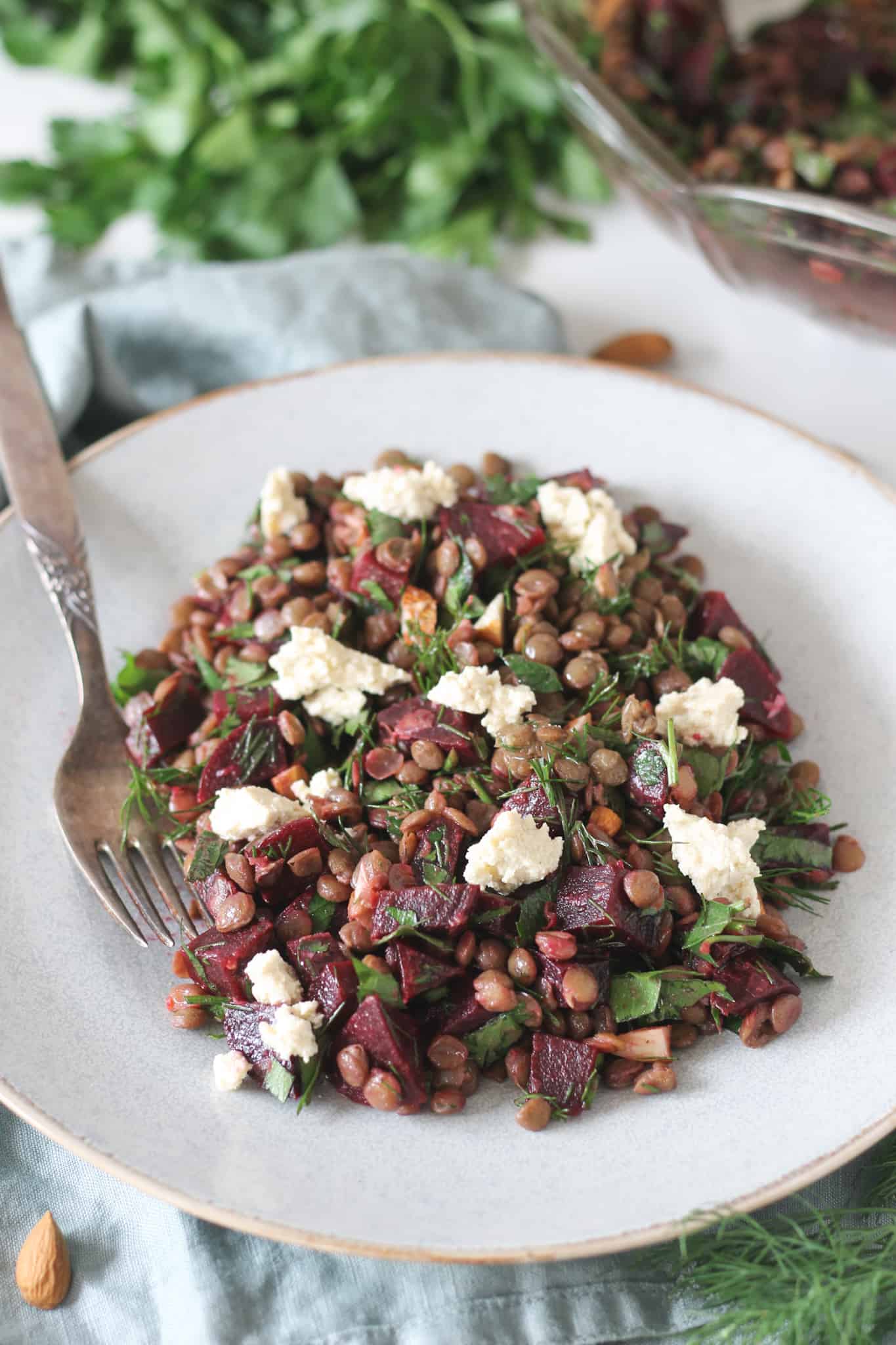 Are you taking advantage of the abundance nature has to offer at the moment? I miss berries, but I've been enjoying zucchinis, beetroots, pumpkins (already!). After the zucchini and carrot muffins from last week, I have a new lentil and beetroot salad recipe for you today, with almonds, tofu feta and loads of fresh herbs.
I had many people try it and their response was unanimous: wow! This salad is so easy to throw together at the beginning of the week to have healthy lunches. You could also make my quinoa tabouleh and have two salads instead of one for you week and make things even more interesting!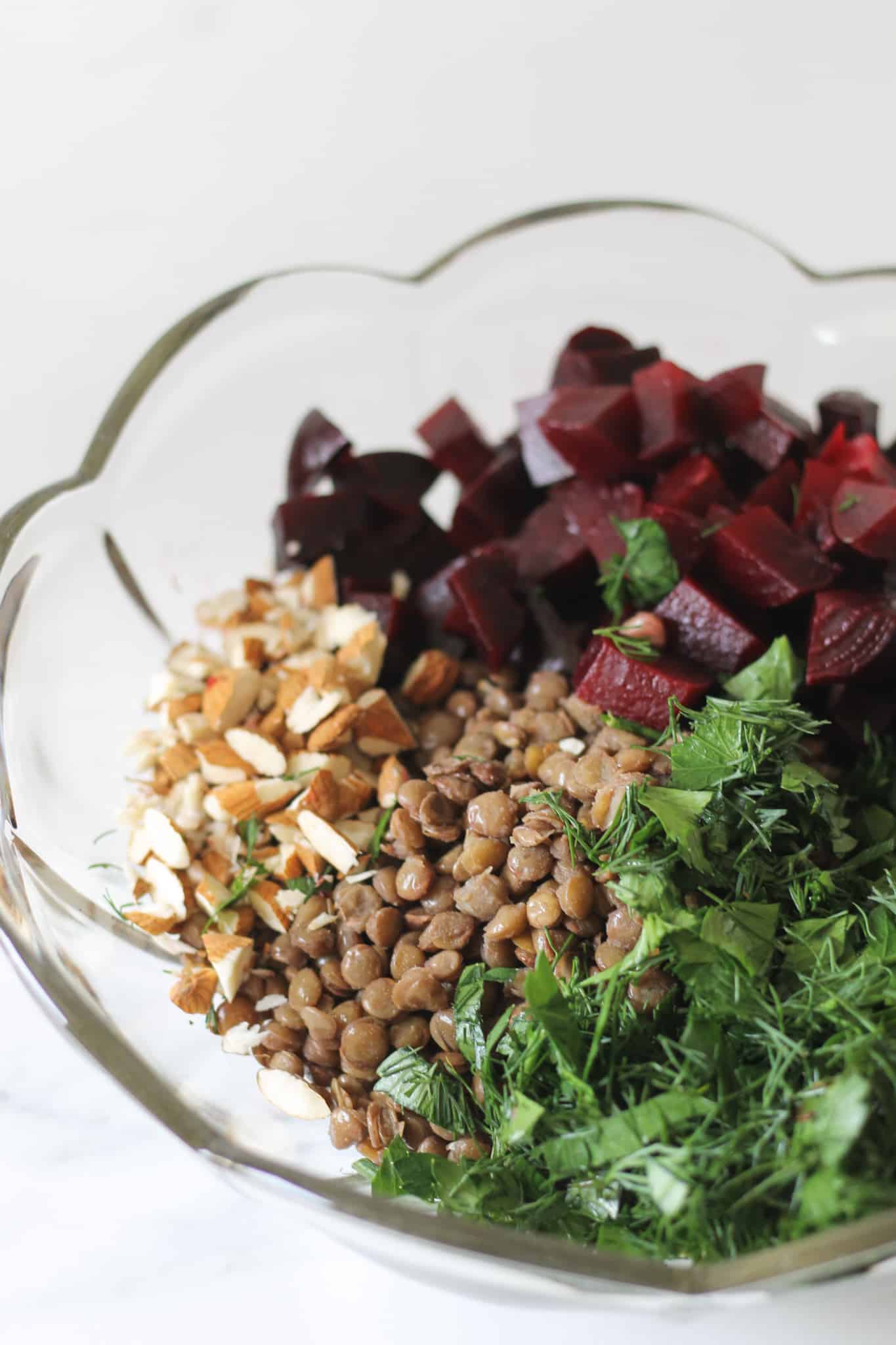 I also already have a scrumptious warm lentil salad on the blog, with sauteed mushrooms, pomegranate and an oil-free dressing, from a couple years ago. I highly recommend you cook a large quantity of lentils and try it too.
So for the lentil and beetroot salad, it couldn't be easier. You boil beets (or bake them in the oven, as you wish), let them cool, peel them and dice them any size you like. Here, I used red beetroots because that's what I found at the market, but you could of course use yellow or pink (chioggia) beets.
While the beets are cooking, I also cook the lentils which I buy in bulk to limit waste. I rinse them under cool water, put them in a pot with 3 times the volume of water (so 3 cups water for 1 cup dry lentils), bring them to a boil and let them simmer covered for around 20 minutes. We can also make larger quantities and freeze for later use.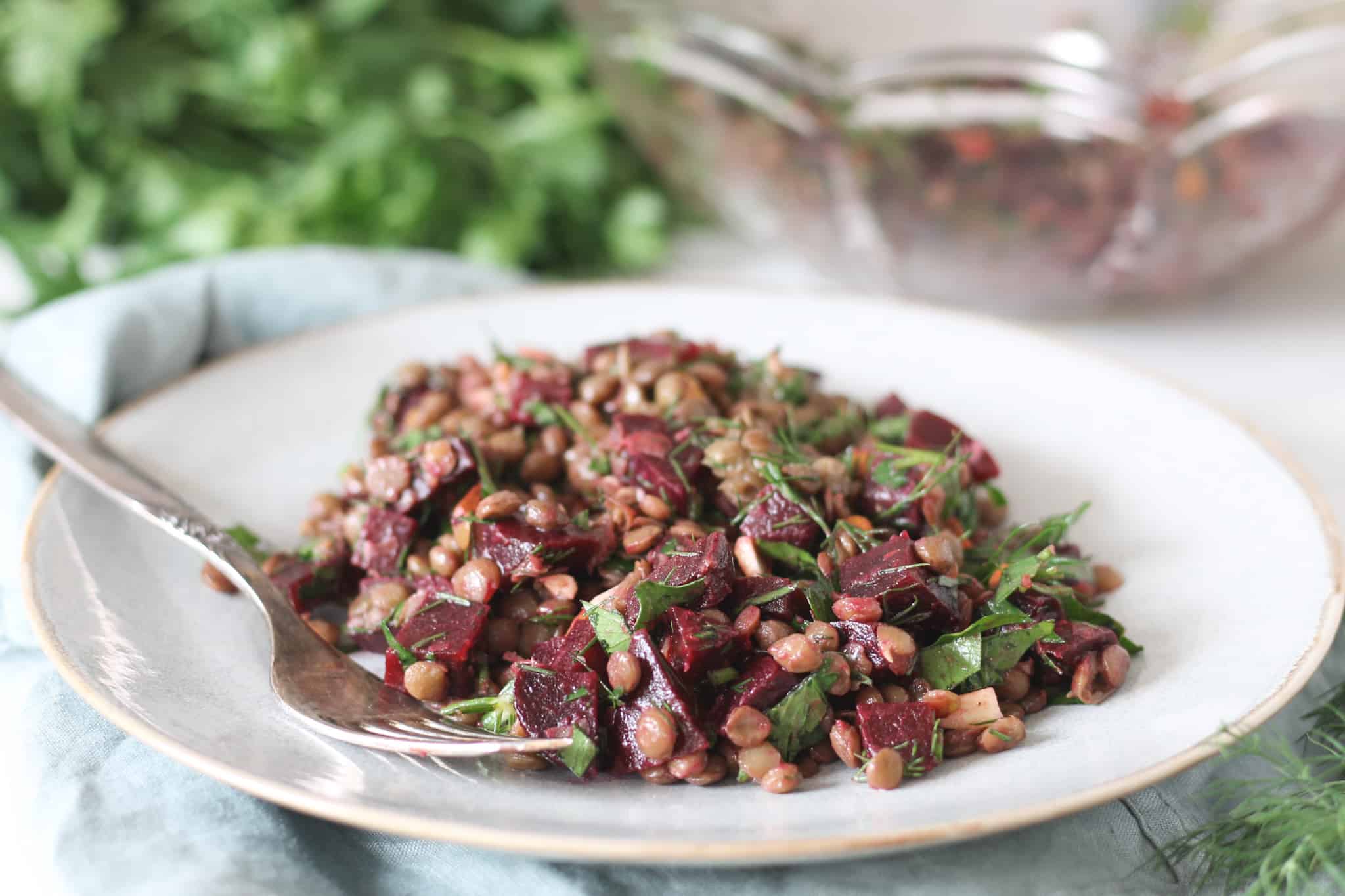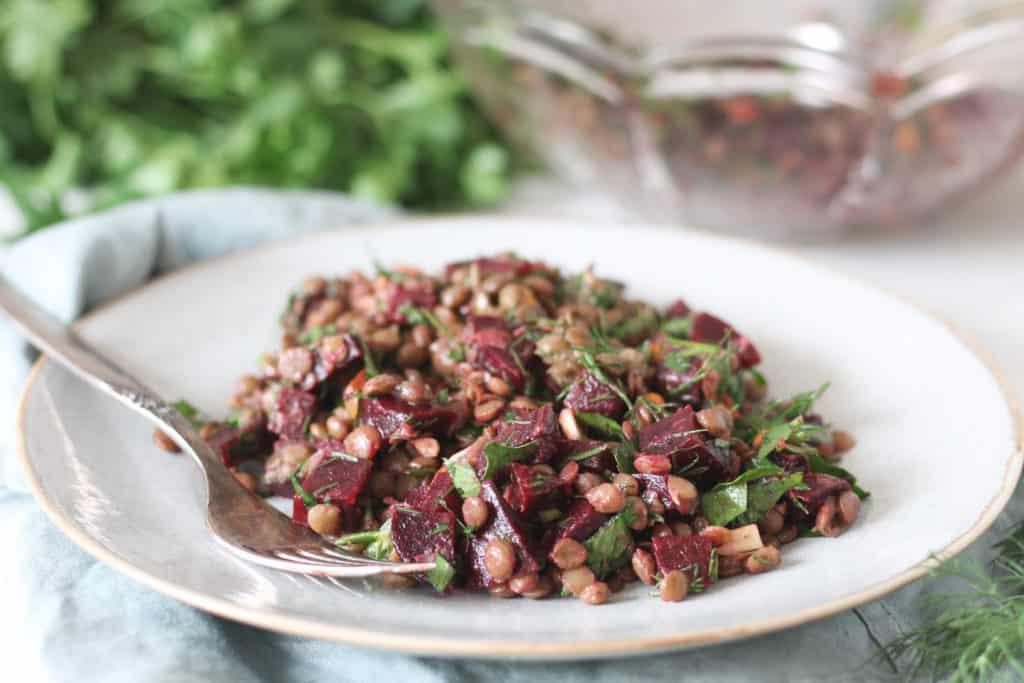 This time, I also marinated tofu pieces in the leftover oil from my empty artichoke jar with some salt and a crushed garlic clove. It can stay in the fridge for a couple of days, so you can make cook the beets and lentils one day ahead and assemble when ready. I also shared a feta tofu recipe along with my buckwheat and strawberry salad.
As for the quantities, I'm giving indications in the recipe below, but make the salad according to your preferences. Some people like a lot of lentils and not so many beets and vice versa. Do it your own way! For this recipe, I used half and half.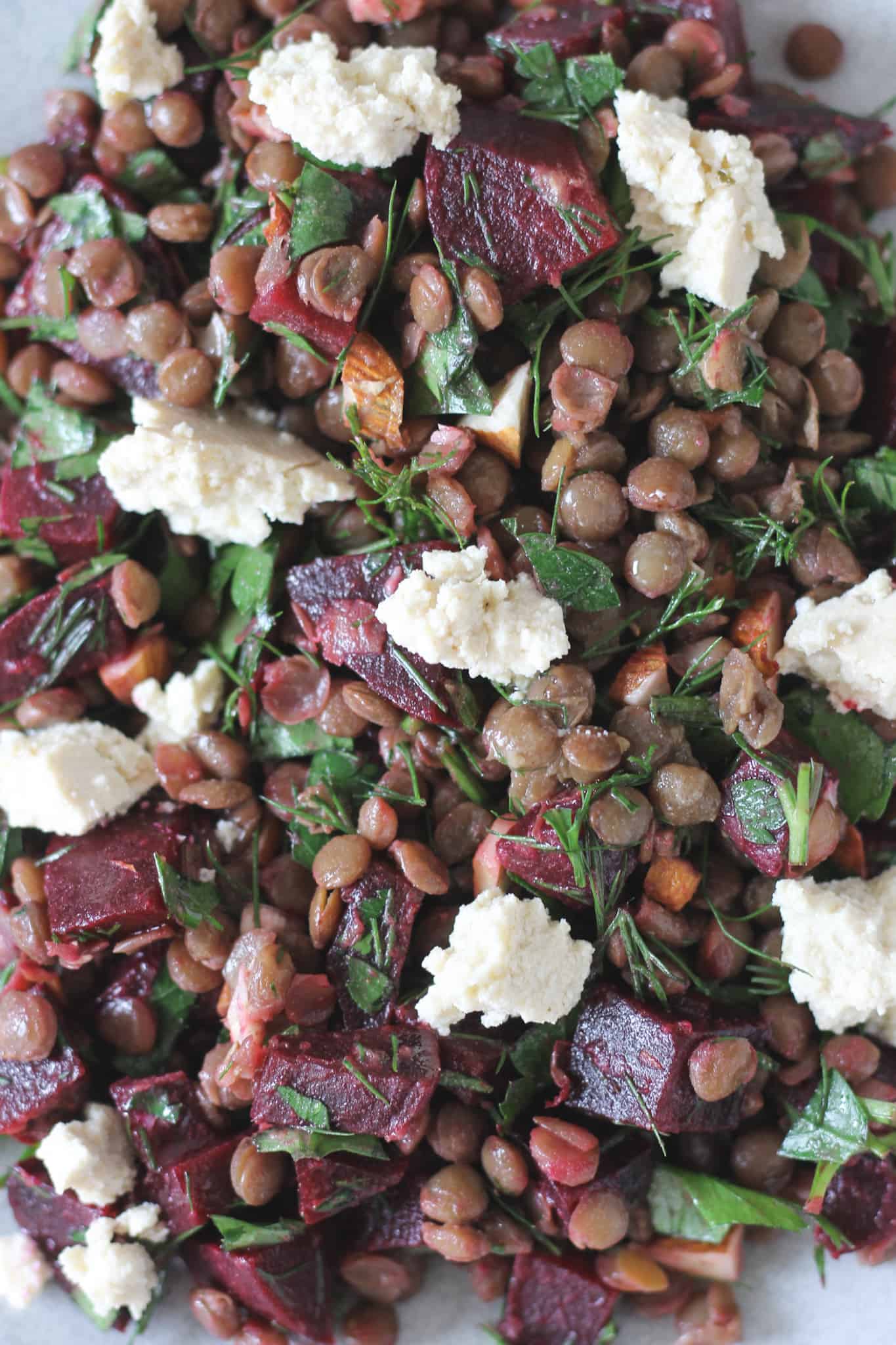 More Salad Recipes
If you try this recipe, make sure to snap a picture and share it on Instagram or Facebook using the hashtag #valisesetgourmandises. I wanna see your creations! And don't forget to leave a comment below :)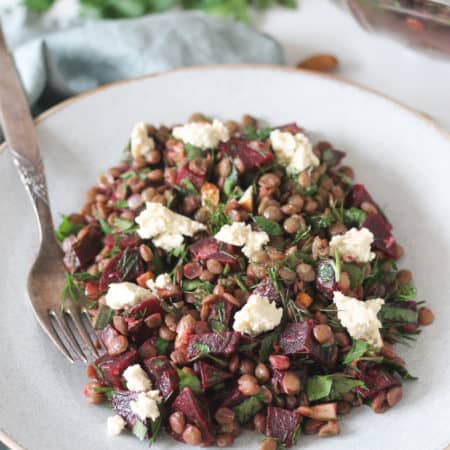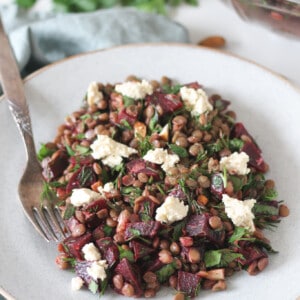 Lentil and beetroot salad with tofu feta
This lentil and beetroot salad is perfect for work and school lunches. Thanks to the tofu feta and the fresh herbs, it's an explosion of flavour!
Ingredients
2

cups

lentils

cooked

2

cups

beetroots

cooked

1/4

cup

almonds

chopped

1

handful

fresh dill

chopped

1

handful

fresh parsley

chopped
Vinaigrette
2.5

tablespoons

olive oil

1.5

tablespoon

apple cider vinegar

1/2

tablespoon

maple syrup

1/2

tablespoon

Dijon mustard

salt & pepper
Instructions
Put all the salad ingredients in a bowl and mix well.

Add all the vinaigrette ingredients in a small jar, close the lid and shake well. Add the vinaigrette to the salad, mix well and let sit for at least 20 minutes before eating.
Notes
The quantities are for reference. Adjust them to your preferences!
Nutrition
Calories:
507
kcal
Carbohydrates:
68
g
Protein:
28
g
Fat:
14
g
Saturated Fat:
2
g
Sodium:
82
mg
Potassium:
1201
mg
Fiber:
32
g
Sugar:
8
g
Vitamin A:
163
IU
Vitamin C:
9
mg
Calcium:
91
mg
Iron:
8
mg