This fresh buckwheat salad is packed with plantbased proteins, vitamins and nutrients and packs a punch of flavour!
After two weeks in Lagos, Portugal, I had given up on making recipes for the blog. We've been eating very well, that's not the problem. We're taking advantage of a complete kitchen, making oatmeal for breakfast with tons of fruits, Buddha bowls, salads, pasta, etc.
But (of course, there's a but) there are no pretty dishes in the apartment. Aside from a few white plates and a large bowl, nothing worthy of being photographed. I mean we eat our cereals out of orange plastic bowls. We don't have cute placemats either to embellish the white plates. It ain't easy being a nomadic blogger.
When I finally discovered a nice wooden crate being used as a bench, my mind immediately screamed : potential backdrop for my pictures. And… drumroll… Yes!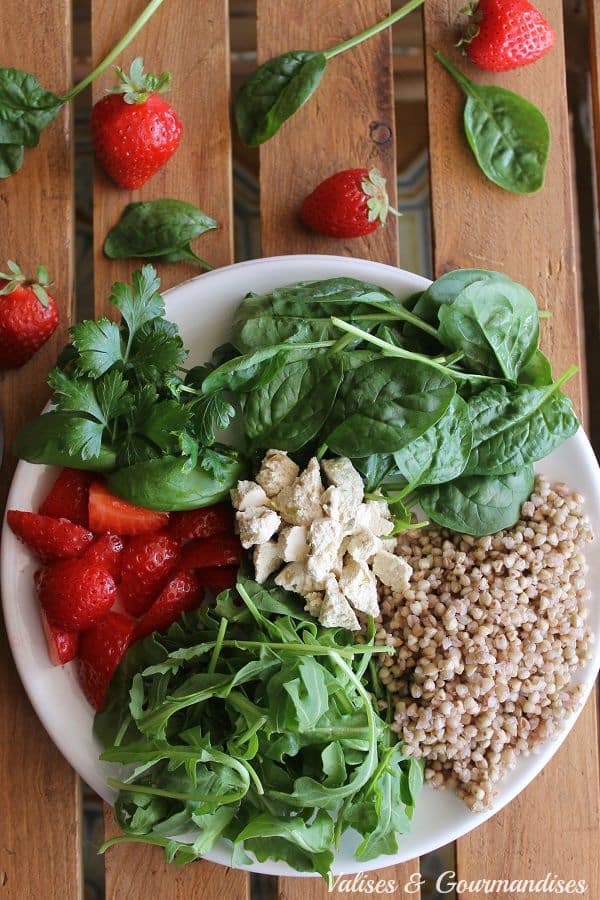 I excitedly ran off to the kitchen to prepare a salad worthy of the best veg restaurants (positive self-reinforcement here): arugula and spinach salad with roasted buckwheat and fresh strawberries, topped with homemade tofu feta, fresh herbs, sprouts, roasted walnuts and drizzled with a maple and sweet onion dressing.
I've already previously raved about buckwheat, one of my new favourite powerfoods. Its taste is very unique, a little bit earthy, and got me hooked right away. I love it so much that I always keep one or two bags in my pantry. To avoid repeating myself, head over here to know everything about this little ancient seed..
Related recipes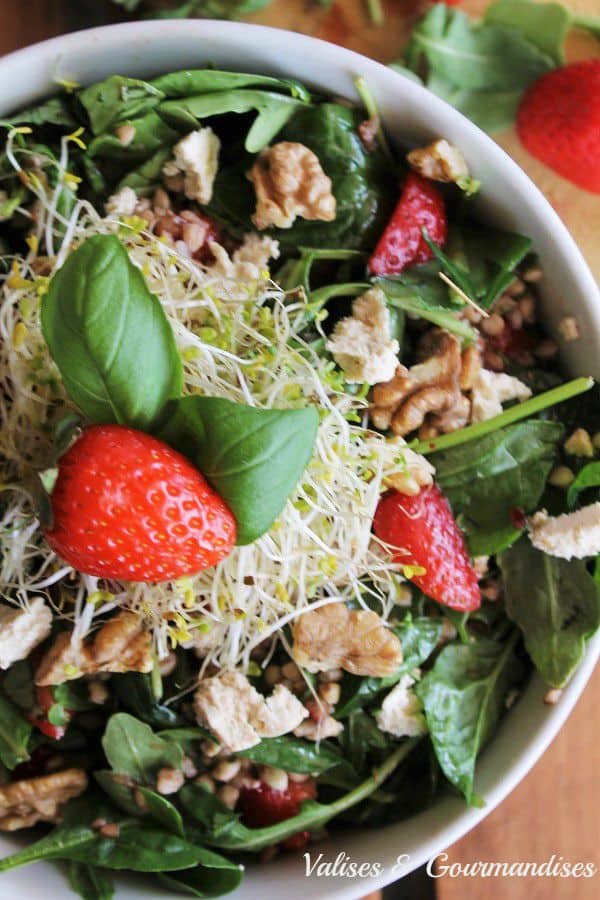 Regarding the quantities for this salad, to be honest, I always have a hard time giving them precisely because I'm not one to really measure anything: I calculate my lettuce by handfuls, I cut a generous portion of strawberries and mince some fresh herbs until I feel there's enough for the number of people I'm feeding. All this to say the quantities given here are for reference so feel free to adjust them, as with all recipes.
If you're short on time, you can easily cook the buckwheat, marinate the feta and prepare the dressing one day ahead and assemble your salad when ready.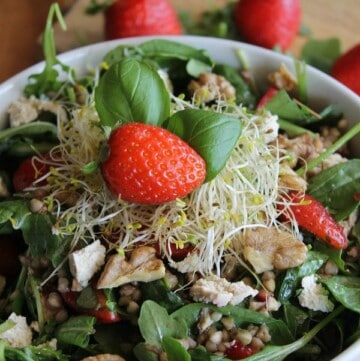 Strawberry and roasted buckwheat salad
This fresh salad is packed with plantbased protein, vitamins and nutrients and packs a punch of flavour!
Ingredients
1

cup

raw buckwheat groats

2

cups

water

2

cups

baby spinach

washed and dried

2

cups

arugula

washed and dried

250

g

strawberries

washed and cut into 4

10

leaves

fresh basil

chopped

1

handful

fresh parsley

chopped

¼

cup

walnuts

roasted
Instructions
Prepare tofu feta following the directives, at least one or two hours in advance. Prepare the vinaigrette and other ingredients.

In a medium-sized pot, roast buckwheat groats for 5 minutes and set aside. Bring the 2 cups of water to a boil, add the salt and buckwheat, cover and let simmer for about 10 minutes. Cooked buckwheat should be a little bit crunchy. Drain if necessary, fluff with a fork and let cool.

Once everything is ready, you can start assembling the salad. Lay spinach and arugula in a large salad bowl.Add buckwheat, strawberries, fresh herbs and vinaigrette and mix well.Divide between for large bowls and top with sprouts, tofu feta and roasted walnuts.
Notes
To save some time, prepare buckwheat, feta and vinaigrette the day before.
For a tasty lunch or picnic, mix all the ingredients except the greens and keep in an air-tight container. Pack greens, sprouts and greens aside and mix in at the last minute.
Nutrition
Calories:
294
kcal
Carbohydrates:
50
g
Protein:
11
g
Fat:
9
g
Saturated Fat:
1
g
Sodium:
30
mg
Potassium:
592
mg
Fiber:
9
g
Sugar:
5
g
Vitamin A:
2392
IU
Vitamin C:
59
mg
Calcium:
79
mg
Iron:
3
mg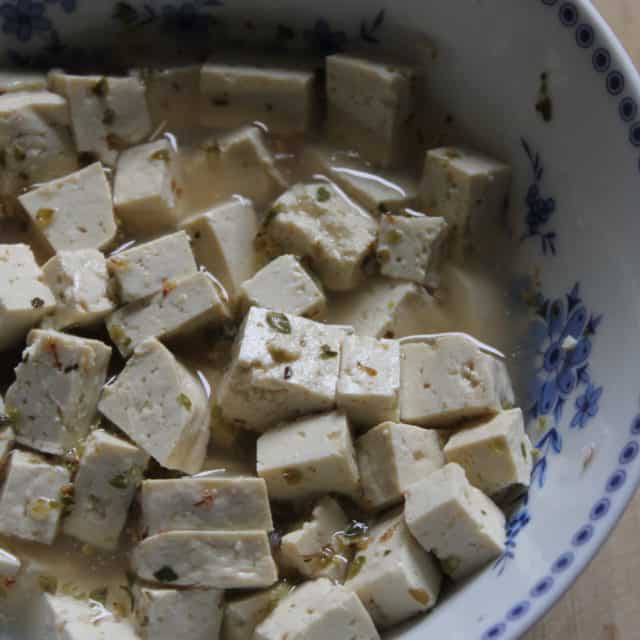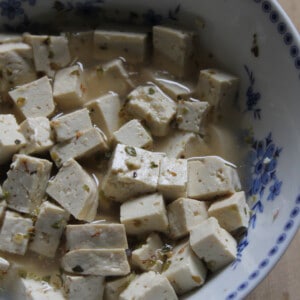 Vegan tofu feta
This plant-based version is the perfect alternative to traditional feta!
Ingredients
200

g

firm tofu

1

lemon

juice

2

tablespoons

white wine vinegar

1/2

teaspoon

salt

1

tablespoon

basil and oregano

dried
Instructions
Drain tofu well: wrap in a clean cloth and press well until there's no more liquid. Crumble coarsely or cut into cubes and place in a large bowl.

Add in the marinade ingredients and mix well. If necessary, add water until the tofu is covered. Cover and put in the fridge for minimum an hour. (If your bowl doesn't have a lid, cover with a large plate instead of plastic wrap).

When ready to serve, take out the required amount and put the rest back in the fridge. Drain well by pressing with your fingers and use just like regular feta, on a salad, pasta or pizza.
Notes
Keep in liquid and in the fridge for a few days.
Nutrition
Calories:
51
kcal
Carbohydrates:
4
g
Protein:
5
g
Fat:
2
g
Saturated Fat:
1
g
Sodium:
294
mg
Potassium:
37
mg
Fiber:
1
g
Sugar:
1
g
Vitamin C:
14
mg
Calcium:
70
mg
Iron:
1
mg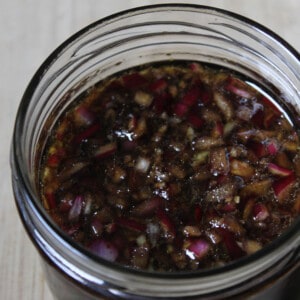 Sweet onion vinaigrette
Ingredients
¼

cup

red onion

finely dice

2

garlic cloves

minced

¼

cup

balsamic vinegar

¼

cup

wine vinegar

¼

cup

maple syrup

¼

cup

olive oil

salt & pepper
Instructions
Mix all the ingredients and set aside while you prepare the salad. Mix well before using.
Nutrition
Calories:
197
kcal
Carbohydrates:
18
g
Protein:
1
g
Fat:
14
g
Saturated Fat:
2
g
Sodium:
8
mg
Potassium:
78
mg
Fiber:
1
g
Sugar:
15
g
Vitamin C:
1
mg
Calcium:
29
mg
Iron:
1
mg