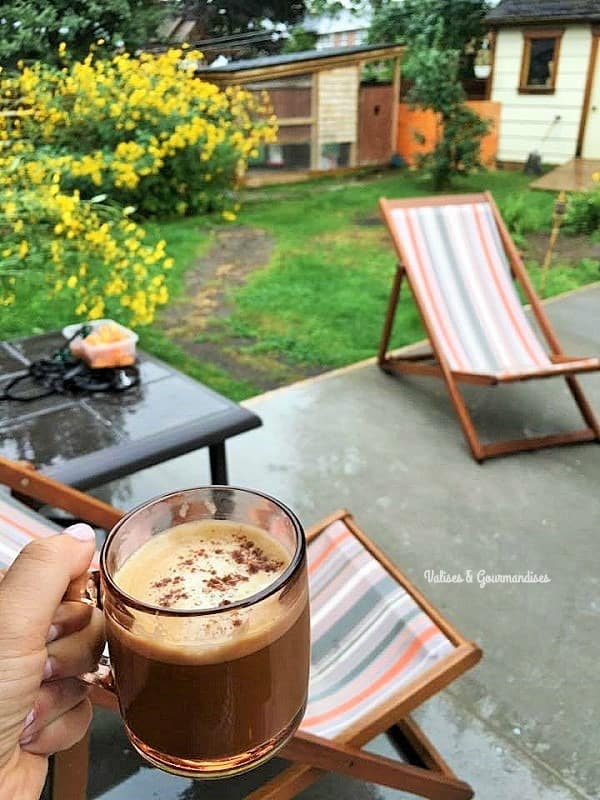 Our weekend mornings aren't complete without a good coffee. It's a moment Martin and I like to take for ourselves; he takes care of the preparation and if the weather permits, we enjoy it sitting on our balcony, soaking in the sun.
With the last few weeks being so cold though, we're kind of on a balcony strike, but it just means that we get to cuddle up on the couch with a good cup of joe instead.
I love simple regular cappucinos, but once in a while I like to spice things up and whip up something a little bit more exciting. During our stay at my sister's in Québec City, where we always keep our caffeine levels at a maximum, I made us some delicious pumpkin chai lattes using an old favourite of mine, the pumpkin chai mix from David's Tea.
I used to make it back when I was living in Montreal and it had never crossed my mind to check the ingredients, since I wasn't as aware about my food as I am now, two years later. Well, turns out there's dairy in it… like every single one of their pumpkin mixes… bummer!
I'm still determined to enjoy a few warming cups of spiced pumpkin latte this season, so I just came up with a healthier version using only wholefoods, including homemade pumpkin purée.
It only takes a few minutes to whip up and tastes divine. I don't like mine sweet, but feel free to add maple syrup or even dairy-free whipped cream to yours!
If you try this recipe, make sure to snap a picture and share it on Instagram or Facebook using the hashtag #valisesetgourmandises. I wanna see your creations! :)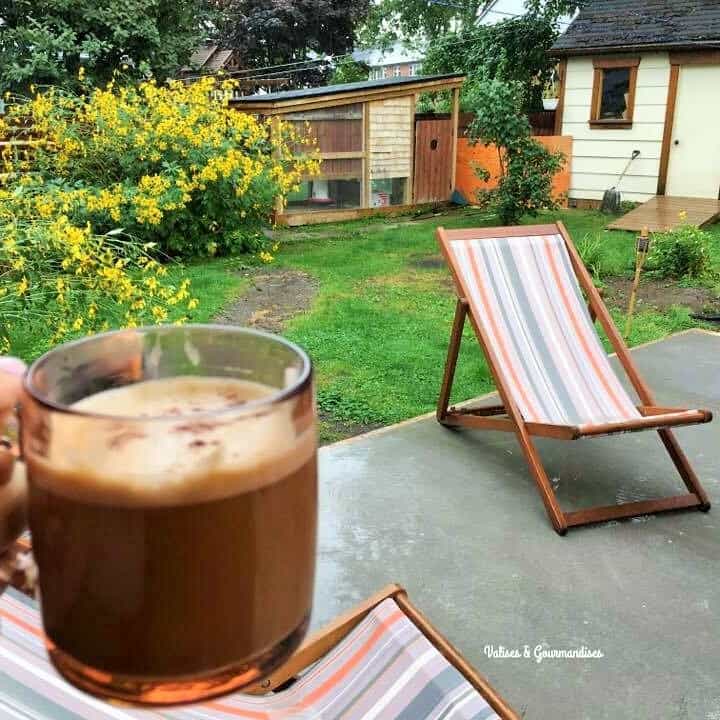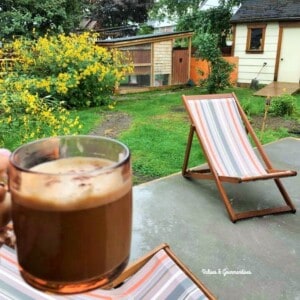 Vegan pumpkin latte
Make the most of the fall season by enjoying a healthy pumkin latte, free of dairy and processed sugar.
Ingredients
1.5

cup

plant-based milk

2

tablespoons

pumpkin purée

1/4

teaspoon

cinnamon

1/8

teaspoon

ground ginger

1/8

teaspoon

ground cloves

pinch

of nutmeg and cardamom

3/4

cup

espresso or strong-brewed coffee

Cinnamon or pumpkin spice for topping

Maple syrup to sweeten

to taste
Instructions
In a small pot on medium heat, gently warm up the milk, the pumpkin and the spices. Once nice and warm, taste and adjust to your liking, adding maple syrup and spices if needed.

Make the espresso and divide into two large cups.

Whisk the milk vigorously to create a nice foam. Pour on the coffee, sprinkle with spices, sweeten to taste and enjoy!
Notes
If you want to avoid potential pumpkin bits at the bottom of your latte, pour the milk through a sieve before adding it to your cup.
If you don't do coffee, you could instead use strong brewed chai tea.
Similar recipe